2008 Confirmed Participants: Ann Coulter, Larry Kudlow, Mark Levin, Cal Thomas and many more!
The 2008 William F. Buckley Jr. Award for Media Excellence will be presented to Tony Snow.
"It was a terrific show... It was a great, great, great assemblage of people... Everybody just had a blast!"
- Rush Limbaugh
2007 recipient of the William F. Buckley Jr. Award for Media Excellence.
Make your reservation today - seats are limited!

To attend, sponsor, or for more information, contact Sara Bell at sbell@mediaresearch.org or call (800) 672-1423.
---
Previous Gala and DisHonors Archive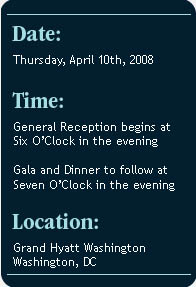 The Grand Hyatt Washington no longer has hotel rooms available that week. If you need assistance in booking a room at a nearby hotel, please contact Sara Bell at 703-302-8311.
Founded in 1987, the Media Research Center (MRC) is America's largest and most respected media watchdog group. Its mission is to create a media culture in America where truth and liberty flourish. The MRC is organized under 501(c)(3) of the Internal Revenue Code, and contributions to the MRC are tax-deductible for income tax purposes.