Few Reporters Describe Themselves as Conservatives
It's not just on Election Day: many of these same surveys and others have asked journalists to describe their political attitudes, and each time the researchers detected the same liberal skew:
• Washington Reporters, 2-to-1 Liberal: The Brookings Institution's Stephen Hess surveyed the Washington press corps in 1978 for his aptly-titled book, The Washington Reporters. More than twice as many journalists told Hess they were liberal (42 percent) as said they were conservative (19 percent). As for the public, even back in 1978 self-identified conservatives outnumbered liberals by a 31 to 26 percent margin, according to the General Social Survey taken annually by the National Opinion Research Center (NORC).
• The Media Elite, 3-to-1 Liberal: Lichter and Rothman's Media Elite surveys were conducted shortly after Hess's; they, too, showed top reporters disproportionately described themselves as liberals. According to the authors, "a majority [of leading journalists] see themselves as liberals. Fifty-four percent place themselves to the left of center, compared to only 17 percent who choose the right side of the spectrum....When they rate their fellow workers, an even greater difference emerges. Fifty-six percent say the people they work with are mostly on the Left, and only eight percent place their co-workers on the Right — a margin of seven to one."
• Prominent News Organizations Are the Most Liberal: A pair of Indiana University journalism professors, David H. Weaver and G. Cleveland Wilhoit, surveyed more than 1,000 journalists for their 1986 book, The American Journalist. Their poll included more than just top reporters, and, overall, they detected only a modest skew towards the liberal side of the spectrum — 22 percent of those interviewed called themselves liberal, compared with 19 percent who said they were conservative.
But among 136 executives and staffers at "prominent news organizations" — the three weekly newsmagazines, the AP and UPI wire services and the Boston Globe — the tilt was much more pronounced, with liberals outnumbering conservatives by a more than two-to-one margin (32 to 12 percent). Only six percent of this group identified themselves as Republican, compared with seven times as many (43 percent) who said they were Democrats.
• Nationwide, a 3-to-1 Liberal Advantage: When the Los Angeles Times polled journalists around the country in 1985, 55 percent were willing to call themselves liberal, far outstripping the 17 percent who said they were conservative.
• Becoming Even More Liberal: In 1992, Weaver and Wilhoit conducted another national survey of journalists, and noticed the group had moved farther to the left. Writing in the Fall 1992 Media Studies Journal, they pointed out that 47 percent of journalists now said they were "liberal," while only 22 percent labeled themselves as "conservative."
• Six Times as Many Liberals as Conservatives: The Freedom Forum's 1996 poll of Washington bureau chiefs and congressional correspondents found 61 percent labeled themselves as "liberal" or "liberal to moderate," compared with only nine percent who chose either "conservative" or "moderate to conservative."
• Business Reporters Are Liberal, Too: As for the notion that business reporters might be more conservative than their brethren on the political beat, that possibility was put to rest by a 1988 poll by a New-York based newsletter, The Journalist and Financial Reporting. The survey of 151 business reporters from newspapers such as the New York Times and USA Today, and business-focused magazines such as Money, Fortune and BusinessWeek, discovered six times as many self-identified Democrats as Republicans — 54 percent versus nine percent.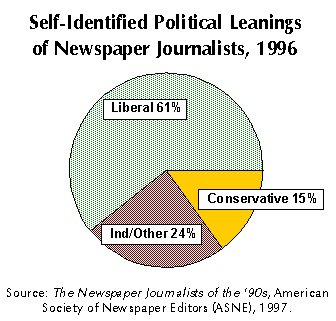 • Editors Group Noted the Growing Imbalance: In 1996, the American Society of Newspaper Editors surveyed 1,037 journalists at 61 newspapers. They learned that newsrooms were more ideologically unrepresentative than they had been in the late 1980s: "In 1996 only 15 percent of the newsroom labeled itself conservative/Republican or leaning in that direction, down from 22 percent in 1988," when the ASNE last conducted a comprehensive survey. Those identifying themselves as independent jumped from 17 to 24 percent while the percent calling themselves "liberal/Democrat" or leaning left held steady, down one point to 61 percent.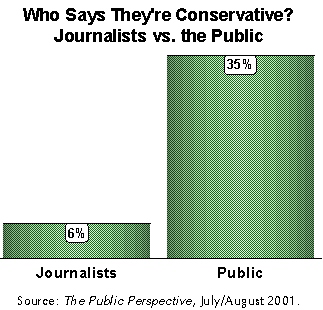 The ASNE report, The Newspaper Journalists of the '90s, also revealed that bigger — presumably more influential — newspapers had the most liberal staffs: "On papers of at least 50,000 circulation, 65 percent of the staffs are liberal/Democrat or lean that way. The split at papers of less than 50,000 is less pronounced: still predominantly liberal, but 51-23 percent."
In a sign that the media's desire for demographic diversity might result in even more solidly liberal newsrooms, ASNE also found that "women are more likely than men to fall into one of the liberal/Democrat categories," as just 11 percent said they were conservative or leaned that way. Minorities also "tend to be more liberal/Democrat," with a piddling 3 percent of blacks and 8 percent of Asians and Hispanics putting themselves on the right.
• Public Far More Conservative: In the July/August 2001 edition of the Roper Center for Public Opinion Research's journal Public Perspective, Washington Post national political reporter Thomas Edsall summarized the results of a poll of 301 media professionals taken earlier that year by Princeton Survey Research Associates (PRSA) and sponsored by the Kaiser Family Foundation. "The media diverge from both the public and from the policymaking community in terms of partisanship and ideology," Edsall reported. "Only a tiny fraction of the media identifies itself as either Republican (4 percent) or conservative (6 percent). This is in direct contrast to the public, which identifies itself as 28 percent Republican and 35 percent conservative."
• The Liberal Advantage Has Grown: In May 2004, the Pew Research Center for the People and the Press released a survey of 547 journalists and news media executives, including 247 who worked for national news organizations. The poll reprised many of the questions asked by the same group (then called the Times Mirror Center for the People and the Press) back in 1995.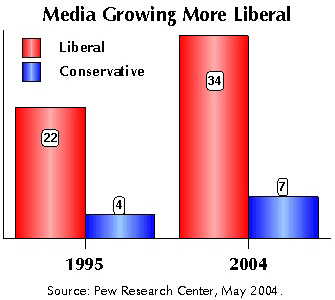 Pew found that the proportion of liberals in the national media had actually grown over the previous nine years, from 22 percent in 1995 to 34 percent in 2004. Meanwhile, the percentage of conservatives remained minuscule: just four percent in 1995, seven percent in 2004. As for local reporters, liberals outnumbered conservatives by a nearly two-to-one margin (23 to 12 percent).
Pew also asked journalists to name a news organization that seemed to cover the news from an especially liberal or especially conservative angle. When it came to a liberal new outlet, most of the national journalists were stumped. A fifth suggested the New York Times was liberal; ABC, CBS, CNN and NPR were each named by two percent. One percent of reporters said NBC was liberal.
But journalists did see ideology at one outlet: "The single news outlet that strikes most journalists as taking a particular ideological stance — either liberal or conservative — is Fox News Channel," Pew reported. More than two-thirds of national journalists (69 percent) tagged FNC as a conservative news organization, followed by the Washington Times (9 percent) and the Wall Street Journal (8 percent).

---
The Media Research Center
325 South Patrick Street • Alexandria, Virginia, 22314
(703) 683-9733 • www.mediaresearch.org
For an interview with an MRC Spokesman, please contact Katie Wright at (703) 683-5004
---
Home | News Division | Bozell Columns | CyberAlerts
Media Reality Check | Notable Quotables | Contact the MRC | Subscribe