According to a growing number of journalists, the media's liberal bias — a trait that most reporters refuse to acknowledge — is no longer a problem. Pointing to the commercial success of conservative talk radio hosts such as Rush Limbaugh and Sean Hannity, plus the Fox News Channel's dominance of cable TV, many media liberals insist the news industry has all of the fairness and balance it needs.
"Today you have broadcast journalists who are avowedly conservative," CBS's Lesley Stahl insisted in a January 18, 2003 interview on FNC's After Hours with Cal Thomas. "The voices that are being heard in broadcast media today are far more — the ones who are being heard — are far more likely to be on the right, and avowedly so." Stahl, however, could not name a single conservative journalist working at CBS News.
When it came to the war, journalists wished their brethren had been even more critical of the Bush administration. "Certainly television and, perhaps to a certain extent, my station was intimidated by the administration and its foot soldiers at Fox News," CNN's Christiane Amanpour claimed in a September appearance on CNBC. Amanpour said a "climate of fear and self-censorship" kept network journalists from truthfully reporting.
There wouldn't be liberal bias when it came to the 2004 presidential election, either. "It took conservatives a lot of hard and steady work to push the media rightward. It dishonors that work to continue to presume that — except for a few liberal columnists — that there is any such thing as the big liberal media," the Washington Post's E. J. Dionne argued in a December 2002 column. He found that traditional news sources are "under constant pressure to avoid even the pale hint of liberalism....What it adds up to is a media heavily biased toward conservative politics and conservative politicians."
These liberal journalists may have correctly sensed that they can no longer get away with the egregious bias that was possible before Limbaugh, before the Internet, before Fox News and before the MRC began documenting the media's twisted take on the news. But in spite of these beneficial alternatives, the really Big Media — the powerhouse news organizations that produce what most Americans see, hear and read each day — retain a liberal perspective that continues to warp the news.
Although their audiences are steadily shrinking, the ABC, CBS and NBC evening newscasts still reach 25 million people, far more than any program on the Fox News Channel. And when the media pack goes looking for story ideas, they are far more likely to parrot the predictable analysis of the New York Times or the Washington Post than repeat the insights of talk radio's conservative stars.
All last year, the Media Research Center's news analysts documented the media's liberal spin on a variety of social and political issues, ranging from the war in Iraq to the presidential election, tax cuts, the welfare state, abortion and the elevation of a gay bishop by the U.S. Episcopalian church. On these issues and many others, the media reliably reflected the liberal mentality that Dionne, Stahl and others have insisted was a thing of the past.
The following month-by-month review of the media elite's performance in 2003 shows that liberal bias is still very much with us. And that bias is not just of academic interest: As the 2004 presidential campaign gets underway, the media elite — the Big Three networks, CNN, major newspapers and newsmagazines, wire services and taxpayer-subsidized public broadcasting — promise to be the Democrats' greatest asset, as they twist the news to boost liberals and harm conservatives.
January
Reporters Pushed Spin of Anti-Tax Cut Liberals: On January 7, President Bush proposed a new round of tax cuts designed to boost the beleaguered stock market and provide a stimulus to the slow-growing economy. In spite of the weak economic environment, an MRC study found network reporters displayed their classic bias against tax cuts by emphasizing the arguments of tax cut opponents.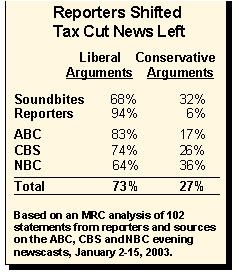 Media Research Center analysts studied all 28 tax cut stories on the ABC, CBS and NBC evening newscasts from January 2 through January 15, 2003, the two weeks surrounding the new tax cut plan's debut. The study found ABC, CBS and NBC gave three times more airtime to liberal arguments against Bush's tax cut than to the conservative arguments for it.
There were three main elements to liberals' critique of Bush's tax cut plan. First, they argued that tax cuts were a poor way to stimulate the economy. Second, they claimed that tax cuts would worsen the budget deficit. Lastly, they condemned the tax cut for supposedly only aiding the rich.
The three evening newscasts showed 58 sound bites from politicians, activists or others making one of these three liberal attack points, compared with 27 sound bites from conservatives rejecting these assertions, a greater than two-to-one liberal skew. When TV correspondents themselves weighed in, they sided with liberals another sixteen times, while only one journalist offered an argument supportive of the tax cuts.
The lonely dissident was CNBC's Ron Insana, who told NBC's John Seigenthaler on the January 4 Nightly News that "there are some elements of this package that could, in fact, encourage business leaders to spend more on new plant and equipment [purchases], and that is what has been missing in this economic recovery."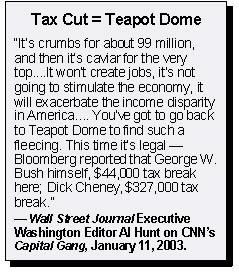 Network correspondents were most likely to repeat the liberal view that the tax cuts benefited the rich, a point reporters asserted 10 times during the two week study period. "The bigger your wallet, the bigger the benefit," CBS Evening News reporter Byron Pitts insisted on January 6 as he presented the tax cut as liberals wished, in terms of dollars saved, not the percentage tax reduction each family would receive. Emphasizing percentages would have showed the benefits were larger for lower-income families.
Pitts played a soundbite from an "expert" source, an accountant who proclaimed, "If you were to summarize this tax proposal as we see it today, the winners are the wealthy." Pitts failed to tell CBS viewers that the accountant, Avery Neumark, was a longtime contributor to liberals like New York Congressman Jerrold Nadler as well as the Democratic National Committee.
Reporters could have balanced their coverage by citing statistics placing liberal claims in context. Using IRS figures, the Tax Foundation showed how the tax code punishes the rich: the top 10 percent of Americans (those earning over $92,114) account for 46 percent of all income earned in the U.S., but pay 67.3 percent of income taxes. The top half of earners (those making over $27,682 a year) pay nearly all of the nation's income taxes. Just two NBC reporters — Campbell Brown and Lisa Myers — told viewers (in general terms) that the rich pay a far higher share of federal income taxes. ABC and CBS completely omitted this basic fact.
And because Bush's proposal envisioned moving many lower income families into the ranks of non-taxpayers, the rich would wind up paying an even greater share of the income taxes. As Washington Post reporters Dana Milbank and Chris Jenkins noted January 10, "Treasury figures show the share of the tax burden borne by those earning more than $100,000 would rise from 72.4 percent to 73.3 percent" if the whole tax cut passed Congress. But not one network reporter hinted at this further skewing of the tax code against the rich.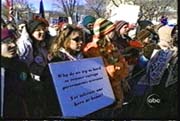 TV Treats Pro-Life Marchers as Irrelevant: Despite the 30th anniversary of the Supreme Court's Roe v. Wade decision, the networks studiously ignored the well-attended annual March for Life on January 23 – a stark contrast with the amount of publicity heaped on a well-attended left-wing, Bush-bashing protest against the approaching war in Iraq that occurred just four days earlier.
ABC, CBS, and NBC aired 26 segments on the anti-war march, 14 of them before the rally began, stories which emphasized the protesters' diversity, including political diversity. "Braving frigid temperatures," ABC's Lisa Sylvester proclaimed on the January 19 World News Tonight, "they traveled across the country — black and white, Democrat and Republican, young and old."
On CBS that night, Joie Chen sounded similar notes: "Young, old, veterans and veteran activists united in the effort to stop the war before it starts." The coverage, print and broadcast, excised speeches from the podium, from rally organizer Ramsey Clark's call for President Bush's impeachment to a man decrying the Bush administration as "greedy imperialist murderers."
The networks were much less interested in reporting on the March for Life. While they offered nine stories (four of them pre-rally) on the wider news angle of the 30th anniversary of Roe v. Wade, stories made only oblique references to marches around the abortion issue. Not one network news story had the pro-life demonstrations as its central topic, in contrast to 26 that featured left-wing anti-war protesters.
While both the anti-war and the pro-life rallies were organized to demonstrate a tide of public opinion for their cause, network anchors blurred the tens of thousands of pro-lifers in Washington into the tiny bands of pro-abortion protesters (a midday Planned Parenthood rally was estimated by Reuters at 150). Before the march, NBC's Lester Holt explained: "Rallies are scheduled in many places including Buffalo, New York." That evening, Dan Rather obscured the counts this way: "Tens of thousands of demonstrators on both sides of the issue filled the streets of Washington today."
In fact, the pro-life side consisted of tens of thousands, while the pro-abortion side could only muster a few tens.
Reporters failed to describe the pro-lifers marching in Washington as a diverse collection of young and old, Republican and Democrat. Instead, reporters highlighted the most extreme elements. Both NBC's Today and the CBS Evening News filed reports from Buffalo, where NBC's Kelly O'Donnell reported on a "crowd" that was later described as "a dozen or so" by the Buffalo News: "Today, supporters of James Kopp the man who confessed to the killing [of abortionist Barnett Slepian in 1998], have come to Buffalo to claim the shooting was justified." On CBS, reporter Jim Axelrod held up the "small number of demonstrators" as "telling," since the Slepian shooting was "an example of how abortion is redder than any other red meat social issue in America. It's the one producing the most violence." Axelrod spoke over video of a bomb going off.
This stark contrast in microcosm was best demonstrated by ABC's Nightline. On January 22, ABC split the program roughly in half between abortion advocates and foes. Reporter Dave Marash suggested the country might be better off without a national abortion discussion: "The year 2003 looks like both a crucial and a cruel one for America's harshest political debate."
By contrast, on January 16 Nightline had devoted most of its program to promoting the anti-war movement, and worrying about how it could broaden its appeal. Instead of showing both sides, Ted Koppel interviewed two leftists: Vietnam War protester Tom Hayden and Rep. Dennis Kucinich. Koppel began: "Thousands of anti-war demonstrators will take to the street this weekend and their message is clear...But is America really listening? Tonight, 'The Movement,' struggling to be heard."
If it were up to the networks alone, only the pro-life movement would need to struggle to be heard.
February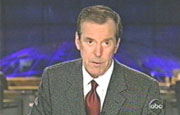 Peter Jennings Emphasized Anti-War Voices: Liberal revisionists now insist the news media meekly went along with the Bush administration's so-called "rush to war," but in the weeks preceding military action many journalists expressed deep skepticism of the President's tough stance against Saddam Hussein. Although all of the broadcast networks portrayed protesters from the anti-war Left as respectable and mainstream, ABC's Peter Jennings was the most supportive of their message, and he routinely tilted his newscasts in favor of their complaints.
On his February 7 World News Tonight, for example, Jennings excitedly reported how "the Iraqis appear to be making some concessions." He concluded that night with a slanted preview of the upcoming week: "The UN weapons inspectors go back to Baghdad this weekend. They have not been happy with Iraqi cooperation so far. We'll see if the Iraqis do any better — and if that means anything to the Bush administration."

Exactly one week later, during live coverage of a debate at the United Nations, Jennings continued to paint the administration as obstinate and destructive. "I think a lot of people got the impression this week that maybe the Bush administration doesn't mind if the Western alliance as we've known it in the post-war period breaks up," he remarked to White House correspondent Terry Moran.
Five days later, Jennings was still at it. "We're going to begin this evening with the Bush administration and its allies. It is quite clear in Washington tonight that the administration is prepared to jeopardize its relations with several of its oldest and best friends in order to get its way about Iraq," he intoned on the February 19 World News Tonight.
Most of the networks offered indulgent coverage of anti-war marches on February 15 and 16 — CNN even gave the protesters their own two-hour special, Voices of Dissent. But only Jennings was still beating the anti-war drums three days later. While the other anchors had moved on to fresh news, Jennings on the February 19 World News Tonight, celebrated that while the "the enormous anti-war demonstrations" have not "changed" President Bush's "mind about Saddam Hussein," they "have certainly given Mr. Bush's opponents some sense that they have momentum."
On February 26, Jennings tried to make the gimmicky "virtual" march of electric complainers sound impressive: "Thousands of people opposed to war against Iraq bombarded the Senate and the White House with phone calls, faxes and e-mails. They called it a virtual march on the Capitol. Communications were virtually paralyzed in the Senate for a while. Many congressional phone lines were jammed for several hours and one Senator reported 18 times more e-mail than usual." Protesters did not even have to take the trouble of flying or driving to an actual demonstration to make it onto ABC's airwaves.
But was the protest movement a political powerhouse? It's fair to describe a protest of 100,000 strong as "massive," but at the same time tens of millions of Americans were supporting the idea of a war with Iraq. And ABC doesn't always go out of its way to celebrate passionate minorities. Harry Browne, the Libertarian candidate, received more than 384,000 votes in the 2000 presidential campaign, but it's fair to say ABC never described that campaign as a political juggernaut.
Dan Rather Panders to Saddam Hussein: While his coverage of the subsequent war with Iraq was far better than that of his ABC colleague, Texan Dan Rather seemed interchangeable with Canadian Peter Jennings on one Wednesday in February.
In retrospect, it's easy to express relief that Saddam Hussein was deposed in April and captured in December. On both occasions, newscasts briefly underlined how Saddam had been the force behind brutal torture and the filling of mass graves. But on February 26, CBS's 60 Minutes II devoted an hour to the anchorman's interview with Saddam, a murderous dictator for whom Rather gave more respect than he has offered to some elected American leaders.
Many Americans remember Rather yelling at then-Vice President George H. W. Bush about Iran-Contra on January 25, 1988: "Can you explain how — you were supposed to be the — you are — you're an anti-terrorist expert. We — Iran was officially a terrorist state....Mr. Vice President, the question is, but you, made us hypocrites in the face of the world!...How could you sign on to such a policy?"
Not only did CBS submit itself to humiliating conditions they would never accept from an American politician — being driven around town for hours on end before the interview, ceding control to Iraqi translators, Iraqi camera operators, and Iraqi minders reviewing the tape afterwards. During the interview, Rather politely referred to the dictator as "Mr. President," sitting calmly and quietly as Saddam repeated the absurdity that he had received 100 percent of the vote in Iraqi "elections."
Rather also spent several minutes entertaining Hussein's gimmick of an international TV debate with President Bush, as if Saddam gained his office with debating skills. He prompted Hussein to expound on his propaganda: "What's the most important thing you want the American people to understand at this important juncture of history?" He followed up with questions about the logistics and who would moderate.
Rather called it "surprising" and "new," and CBS plugged it relentlessly. But the tape from August 29, 1990 — Rather's last exclusive sit-down with the dictator — quickly revealed an identical offer from Saddam Hussein to debate George H. W. Bush or Margaret Thatcher.
Rather dramatically concluded the interview by expressing concern that "given the sober moment and the danger at hand, what are the chances this is the last time you and I will see each other?"
In the end, the interview was a ratings success, with 17 million Americans tuned in. But CBS wasn't the only happy participant. On Fox & Friends February 28, reporter Greg Palkot relayed: "Last night, Iraqi state television ran in its entirety that interview that CBS News's Dan Rather conducted with the Iraqi president earlier this week. Our contacts in Baghdad tell us that this is an indication that the regime was very pleased with how the interview went, and they felt that it effectively got across the points the government there wanted to get across."

---
The Media Research Center
325 South Patrick Street • Alexandria, Virginia, 22314
(703) 683-9733 • www.mediaresearch.org
For an interview with an MRC Spokesman, please contact Katie Wright at (703) 683-5004
---
Home | News Division | Bozell Columns | CyberAlerts
Media Reality Check | Notable Quotables | Contact the MRC | Subscribe