Introduction
Ever since the United States and an international coalition toppled Saddam Hussein's dictatorship in the spring of 2003, the Iraq war has dominated network newscasts. Since then, there's been a lot of undeniably bad news, as terrorists have launched a savage campaign to thwart efforts to establish democracy in a major Arab state. But are the media giving the public an inordinately gloomy portrait of the situation, as some critics charge? Are the positive accomplishments of U.S. soldiers and Iraq's new democratic leaders being lost in a news agenda dominated by assassinations, car bombings and casualty reports?
To find out how the three broadcast networks have covered the war so far this year, Media Research Center analysts reviewed every report on the Iraq war that aired on ABC's World News Tonight, the CBS Evening News and NBC Nightly News from January 1 through September 30. In spite of their shrinking ratings, these three broadcasts boast far higher audiences than even the most widely watched cable news programs. And the network evening newscasts provide more consistent coverage of serious issues (such as Iraq) than either their morning counterparts or the networks' prime-time magazine shows, although many of the same packaged reports found on the evening news also appeared in some form on those other newscasts.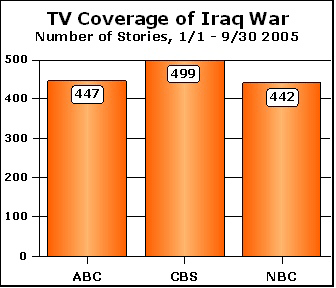 [The MRC plans to release an analysis of cable news coverage of the war in Iraq in 2006.]
The war has received a tremendous amount of TV coverage. During the first nine months of 2005, the three evening newscasts have broadcast 1,388 reports about Iraq, making it the year's single largest broadcast news topic. The CBS Evening News offered the most coverage (499 stories, split between 312 full reports and 187 brief items read by the news anchor). CBS also aired an additional 177 short items paying tribute to "Fallen Heroes," American military personnel who died while serving our country in Iraq, Afghanistan and elsewhere. These items were not considered part of CBS's daily Iraq coverage, but were reviewed and analyzed separately. (See Sidebar.)
ABC's World News Tonight discussed Iraq in 447 stories (278 full reports and 169 anchor-read briefs). The NBC Nightly News aired slightly fewer items (442 stories), but more full field reports than either ABC or CBS (325, compared to 117 short anchor-read items). Coverage on all three networks was most intense in January (283 stories), as Iraq prepared for its first democratic, multi-party elections, an exercise that would have been unthinkable just two years earlier. September saw the fewest Iraq war stories (64 stories), as network reporters focused on the damage caused to the U.S. Gulf Coast by Hurricane Katrina.
Night after Night, a Deluge of Discouraging News
More than any overt editorial judgments, our researchers were interested in the agenda of the networks' Iraq stories. How many stories focused on pessimistic developments, such as terrorist attacks or U.S. casualties, and how many told audiences about positive news, such as schools being rebuilt or progress on the political front? We went through each news story, cataloguing the various news topics and the way they were reported each night. To be classified as "positive," the optimistic news had to exceed the pessimistic by at least a three-to-two margin; to be counted as a "negative" story, the story had to be similarly dominated by bad news. Stories that could not be assigned to either group were counted as balanced or neutral.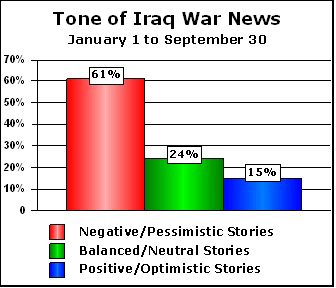 The results show just how heavily the network news agenda was skewed towards bad news. More than three out of five stories (848, or 61%) emphasized setbacks or obstacles to the U.S. mission in Iraq. Conversely, only 211 stories (15%) could be categorized as positive or optimistic, a four-to-one disparity. (See chart.) The remaining 329 stories (24%) contained a generally balanced mixture of optimistic and pessimistic information, or focused on a neutral topic (such as U.S. troops going to Easter services).
A principal reason for the dour tone was near-constant coverage of terrorist attacks, including kidnappings, car bombings, assassinations and massacres. Nearly every day, TV audiences were confronted with the horrors caused by the last remnants of Saddam Hussein's Ba'athist regime and the carnage created by foreign terrorists such as the Jordanian Abu Musab al-Zarqawi, al Qaeda's leader in Iraq.
Terrorist attacks are designed to attract attention and spread fear. The networks' daily coverage relayed the terrorists' deeds in gruesome detail. On February 28, ABC's Nick Watt gave viewers a graphic account of a suicide bombing targeting a medical clinic in the city of Hillah: "Pools of water turned red with blood; buildings scarred by shrapnel and body parts." Ten days later, Watt told how terrorists had bombed a funeral in Mosul, a city in northern Iraq: "Survivors carried out the bodies of the dead and wept. One of them described a ball of fire and a huge explosion, then, scattered blood and human flesh."
"It's been another terrible day in Iraq," CBS anchor Bob Schieffer typically began as he introduced a May 24 story on a series of car bombings aimed at civilians. From Baghdad, correspondent Mark Strassmann amplified Schieffer's grimness: "The carnage has been shocking: nearly 600 Iraqis killed in less than a month, attacks that have left this country tilting toward civil war."
Fully 40 percent of the networks' Iraq news (564 stories) featured terrorist or insurgent attacks, an average of two stories every night. In about half of these stories (269), the mayhem caused by terrorists was either the principal or sole focus of the story. In the other 295 stories, news of terrorist attacks shared attention with other topics, such as Iraq's progress toward a democratically-elected government or U.S. military strategy.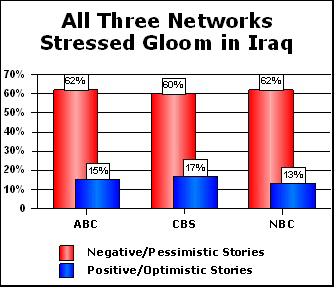 No other aspect of the Iraq war received as much attention from reporters. On June 14, NBC anchor Brian Williams was somber. "The insurgency in Iraq took an evil and gruesome turn today," Williams charged as he related how a suicide bomber had thrust himself into "a large crowd of retirees, older civilians, waiting at a bank to pick up their pension checks." That attack killed more than 20 people.
When it came to the dispiriting tone of the coverage, there was little difference between the three networks. The CBS Evening News carried a slightly higher percentage of positive stories (17%) and a slightly lower percentage of negative stories (60%) than the other two networks, but the differences are hardly significant. Stories about terrorist attacks comprised a slightly higher percentage of coverage on ABC's World News Tonight (44%) than on either the CBS Evening News (39%) or NBC Nightly News (38%), but those differences are also insignificant. When it came to Iraq, all three networks pursued essentially the same negative news agenda.
TV's portrait of Iraq grew bleaker as the year progressed. The percentage of pessimistic stories grew to more than 70 percent in August and September, up from about 50 percent back in January and February. At the same time, the percentage of optimistic stories fell, from about 20 percent of the coverage early in the year, to just seven percent by the end of the summer. By August and September, negative stories outnumbered positive stories by an astounding ten-to-one margin.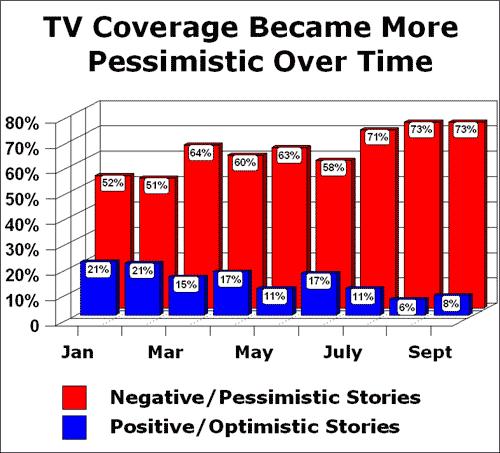 When it came to the terrorist attacks, a rare bit of optimism came in the few reports that documented how the Iraqi people are fighting back against the bombers. On March 15, CBS's Kimberly Dozier reported how more Iraqis are stepping forward to help the coalition thwart the terrorists. "They are killing their fellow Muslim Iraqi citizens, and this is not acceptable among the Iraqis," Iraq's National Security Advisor Mowaffak al-Rubaie told Dozier. "Iraqi blood is not cheap. These people should be denounced."
Reporting on rumors that the terrorist Abu Musab al-Zarqawi might be badly injured, ABC's Brian Ross on May 25 noted that "some Arabs on this popular Web site said they hoped the news was true. 'Let this criminal Zarqawi go to Hell,' wrote one. 'God curse him alive or dead. To Hell,' wrote another."
Anchor Charles Gibson soon asked Baghdad reporter Nick Watt: "I'm surprised by something in Brian's piece, the vehemence of the comments on Arab Web sites in opposition to Zarqawi, because we keep hearing that he has considerable support." Watt confirmed that many Iraqis "will be very glad if he does die."
The July 22 World News Tonight similarly told viewers about an Iraq television program that features confessions from captured insurgents. Reporter Mike von Fremd noted "the show is wildly popular and many viewers think those captured are getting what they deserve. 'They are terrorists,' this man said, 'they have no excuses.'"
Terrorist bombings, and the mayhem and chaos they cause, are certainly news events that ought to be reported. But when the terrorists bypass military targets and instead attack elderly pensioners, day laborers, medical clinics, schools and other civilian targets, their obvious goal is to discourage and demoralize the American and Iraqi publics, perhaps believing that at some point the televised scenes of horror will erode the will to complete the mission.
Nearly every journalist would agree that it is important to show the grisly reality of terrorist activity in Iraq. But by placing such a heavy emphasis on these bloody attacks, the networks are also giving the enemy some of the terrifying publicity they seek.
Tallying the Dead
The networks also provided heavy coverage of another discouraging topic: American soldiers killed or wounded in Iraq. Nearly three out of every 10 Iraq stories (400, or 29%) discussed U.S. casualties suffered in Iraq; in nearly one out of 10 stories (126), the American losses were the main focus of the story.
Some of these were positive stories reporting on tributes to those who died. On March 24, NBC's Andrea Mitchell reported on a Washington, D.C. exhibit, "Faces of the Fallen." Mitchell explained: "At first, they are a blur of faces, men and women, young and not so young. Then they come into focus, 1,327 individual portraits, created by 200 volunteer artists. A memorial to military heroes of the conflicts in Afghanistan and Iraq." She showed the father of a soldier killed in Iraq in 2003: "It's really nice to know that these boys and girls aren't forgotten. You know, people remember them."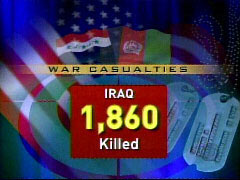 More often, the number of dead or wounded was reported as a dry statistic, a morbid scorecard of what America had lost. On June 12, ABC weekend anchor Terry Moran presented numbers with few details: "The U.S. military announced the death of four more soldiers today. That raises the total American death toll to more than 1,700." On August 18, CBS's John Roberts noted the deaths of four Americans killed by roadside bombs, then did the requisite math: "That pushes the total number of U.S. military dead in Iraq to at least 1,860."
It's one thing to note the passing of an individual soldier, or tell viewers about an incident that claims American lives. But the networks' fixation to provide an accumulated roll call of the dead suggested that the numbers themselves had more meaning than the individuals, or the cause for which they were fighting. Some reporters suggested that the casualty count was politically significant, that the number of those lost will some day reach a point where the public will demand an end to the war. "Rising U.S. casualties have fed an increasingly vocal campaign against the war here at home," CBS's Roberts declared as he introduced an August 17 story about Cindy Sheehan's anti-war protests.On the Bright Side: CBS News Honored "Fallen Heroes"
As they did throughout much of last year, nearly every CBS Evening News weekday newscast in 2005 dedicated a few moments to positive reminiscences of American men and women who died while serving their country overseas. Most of these soldiers died in Iraq, although some served in Afghanistan or elsewhere. While not considered part of CBS's daily Iraq coverage, these segments merit praise for the kindness with which they recalled America's fallen soldiers.
Anchors Dan Rather, Bob Schieffer and John Roberts narrated the brief 20-second spots that gave viewers a glimpse into what made each soldier unique, often illustrated by personal photos. Abraham Simpson "went from Eagle Scout to Marine overnight, and hoped one day to join the LAPD." Jason Poindexter "was a happy man who smiled a lot, which did not please his Marine drill sergeants." Michelle Witmer "loved kids and animals. She volunteered in an Iraqi orphanage and got her family to adopt an Iraqi puppy." Army Reservist Paul Kimbrough was "known for his kindness, he loved preaching the Bible. His favorite passage says, 'Be kind to strangers.' He always was."
CBS showcased courage: Alex Vaughn "was a big bouncing light who made you happy whenever he entered a room....Hit by shrapnel, he went on a mission to rescue a wounded comrade and was killed by small arms fire." Luke Wullenwaber "often volunteered for missions alongside or in place of his men. It was on such a mission that he was killed by a suicide car bomber."
About a quarter of these short profiles made it clear that the fallen heroes themselves supported the mission. Rob Sweeney "once said he was out to prove his generation are not slackers by fighting for democracy in Iraq." Aaron Holleyman was a special forces medic who saved "countless lives. When a roadside bomb damaged his hearing, he still insisted on staying in Iraq." And "in his last call from Iraq," Marine Sergeant Jayton Patterson said, "We're doing some good things for the people here." ❏
But the number of dead and wounded in Iraq, while painful, does not come anywhere close to rivaling the number lost in previous wars. More than 35,000 Americans died in Korea, nearly 60,000 in Vietnam. More than 400,000 Americans died in World War II, a ghastly total that never provoked the public into insisting that the fighting end before victory was achieved.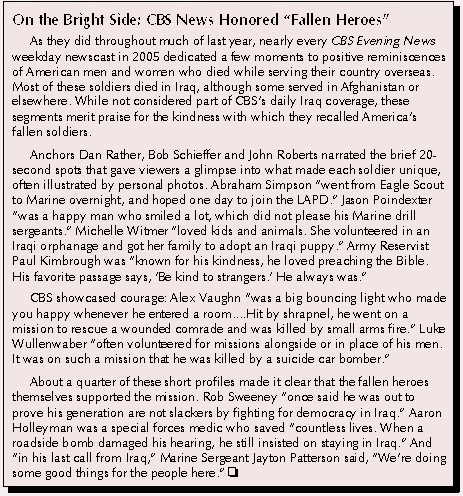 ---
The Media Research Center 325 South Patrick Street • Alexandria, Virginia, 22314 (703) 683-9733 • www.mediaresearch.org
For an interview with an MRC Spokesman, please contact Tim Scheiderer at (703) 683-5004
---
Home | News Division | Bozell Columns | CyberAlerts
Media Reality Check | Notable Quotables | Contact the MRC | Subscribe