Introduction
In the last 12 months, it seems, the mainstream media have rediscovered religion. It wasn't spontaneous, of course: a number of dramatic religious stories have unfolded recently, from religious freedom in Iraq, to the installation of an openly gay bishop, to the religious and commercial phenomenon around the movie The Passion of the Christ.
But has the media's newfound interest also meant new respect for religious institutions and traditional values? To measure the upsurge in religion coverage in 2003 and the beginning of 2004, MRC analysts surveyed every religion news story on ABC, CBS, and NBC news programs in the 12 months from March 1, 2003 through February 29, 2004. We then compared those numbers to MRC's first religion news study of 1993.
The numerical findings were dramatic. Overall, the networks aired 705 segments in the study period, up from 336 in 1993. The number of evening news stories on the three networks is up significantly (121 in 1993, 292 in the 2003-04 period). The number of religion segments on prime-time magazine shows and late-night and Sunday interview shows is way up (18 in 1993 to 82 in the 2003-04 period). A smaller jump came on the morning shows (197 in 1993, 331 in the 2003-04 period).
But the skeptical tone of religion coverage – covering religious issues like everyday political debates, favoring "religious" scholars who strongly question the authenticity of the Bible – doesn't match the religious belief that Americans state in polls. In a Fox News-Opinion Dynamics poll last September, 92 percent expressed belief in God. A broad majority also expressed belief in Heaven (85 percent) , miracles (82 percent), angels (78 percent), Hell (74 percent),and the Devil (71 percent).
In February, an ABC News poll found a majority of Americans believe in the literal truth of the Bible. When asked if a story was literally true or not literally true, nearly two-thirds of respondents believed in the story of Noah and the flood (60 percent true, 33 percent not literally true), the creation of the world in six days (61-30), and Moses parting the Red Sea to escape Egypt (64-28). By contrast, polls over the years have established that journalists seldom or never attend religious services and are much less religious than the public as a whole.
That disconnect between the media elite and the public is especially risky for journalists when religion news is "hot," as it is right now. Even when the amount of religion news increases, the media's tone remains cold, questioning, even hostile. The more traditional or orthodox the religious belief, and the more influential it threatens to become in the culture at large, the more the television networks seem to explain it away, as something "scholars" and "experts" dismiss.
1. Religion coverage has more than doubled from ten years ago.
Evening News Stories
When the MRC first performed a religion news study ten years ago, covering the calendar year of 1993, the number of evening news stories on ABC's World News Tonight, the CBS Evening News, and the NBC Nightly News was small: just 121 stories. That's less than two stories a week on the three networks combined. In 2003, thanks to some major religion stories, from Iraq to Pope John Paul's 25th anniversary to The Passion of the Christ, the number of evening news stories is up dramatically to 292. That led to an average of about two stories a week per network, a more regular and noticeable presence in newscasts.
This total includes both the longer, reporter-based story ranging from 90 seconds to a few minutes, as well as a small number of anchor-read news bites, often about 30 seconds in length. There was not great numerical disparity between the three evening news programs in their coverage of religion. (This is a slight difference from 1993, when ABC led with 46, while NBC had 44 and CBS lagged behind with 31.) In terms of overall numbers, CBS had the most stories with 103, compared to 95 for NBC and 94 for ABC. But in the study period, CBS also had a much higher number of anchor read stories with 40, while ABC had 23 and NBC aired 21. So in reporter-based stories, NBC led with 74, ABC had 71, and CBS had 63.
Morning News Coverage
For this study, the network morning shows are on a slightly uneven playing field. ABC's Good Morning America airs for two hours Monday through Friday, but currently has no weekend programs. NBC's Today airs seven days a week, three hours on weekdays, and generally two hours on Saturday and one hour on Sunday. CBS airs The Early Show for two hours from Monday to Saturday, and also airs the 90-minute show Sunday Morning.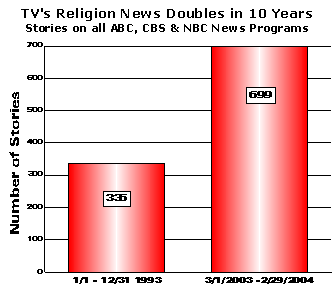 The increase in morning news coverage was not as dramatic as the evening shows, from 197 stories in 1993 to 331 in the 2003-04 study period. But since the anchor-brief count is almost the same (110 in 1993, 117 in 2003-04), the number of reporter-based and interview segments shows a more significant climb, from 87 to 214.
With the inclusion of 12 Sunday Morning reports, CBS was first with 118 reports (76 stories/interviews, 42 anchor briefs). Due to its exclusive arrangements with the Vatican for the papal anniversary and with Mel Gibson and his cast for The Passion of the Christ, ABC was strongest on weekdays with 109 segments (76 stories or interviews, 33 anchor briefs). Despite an extra hour every weekday and both a Saturday and Sunday edition, NBC was third with 104 (62 stories/interviews, 42 anchor briefs).
ABC's coverage waxed and waned heavily with their exclusives. They aired 25 stories or interviews during their Vatican period in October, and 13 stories or interviews in February, almost all of them on The Passion. In August, between Gene Robinson and Roy Moore, ABC filed another 13 full segments. (Other months were much leaner, with just 11 full segments in the five months from March through July.) As in the case of the evening shows, the larger number should be put in context – the networks are still averaging a little more than two morning segments a week.
Magazine/Interview Show Coverage
To complete the picture of network news coverage of religion, MRC analysts also reviewed prime-time magazine programs (ABC's Primetime and 20/20, CBS's 60 Minutes, 60 Minutes II, and 48 Hours, and NBC's Dateline), ABC's Nightline in late night, and the Sunday interview shows (ABC's This Week with George Stephanopoulos, CBS's Face the Nation, and NBC's Meet the Press). Since the segments are much longer than the average evening-news story and there are almost no anchor briefs, the magazine shows offer the most in-depth coverage of religion news and issues.
In 1993, a review of that year's magazine, late-night, and Sunday interview shows found only 18 stories. ABC did 10 segments, with NBC (4) and CBS (3) lagging behind. In the 2003 study period, religious subjects have been much more prominent, with 82 segments. Nightline, Primetime, and Dateline devoted entire programs to religious topics. In those cases, segments were determined by commercial breaks. Hour-long shows counted as five segments, half-hour Nightline programs as three segments. ABC led with 43 segments, while NBC aired 31, and both networks featured some positive or inspirational coverage. CBS not only lagged behind with eight, but its segments were almost entirely critical in tone.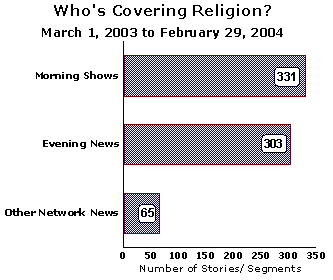 Some programs favored religious topics more than others. Dateline (31) and Nightline (27) were the busiest. With an hour devoted to each The Passion of the Christ and the religious theories behind the novel The DaVinci Code, Primetime had 12 segments, but 20/20 only aired three. 60 Minutes had seven, with a single segment on 60 Minutes II. The 48 Hours shows aired nothing. On the Sunday morning interview shows, only ABC's This Week with George Stephanopoulos carried religious segments (one on the papal anniversary, one interview with gay bishop Gene Robinson).
2. The Catholic Church received the most coverage among faiths, but coverage of Islam rose dramatically.
Evening News Coverage
True to the pattern of previous MRC religion news studies, the Catholic Church received the most coverage among faiths. The 25th anniversary of Pope John Paul II's pontificate drew significant coverage with a balance of positive and negative angles. But due to its status as the largest church in America, media outlets continued to press stories on Catholic clergy sexual abuse and other ministerial failings. The Catholic Church was the subject of 75 out of 208 reporter-based stories (36 percent), and 53 of the 84 anchor briefs (63 percent). The most common religious anchor brief was an update on one of the pontiff's foreign trips, or his saying Mass on a holy day like Good Friday.
The American church's continued attempts to deal with the criminal and spiritual nightmare of clerical abuse drew almost half of the reporter-based stories (35 out of 75). The Catholic Church was nearly alone in facing this scrutiny. CBS reporter Jane Clayson broke the mold by providing one report on sexual abuse allegations within the Jehovah's Witnesses.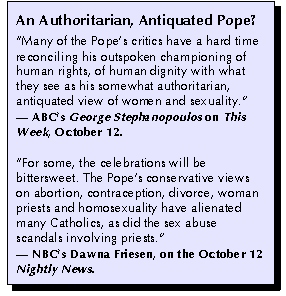 Coverage of Islam was up dramatically from 1993, when coverage was rare. In the 2003-04 study period, it came in second place with 62 stories (14 of which were anchor briefs). Much of the coverage was about the new religious freedom in Iraq – for example, the ability of the Shi'ites to make a pilgrimage to the Iraqi town of Karbala, which they were not allowed to do under Saddam Hussein. ABC and NBC also reported on the first liberated Easter for Iraqi Christians.
The 13 stories on Islam in America mainly portrayed Muslims as victims of discrimination by non-Muslims. NBC's Lisa Myers reported a story on Washington D.C.-area Muslims who came under FBI investigation because they liked to play paintball in the woods. ABC's Dean Reynolds reported from Cedar Rapids, Iowa on local protests of Muslim Dick Aossey's plans for a Muslim youth camp that would include foreign youth. One exception to that victim line was the investigation into Muslim chaplain James Yee on charges of espionage (which were recently dropped). MRC analysts did not count as religion stories the more secular or political usage of the Muslim faith, news reports on how the Iraqi factions might fit into the new Iraqi constitutional system, or how leaders of "Muslim nations" are feeling about American foreign policy.
The Episcopalian Church came in third with 30 stories (six of them anchor briefs) on the election and installation of openly gay bishop Gene Robinson. CBS aired 13, ABC had 11, and NBC did six. The church-state struggle of Alabama Supreme Court chief Roy Moore to maintain his monument of the Ten Commandments in his state judicial building drew 19 stories, four of them anchor briefs. Unlike more substantial coverage in other parts of the television day, The Passion of the Christ drew only 11 evening-news stories through the end of February.
Morning News Coverage
The Catholic church led the coverage with 147 stories (78 reporter-based stories or interview segments, and 67 anchor briefs). The Catholic sexual abuse story was less prominent in the morning. While abuse problems drew almost half of reporter-based stories on the evening news, only 13 of the 78 morning show reports (17 percent) focused on abuse. Due to their exclusive access to the Vatican, Good Morning America had fully half (39 of 78) of the longer network segments on Catholic subjects.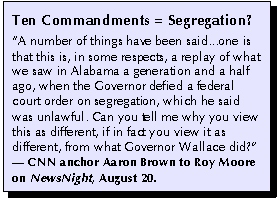 Mel Gibson's The Passion of the Christ drew 40 segments (just three of them anchor briefs), 16 on ABC to 13 on CBS and 11 on NBC. Two-thirds of the coverage (27 segments) arrived in February. While ABC and NBC first reported on the movie in August, all thirteen segments on CBS came in January and February. Despite Gibson's traditionalist Catholic faith, none of the religious leaders featured in interview segments on The Passion were Catholic. The networks did consult Jewish rabbis and evangelical leaders.
The Roy Moore imbroglio in Alabama was the third largest story with 34 stories (11 of them anchor briefs), followed by the Episcopalian Church's "historic" changes with 33 stories (16 anchor briefs). Perhaps due to the softer focus of the morning programs, Islam was not as heavily covered as it was on the evening shows, with just ten segments (four of them anchor briefs).
Magazine/Interview Show Coverage
Magazine and interview programs had the most variation in their focus on denominations. Sixteen segments focused on the Catholic church, 15 on The Passion of the Christ, 14 on evangelical or Protestant churches, eleven on the general question of faith in God, seven on Jews, four on general Christianity, two on the Mormons, and one on the gay Episcopal bishop.
The Catholic segments included an hour-long Dateline on an unfaithful priest who fathered children and left the mother as she lay dying several decades ago. Nightline had three shows (or nine segments) on Catholic topics – two shows on clergy sex-abuse scandals, and one on Indiana priest Raymond Schaeffer, who told his parishioners from the pulpit that he was gay, and that gay rights must be supported as a "justice issue." The papal anniversary was only marked by a segment on This Week and a 60 Minutes piece on the beatification of Mother Teresa.
The Passion of the Christ attracted an entire hour of Primetime, an entire hour of Dateline, and a Nightline. It also drew a controversial 60 Minutes commentary by Andy Rooney in which he claimed God spoke to him and God called Mel Gibson "a real nut case." Evangelical Christians were the subject of two Nightline half-hours on a preaching competition, three Dateline segments on the American missionary Gracia Burnham, who had been taken hostage in the Philippines, and two negative 60 Minutes segments – one on evangelicals supporting the retention of Israel's occupied territories, and the other on the theology in the best-selling "Left Behind" books, as critiqued by gay black Harvard theologian Peter Gomes.
The segments with a general focus on God included a one-hour Dateline on the healing power of prayer, following the recovery from leukemia of TV reporter Lance Williams. The Mormons drew a positive story on the Mormon Tabernacle Choir on CBS's 60 Minutes II, and a Tom Brokaw story for Dateline on author Jon Krakauer's book about Mormon extremists in Utah. The seven Jewish segments were all on Rabbi Fred Neulander, convicted of hiring a killer for his wife, although throughout this study, most segments on The Passion of the Christ featured analysis and debate from Jewish leaders.
3. Reporters often approach religious issues from a secular and political perspective.
When religion confronts social issues, reporters usually present the controversies through their own secular and political lenses. As New Hampshire Episcopalians elected openly gay Bishop Gene Robinson, reporters focused relentlessly on the political and cultural angles, not scriptural or theological matters.
But for all the focus on church politics, the networks failed to employ one old news-making strategy they routinely use with the American Catholic church: a poll. Even as ABC used the papal anniversary to do another poll of Catholics on October 15, finding 62 percent of self-proclaimed Catholics thought the pontiff was "out of touch" on church policies (including on sexual issues), the networks attempted no poll of self-declared Episcopalians to get a nationwide opinion on the Robinson ascension. This is especially odd since Catholics do not elect their bishops, as the Episcopalians do.
To secular liberal reporters, the ascent of Bishop Robinson was "historic" in the most inspiring sense and a "landmark" for the culture in 64 stories (22 of them anchor briefs). On CBS's The Early Show on November 3, reporter Gretchen Carlson declared: "It was a landmark moment as Gene Robinson was consecrated as the first openly gay Episcopalian bishop."
But to the orthodox believer, the observer of Scripture, which clearly decries homosexuality as an "abomination," the installation of the first gay Christian bishop marks not only a departure from God's word, but the installation of a false prophet, a spokesman for pride in sin and defiance of God, with the dangerous result of leading a flock of believers away from their path toward Heaven. To them, it's a little like celebrating the first chef to use arsenic in his recipes. That theological complaint rarely surfaced.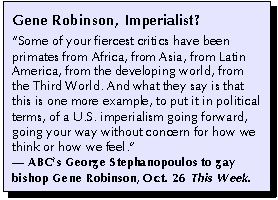 The traditionalists' emphasis on the fact of the Bible's view against homosexuality was treated as merely an unsubstantiated charge. On the October 7 CBS Evening News, reporter Bob McNamara claimed that the Episcopal church "becoming officially all-inclusive to gays is a scriptural gray area these U.S. conservatives vow not to accept." To the believer, this sounds strangely neutral on an easily checkable factual matter, like reporting "According to conservatives, the Bible mentions the Ten Commandments," or in a more secular vein, "According to oil company spokesmen, cars can be operated with gasoline." It suggests to viewers that the expert cited is making a self-interested assertion that should be viewed as factually questionable, or at least as a fact highly favored by people with a questionable agenda.
The center of the story was reserved for the gay protagonist and his worldview. On the morning shows, Canon Robinson and his supporters drew almost all the network interview time: ten interviews, compared with just one for a neutral church spokesman, and one for an opponent. The church spokesman (Daniel Englund on ABC's Good Morning America) and the opponent (Bishop Kendall Harmon on NBC's Today) both appeared on August 5, when Robinson's ascent was briefly halted by an allegation of inappropriate touching that church officials dismissed. Without that charge, critics could wonder if opponents would have been interviewed at all.
Many questions to Robinson were procedural (how does the church vote go?), political (what do you think of President Bush's remarks on gay marriage?), or personal (how do you feel?). But Robinson was occasionally asked a question about religious doctrine. The most thorough, theological interview with Robinson came on This Week with George Stephanopoulos on October 26. Stephanopoulos asked some religious questions like "You said you discern God's voice? How can you be sure?" He also inquired, "Isn't the point, some would say of Christianity, that it is exclusive? That it is open only to those who believe certain things and act in certain ways?"
On August 6, the morning Robinson was interviewed wall-to-wall on all three network shows, CBS Early Show host Harry Smith suggested, "Strict adherents to Scripture say homosexuality is against the teachings of the Bible. What do you say to them?" Robinson responded with a notion of biblical elasticity: "The Bible does not address what we are talking about today, which are faithful, monogamous, lifelong intentioned relationships between people of the same sex. It's not that the Bible is explicitly supportive of such a thing. It was just unknown to people at the time that that was written." Smith did not follow up.
In this epic cultural battle between conservatives and liberals, reporters failed to describe each side equally, describing the conservatives accurately as conservatives, but portraying the liberals inaccurately as non-ideological. On the August 6 World News Tonight, substitute anchor Elizabeth Vargas relayed the two sides as conservative versus inclusive: "Some conservative Episcopalians say homosexuality is contrary to scripture and therefore totally unacceptable. But supporters of the decision call this a step toward a more open and inclusive church."
In news stories, reporters nearly achieved balance in soundbites between Robinson opponents and supporters: 39 for opponents to 45 for Robinson and his supporters, with another 27 neutral or informational soundbites. But the labeling was very imbalanced: reporters and anchors used 42 "conservative" labels for opponents, compared to just five "liberal" labels for the church or Robinson's supporters. Robinson himself was never described as "liberal" or "radical," and reporters never even used the word "activist" to describe him.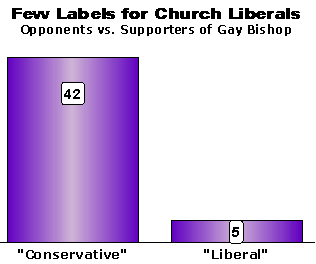 CBS was perfectly one-sided in its labeling, with 14 conservative labels and zero liberal ones. (In two stories, CBS tried to cast the Robinson decision as part of an inevitable historical process that would be eventually accepted by referring to the Episcopal decision to ordain women in the 1970s as a "then-radical" idea.) ABC offered the most liberal labels (three), but that was nowhere near their 14 conservative tags. All three were used by reporter Tamala Edwards in her stories. She did match the two: "No matter how this turns out, it appears the dividing lines have grown only deeper between church liberals and conservatives." NBC's labeling count was 18 to 2.
Another word that secular reporters avoided was "sin." A Nexis search of the words "Gene Robinson" within 25 words of "sin" during the study period found that ABC aired one Tamala Edwards story (airing on the August 3 World News Tonight and the August 4 Good Morning America) where one man in a soundbite declared homosexuality was a "sin." CBS and NBC searches came up empty: "No documents were found for your search."
Page 1
Introduction
Religion Coverage More Than Doubled
Coverage of Islam Up Dramatically
Reporters Approach to Religious Issues

Page 2
Tone of Network TV Religion
Media's Rolodex of Religion Experts
Recommendations for Improved Coverage

---
The Media Research Center
325 South Patrick Street • Alexandria, Virginia, 22314
(703) 683-9733 • www.mediaresearch.org
For an interview with an MRC Spokesman, please contact Katie Wright at (703) 683-5004
---
Home | News Division | Bozell Columns | CyberAlerts
Media Reality Check | Notable Quotables | Contact the MRC | Subscribe