Executive Summary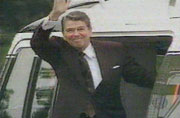 In a commemorative issue published the weekend Ronald Reagan died, Time magazine described the former President as "a man with the power to pull history around a corner" and "change the conversation of our politics and culture as much by the sheer force of his personality as by the power of his ideas." The national media's often gracious coverage in the days after Reagan's death obscured the unfortunate historical record of media coverage: a chronicle often filled with not just disagreement, but with disgust, hatred, ridicule, and insults. Below are listed five categories the Media Research Center has assembled to assess the "objective" national media's most biased takes on President Reagan, his record and his times:
Reagan the Man: Reporters often agonized over why the American public liked Reagan, that they couldn't see through the White House spell and see Reagan in the contemptuous light that they did.



The Reaganomics Recovery: Reagan's policies caused a dramatic economic turn-around from high inflation and unemployment to steady growth, but the good news was obscured by bad news of trade deficits, greedy excesses of the rich, and supposedly booming homelessness.



Reagan and National Defense: Ronald Reagan may have won the Cold War, but to the media, the Reagan defense buildup seemed like a plot designed to deny government aid to the poor and hungry, and was somehow the only spending responsible for "bankrupting" the country.



Reagan and Race: Using their definition of "civil rights" — anything which adds government-mandated advantages for racial minorities is "civil rights" progress — liberal journalists suggested that somehow Ronald Reagan was against liberty for minorities.



The Reagan Legacy: The media painted the Reagan era as a horrific time of low ethics, class warfare on the poor, and crushing government debt.
Liberals expressed fear that the first draft of Reagan obituary coverage was too generous, a hagiography, a manufacturing of myth. But these few days are no match for decades of demonization, a myth that Reagan only brought the nation poverty, ignorance, bankruptcy, and a dangerously imbalanced foreign and defense policy.
---
The Media Research Center
325 South Patrick Street • Alexandria, Virginia, 22314
(703) 683-9733 • www.mediaresearch.org
For an interview with an MRC Spokesman, please contact Colleen O'Boyle at (703) 683-5004
---
Home | News Division | Bozell Columns | CyberAlerts
Media Reality Check | Notable Quotables | Contact the MRC | Subscribe