While it only lasted about three weeks, the second Gulf War was an unqualified success. Jubilant Iraqis danced in the streets as U.S. military forces rolled into the center of Baghdad, while the dictator Saddam Hussein and his evil cohorts were, as General Tommy Franks put it on April 11, either dead or "running like hell."
So what about TV coverage of the war? While the media covered many aspects of the war fairly well — reports from embedded journalists were refreshingly factual and were mostly devoid of commentary — television's war coverage was plagued by the same problems detected during previous conflicts: too little skepticism of enemy propaganda, too much mindless negativism about America's military prospects, and a reluctance on the part of most networks to challenge the premises of the anti-war movement or expose its radical agenda.
Media Research Center analysts Geoff Dickens, Jessica Anderson, Brian Boyd, Brad Wilmouth, Ken Shepherd and Patrick Gregory, along with MRC's Director of Media Analysis Tim Graham, watched the war as it unfolded on ABC, CBS, NBC, MSNBC, CNN and the Fox News Channel. The following report contains highlights of that coverage, along with grades for each network and anchor's overall performance.
Led by the highly tendentious Peter Jennings, ABC's reporters presented the most adversarial and negative coverage of the American war effort. Their reporter in Baghdad, Richard Engel, did the most to play up Iraqi claims of civilian suffering at the hands of Americans (see the section on Baghdad reporters), while Jennings — more than any other anchor — zeroed in on purported weaknesses and failings in the U.S. effort to win support among liberated Iraqis. At the same time, ABC's Ted Koppel used his position as an embedded reporter to issue lectures about U.S. policy (see the section on embedded reporters). The war's swift and victorious conclusion showed that the self-described truth-tellers at ABC weren't just sanctimonious — they were wrong.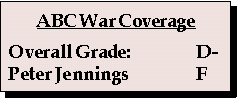 Less than 48 hours after the war began, ABC reporters were scoffing at the suggestion that Iraqi citizens would welcome American troops, and Jennings suggested that early scenes of welcome were staged. On the March 22 World News Tonight, Jennings pooh-poohed the pro-American celebrations all of the networks had shown the day before: "Yesterday we saw images of a jubilant reception in the southern Iraqi town of Safwan where soldiers stood by as people tore down a picture of Saddam Hussein and jumped in the streets, at least for the cameras. ABC's John Donvan today went unescorted to Safwan and got a far different welcome."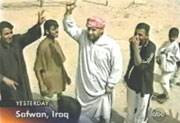 Safely back in Kuwait, Donvan recounted his trip for Jennings: "Well, this whole thing about Iraqis dancing in the streets as the coalition forces moved through, in the town of Safwan, I just did not see that, I didn't see anything like that. What I saw was a lot of hostility towards the coalition forces, towards the United States, towards George Bush — and wasn't particularly friendly towards us journalists....We started conversations with people on the street there that were relatively calm, but the more they talked the more angry they got, and they began to ask questions like, 'Why are you here in this country?', 'Are you trying to take over our country?', 'Are you going to take our country forever?', 'Are the Israelis coming next?', 'Are you here to steal our oil?', 'When are you going to get out?'"
Donvan's pessimism was echoed by ABC's Mike von Fremd on the March 26 World News Tonight. From Safwan, von Fremd relayed: "While these Iraqis are desperate for this humanitarian aid, they also have a very strong message for the world. 'You brought us chaos,' this mother said. 'People are sick and hungry.' 'Women and children have been killed,' this man says. 'It is all because of U.S. greed for Iraqi oil.'"
Finally, and without ever mentioning ABC's earlier, distorted coverage, reporter John Quiñones explained on the March 28 World News Tonight that the anti-American complaints may have been staged for the benefit of Saddam's spies. From Umm Qasr, a town near Safwan, Quiñones related: "Those pro-Saddam chants of a few days ago were nowhere to be heard today....Najib, a school teacher in this town, says that's because a few days ago, so many of Saddam's Ba'ath party loyalists were still here watching, listening." Quiñones then played a sound bite from Najib: "I, myself, said it, but we were forced to say it. We were, we were obliged to do. If we didn't do, if we don't do it, we're killed or arrested or destroyed."
According to ABC, America wasn't just failing to win hearts and minds, but perhaps failing in the main military mission as well. On March 25, Good Morning America co-host Charles Gibson challenged General Richard Myers, the chairman of the Joint Chiefs of Staff, about whether or not the military had properly prepared for the war. All of Gibson's questions were premised on the notion that the war was not going as well as the U.S. had planned: "It is very obvious from what we've seen so far that you have some very good soldiers over there, but the question is, do we have enough of them?" Gibson demanded.
After General Myers said the plan was adequate, Gibson persisted: "I want to come back to this question of do we have enough soldiers over there. Given the resistance that we have faced now in smaller cities like Umm Qasr and Nasiriyah, do we have enough to handle an all-out fight in this city, which is really about the size of Los Angeles, and still keep an eye on those smaller cities and maintain supply lines as well?"
Gibson continued to pound away: "But this is gonna be, from all indications, a tough fight as we get close to Baghdad and around Baghdad itself. You just talked about more forces flowing up toward that area. Is there going to be a pause, a day, a couple of days, three days, four days, number one while we wait out the sandstorm, number two while more troops flow up to that area, and number three while we carry out air attacks against entrenched Iraqi forces?"
Later that morning, Gibson's co-host, Diane Sawyer, returned to the idea that the Iraqis were rejecting American efforts at their liberation. Previewing an upcoming segment, she insisted: "A lot of Americans did believe that American troops would be treated as liberators in the streets, at least in the south. What happened to the flowers expected to be tossed the way of the Americans? Was it a terrible miscalculation?"
Jennings himself was among the very last to acknowledge that, once Iraqis were totally out from under the thumb of Saddam's thugs, they were appreciative of the U.S. intervention. On the April 1 World News Tonight, he used thin evidence to argue that Americans were entering more hostile territory as they neared Baghdad. Over a map showing the progress of U.S. forces, Jennings intoned, "Countryside is changing here now, passing from desert into farmland, and one embedded reporter with the U.S. forces, beginning we think now to move forward, said earlier today: 'When we came out of the desert where they waved at us, notice they don't wave at us any more.'"
On April 9, the day U.S. Marines helped Iraqi civilians topple a huge statue of Saddam, Jennings anchored ABC's live coverage. As the statue collapsed to the sound of Iraqi cheers, the ABC anchor oddly remarked about the willingness of Saddam to pose so often — as if the dictator was making some sort of sacrifice — and wistfully reflected on how the sculptors who made such monuments to tyranny will have nothing to do now that freedom has arrived in Iraq: "Saddam Hussein may have been, or may be, a vain man, but he has allowed himself to be sculpted heavy and thin, overweight and in shape, in every imaginable costume — both national, in historic terms, in Iraqi historic terms — in contemporary, in every imaginable uniform, on every noble horse. The sculpting of Saddam Hussein, which has been a growth industry for 20 years, may well be a dying art. A man named Natik al-Alusi [sp?] was one of the principal sculptors, and he was doing a new sculpture for the Ministry of Electricity even as this war was beginning."
Apart from his general negativity about the war's accomplishments, Jennings was the most indulgent of the anti-war movement, offering uncritical coverage. At one point during live coverage on March 20, the first full day of war, he complained to Senator Joseph Biden that the Democratic Party was abandoning its anti-war constituents. "There are still a large number of people in the country who are opposed to this," Jennings asserted before pleading to Biden: Anti-war activists "look to members of the Democratic Party, particularly, to sort of be their port in a storm, their place to manifest their dissatisfaction. What happens to them at the moment?"
During live coverage the next night, March 21, Jennings seemed intent on publicizing the anti-war message. Jennings rued to U.S. News & World Report's David Gergen that the Bush administration has a "tendency" to "pretend" anti-war protests are not happening. Gergen agreed and then worried that since "Iraq is putting up so little resistance," the U.S. will appear to "have been a bully."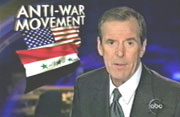 With American audiences anxious to learn about the progress of U.S. forces, Jennings that night spent most of ABC's 10pm ET hour promoting anti-war activists. In that hour, ABC featured three taped pieces on dissent, with one on a Jordanian man who wishes to attack America, and multiple interview segments, including about eight minutes devoted to two organizers of far-left anti-war protest groups, neither of which Jennings labeled. Instead he largely tossed them softballs, such as: "Why do you feel so strongly about this war?" And Jennings saw an inadequate level of college activism: "The college campus appears rather quiescent to some — quiet."
The next morning, ABC's Chris Cuomo offered another gift to the radical left. During a special five-hour Saturday edition of Good Morning America, Cuomo (the son of the liberal former governor of New York), acknowledged that only a small minority of the public was anti-war, but he still used ABC's airwaves to promote the worthiness of their cause: "So while protesters like today are a statistical minority, in American history protests like this have been prescient indicators of the national mood. So the government may do well to listen to what's said today."
Despite all of the favorable coverage ABC bestowed on anti-war protests both before and during the war (including a February 26 "virtual march" where no one marched at all, but rather sent e-mails to Washington), World News Tonight was the only newscast to completely ignore a support-the-troops rally with 15,000 participants held in New York City on April 10. CNN, FNC and MSNBC all covered some of the April 10 event live in the noon hour and later included it in their periodic summaries of the day's events. CNBC's The News with Brian Williams, anchored by Forrest Sawyer, also highlighted it, as did the CBS Evening News and NBC Nightly News.
But Peter Jennings' World News Tonight, for all its coddling of anti-war groups, couldn't even find fifteen seconds in its newscast to note this gathering of citizens supporting the sacrifice of American soldiers, sailors, airmen and Marines.

---
The Media Research Center
325 South Patrick Street • Alexandria, Virginia, 22314
(703) 683-9733 • www.mediaresearch.org
For an interview with an MRC Spokesman, please contact Katie Wright at (703) 683-5004
---
Home | News Division | Bozell Columns | CyberAlerts
Media Reality Check | Notable Quotables | Contact the MRC | Subscribe