The Baghdad Reporters
After CNN's Nic Robertson and his crew were expelled from Baghdad on March 21, none of the U.S. networks had their own full-time correspondents in the Iraqi capital until CBS's Lara Logan arrived on April 4. But the networks developed associations with other journalists to continue reporting: National Geographic's Peter Arnett filed reports for NBC and MSNBC; ABC used freelancer Richard Engel; CBS talked to New York Times reporter John Burns by phone; while CNN and FNC interviewed a variety of English-speaking journalists from European media outlets.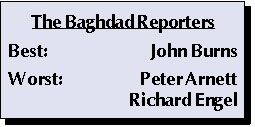 For all the risk to journalists who holed up in the Palestine Hotel during the war, little valuable reporting came out of Baghdad before U.S. forces arrived. Until the dictatorship ran away April 9, reporters were under the control of the Iraqi Ministry of Information. They could not witness very much from the confines of their hotel. They could not visit damaged government buildings unless the Iraqis took them there, nor could they dare report anything that would seriously offend the Iraqi government. All they could do was repeat the dubious claims of Iraqi officials, visit bomb sites that the Iraqis claimed illustrated civilian damage, and narrate the nightly bombing of Baghdad.
Given those impediments to accurate reporting, the networks should have used reports from these correspondents sparingly, and emphasized for the audience the difficulties these reporters faced. But ABC instead chose to highlight the stories of civilian suffering which Engel reported, even though it could not be known whether a bandaged person shown in a hospital bed had been hurt or killed by U.S. bombs, Iraqi anti-aircraft fire falling back to the ground, or even an ordinary accident in a city of five million.
Anchor Peter Jennings actually provided the first casualty report which ABC admitted it could not validate. On March 20, less than 24 hours after the war began, Jennings showed his World News Tonight audience video of a young girl in a hospital bed: "We have been getting some video in from Baghdad at the moment, from both al Arabiya, which is a new television cable satellite network in the Middle East, funded in Saudi Arabia....and al Jazeera, which is owned by the Qataris....We cannot tell you what these pictures represent, except some poor child has been hurt. We do not know how, but they are reporting tonight that 37 people have been injured in the course of attacks on Baghdad today and that is all we can tell you. It's a little out of context, but there it is."
ABC highlighted Engel's reports of Iraqi suffering allegedly caused by the U.S. military, and of Iraqi anger towards America. On the March 28 World News Tonight, he reported that "witnesses say a missile exploded in this poor Baghdad neighborhood. It was packed with people shopping this evening. All those killed have been described as civilians. The Iraqi news agency called the missile strikes 'a new American crime.'" Engel concluded: "Iraqis didn't expect this war to be without casualties, but they had faith in American technology and its ability to strike with accuracy. In fact, they're still convinced Americans have that ability, which is leading some people here to start believing the government's propaganda that coalition forces are deliberately trying to kill civilians."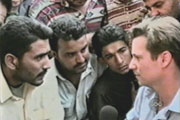 On the April 2 World News Tonight, Engel highlighted the claim that the U.S. had bombed a "maternity hospital." He asserted: "Iraqis are growing increasingly enraged by the mounting damage to civilian sites — including this maternity hospital." After the obligatory video of an injured child, Engel went to the streets to gather public opinion: "I asked this man if he thinks the war is about liberating him from Saddam's brutal regime. 'Liberation?' he asked me. 'Who asked for America to liberate us?'"
The next night, Engel reported how the power was out in Baghdad: "It surely must add to the tremendous stress people here are already feeling. This woman had a Caesarian section today just before the blackout. Her baby was a month premature. She told me that when the bombs started dropping this morning, she became terrified and immediately went into labor. The doctor said if she didn't have a C-section, she'd lose her daughter." Engel then quoted the Iraqi doctor: "There is an increase in the incidence of premature labors, high increase in the incidence, and there is increase in the incidence of stillbirth in our hospital." Of course, neither Engel nor anyone who worked for ABC could confirm any of these stories.
But when the Iraqis were liberated six days later, Engel was liberated, too. On the April 9 World News Tonight, the reporter showed his conversation with a U.S. Marine, who asked Engel, "Do you feel safer now that we're here?" Engel smiled and nodded, "I certainly, I certainly do."
Yet less than 48 hours after Iraqis toppled the Saddam Hussein statue in Baghdad — and before U.S. forces had even managed to take full control of the city — Engel decided that chaos in the city meant "time may be running out" for the Americans. "There is a growing sense of disillusionment," Engel contended since "Iraqis wanted U.S. troops to bring them freedom and security." His report that night only featured Iraqis discontented with the U.S., including a man who charged: "Now we know that America came to occupy us. They came to steal our oil and our riches and then to leave."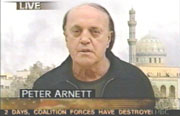 Because ABC was so accepting of his reports, Engel might have been more useful to the Iraqi cause than any of the other correspondents, but National Geographic Explorer's Peter Arnett, who was heavily used by MSNBC and NBC during the first week of the war, was the most outrageously biased Baghdad reporter. Arnett appeared on Iraqi state television March 30 and bragged about the usefulness of his reports to those who would halt the U.S. effort to topple Saddam: "Within the United States, there is growing challenge to President Bush about the conduct of the war and also opposition to the war. So our reports about civilian casualties here...help those who oppose the war." He then praised the "determination" of Iraq's army, declared the U.S. war plan a "failure" and arrogantly proclaimed that he had warned the Bush administration that Iraq wouldn't be a pushover.
For that, NBC and MSNBC correctly decided to cease using Arnett's reports, and National Geographic Explorer fired him. But while the networks distanced themselves from the propaganda Arnett spouted on Iraqi state television, they seemed untroubled by the pro-Iraqi propaganda he spouted on MSNBC and NBC, as Arnett parroted the false claims of Iraqi officials without a trace of professional skepticism.
On the Today show on March 26, he told Matt Lauer a horrifying — and false — story about the U.S. using cluster bombs on civilian targets in Baghdad: "We traveled down a wide road, and we got to the scene, and shops on both sides of this highway had been destroyed, Matt, and there was smoldering, 20 or so smoldering vehicles in the street. Residents said that 11 o'clock this morning, local time, two missiles came in, exploded, and the first journalists there earlier said they counted 15 corpses. It was smoldering on the road. We saw body parts being handed around by people and it was, later the Information Minister, Mr. al-Sahaf, complained that the U.S. has started using cluster bombs in the Baghdad area."
An hour later, Arnett dutifully repeated the Information Minister's claim about "cluster bombs," again without any skepticism or doubt. NBC finally summoned its Pentagon correspondent, Jim Miklaszewski, who told Today's audience the claim was highly doubtful, that cluster bombs are normally used against troops in the field, not urban areas. Miklaszewksi explained: "It would be very unusual if, in fact, cluster bombs were used inside Baghdad. And if you look at pictures...a cluster bomb would create a Swiss-cheese effect, thousands and thousands of holes in the target, and we don't see that."
In stark contrast to Arnett's approach, CBS's Dan Rather interviewed by telephone the Times's Burns that night for a report on the exact same incident. Burns did his best to expose the Iraqi propaganda component of the story: "When we are taken to these incidents, and this is by far the worst of them that we've seen, there's a sort of Greek chorus, quite expectedly, led by what appear to be Ba'ath Party officials in uniform waving Kalashnikov rifles and pistols, joined by local residents singing the praises of Saddam Hussein. But as we moved amongst the crowd, the remarkable thing to me was that the people there showed absolutely no hostility to this large group of Western reporters. And when they asked us where we came from, the response was, 'Good, good,' and they shook our hands. Now, this could only mean that they make a distinction between governments and people. It could mean something else."
Rather asked whether Burns could say whether or not Saddam was losing control. "In some respects, the [component of the] government...that delivers services to people has largely disappeared, and yet the control of the government over the people toward the security apparatus remains just about absolute. There is still a tremendous unwillingness on the part of ordinary Iraqis to challenge verbally, or in any other way, the authority of this government. And I think that tells us a great deal about the kind of government which has been here."
CBS's own reporter, Lara Logan, made it back to Baghdad just before Saddam's final collapse. Unlike Burns, she reported Iraqi propaganda ploys at face value. On the April 5 Saturday Early Show, Logan told viewers about some dubious videotape that was released a day earlier, purportedly showing Saddam walking on a Baghdad street amid Iraqi citizens. She speculated that the sight of a living Saddam would put joy into Iraqi hearts: "And people here have been buoyed by the sight of Saddam Hussein on Iraqi television last night, greeting with, greeting people in a residential area of Baghdad."
Four days later, after his regime had collapsed, Iraqis gathered in the streets to denounce Saddam and pound his likeness with the soles of their shoes.
Before the war began, the Pentagon placed several hundred volunteer reporters in key military units, giving them a ground's eye view of the war's progress. One positive side effect: hours of cable TV coverage were filled with actual eyewitness reporting, hours that would otherwise have been consumed by the repetitive analysis of pundits and experts in studios thousands of miles from the action. While none of these reporters could offer a complete picture of the war itself, their stories greatly increased the public's understanding of the war and their knowledge of what life was like on the desert battlefield.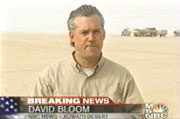 These reporters excelled when they acted as the viewers' eyes and ears in Iraq. NBC's David Bloom, who would later die from a blood clot in his lung, offered riveting coverage of the Third Infantry Division's drive towards Baghdad and an intense sandstorm that turned day into night. Reporting for hours on end in his innovative "Bloommobile," live on MSNBC, he was able to take viewers directly to the battlefield for an immediate sense of the conditions faced by American troops. Bloom's colleague Kerry Sanders conveyed a similar sense of immediacy as he was on the scene March 28 when Marines found bloody scraps of U.S. uniforms at a hospital in southern Iraq, evidence which raised chilling fears that American POWs had been tortured.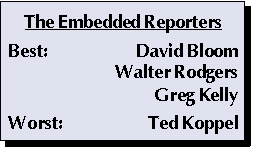 CNN's Walter Rodgers seemed the very model of what a good "embed" should be. He narrated hour upon hour of armored troop movements, often under enemy fire, without straying from his "just the facts" style or betraying a single bit of the vital information he was entrusted. "We were treated to the commanders' reports — the commanding generals' reports. We were shown all the maps of the operations before they began," he recounted on the April 13 Late Edition. "It was like [being] a kid in a candy store for a reporter."
MSNBC's chief foreign correspondent, Bob Arnot, who also reported for NBC, was impressed at his close-up view of the war. He told MSNBC's Chris Matthews on Hardball, April 9, that what he personally witnessed added up to "real vindication for the administration. One: credible evidence of weapons of mass destruction. Two: you know what? There were a lot of terrorists here, really bad guys. I saw them. They took women and children hostages, kept them in their own homes. And lastly, this whole idea of Iraqi freedom, the administration may have come up with it at last minute, but I'll tell you, it's like Paris 1944. Coming into town here, people are yelling and screaming, 'Go, go, USA!'"
FNC's Greg Kelly went along with the Third Infantry Division's daring first thrust through Baghdad on April 5, an attack that the mission commander estimated killed thousands of Iraqi fighters, with one American death. Two days later on the Fox Report, even as the Iraqi Information Minister continued to deny the presence of U.S. forces in Baghdad, Kelly was broadcasting from the military parade grounds in the center of the city. "The situation very much under control. We only see American military vehicles here this time," he reported.
Turning to an American soldier, Kelly informed him, "The Iraqi Information Minister doesn't seem to think that you guys are winning and that you guys are really here. What do you have to say about that?" The soldier replied, "Well, he's just across the street from us; we'll go over and talk to him."
As they traveled with U.S. forces, the embedded reporters tried to gauge Iraqi public opinion. On April 3, CBS's Jim Axelrod recounted for the Evening News how he had seen happy civilians as his unit moved north earlier in the day. He narrated the pictures: "Look how they were met. These are men, women, children, smiling and waving. We heard people say, 'Welcome,' 'Hello, Mr. Bush.'"
The same night, NBC's Tom Brokaw offered an audio report from New York Times reporter Dexter Filkins with the Marines, who affirmed Axelrod's reporting: "As we get closer to the capital city, it's becoming clear to these people that it [the removal of Saddam Hussein] actually may happen and what I saw today, what I witnessed today was a really warm reception by just about every Iraqi that we passed. People waving and people cheering....A husband and wife pulled over in a pickup truck and she said 'you've saved us from him, you've saved us from him. We love, we love you, we love you.' And the Marines saw that and I'd say they were buoyed by the whole thing."
That same night, ABC's Ted Koppel, embedded with the Third Infantry Division, offered a more grudging assessment: "There were some modestly enthusiastic onlookers....There was one trooper tossing plastic frisbees to some of the kids. That probably got more of a reaction and more enthusiasm than anything else did."
Koppel was the rare embedded journalist who spent his time lecturing and pontificating instead of recounting the historic events that surrounded him. On the first full day of the war, March 20, Koppel abruptly inserted his own views into ABC's prime time coverage as his unit pushed deeper and deeper into enemy territory. At about 10:22pm ET, he told anchor Peter Jennings: "We ought to take note of the significance of what is happening here because this is an invasion that in this particular case, of course, was not prompted by any invasion of the United States. I know that members of the administration have been creating a tenuous linkage between al-Qaeda and the Iraqis so that there is that linkage between 9-11 and what's happening here now, but this is a more pro-active, pre-emptive kind of operation, certainly a larger pre-emptive operation than I think the United States of America has ever engaged in, and whichever way it goes, I think it's going to shift the plates of the world."
The following Monday, March 24, Koppel — who had moved hundreds of miles into Iraq in less than a week — concluded a Nightline report with a warning that dangerous days lay ahead: "The U.S. military has only just begun to engage the first of the enemy's strongest and most capable divisions. There is no reason to believe that ultimately, perhaps even in the next week or two, U.S. forces will not prevail. But success will come at a significant cost."
Koppel continued his speech: "Forget the easy victories of the last twenty years; this war is more like the ones we knew before. The President has determined that U.S. security and national interests are at stake. Such determinations always carry with them a high cost in blood and treasure. Watching that unfold on your television screens, sometimes watching it live, as it's happening, will not be easy for you. Telling you if and when things are going badly for U.S. troops, enabling you to bear witness to the high cost of war, is the hard part of our job. In a famous couple of lines from the movie A Few Good Men, Jack Nicholson, playing a Marine colonel, snarls: 'You want the truth? You can't handle the truth.' Well, this is no movie. We'll do our very best to give you the truth in the hope and the belief that you can handle it."
Koppel had moments of usefulness, however. Near the end of the war, he took advantage of his presence on the ground to deflate enemy propaganda. On ABC's This Week with George Stephanopoulos, Koppel was asked about Iraqi claims that U.S. forces had been driven from the Baghdad airport. "Trust me," he declared, standing outside in just shirt sleeves. "I'm at Saddam International Airport, and I'm not here alone."
Three nights later on Nightline, after Saddam's statue was toppled, Koppel lectured those Arab media outlets that insisted on presenting obvious Iraqi falsehoods alongside American military statements that could be confirmed through independent reporting: "Until the very end, the Iraqi government continued to play out the charade that it was inflicting huge losses on U.S. forces, that there were no U.S. troops at the airport, let alone inside Baghdad itself. And in a mockery of objective reporting, a number of international news agencies presented the competing claims of Baghdad and Washington as if they had equal merit: 'U.S. forces claim to be inside Baghdad, but the Iraqi Minister of Information continues to insist,' that sort of thing," he scoffed.
But before the end of that April 9 program, Koppel had reverted to form: "It may seem an ungracious note on which to end, but beware the euphoria. Ripping down Saddam's pictures, toppling his statues. Those are the benign, photogenic events that can delude us into misunderstanding what lies ahead. There are hundreds of thousands of scores to be settled in this country. Blood debts to be repaid. The U.S. military doesn't want to get into the middle of that, but if it doesn't there are likely to be lynchings and massacres that will sicken the world and make the establishment of a new government hideously complicated. It is good that people are finally able to believe that Saddam's regime has been crushed. The military victory was difficult enough, but now comes the hard part."
If Geraldo Rivera had been formally "embedded" with the 101st Airborne, he would have been selected as the worst embedded reporter for his careless revealing of military secrets. Instead, Koppel takes that "honor." Like the gimmicky Rivera, Koppel often behaved as if he — not the vast military force that surrounded him — was the real star of the show. Reporters like Bloom, Sanders, Arnot, Rodgers, and Kelly never faded into the background, but they had the good sense to let the story tell itself, as did CBS's Byron Pitts, who bore witness to the character of the men with whom he was traveling.
After returning from Iraq, on the April 15 Early Show, Pitts recounted what he considered his best war story, an episode which had played out on live television on April 9 as Saddam's dictatorship melted away: "For me, one of the great moments was [watching] the captain in charge of Lima company, 31 years old from Harrisburg, Pennsylvania, who remained so calm in such a difficult situation....People were, Marines were on their stomachs. I was laying on my back and this guy sat up, ankles crossed, and very calmly made decisions."
The Marines were under attack. "There was one point when one of his young corporals said, 'Sir, we've spotted where the fire is coming from. There are three people, let me take the shot,'" Pitts continued. "And he [the captain] said, 'Have you identified their weapons?' He said, 'No, sir.' He said, 'Do not take the shot until you can confirm the weapon.' The corporal pushed; he said, 'No, not until then.'"
"Moments passed and we saw three heads bobbing up and down. We all assumed that those were [the ones who had been] firing. And moments later, a man, his wife and daughter stood up. This captain made the right call. Three people are alive today because this Marine made the right call," Pitts concluded.
It's a good story, and now the whole country knows about it because the military agreed to let trustworthy reporters travel with military units, and because Byron Pitts made the risky choice to be one of those reporters who helped tell America the story of Gulf War II.



---
The Media Research Center
325 South Patrick Street • Alexandria, Virginia, 22314
(703) 683-9733 • www.mediaresearch.org
For an interview with an MRC Spokesman, please contact Katie Wright at (703) 683-5004
---
Home | News Division | Bozell Columns | CyberAlerts
Media Reality Check | Notable Quotables | Contact the MRC | Subscribe