---
---

Free RealPlayer plug-in required to watch video clips.

---

Free Adobe Acrobat Reader software required to view PDF files.

---

The Fifteenth Annual Awards for the
Year's Worst Reporting
---

First Place
"Iraqi citizens are preparing to go to the polls to decide whether Hussein stays in office."
– Preview of an October 14 segment on CNN's American Morning with Paula Zahn posted on CNN's Web site. [83]

Runners-up:
Charles Gibson: "My wife has a sign on her office wall and it says, 'Won't it be a great day when the Air Force has to hold bake sales to get a new bomber and the schools have all the money they need?'"
Diane Sawyer: "I love your wife! I love her for many reasons. Love that sign."
– Exchange on the October 2 Good Morning America. Gibson's wife, Arlene, runs an all-girls private school in New York City. [67]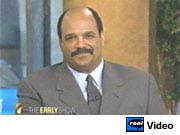 Mark McEwen: "Up and down the East coast, it's coming our way, but we will probably see just rain in the big cities."
Bryant Gumbel: "We never get any snow."
McEwen: "Do you think it's global warming?"
Gumbel: "Yes, yes."
McEwen: "Do you, Jane?"
Jane Clayson: "Yeah."
McEwen: "We're unanimous...it's global warming."
– Exchange on CBS's Early Show, February 6 [46]

"Last week the President spoke, the market went down. Yesterday, the President spoke, the market went down. Should he be quiet for a while?"
– CBS's Mark McEwen on the July 16 Early Show. [35]


First Place
"The [President's Council on Bioethics] will be navigating a scientific and ethical landscape significantly more complex than the one that existed...last summer. In November, researchers announced that they had made the first human embryo clones, giving immediacy to warnings by religious conservatives and others that science is no longer serving the nation's moral will. At the same time, the United States was fighting a war to free a faraway nation from the grip of religious conservatives who were denounced for imposing their moral code on others."
– Washington Post reporter Rick Weiss in a January 17 "Federal Page" article. [69 points]

Runners-up:
"The meanest [song], by far, is 'Courtesy of the Red, White and Blue,' which unabashedly glorifies the bombing of Afghanistan. The song traffics in vivid, simple shades of black and white, good and evil."
– Washington Post Style-section reporter David Segal writing about country singer Toby Keith's new album, Vanished, July 25. [55]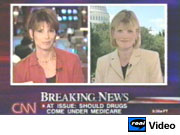 Anchor Daryn Kagan: "You know what, Kate? Shame on all of them. They're sitting there playing politics in Washington. I know we have a lot of viewers at home, a lot of older people who their simple, simple request is just to be able to afford the drugs that they need."
Reporter Kate Snow: "Yeah, they will say it's a lot more complicated than that. And, you know, that there, again, there are policy differences and it's hard to get agreement when you don't agree on how to do it. That's what they'll say to that, but I think you're right, that I think a lot of seniors are going to be disappointed."
Kagan: "Tell that to our grandmothers and grandfathers and uncles and aunts who are just trying to kind of put together the bottom line."
– Exchange July 31 during CNN's "Breaking News" coverage of the end of Senate efforts to create a new prescription drug entitlement for senior citizens. [42]

"A supportive spouse, surprisingly accepting colleagues, and a mandate to legislate. For Sen. Clinton, life is almost perfect. If only they weren't still out to get her."
– Subhead of Washington Post reporter John Harris's profile, "The Liberation of Hillary," the cover story for the Post's Sunday magazine, January 27. "They" referred to Clinton's conservative critics. [40]


First Place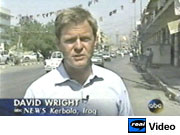 "Seven years ago, when the last referendum took place, Saddam Hussein won 99.96 percent of the vote. Of course, it is impossible to say whether that's a true measure of the Iraqi people's feelings."
– ABC's David Wright, World News Tonight, Oct. 15. [50]

Runners-up:
"Experts Agree: Al Qaeda Leader Is Dead or Alive."
– On-screen graphic during a story about Osama bin Laden's fate on CNN's 2pm Live From...on Sept. 3. [42]


"Arbitrary Victims, Identical Fate; County's Growing Diversity Reflected in Those Gunned Down."
– October 4 front-page headline in the Washington Post about the sniper shooting murders of five random individuals in Montgomery County, Maryland. [42]


"Since the early 1970s, the number of state prisoners has increased 500 percent, growing each year in the 1990s even as crime fell."
– New York Times reporter Fox Butterfield, Jan. 21. [41]


"There are a lot of stories about the struggles Cuban people face here. Stories about the lack of things, the lack of cars, the lack of human rights, the lack of certain foods. But if you go asking Cubans, and even if you look at statistics from international groups, you'll find there are some areas where Cubans have made successes. According to a United Nations study, Cuba's regular schools rank at the top in Latin America....
"Another success Cubans point to: health care...every Cuban has a primary care physician....Doctors get to know their patients and even make house calls....Cuba may not have the nicest facilities or equipment, medicine is sometimes in short supply, but everyone has access and the concept of paying is completely foreign."
– CNN's Kate Snow on CNN's prime time Live From Havana during Jimmy Carter's visit, May 13. [33]

---

---
Home | News Division | Bozell Columns | CyberAlerts
Media Reality Check | Notable Quotables | Contact the MRC | Subscribe