---
---

Free RealPlayer plug-in required to watch video clips.

---

Free Adobe Acrobat Reader software required to view PDF files.

---

The Sixteenth Annual Awards for the
Year's Worst Reporting
---

First Place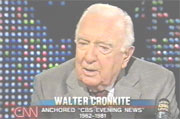 "Attorney General John Ashcroft has earned himself a remarkable distinction as the Torquemada of American law. Tomas de Torquemada...was largely responsible for... [the] torture and the burning of heretics – Muslims in particular. Now, of course, I am not accusing the Attorney General of pulling out anyone's fingernails or burning people at the stake (at least I don't know of any such cases). But one does get the sense these days that the old Spaniard's spirit is comfortably at home in Ashcroft's Department of Justice."
– Former CBS Evening News anchor Walter Cronkite in his syndicated column published in the September 22 Philadelphia Inquirer. [65 points]

Runners-up:
"Andrea Yates gained national attention when she drowned her five children in a bathtub. Deanna Laney told investigators she beat her three sons with rocks, killing two of them. Both mothers home schooled....It's hard to know how widespread abuse might be because the government doesn't keep track. It doesn't even know how many children are taught at home in this country. In eight states, parents don't have to tell anyone they're home schooling....Not one state requires criminal background checks to see if parents have abuse convictions."
– CBS's Vince Gonzales in a report on the "dark side" of home schooling, October 14 Evening News. [39]

Former Reagan speechwriter Peggy Noonan: "I think the media and the Democratic Party spent the 1990s saying, 'None of this matters. You can do anything to women. We'll beat 'em up, we'll put private eyes on them....'"
Time columnist Joe Klein: "Wait a second!...You can beat 'em up?"
Noonan: "As a matter of fact Bill Clinton was literally charged with that. He was charged with worse things than, than Arnold [Schwarzenegger]."
Klein: "He was charged with those things by lunatics. He was never legally charged with that."
Noonan: "Whoa! He was charged by Juanita Broaddrick. I don't think that it's fair to call her a lunatic."
Klein: "That? Yes, I do think that she was an extremist."
– Exchange on the Oct. 12 Chris Matthews Show. [36]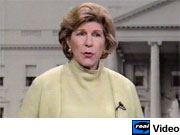 National Public Radio correspondent Nina Totenberg: "Now they've got this guy [General Jerry Boykin], who's head of the intelligence section in the Defense Department, who's being quoted as telling various groups, while he's in uniform, that this [war] is a Christian crusade against Muslims....I mean, this is terrible, this is seriously bad stuff....I hope he's not long for this world."
Host Gordon Peterson: "You putting a hit out on this guy or what?...What is this, The Sopranos?"
Totenberg: "No, no, no....In his job, in his job, in his job, please, please, in his job."
– Exchange on Inside Washington, October 18. [35]



First Place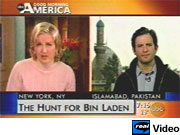 Diane Sawyer: "I read this morning that he's [Saddam Hussein] also said the love that the Iraqis have for him is so much greater than anything Americans feel for their President because he's been loved for 35 years, he says, the whole 35 years."
Dan Harris in Baghdad: "He is one to point out quite frequently that he is part of a historical trend in this country of restoring Iraq to its greatness, its historical greatness. He points out frequently that he was elected with a hundred percent margin recently."
– ABC's Good Morning America, March 7. [52 points]

Runners-up:
Tom Brokaw: "NBC News 'In Depth' tonight. In the aftermath of the war on Iraq, new anxieties for some of the country's educated, successful women. Although many may be glad to be rid of Saddam Hussein, many are also worried that a new government could set them back...."
Mike Taibbi in Baghdad: "While the end to the Saddam regime means a return to long-denied freedoms for all Iraqis, it may also mean at least a temporary rollback of some hard-won freedoms for millions of Iraqi women.... While Saddam's regime brutalized women – rape, torture, even beheadings – his secular government also gave women more rights than their counterparts in many other Islamic countries."
– NBC Nightly News, April 22. [47]


"Iraqis are growing increasingly enraged by the mounting damage to civilian sites – including this maternity hospital, smashed up by a bomb that exploded nearby. Several people were killed, even though patients had been evacuated at the start of the war. Walking through the streets of Baghdad today, it's clear that this war is not popular. I asked this man if he thinks the war is about liberating him from Saddam's brutal regime. 'Liberation?' he asked me. 'Who asked for America to liberate us?'"
– Freelancer Richard Engel reporting from Saddam-controlled Baghdad, ABC's World News Tonight, April 2. [31]

Dominique de Villepin Snottiness Award for Whining About the War

First Place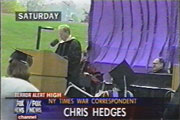 "I want to speak to you today about war and empire.... We are embarking on an occupation that, if history is any guide, will be as damaging to our souls as it will be to our prestige and power and security....We have forfeited the goodwill, the empathy the world felt for us after 9/11, we have folded in on ourselves....We are far less secure today than we were before we bumbled into Iraq. We will pay for this, but what saddens me most is that those who will by and large pay the highest price are poor kids from Mississippi or Alabama or Texas who could not get a decent job or health insurance and joined the army because it was all we offered them."
– New York Times reporter Chris Hedges in a May 17 commencement address at Rockford College in Illinois, as quoted by the Rockford Register Star. The graduates booed Hedges off the stage. [82 points]

Runners-up: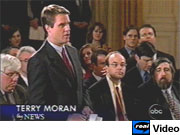 "In the past several weeks, your policy on Iraq has generated opposition from the governments of France, Russia, China, Germany, Turkey, the Arab League, and many other countries; opened a rift at NATO and at the UN; and drawn millions of ordinary citizens around the world into the streets in anti-war protests. May I ask what went wrong that so many governments and peoples around the world now not only disagree with you very strongly, but see the U.S. under your leadership as an arrogant power?"
– ABC White House correspondent Terry Moran to President Bush at a prime-time press conference, March 6. [43]


Lesley Stahl: "The Powell Doctrine in military terms is that you throw a massive force, if you're going to go to war, make it huge. There are now criticisms, we're beginning to hear, that this force isn't massive enough."
Colin Powell: "It's nonsense....The United States armed forces, with our coalition partners – the British, principally, and the Australians – have gone 300 miles deep into Iraq in a period of five days. That is a heck of an achievement."
Stahl: "Yeah, but our, the rear is exposed."
Powell: "It's not. Exposed to what? Exposed to small-"
Stahl: "Exposed to Fedayeen, exposed-"
Powell: "Fine. So? We'll get them in due course...."
Stahl: "Are you saying you're not worried or concerned about guerilla warfare?"
Powell: "Of course we are and that, and we're trained to handle this....They're not threatening the advance."
Stahl: "But you can't get your supplies, well you can't-"
Powell: "Who says?"
Stahl: "-can't get the humanitarian-"
Powell: "Who says?"
Stahl: "-well you can't get the humanitarian aid in there."
Powell: "Only because the minefields haven't been cleared at the port of Umm Qasr....The situation will change rapidly."
– Exchange on CBS's 48 Hours, March 25, the 6th day of the war. [38]


"We should change our attitude toward the United Nations. There has to be some power in the world superior to our own....We should not have attacked Iraq without the okay of the United Nations....Now we have to live with that mistake. We're living with it, and too many of our guys are dying with it."
– CBS's Andy Rooney in what correspondent Mike Wallace billed as a "serious" commentary at the conclusion of the October 12 60 Minutes. [38]

---

---
Home | News Division | Bozell Columns | CyberAlerts
Media Reality Check | Notable Quotables | Contact the MRC | Subscribe