White Games = GOP Convention
"Finally tonight, the Winter Games. Count me among those who don't like 'em and won't watch 'em. In fact, I figure when Thomas Paine said, 'These are the times that try men's souls,' he must have been talking about the start of another Winter Olympics. Because they're so trying, maybe over the next three weeks we should all try, too....Try not to laugh when someone says these are the world's greatest athletes, despite a paucity of blacks that makes the Winter Games look like a GOP convention."


— Bryant Gumbel on HBO's Real Sports, February 7, 2006.

Get the Flash Player to see this player.

|
Vive le Socialisme!
NBC News reporter Keith Miller in Paris: "Break out the band, bring on the drinks. The French are calling it a miracle. A government-mandated 35-hour work week is changing the French way of life....Sixty percent of those on the job say their lives have improved. These American women, all working in France, have time for lunch and a life."
Katie Couric, following the end of Miller's taped piece: "So great, that young mother being able to come home at three every day and spend that time with her child. Isn't that nice? The French, they've got it right, don't they?"
— NBC's Today, August 1, 2001.

Get the Flash Player to see this player.

|
The Clinton Defense Team
"The case is being fomented by right-wing nuts, and yes, she is not a very credible witness, and it's really not a law case at all...some sleazy woman with big hair coming out of the trailer parks...I think she's a dubious witness, I really do."


— Newsweek Washington Bureau Chief Evan Thomas discussing Paula Jones, May 7, 1994 Inside Washington.

Get the Flash Player to see this player.

|
"We've got an awful lot to talk about this week, including the [Paula Jones] sexual harassment suit against the President. Of course, in that one, it's a little tough to figure out who's really being harassed."
— Today co-host Bryant Gumbel, May 10, 1994.
"If Ken Starr is a credible prosecutor he will bring this to a conclusion and the Clintons will be exonerated."
— Newsweek's Eleanor Clift on independent counsel Ken Starr's investigation, February 10, 1996 McLaughlin Group.
"If there were an Ig-Nobel Peace Prize, who would win it?
• Slobodan Milosevic
• Osama bin Laden
• Saddam Hussein
• Linda Tripp"
— "What do you think?" question of the day on the ABCNews.com home page, October 15, 1998.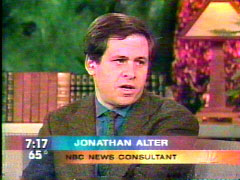 "The best chance for Clinton to shine in history might be for Congress to force him to pay the price for lying about sex. In the unlikely event he is pushed from office, it would take only weeks, maybe just days, before a vast national remorse set in. We destroyed our lovable rogue prince of prosperity over this? Clinton would become a martyr to a legal system run amok."
— Newsweek's Jonathan Alter in the August 24, 1998 issue.


"That herd of managers from the House, I mean frankly all they were missing was white sheets. They're like night riders going over. This is bigger than Bill Clinton."
— Eleanor Clift on The McLaughlin Group, January 9, 1999.
"Mr. President, we love you. I want to hug you, I want to hug you, please do the right thing. This is nothing, this is nothing. Thomas Jefferson did not have this in mind, I swear to God....I would give Ken Starr the Nobel Peace Prize were he to be man enough not to refer a sex lie to the House for impeachment."


— Geraldo Rivera urging Clinton not to cooperate, August 6, 1998 edition of Rivera Live on CNBC.

Get the Flash Player to see this player.

|
On Her Knees for Abortion Rights
"I would be happy to give him [Bill Clinton] a blow job just to thank him for keeping abortion legal. I think American women should be lining up with their presidential kneepads on to show their gratitude for keeping the theocracy off our backs."
— Time contributor and ex-reporter Nina Burleigh recalling a quote she gave the Washington Post's Howard Kurtz, as quoted in the July 20, 1998 New York Observer.
"Bully" Starr = Himmler the Nazi
"Twinkle, twinkle Kenneth Starr, now we see how crude you are / Up above your jury high, like the judge up in the sky / Twinkle, twinkle little Starr, now we see how wrong you are / When you drag the agents in, when you bully moms and kin / Then you kiss the treacherous Tripp, twinkle, twinkle DC drip / Twinkle, twinkle little Starr, now we see how small you are."


— Geraldo Rivera singing his version of "Twinkle Little Star," July 21, 1998 Rivera Live on CNBC.

Get the Flash Player to see this player.

|
"Facially, it finally dawned on me that the person Ken Starr has reminded me of facially all this time was Heinrich Himmler, including the glasses. If he now pursues the President of the United States, who, however flawed his apology was, came out and invoked God, family, his daughter, a political conspiracy and everything but the kitchen sink, would not there be some sort of comparison to a persecutor as opposed to a prosecutor for Mr. Starr?"


— Keith Olbermann on MSNBC's Big Show, in a question to the Chicago Tribune's James Warren, August 18, 1998.

Get the Flash Player to see this player.

|
Celebrating a Fairy Tale Marriage
"She's ecumenical but prefers Italian and Mexican. The President fixes her eggs with jalapeno peppers on the weekends....Valentine's Day at the Red Sage restaurant. Even at a romantic outing, the President can be the date from hell, talking to everyone but the girl he brung....Finally alone, they have 'painted soup' and the lamb baked in herbed bread. They exchange gifts and touch each other more in two hours than the Bushes did in four years."
— Time reporter Margaret Carlson, June 1993 Vanity Fair.
"There is a simple alchemy to their relationship: she's goofy, flat-out in love with him and he with her. 'They don't kiss. They devour each other,' says one aide. He needs her — for intellectual solace, political guidance and spiritual sustenance....They see themselves in almost Messianic terms, as great leaders who have a mission to fulfill. Her friends speculate that the Bible gives her a historical context for what she's going through. 'There's a lot of consolation, guidance and refueling that comes from reading about centuries-old calamities,' says a friend. Given the storm they're in, it's a source of inspiration they'll need."
— Matthew Cooper and Karen Breslau writing in the February 9, 1998 Newsweek.
Dan's Salute to "Honest" Bill
Host Bill O'Reilly: "I want to ask you flat out, do you think President Clinton's an honest man?"
Dan Rather:

"Yes, I think he's an honest man....I do."


O'Reilly:

"Even though he lied to Jim Lehrer's face about the Lewinsky case?"


Rather:

"Who among us has not lied about something?...I know that you consider it sort of astonishing anybody would say so, but I think you can be an honest person and lie about any number of things."


— Exchange on FNC's The O'Reilly Factor, May 15, 2001.

Get the Flash Player to see this player.

|
Extolling Virtues of Fidel's Prison
"Elian [Gonzalez] might expect a nurturing life in Cuba, sheltered from the crime and social breakdown that would be part of his upbringing in Miami....The boy will nestle again in a more peaceable society that treasures its children."
— Brook Larmer and John Leland, April 17, 2000 Newsweek.
"Frankly, to be a poor child in Cuba may in many instances be better than being a poor child in Miami, and I'm not going to condemn their lifestyle so gratuitously."


— Eleanor Clift on The McLaughlin Group, April 8, 2000.

Get the Flash Player to see this player.

|
"For Castro, freedom starts with education. And if literacy alone were the yardstick, Cuba would rank as one of the freest nations on Earth. The literacy rate is 96 percent."


— Barbara Walters on ABC's 20/20, October 11, 2002.

Get the Flash Player to see this player.

|
Bush: Selected, Not Elected
"There is no question, or very little question, that Al Gore won the votes cast in the state of Florida. The question is: Will he win the votes counted?...If this race is counted fairly, Al Gore won more votes in Florida."
— George Stephanopoulos on This Week, November 12, 2000.
"Good evening. Texas Governor George Bush tonight will assume the mantle and the honor of President-elect. This comes 24 hours after a sharply split and, some say, politically and ideologically motivated U.S. Supreme Court ended Vice President Gore's contest of the Florida election and, in effect, handed the presidency to Bush."


— CBS's Dan Rather on the December 13, 2000 Evening News.

Get the Flash Player to see this player.

|
Ruing Catastrophe of Tax Cuts
"Adios, surplus. When retired boomers dine on dog food, will they say thanks for that $600?"
— Newsweek's "Conventional Wisdom" box, assigning President Bush a "down" arrow, September 3, 2001 issue.
"If you see a whole monkfish at the market, you'll find its massive mouth scarier than a shark's. Apparently it sits on the bottom of the ocean, opens its Godzilla jaws and waits for poor unsuspecting fishies to swim right into it, not unlike the latest recipients of W's capital-gains cuts."
— Food writer Jonathan Reynolds in a July 27, 2003 New York Times Magazine article about Norway's seafood.
Poisoning America's Children
"Remember when Ronald Reagan tried to save a few pennies on the school lunch program by classifying ketchup as a vegetable? Last week the Bush administration went further, axing a regulation that forced the meat industry to test hamburgers served in school for salmonella. Imagine, mad cow disease among children, K through 12. The day it hit the papers the proposal was quickly withdrawn. [If] the Bush administration keeps trying to kill health and safety regulations at this pace, soon we won't be able to eat, drink or breathe."


— "Outrage of the Week" from Time magazine's Margaret Carlson, April 7, 2001 Capital Gang on CNN.

Get the Flash Player to see this player.

|
9/11 = Our Fault
"Some people who hated Americans set out to kill a lot of us and they succeeded [on 9/11]....We're trying to protect ourselves with more weapons. We have to do it, I guess, but it might be better if we figured out how to behave as a nation in a way that wouldn't make so many people in the world want to kill us."


— CBS's Andy Rooney on 60 Minutes, September 10, 2006.

Get the Flash Player to see this player.

|
Journalists 1st, Americans 2nd
"The Pentagon as a legitimate target?...As a journalist, I feel strongly that's something that I should not be taking a position on. I'm supposed to figure out what is and what is not, not what ought to be."


— ABC News President David Westin at a Columbia University Graduate School of Journalism event on October 23, 2001 shown four days later on C-SPAN.

Get the Flash Player to see this player.

|
"We all know that one man's terrorist is another man's freedom fighter and that Reuters upholds the principle that we do not use the word terrorist....To be frank, it adds little to call the attack on the World Trade Center a terrorist attack."
— Steven Jukes, global head of news for Reuters News Service, in an internal memo cited by the Washington Post's Howard Kurtz in a September 24, 2001 article.
America, the Real Evil Empire
"Recovery and debris removal work continues at the site of the World Trade Center known as 'ground zero' in New York, March 25, 2002. Human rights around the world have been a casualty of the U.S. 'war on terror' since September 11."
— Caption for a Reuters News Service photo distributed with a September 3, 2002 story by Richard Waddington headlined, "Rights the first victim of 'war on terror.'"
"I decided to put on my flag pin tonight — first time. Until now I haven't thought it necessary to display a little metallic icon of patriotism for everyone to see....I put this on as a modest riposte to men with flags in their lapels who shoot missiles from the safety of Washington think tanks....I put it on to remind myself that not every patriot thinks we should do to the people of Baghdad what bin Laden did to us."


— Bill Moyers on PBS's Now, February 28, 2003.

Get the Flash Player to see this player.

|
"I just want to say: Who are we? We are people who have always been for inspections of prisons, for some degree of human rights, and now we're defending neither.... We have now violated everything that we stand for. It is the first time in my life I have been ashamed of my country."
— NPR's Nina Totenberg discussing secret CIA prisons for captured terrorists, Inside Washington, November 4, 2005.
"I don't support our troops....When you volunteer for the U.S. military...you're willingly signing up to be a fighting tool of American imperialism....I'm not advocating that we spit on returning veterans like they did after the Vietnam War, but we shouldn't be celebrating people for doing something we don't think was a good idea."
— Los Angeles Times columnist and former Time staff writer Joel Stein in a January 24, 2006 column.
Hugs for Liberal Heroes
"If she had lived, Mary Jo Kopechne would be 62 years old. Through his tireless work as a legislator, Edward Kennedy would have brought comfort to her in her old age."
— Charles Pierce in a January 5, 2003 Boston Globe Magazine article. Kopechne drowned while trapped in Kennedy's submerged car off Chappaquiddick Island in July 1969, an accident Kennedy did not report for several hours.
Brian Williams: "Is it fair to call him [Jimmy Carter] the best former President in, at minimum, modern American history, and perhaps, well, I guess, the last 200 years?"
Historian Marshall Frady:

"Which embraces all presidencies. I think absolutely."


— CNBC's The News with Brian Williams, October 11, 2002.

Get the Flash Player to see this player.

|
"For Massachusetts Senator John Kerry, tonight's acceptance of the Democratic nomination is more than merely a day. It's his destiny....A gifted athlete and captain of the debate team at Yale, Kerry followed his idol's [John F. Kennedy's] lead and enlisted in the Navy in 1966. In Vietnam, Lieutenant John F. Kerry rescued a comrade in combat, killed an enemy soldier, won three Purple Hearts and one Bronze Star....Tonight, the loner will stand alone here in his hometown one more time and look to do what John F. Kerry has nearly always done — find a way to win."
— CBS's Byron Pitts on The Early Show, July 29, 2004.
Sinister, Racist & Insensitive
"I have a feeling that it [Osama bin Laden's new videotape] could tilt the election a bit. In fact, I'm a little inclined to think that Karl Rove, the political manager at the White House, who is a very clever man, that he probably set up bin Laden to this thing."


— Former CBS Evening News anchor Walter Cronkite on CNN's Larry King Live, October 29, 2004.

Get the Flash Player to see this player.

|
"I think that anyone who's not going to vote for Barack Obama because he is black isn't going to vote for a Democrat anyway."
— George Stephanopoulos, This Week, May 13, 2007.
"You have made so many offensive comments over the years. Do you regret any of them?...You seem indifferent to suffering. Have you ever suffered yourself?"
— Two of the questions posed to National Review founder William F. Buckley by the New York Times Magazine's Deborah Solomon, July 11, 2004.
Just Like George Washington
Andrea Mitchell: "It is an iconic picture: American hostages, hands bound and blindfolded, being paraded outside the U.S. embassy in Tehran by their captors. But has one of those student radicals now become Iran's newly elected President Mahmoud Ahmadinejad?..."
Brian Williams:

"Andrea, what would it all matter if proven true? Someone brought up today the first several U.S. Presidents were certainly revolutionaries and might have been called terrorists at the time by the British Crown, after all."


— NBC Nightly News, June 30, 2005.

Get the Flash Player to see this player.

|
Bracing for the End of the World
"The entire federal government — the Congress, the executive, the courts — is united behind a right-wing agenda for which George W. Bush believes he now has a mandate. That agenda includes the power of the state to force pregnant women to surrender control over their own lives. It includes using the taxing power to transfer wealth from working people to the rich. It includes giving corporations a free hand to eviscerate the environment and control the regulatory agencies meant to hold them accountable. And it includes secrecy on a scale you cannot imagine. Above all, it means judges with a political agenda appointed for life. If you like the Supreme Court that put George W. Bush in the White House, you will swoon over what's coming. And if you like God in government, get ready for the Rapture."
— Bill Moyers' commentary on PBS's Now November 8, 2002, a few days after Republicans won the midterm congressional elections.
Apologizing for Awful America
"It wasn't supposed to be this way. You weren't supposed to be graduating into an America fighting a misbegotten war in a foreign land. You weren't supposed to be graduating into a world where we are still fighting for fundamental human rights, whether it's the rights of immigrants to start a new life, or the rights of gays to marry, or the rights of women to choose. You weren't supposed to be graduating into a world where oil still drove policy and environmentalists have to fight relentlessly for every gain. You weren't. But you are. And for that, I'm sorry."


— From New York Times Publisher Arthur Sulzberger, Jr.'s May 21 graduation address at the State University of New York at New Paltz, shown on C-SPAN May 27, 2006.

Get the Flash Player to see this player.

|
Apocalypse Now
"Today, life on Earth is disappearing faster than the days when dinosaurs breathed their last, but for a very different reason....Us homo sapiens are turning out to be as destructive a force as any asteroid. Earth's intricate web of ecosystems thrived for millions of years as natural paradises, until we came along, paved paradise, and put up a parking lot. Our assault on nature is killing off the very things we depend on for our own lives....The stark reality is that there are simply too many of us, and we consume way too much, especially here at home."
— NBC's Matt Lauer hosting Countdown to Doomsday, a two-hour June 14, 2006 Sci-Fi Channel special.

Get the Flash Player to see this player.

|
Good Riddance to the Gipper
CBS's Morley Safer: "You talk about a vision, and it's some kind of abstract, vague idea. Did his [Ronald Reagan's] vision include extraordinary deficits? Did his vision include cutting of the budgets for education and a back of the hand in terms of public education?"
Larry King:

"History will not be kind to him?"


Safer:

"No, I don't think history particularly will be kind....I don't think history has any reason to be kind to him."


— CNN's Larry King Live, June 14, 2004.

Get the Flash Player to see this player.

|
Typical Liberal Compassion
Host Tina Gulland: "I don't think I have any Jesse Helms defenders here. Nina?"
NPR's Nina Totenberg:

"Not me. I think he ought to be worried about what's going on in the Good Lord's mind, because if there is retributive justice, he'll get AIDS from a transfusion, or one of his grandchildren will get it."


— Exchange on the July 8, 1995 Inside Washington, after Helms said the government spends too much on AIDS.

Get the Flash Player to see this player.

|
Run, Dick, Run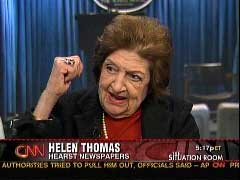 "The day I say Dick Cheney is going to run for President, I'll kill myself. All we need is one more liar."
— Hearst White House columnist Helen Thomas, as quoted in The Hill newspaper, July 28, 2005.
Just a Baffling Coincidence
"Crime Keeps On Falling; but Prisons Keep On Filling."
— September 28, 1997 New York Times headline over Week in Review article.
Ted Turner's Bicycle Paradise
Ted Turner: "I am absolutely convinced that the North Koreans are absolutely sincere....I looked them right in the eyes. And they looked like they meant the truth. You know, just because somebody's done something wrong in the past doesn't mean they can't do right in the future or the present. That happens all the, all the time."
Wolf Blitzer:

"But this is one of the most despotic regimes and [North Korean dictator] Kim Jong-il is one of the worst men on Earth. Isn't that a fair assessment?"


Turner:

"Well, I didn't get to meet him, but he didn't look — in the pictures that I've seen of him on CNN, he didn't look too much different than most other people."


Blitzer:

"But look at the way he's treating his own people."


Turner:

"Well, hey, listen. I saw a lot of people over there. They were thin and they were riding bicycles instead of driving in cars, but-"


Blitzer:

"A lot of those people are starving."


Turner:

"I didn't see any, I didn't see any brutality...."


— CNN's The Situation Room, September 19, 2005.

Get the Flash Player to see this player.

|
Real Terrorists Here at Home
"Since September 11, the word 'terrorist' has come to mean someone who is radical, Islamic and foreign. But many believe we have as much to fear from a home-grown group of anti-abortion crusaders."
— Reporter Jami Floyd on ABC's 20/20, November 28, 2001.
Just a Tad Self-Absorbed
"I have to bask in this moment, for a moment, because I am here talking to the most powerful man on the planet, who was a poor boy from Arkansas....I am an African-American woman, grew up working class on the south side of Chicago, and this is a pretty special moment for me, to be here talking to you. How does it feel talking to me?"


— ABC's Carole Simpson interviewing Bill Clinton on ABC's World News Tonight/Sunday, November 7, 1999.

Get the Flash Player to see this player.

|
Could Be More, Could Be Less
"Seven years ago, when the last referendum took place, Saddam Hussein won 99.96 percent of the vote. Of course, it is impossible to say whether that's a true measure of the Iraqi people's feelings."
— ABC's David Wright in Baghdad, on World News Tonight, October 15, 2002.
Rosie Rants Against America
"As a result of the [9/11] attack and the killing of nearly 3,000 innocent people, we invaded two countries and killed innocent people in their countries....Radical Christianity is just as threatening as radical Islam in a country like America."


— Rosie O'Donnell on ABC's The View, September 12, 2006.

Get the Flash Player to see this player.

|
"I just want to say something: 655,000 Iraqi civilians are dead. Who are the terrorists?...If you were in Iraq, and the other country, the United States, the richest in the world, invaded your country and killed 655,000 of your citizens, what would you call us?"


— O'Donnell on ABC's The View, May 17, 2007.

Get the Flash Player to see this player.

|
Good Morning Morons
"In a macro-political sense, do you think the Gore preoccupation with morality is a frightening turn for the party?"
— Bryant Gumbel to Playboy founder Hugh Hefner on the August 15, 2000 The Early Show.
"So, I'm getting less chips, paying the same amount of money. Is that legal for them to do this?"
— CBS's Julie Chen questioning Carol Foreman Tucker of the Consumer Federation of America about companies charging the same price for smaller snack food packages, January 3, 2001 Early Show.
"After pepperoni pizza and banana milkshakes once, I dreamed about Bill Clinton."


— ABC's Diane Sawyer talking with her Good Morning America co-host Charles Gibson, July 10, 2001.

Get the Flash Player to see this player.

|
---
Back to Page 1:
Useful Idiots for Communism; Reviling Ronald Reagan; Newt's Deadly GOP Insurgency

PUBLISHER: L. Brent Bozell III
EDITORS: Brent H. Baker, Rich Noyes, Tim Graham
MEDIA ANALYSTS: Geoffrey Dickens, Brad Wilmouth, Scott Whitlock, Matthew Balan, Kyle Drennen and Justin McCarthy
RESEARCH ASSOCIATE: Michelle Humphrey
MEDIA CONTACT: Colleen O'Boyle (703) 683-5004