Rather Rhymes; Arnett "Heavily Involved;" Geraldo Sings His Anti-Starr Zing
1) Alan Shepard's death turned Dan Rather to rhyme. CBS blamed GOP for rejecting first black Air Force Secretary nominee, but FNC tells why. FNC discovered Sidney Blumenthal's behind attack on Starr.
2) Peter Arnett was "heavily involved" and "participated fully," FNC and AP report in relaying the contentions of CNN's fired producers.
3) FNC examined global warming, and unlike ABC and NBC, acknowledged there are actually scientists who don't buy Gore's line.
4) Geraldo Rivera sings his zing of Starr: "Twinkle, twinkle Kenneth Starr, now we see how crude you are...now we see how wrong you are when you drag the agents in, when you bully moms and kin."
---
>>> "Networks Continue to Ignore Legions of Experts Who Question Drastic Climate Change: Only Scientists Who Agree With Us Matter," the latest MRC Media Reality Check fax report is now up on the MRC home page, thanks to MRC Web Manager Sean Henry. The report begins: "It happened again. Vice President Al Gore held a press conference on July 14 to hype his favorite topic -- global warming -- and ABC and NBC snapped to attention. Both networks' evening news shows highlighted Gore's opinions without giving any time at all to Gore's critics." To read the rest of the report in which the MRC's Tim Lamer has collected some counter-evidence, go to the MRC home page at http://www.mrc.org <<<
AMPLIFICATION. Well, not really. The July 22 CyberAlert recited a question Peter Jennings posed about Catholic hospitals and noted that it was probably the second of two questions, but I couldn't be sure because the signal went out briefly. Well, it appears Jennings did pose two questions, but the transcript on the abcnews.com site isn't very illuminating as to what he said or the correct spelling of the name of the expert he was interviewing. Here's exactly what they have:
"PETER JENNINGS: In fact, it's a dilemma in several ways, and this afternoon, we talked about it with Dr Arthur Caplan (ph). (audio gap) ... along with what the Catholic Church is getting involved in (audio gap).
DR ARTHUR CAPLAN: Our system very much lets the marketplace drive the values and drive selection of services. So there's nothing inherently wrong with a Catholic organization taking a particular position and stance and running its system the way it sees fit."

Not a word about the Starr investigation on ABC or CBS Wednesday night, while CNN and FNC ran full stories from the courthouse which included a mention of how Energy Secretary nominee Bill Richardson was asked by Senators about the job offer he gave to Lewinsky. FNC's David Shuster uniquely linked the move against Starr to Sidney Blumenthal and pointed out the contrast in how Blumenthal denounced Starr for wanting to know who Blumenthal talked to in the media, but now Blumenthal is demanding those who talked to Matt Drudge be exposed.
CNN's Bob Franken reported that grand jury questioning of Currie focused on December 28, 1997, the last time Lewinsky was at the White House and when Starr suspects she gave Currie the gifts given her by Clinton. Garrick Utley then suggested why 63 percent of the public says they don't care about the investigation: it's part of a larger shift from respect for the government to distrust to now a period of indifference.

NBC Nightly News allocated nine seconds to noting Betty Currie's appearance before the grand jury, but since the show didn't mention on Tuesday night the controversy over leaks by Starr, the program has yet to highlight the matter. NBC's Today on Wednesday morning, however, ran a story by Lisa Myers about the charges that Starr leaked, MRC news analyst Geoffrey Dickens observed.

ABC, CBS, FNC and NBC led Wednesday night, July 22 with the passing of astronaut Alan Shepard and CNN also ran a full piece. ABC and FNC followed with full stories on the death of Robert Young, but CBS, CNN and NBC allocated a just a few seconds to the actor. Shepard's passing prompted Dan Rather to become lyrical, offering these rhyming lines: "The right stuff and more. America's first man in space dies at 74." And: "A pioneer, a brave heart of the final frontier." Tom Brokaw declared that Shepard "had a toothy grin and a daredevil soul."
Every network ran a full story about a mice cloning breakthrough announced by scientists at the University of Hawaii. Catching up with ABC's Tuesday story, for the CBS Evening News Eye on America Rita segment Rita Braver highlighted how families are suing nursing homes which abuse their parents as "critics charge that the fast growing nursing home industry is putting profit ahead of care."
Two other noteworthy items: the Air Force nominee and Sidney Blumenthal:
-- CBS and FNC delivered contrasting spins on the defeat of Clinton's nominee for Secretary of the Air Force. In full, here's what Dan Rather told viewers:
"President Clinton's nomination of Daryl Jones to be Air Force Secretary effectively died today in a deadlocked Senate committee. Jones, a former fighter pilot, would have been the first African-American to head the U.S. Air Force. But he was dogged by Republican-led questions about his military record and business dealings."
Another victim of mean-spirited, partisan Republicans? Viewers of FNC's 7pm ET Fox Report got some details CBS left out as Carl Cameron relayed the views of both his supporters and detractors. Cameron explained that the nomination of Air Force reservist and former fighter pilot Jones "stalled amid allegations that he was grounded for in-flight mishaps, lied about it and accepted pilot salary that he was not entitled to. He denied the allegations, but still faced bi-partisan opposition."
Cameron showed clips from Republican Senator Dirk Kempthorne and Democrat Chuck Robb questioning his qualifications, though Cameron also allowed time for Democrats Carl Levin to defend him and for John Glenn to raise the issue of racism.
-- FNC's David Shuster provided this unique angle on the Starr leaks allegations:
"The request that Starr be held in contempt for allegedly violating grand jury rules of secrecy was prompted by a motion from President Clinton's lawyers and White House aide Sidney Blumenthal. Blumenthal, a former journalist, has admitted spreading speculation about prosecutors to the press. In February, when he was summoned to the grand jury to explain it all, Blumenthal accused Starr of trampling on the Constitution."
Blumenthal, February 26: "I never imagined that in America I would be hauled before a federal grand jury to answer questions about my conversations with members of the media."
Shuster: "Now, however, Blumenthal doesn't seem to mind the tactics at all. In a separate case the Clinton adviser is suing Matt Drudge for an erroneous story on his Internet Drudge Report about Blumenthal and his wife. Drudge now has a show on Fox News. As part of an effort to reveal Drudge's Internet sources, Blumenthal has issued a variety of subpoenas. He's asking a conservative women's organization to turn over information on any of its contacts with Drudge and its contacts with other reporters as well. Tucker Carlson of the Weekly Standard, David Brock of the American Spectator, John Fund of the Wall Street Journal. They've all been told to expect subpoenas as well...."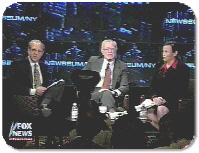 Peter Arnett was "heavily involved" in the CNN NewsStand story he narrated, FNC's Gary Matsumoto relayed in picking up the comments from fired producers Jack Smith and April Oliver. At a panel discussion held by the Freedom Forum in New York City, Matsumoto noted on FNC's Fox Report, the two producers of the piece on Operation Tailwind released a 77 page rebuttal defending the accuracy of the story retracted by CNN in early July and denounced by the Pentagon on Tuesday. No other network mentioned Oliver and Smith Wednesday night.
Matsumoto asserted: "And while CNN correspondent Peter Arnett said he did not contribute but a comma to the story, Oliver says Arnett was heavily involved."
Oliver on stage at the Freedom Forum: "He would not have participated on this show unless he believed in it 100 percent."
Audience member (in a clip I don't quite understand): "But he says you should have blown the whistle on him."
Oliver: "I cannot explain Peter's quote on that one. Peter participated fully. He took time off in April and May just to be available to us for this program."
Matsumoto concluded: "The Oliver and Smith rebuttal complains that CNN managers asked for proof beyond reasonable doubt only after the broadcast. Many of those in the audience said afterwards that should have been the standard in the first place."
A Wednesday AP dispatch by David Bauder matches Matsumoto's observation: "Smith and Oliver also contradicted Peter Arnett, who was reprimanded but kept his job after convincing CNN management he had little to do with reporting the story. Arnett read all the documentation and 'participated fully' in the program, they said. 'He was behind us 100 percent,' Oliver said."
Not exactly what Arnett told the Washington Post's Howard Kurtz after CNN decided to not fire him. In the July 9 Post Kurtz quoted Arnett: "I'm primarily an action reporter. I was never informed that my face on the air gave me responsibility for a major story. In the field, I have to answer for everything I say and do. To many, it's shocking that I could be so detached. But this was a team effort. I'm a company guy. You want me to read a script, I'll read it."
Apparently his face on screen didn't give him any responsibility.


An excellent demonstration Wednesday night of how FNC provides a contrast to all the other networks, as the Fox Report featured four stories delivering contrasting or unique information about a big political story. Three have already been recited above. The fourth: a "Fox Files" story on global warming. FNC's unique contribution: the reporter actually presented the views of both those who see it as a threat and those who don't buy Al Gore's ominous warnings.
Reporter Carlos Harrison began: "Raging fires, devastating floods, deadly heat, killer storms. The administration blames a single cause."
Al Gore: "How much more proof do we need that global warming is real?"
Harrison: "But critics say both the President and Vice President have lost sight of science in the pursuit of politics and that they are trying to bolster their argument by sending out scientists on the White House payroll to spread the word."
Steven Milloy, science policy analyst: "The Vice President and President have already decided that global warming is real and we're going to say and do anything we can to convince the American people that's true."
Harrison proceeded to note that while all agree the globe is experiencing a warming trend, the debate is over the cause. He explained how the Clinton administration blames greenhouse gasses from cars and factories and is pushing the Kyoto treaty to reduce those emissions. FNC played this soundbite from James Baker, Undersecretary of Commerce: "All of our data show if you add enough carbon dioxide you're going to change the climate, the only question is how much and how soon."
Harrison continued to give time to both sides: "But it's hardly that clear cut" as even pro-administration scientists concede the greenhouse effect "has not been proven conclusively," but "they contend it's better to play it safe and cut emissions while they continue gathering evidence." In contrast, Harrison pointed out, critics say the treaty would hurt the economy and raise prices for gas, elaborating:
"Critics say there's hardly any evidence that global warming is causing severe weather of any kind. And in fact there is evidence that the Earth cools and warms in a regular natural pattern over time."
Now compare that effort at a presentation of conflicting views with the one-sided crusading delivered last week by ABC and NBC. On the July 14 World News Tonight ABC's Ned Potter declared:
"Many scientists, and some politicians as well, say something larger is happening. They say we are seeing early signs of global warming -- the trapping of heat in the atmosphere caused, in part, by pollution from cars and industry."
The same night on NBC Robert Hager insisted: "Worldwide it's been the hottest first half of a year ever recorded, hottest in the 120 years they've kept track....The government says it's all an indication that global warming is real...Vice President Gore with a warning."
Al Gore: "The future holds significantly higher temperatures still unless we do something about it."
Neither reporter had the integrity to present another point of view or contrasting evidence. See the July 14 CyberAlert for more on these stories and the July 23 Media Reality Check, cited at the top of this CyberAlert, for more on contrary evidence.
It's a pretty sad state of affairs when a network stands out just for presenting both sides of a policy debate.


Geraldo literally sang his disgust with Ken Starr. Republican Congressman Mike Pappas of New Jersey got himself widespread TV coverage Tuesday for using his one-minute speech from the House floor to sing a birthday tribute to Ken Starr. He delivered new lyrics for "Twinkle, Twinkle Little Star."
Tuesday night on CNBC's Rivera Live the host played video of Pappas singing his tune. Then Geraldo Rivera offered his suggested lyrics, singing:
"Twinkle, twinkle Kenneth Starr, now we see how crude you are
"Up above your jury high, like the judge up in the sky
"Twinkle, twinkle little Starr, now we see how wrong you are
"When you drag the agents in, when you bully moms and kin
"Then you kiss the treacherous Tripp, twinkle, twinkle DC drip
"Twinkle, twinkle little Starr, now we see how small you are."
Remember, this guy is now a member of the NBC News staff, not just a talk show host on CNBC. -- Brent Baker

---
>>> Support the MRC, an educational foundation dependent upon contributions which make CyberAlert possible, by providing a tax-deductible donation. Use the secure donations page set up for CyberAlert readers and subscribers:
http://www.mrc.org/donate
>>>To subscribe to CyberAlert, send a blank e-mail to: mrccyberalert-subscribe
@topica.com. Or, you can go to: http://www.mrc.org/newsletters. Either way you will receive a confirmation message titled: "RESPONSE REQUIRED: Confirm your subscription to mrccyberalert@topica.com." After you reply, either by going to the listed Web page link or by simply hitting reply, you will receive a message confirming that you have been added to the MRC CyberAlert list. If you confirm by using the Web page link you will be given a chance to "register" with Topica. You DO NOT have to do this; at that point you are already subscribed to CyberAlert.
To unsubscribe, send a blank e-mail to: cybercomment@mrc.org.
Send problems and comments to: cybercomment@mrc.org.
>>>You can learn what has been posted each day on the MRC's Web site by subscribing to the "MRC Web Site News" distributed every weekday afternoon. To subscribe, send a blank e-mail to: cybercomment@mrc.org. Or, go to: http://www.mrc.org/newsletters.<<<

---
Home | News Division | Bozell Columns | CyberAlerts
Media Reality Check | Notable Quotables | Contact the MRC | Subscribe