LaBella Ignored by 2 of 3 Nets; New Press Secretary an ABC & CNN Vet
1) CBS exclusively relayed a Secret Service story about a missing President; NBC correlated Hillary's trips and Lewinsky's late night visits, but nothing on Monicagate on ABC Thursday night.
2) Charles LaBella, the man Janet Reno picked to probe Democratic campaign fundraising, concluded an independent counsel must be named. He's ignored by two of three broadcast nets in the morning and evening.
3) Peter Jennings referred to "so-called partial birth" abortions and FNC said backers prefer "late term," just how CNN labeled it.
4) The new White House Press Secretary, Joe Lockhart, is a veteran of ABC News and CNN.
---

Dramatic differences in news judgments by the networks Thursday night. CBS topped its Evening News with an exclusive story by Scott Pelley on how a Secret Service officer testified "about one weekend day when the President could not be accounted for for several minutes." Several minutes into NBC Nightly News Lisa Myers told viewers about the overlap between Monica Lewinsky's late night visits to the White House and nights when Hillary Clinton was out of town. CNN and FNC also ran full reports on the day's courthouse activities, but without the unique information delivered by CBS and NBC. ABC's World News Tonight, however, did not utter a syllable about the Starr investigation or any Clinton scandal matter.
FNC's David Shuster noted that Starr employed two grand juries to help churn through the Secret Service officers and ran a soundbite from agent Larry Cockell's attorney, John Kotelly, on the courthouse steps observing that in Cockell's one hour before the grand jury "He did not have to invoke a privilege for any of the questions that were asked." But after all the ominous warnings last week in the media about how calling Cockell meant Starr was trying an end run around attorney-client privilege, only CNN's Bob Franken, on The World Today, pointed out the false alarm, as lawyers for the agents "said agents were instructed to not answer any questions about conversations between the President and his attorneys and those questions, they went on, were not asked."
The anchors of the ABC, CBS, FNC and NBC evening shows all took a few seconds to note the announcement that Press Secretary Mike McCurry will depart the White House this fall and that Joe Lockhart will replace him. Only CNN offered a full story. Though Lockhart once toiled for ABC News and CNN, neither network mentioned his media experience. (See item #4)
No one recalled for viewers McCurry's admission to the Chicago Tribune that on Clinton's relationship with Monica Lewinsky, "Maybe there'll be a simple, innocent explanation. I don't think so, because I think we would have offered that up already." Blitzer came closest, noting that McCurry told "the Chicago Tribune the President's relationship with Lewinsky was quote, 'a very complicated story.' It didn't take long for him to regret those remarks..."
Here's what CBS and NBC reported Thursday night, July 23, on the Monica front in the East coast feed. I noticed that the 9pm ET The News with Brian Williams on MSNBC opened with a revised piece by Lisa Myers which included the major revelation from CBS's Scott Pelley, so I assume the West coast feeds of the ABC and NBC evening shows may have offered new material.
-- CBS Evening News. Dan Rather refrained from claiming Starr is probing Clinton's "personal life" and went right to the big CBS scoop. Scott Pelley disclosed what a Secret Service officer has already testified to witnessing:
"Sources tell CBS News that one of the officers recounts tense moments during which the President of the United States could not be located."
Specifically, Pelley relayed:
"One of the officers tells a story about one weekend day when the President could not be accounted for for several minutes. Sources say the officer retells events this way: On a weekend in early 1996 the President was believed to be in the Oval Office but did not answer a phone call there. An officer knocked on the door but there was no answer. Harold Ickes, the Deputy Chief of Staff, was summoned and walked into the Oval Office with a Secret Service agent. The Oval was empty. The Secret Service control room was called and confirmed that the President was in the area of the Oval Office. In a matter of moments Ickes and the agent found Mr. Clinton and Lewinsky in a study that adjoins the President's office. The officer says he does not know what was happening in the study."
Noting that this officer has already appeared, Pelley reported that Ickes was subpoenaed and appeared today at the courthouse. Asked about the testimony by CBS, "Ickes said he never heard of such an event and he forcefully denied any involvement."

-- NBC Nightly News. After stories on the falling stock market and Clinton's plans to provide federal aid to heat wave victims, NBC went to Lisa Myers. She explained that Cockell and three other Secret Service officers appeared before two grand juries and questioning focused on what they saw and heard after Clinton learned that Lewinsky had been subpoenaed in the Paula Jones case. The key date: December 28, the last time Monica went to the White House. In the Tripp tapes, Myers asserted, Lewinsky said that Clinton told her to claim she and Betty Currie were friends. Clinton said in the Jones deposition that he was not alone with Lewinsky but, Myers reported, "a lawyer familiar with Secret Service testimony said a number of officers say they saw the President and Lewinsky alone, behind closed doors, for significant periods of time."
Myers elaborated:
"In his deposition the President also said he didn't remember ever meeting with Monica late at night. But Lewinsky reportedly told Tripp of being in the White House late at night when Hillary Clinton was out of town. An NBC News analysis finds that five of the nights for which Starr subpoenaed records on the President's movements between 6pm and 6am, were when Mrs. Clinton was out of town."


The man Attorney General Janet Reno picked to run the Justice Department's campaign finance probe told her that she must appoint an independent counsel for the matter, disclosed a front page New York Times story Thursday morning. That prompted two brief mentions in news updates on NBC's Today, zilch on ABC or CBS Thursday morning.
During her weekly 10am ET press conference Reno replied to a question about the story, thus providing the networks with video they could use Thursday night. Nonetheless, neither ABC's World News Tonight or NBC Nightly News uttered a word about the subject. FNC's Fox Report gave it a few seconds. Only the CBS Evening News and CNN's The World Today treated it as a serious development as each ran full stories.
"Report to Reno Urges a Counsel Over Donations," announced the July 23 front page New York Times headline. Reporter David Johnston revealed:
"After a 10-month inquiry, the departing chief of the Justice Department's campaign finance unit has concluded in a confidential report to Attorney General Janet Reno that she has no alternative but to seek an independent prosecutor to investigate political fundraising abuses during President Clinton's re-election campaign, government officials said Wednesday. The prosecutor, Charles LaBella, delivered the report to Reno last Thursday as he prepared to return to San Diego this week to take over as interim U.S. Attorney."
Johnston pointedly observed: "In effect, after being chosen by Reno to revive an investigation that she had been criticized for neglecting, LaBella has marked his departure by challenging her to replace him with an outside counsel."
"LaBella's report does not suggest that prosecutors are ready, or even close, to bringing a case against any top Democrats or administration officials, but contends only that their fundraising activities warrant outside investigation. And in a legal analysis, LaBella concluded that Reno had misinterpreted the law creating an artificially high standard to avoid invoking the independent counsel statute, officials said.
"LaBella's conclusions, coming from a seasoned federal prosecutor with full access to all grand jury evidence in the case, represents a serious internal fracture within the Justice Department...."
-- Morning show coverage, July 23: A 23-second item during the 7am news update on Today read by Ann Curry and another 18-second mention at 8am, MRC news analyst Mark Drake observed. Not a word on ABC's Good Morning America, MRC analyst Clay Waters documented. Zilch on CBS's This Morning, but MRC analyst Jessica Anderson noticed that news reader Hattie Kauffman made time to announce the results of a CBS News poll which found 47 percent think Clinton should never offer a greater explanation of the Lewinsky matter and 59 percent believe the investigation should be dropped.
-- Evening shows on July 23: As noted above, zilch on ABC and NBC, full stories on CBS and CNN. Instead of covering Reno, ABC's World News Tonight opened with a "revolution with sight," how a FDA panel has approved a surgical procedure to make glasses unnecessary for people who can't see well up close. ABC's Tom Foreman reported on "Tobacco Road" stores in Indiana and how the "chain of convenience stores is causing an uproar with new commercials" that push cigarette sales by saying they can't tell what they sell. One ad just shows video of kittens. Their slogans: "Gas and cheap prices on, well, you know" and "Gas and cheap prices on stuff we can't mention here." Plus, pegged to Al Gore's visit to Chernobyl, how robots can go into radioactive areas to do what human used to have to do.
NBC Nightly News couldn't find time for Reno, but did allocate time for "In Depth" stories on "the dangerous down side of the building boom: construction accidents." Plus, how some in Andrews, North Carolina, home of bombing suspect Eric Rudolph, are torn because they share his anti-government and anti-abortion views, as well as a "Living Longer" piece on four men over 70 participating in a cross-country bike race.
On the CBS Evening News Dan Rather hesitatingly declared: "Pressure, not all of it from Republicans, is building on Attorney General Janet Reno to appoint yet another independent counsel, this one to investigate political fundraising abuses, alleged abuses, in President Clinton's 1996 re-election campaign."
Phil Jones began: "The Attorney General is in a real bind now. There is no way she can dismiss the howls for an independent counsel as partisan Republican sniping since the latest call comes from one of her very own," Charles LaBella, "the man Reno hand picked." Jones noted that "at her weekly Thursday press conference Reno tried to diminish LaBella's role when a reporter described him as main lawyer in the investigation."
Jones played a clip of FBI Director Freeh at a December House hearing calling for an IC, before concluding by reporting that Freeh, "his lead FBI agent in the investigation, and LaBella have been summoned to appear before a House committee next Thursday to publicly talk about their private dispute with Janet Reno."
CNN's The World Today ran a full report from Pierre Thomas, who added that LaBella argues in his report that "key Democrats and White House officials may have conspired to break campaign finance laws..."
Thomas reminded viewers that last week at a hearing with Reno Senator Fred Thompson had highlighted a memo from Freeh declaring the need for an IC. That's the first network mention of the Thompson/Reno exchange since all the networks ignored it last week.


The language of abortion. Thursday night ABC referred to "so-called" partial birth, FNC explained how each side of the issue wishes to be described and an hour later CNN used the term preferred by the liberal side.
-- Peter Jennings announced on World News Tonight: "The House of Representatives today overrode President Clinton's veto of a bill to ban so-called partial birth abortions. The bill now goes to the Senate where Republicans may not have the votes for an override."
-- Todd Connor, anchor of FNC's 7pm ET Fox Report, informed viewers how "Supporters of the procedure call it late term, opponents call it partial birth..."
-- Barely an hour later, on the 8pm ET The World Today, CNN anchor Joie Chen adopted the language of supporters: "The House today voted to override President Clinton's veto of ban on certain late term abortions. The vote was ten more than the two-thirds majority needed...."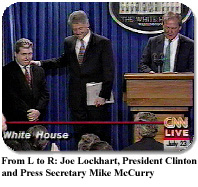 Peter Jennings announced on ABC's World News Tonight on Thursday, over video of Mike McCurry with Joe Lockhart next to him but lower because of the camera angle: "At the White House today President Clinton announced that the man who has been his spokesman through thick and thin will be leaving. Press Secretary Mike McCurry will step down this fall. He doesn't say what he'll do next. He will be replaced by the Deputy Press Secretary, that's him down there, Joe Lockhart."
Jennings didn't bother telling viewers how Lockhart used to work for ABC News. In a full story for CNN, Wolf Blitzer also skipped over Lockhart's time at the cable network.
Here's the Lockhart bio, as described in the March 1996 MediaWatch "Revolving Door" column:
"In the Clinton-Gore campaign office, Roll Call reported that Joseph Lockhart, who bounces between Democratic presidential campaigns and network slots, has bounced again, this time into the national press secretary slot. Lockhart was an assistant press secretary to Democratic candidate Walter Mondale in 1984, then Press Secretary to Senator Paul Simon until becoming assignment editor for ABC News in Chicago in 1985. He put in a stint as a deputy assignment editor at CNN before joining the 1988 Dukakis-Bentsen campaign as a traveling press aide."
After the campaign he assumed the Deputy Press Secretary position at the White House.
Bernard Shaw did acknowledge Lockhart's previous life at CNN. On Thursday's Inside Politics offered this tribute: "I recall Joe Lockhart when he worked at CNN. He was outstanding. We'll see how he performs at the White House."
An advantage Democratic Presidents have: the option to pick media veterans, still admired by their old colleagues, to spin their policies.-- Brent Baker

---
>>> Support the MRC, an educational foundation dependent upon contributions which make CyberAlert possible, by providing a tax-deductible donation. Use the secure donations page set up for CyberAlert readers and subscribers:
http://www.mrc.org/donate
>>>To subscribe to CyberAlert, send a blank e-mail to: mrccyberalert-subscribe
@topica.com. Or, you can go to: http://www.mrc.org/newsletters. Either way you will receive a confirmation message titled: "RESPONSE REQUIRED: Confirm your subscription to mrccyberalert@topica.com." After you reply, either by going to the listed Web page link or by simply hitting reply, you will receive a message confirming that you have been added to the MRC CyberAlert list. If you confirm by using the Web page link you will be given a chance to "register" with Topica. You DO NOT have to do this; at that point you are already subscribed to CyberAlert.
To unsubscribe, send a blank e-mail to: cybercomment@mrc.org.
Send problems and comments to: cybercomment@mrc.org.
>>>You can learn what has been posted each day on the MRC's Web site by subscribing to the "MRC Web Site News" distributed every weekday afternoon. To subscribe, send a blank e-mail to: cybercomment@mrc.org. Or, go to: http://www.mrc.org/newsletters.<<<

---
Home | News Division | Bozell Columns | CyberAlerts
Media Reality Check | Notable Quotables | Contact the MRC | Subscribe