Richardson's Lewinsky Job Creation Skipped; CBS Marked Starr's 4th
1) FNC's Catherine Crier asked a feminist leader the difference between Clayton Williams getting "serviced" and an "intern showing up on her knees for 20 minute escapades with the President?"
2) The U.N. Ambassador did not have an opening for Lewinsky, but all the nets skipped the revelation. Dan Rather misstated a poll, insisting that most think it would have been better "if the Starr investigation into Mr. Clinton's personal life" never started.
3) Saturday night ABC kept the focus on alleged Starr improprieties. CBS's Phil Jones lent credibility to the substance of attacks on Starr in reviewing his four years in office.
4) The media spotlight on himself made Boston Globe columnist Mike Barnicle realize the "strength" it takes for Clinton to endure.
---
>>> The August 10 editions of MediaWatch and Notable Quotables are now up on the MRC Web page thanks to MRC Web Manager Sean Henry and Research Associate Kristina Sewell: http://www.mrc.org. Our printer once again messed up the printing of the hard copy versions by using a wrong font so our lettering is squished while there are huge space gaps between words, but that's one advantage of the online HTML edition: bad printing is no impediment to your reading enjoyment. Notable Quotable categories include "Linda Tripp, Wiretapping Witch;" "Clinton Should Stonewall;" "Thomas: Slave to the White Right;" and "Public Apathy About Lying? Good."
MediaWatch features a Review by Associate Editor Tim Graham of Geraldo Rivera's work titled "The White House's Favorite 'Reporter.'" Another article focuses on how in hurling criticisms at each other, U.S. News owner Mort Zuckerman and the Editor he fired, James Fallows, highlighted the liberal views each pushed into the magazine. Newsbites include "Sticking to Sex," an item by MRC analyst Jessica Anderson on how the networks have ignored developments in the fundraising scandal and with the probe into the violation of Tripp's personnel file; in "Grand Old Losers" MRC analyst Eric Darbe recounted CNN analyst Bill Schneider's tribute to liberal Republicans, whom he misleadingly dubbed "moderates;" and under "Roman Roadblock" MRC analyst Geoffrey Dickens detailed how Peter Jennings complained about how hospital mergers mean Catholic hospital administrators can deny abortions to entire communities by applying their "ideology." <<<
Correction: The August 7 CyberAlert contents list stated that "Every network but CBS had a unique bit of info on Lewinsky: FNC reported that she didn't write the talking points, NBC that Lewinsky not at White House during many visits...." As the subsequent item made clear, that should have read "NBC that Betty Currie not at White House during many visits."

Quote of the Weekend. Filling in for NPR's Mara Liasson on Fox News Sunday, FNC's Catherine Crier put a question to NOW President Patricia Ireland that Liasson certainly never would have dared pose. Crier, a civil court judge in Texas before launching her media career with CNN in 1989, colorfully asked:
"I remember when Clatie Williams, Clayton Williams ran for Governor in Texas against Ann Richards and he made a statement, he said 'we always went across the border to get serviced by women.' And of course women went nuts. How is that any different than a 22-year-old intern showing up on her knees for 20 minute escapades with the President of the Unites States?"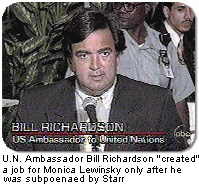 The terrorist bombings dominated the evening shows from Friday through Sunday, but each managed to squeeze in a story Friday night about the release of Judge Norma Holloway Johnson's ruling demanding the Office of the Independent Counsel prove it is not guilty of releasing grand jury testimony.
Friday morning The Washington Times revealed that UN Ambassador Bill Richardson did not have a position open for Lewinsky when he interviewed her for a job and only "created" one after Starr subpoenaed him. The August 7 Times headline announced, "Richardson Didn't Have Post to Offer: Evidence Doesn't Support His Statements on Lewinsky." None of the three morning shows on Friday uttered a word about the Times discovery and ABC, CBS, CNN and NBC all skipped it in the evening. So did FNC, though the Fox Report opened with a plug for a story on it that never materialized.
Washington Times reporter Bill Sammon disclosed:
"U.N. Ambassador Bill Richardson, contrary to what he told Congress last month, did not have an opening on his staff when he offered to hire Monica Lewinsky last October, according to informed sources and documents obtained by The Washington Times.
"Mr. Richardson, who was recently confirmed as President Clinton's new energy secretary, planned to create a new position to accommodate Miss Lewinsky's desire for employment in New York City, said sources at the United Nations, the State Department and on Capitol Hill. He panicked when the scandal broke in January and scrambled to find a slot that he could claim had existed long before he interviewed Miss Lewinsky, the sources said.
"Despite Mr. Richardson's repeated, sworn assertions, he did not create the position until after independent counsel Kenneth W. Starr served him with a subpoena demanding all documents relating to the job offer. Mr. Starr is trying to determine whether the offer was aimed at distancing Miss Lewinsky and keeping her quiet about her relationship with Mr. Clinton...."
Coverage: Not a word Friday morning. Though the morning shows focused much time on the bombings, ABC's Good Morning America, MRC analyst Clay Waters pointed out, had time for a first hour interview segment about high schoolers denied National Honors Society admission because they are pregnant. Over on CBS, MRC analyst Jessica Anderson noticed that This Morning allocated time in its main 8am half hour to "savvy shoppers" buying groceries over the Internet and, not letting a major terrorist incident or Clinton scandal get in the way of what made them #3 in the morning, a "Great American Weight Loss" series feature on exercise. NBC's Today made time to interview Mike Barnicle (see item #4 below.)
Zilch in the evening too, though every network ran a Monicagate story. ABC and FNC spilt their stories between Starr's censure and a Lewinsky update, CBS, CNN and NBC focused only on Starr with Dan Rather highlighting poll results showing most think it would have been better if Starr had never launched an investigation into Clinton's "personal life."
Highlights from Friday night, August 7:
-- ABC's World News Tonight. In the only non-bombing field report, Jackie Judd reported that Lewinsky testified "she had a number of sexual encounters with President Clinton in the Oval Office suite" as "a source familiar with her testimony says the importance of the dress has been exaggerated. The source says there is, quote 'so much other information out there you don't need the dress. The President is going to have a tough time' whether or not the FBI finds DNA evidence on the dress."
Judd then spent the rest of her report on the leaks decision.

-- CBS Evening News. Dan Rather announced about half way through the show:
"A legal setback for federal prosecutor Ken Starr today in the U.S. federal appeals court. The court agreed with President Clinton's lawyers and said an investigation is warranted into whether special prosecutor Ken Starr may have broken the law through criminal acts of leaking secret grand jury testimony and on more than one occasion."
Bob Schieffer explained how the appeals court gave Johnson the green light to investigate and the burden to rebut lies with Starr. Schieffer's ending sentences: "Starr has always denied leaking information to the press and tonight his spokesman said the office said it would welcome an investigation. White House aides were pleased with all this of course, hoping it would cast new doubt on Starr's motives. For sure, it is a new complication as Judge Johnson must now decide how to investigate the Starr investigators."
Dan Rather followed up: "Results are in tonight from a CBS News poll taken since Monica Lewinsky's testimony to the Ken Starr grand jury. 63 percent of those polled said even if there was wrongdoing by the President it would have been better for the country if the Starr investigation into Mr. Clinton's personal life and whether he lied about it had never started. Half blamed the President's political enemies, not the President himself, for creating the current situation."
A bit of Rather editorializing? The on-screen version of the first question did not include Rather's "personal life" mantra, but maybe his constant use of that terminology helps explain the second poll number. Here's what CBS put on-screen for the first question: "Whatever happened, would it have been better if the investigation had never begun?" Yes, said 63 percent. No, replied 31 percent. For the second inquiry, "Who's more to blame," 51 percent thought "Clinton's political enemies," 39 percent said "Clinton himself."

-- CNN's The World Today held Monicagate to just one story from Bob Franken on the leaks decision. "It could cause big problems for Ken Starr's investigation," Franken began. He concluded: "The White House immediately jumped on these rulings saying, 'for the first time a federal court has found prima facie evidence of potential criminal wrongdoing by an independent counsel.' The independent counsel's office responded by saying, it was gratified by the ruling, which protects the integrity of the grand jury investigation, and went on to say it would welcome the opportunity to prove it did not violate rule 6(e). It will get that opportunity."

-- FNC's 7pm ET Fox Report. At the top of the show co-anchor Lauren Green plugged an upcoming story: "A new Monica mystery: sex, lies and job offers. Did one of the President's men [video of Bill Richardson] tell the whole truth to Congress and did Ken Starr tell too much to the media?"
But nothing about Richardson aired during the next hour. FNC did run a piece from David Shuster which covered a lot of ground, but not anything about Richardson. Shuster reported that prosecutors are getting ready for Clinton, but since he agreed to testify before he knew about the dress prosecutors are worried he may try to get out of his deal. Shuster then moved to the leaks decision, showing video of Starr in May calling a ruling "magnificent." That, Shuster relayed, was a comment Johnson considered a violation of her order to keep her ruling secret.

-- NBC Nightly News devoted all but the last seven minutes to the bombing. Tom Brokaw gave 21 seconds to the leaks: "There's an embarrassing and potentially damaging setback for independent counsel Ken Starr tonight. A federal appeals court ruled there is evidence that his office may have illegally leaked grand jury material to the press. That may warrant a hearing on the matter, that could lead to contempt of court. No date set yet for the hearing."


Saturday's Washington Times revealed that Senator Frank Murkowski, Chairman of the Senate Energy and Natural Resources Committee that confirmed Bill Richardson for the Secretary of Energy post, asked President Clinton to not swear in Richardson. "Committee aides," the Times reported, said he "was furious" about the Friday Times report on how Richardson did not create the position Lewinsky applied for until after he was subpoenaed by Starr.
Not a word about this development Saturday night on the broadcast networks. NBC Nightly News went Monicagate-free, ABC ran a full story about Starr and leaks, and CBS marked Starr's 4th anniversary with a derisive history from Phil Jones.
Sunday night, August 9, CBS skipped the scandals, and ABC featured a piece from Tim O'Brien on how ABC News had confirmed a Newsweek story about how Starr's report will deal only with Lewinsky and thereby ignore Whitewater, Hubbell, the travel office firings, Vince Foster and the FBI files. On NBC Nightly News Joe Johns checked in with a short story on how, following the Republican lead, Democrats on the House Judiciary Committee are hiring staff for possible impeachment hearings. NBC's In Focus segment examined the controversy over ending bilingual education in California. Minutes later NBC viewers saw a story on "the rush" in China to learn English
Back to Saturday night, ABC's World News Tonight/Saturday
aired a full report from Tim O'Brien detailing the decision from Judge Johnson, offering this illustration: "Johnson pointed to Starr himself as the source of lawful disclosures. The day was May 6th. Starr, leaving home for work, was asked about a secret ruling rejecting White House claims of executive privilege."
Reporter to Starr: "What's your opinion of Judge Johnson's ruling?"
Starr, getting into his car: "The matter is under seal. I would love to comment more. All I will say is it's a magnificent opinion."
O'Brien: "But even that was saying too much according to Johnson who called Starr's confirmation of the existence of the ruling, and that it was favorable to him, 'a prima facie violation of federal rules and a violation of a court order not to discuss the ruling.'"
After relaying how Clinton lawyer David Kendall called Starr's leaks "highly unprofessional and utterly indefensible," O'Brien concluded: "This new development will not derail Starr's investigation, but it is at minimum a distraction at a critical time."

For Saturday's CBS Evening News Phil Jones marked the 4th anniversary of Starr's time as independent counsel. Jones began:
"Starr is the most vilified independent counsel prosecutor in history. Yet Arkansas citizens, sitting as grand jurors, agreed with him and returned 13 criminal indictments....But Starr has still not connected the Clintons to a Whitewater conspiracy he first suggested three years ago."
Following a soundbite from Starr, Jones highlighted the usual attacks on Starr, but gave them credibility by illustrating each. Jones claimed Starr called Hillary into the cold outdoors and Jones seemingly belittled concern about personal attacks on prosecutors by immediately noting they had taped Lewinsky:
"Starr has been accused of squeezing witnesses, like Susan McDougal, to get incriminating evidence against the Clintons. In a display of toughness and frustration in 1996, he ordered Hillary Clinton to the courthouse on a cold winter day to explain just how her Whitewater billing records had mysteriously appeared in the White House. Starr's allies say the one criticism that has irked him the most is the constant personal attacks on his team of prosecutors, prosecutors who secretly recorded a conversation with Monica Lewinsky and then asked her to help record the President."
Noting that Starr has won most court battles with the White House, Jones continued: "But in the court of public opinion he continues to lose his argument that this is about more than sex."
(See Dan Rather's constant referral to how Starr is probing Clinton's "personal life" for an idea of why that may be.)
Concluded Jones: "Beyond the price tag of $30 to $40 million for this investigation, is the personal cost to both Starr and the President. For regardless of how this ends, both Bill Clinton and Kenneth Starr will probably spend the rest of their lives explaining and defending their use of the nation's laws."
A very balanced ending, in which Jones suggests moral equivalence between the law-breaker and the investigator.


What a little vilification will do. Boston Globe columnist Mike Barnicle is in trouble for running, without attribution, some George Carlin jokes in his column. Barnicle is usually liberal in his opinions and, though a "Metro/Region" section columnist, has gained some national notoriety through appearances on Imus in the Morning, PBS and MSNBC's The News with Brian Williams.
In July 21 appearance on the PBS NewsHour, recalled by MRC news analyst Mark Drake, he put the burden of Clinton's predicament on Clinton:
"The President, on the other hand, ought to be indicted because he has allowed his public appetite to become his private appetite, to become a public humiliation and dragging the country through this for five or six months when a few simple, declarative sentences spoken to the truth of this relationship would clear the whole thing up."
Fast forward a couple of weeks until Friday morning, August 7, just days after the Boston Globe asked Barnicle to resign. Mark Drake caught a contrasting assessment from Barnicle on NBC's Today. Katie Couric wondered: "Does it make you think twice about things you write about other people?"
Barnicle replied: "I'll tell you what it makes me think twice about. It makes me think twice about the strength somewhere in the President of the United States who has to get up every day and endure this at a far, far more vociferous level than I have to. It makes you think about that."
Now all the Clintonistas have to do the next time a media figure holds Clinton responsible for his actions is dig up evidence showing that journalist once plagiarized or made something up. In a matter of hours they'll turn him or her into someone who shares Clinton's pain.
-- Brent Baker

---
>>> Support the MRC, an educational foundation dependent upon contributions which make CyberAlert possible, by providing a tax-deductible donation. Use the secure donations page set up for CyberAlert readers and subscribers:
http://www.mrc.org/donate
>>>To subscribe to CyberAlert, send a blank e-mail to: mrccyberalert-subscribe
@topica.com. Or, you can go to: http://www.mrc.org/newsletters. Either way you will receive a confirmation message titled: "RESPONSE REQUIRED: Confirm your subscription to mrccyberalert@topica.com." After you reply, either by going to the listed Web page link or by simply hitting reply, you will receive a message confirming that you have been added to the MRC CyberAlert list. If you confirm by using the Web page link you will be given a chance to "register" with Topica. You DO NOT have to do this; at that point you are already subscribed to CyberAlert.
To unsubscribe, send a blank e-mail to: cybercomment@mrc.org.
Send problems and comments to: cybercomment@mrc.org.
>>>You can learn what has been posted each day on the MRC's Web site by subscribing to the "MRC Web Site News" distributed every weekday afternoon. To subscribe, send a blank e-mail to: cybercomment@mrc.org. Or, go to: http://www.mrc.org/newsletters.<<<

---
Home | News Division | Bozell Columns | CyberAlerts
Media Reality Check | Notable Quotables | Contact the MRC | Subscribe