Clinton's Field Trip; Cronkite Quiet; Mum on Nunn's Call for Resignation
1) Clinton's field trip earned a full story on ABC, CNN and FNC but just a few seconds on CBS and NBC. Only FNC brought up how a local Democratic city council member refused to attend.
2) Cronkite mute. The retired CBS newsman suspended his powers of journalistic observation and refused to tell other reporters about his sail with the Clinton family.
3) Update on coverage of Dick Gephardt's comments on impeachment possibility: Carl Cameron produced a piece for FNC's Special Report. Sam Nunn's call for resignation skipped by all.
4) CyberAlerts going on vacation.
---
>>> Check out all the material showcased on the MRC's home page: The August 24 editions of MediaWatch and Notable Quotables, the August MediaNomics, the August 27 Media Reality Check and MRC Chairman L. Brent Bozell's Wall Street Journal op-ed. Just go to http://www.mediaresearch.org and click away. <<<

The turmoil in Russia and plunge of the U.S. stock market were the top stories Thursday night on all the networks with ABC, CBS, CNN and NBC going first with Russia while FNC led with the stock market.
ABC's Hillary Brown laid out a scenario in which Chernomyrdin is confirmed as Prime Minister and Yeltsin transfers power to him until elections in three months, but only after the parliament gives Yeltsin immunity. CBS Evening News anchor Paula Zahn ominously opened the show: "Russia's fling with free markets may be over tonight. So may the political career of Boris Yeltsin. And the carnage at the Kremlin could even stop the stock market's long Bull run..." CBS News reporter Richard Threlkeld proposed the same scenario as ABC, adding that Yeltsin has already signed a resignation letter, but has just not yet submitted it. The other networks were less definitive, passing along the rumors of how Yeltsin is about to resign along with the official denials.
Bill Clinton's quick trip up to Worcester for a speech in front of an enthusiastic Democratic crowd, but during which he did not mention Lewinsky, earned a full story on ABC, CNN and FNC. CBS and NBC gave it a few seconds. All but NBC raised how Republican candidates are using the President's Lewinsky affair as an issue against Democrats up for election this fall. The streets outside the hall were filled with protesters demanding Clinton resign, but ABC and CBS ignored them and only FNC brought up how a local Democratic city council member refused to attend.
Highlights of how the Thursday, August 27 network evening shows covered the President's field trip:
-- ABC's World News Tonight. About 22 minutes into the show Mike Von Fremd began by emphasizing the stage-managing:
"Democrats in Massachusetts included busloads of school children in their choreographed tribute to the President. Senator Kennedy portrayed him as a leader whose problems are now behind him."
Following a Kennedy soundbite Von Fremd continued: "The official issue was school safety, but every speech included a healthy dose of praise for the President."
Viewers then heard a clip from the Worcester police chief before Von Fremd continued: "Clearly enjoying the warm welcome, the President never mentioned the Starr investigation but reminded the faithful that he has bounced back before."
Clinton recalled his 1992 comeback in New Hampshire and then Von Fremd concluded: "Democratic Congressman Jim McGovern, who invited the President months ago, was given a standing ovation and a handshake. But his Republican opponent has promised to use pictures of Mr. Clinton's visit against Mr. McGovern in campaign commercials this fall. That kind of threat may make Democrats in less friendly territory keep their distance from the President."

-- CBS Evening News held the President's trip to a few sentences from anchor Paula Zahn:
"Clinton said little about today's news from the markets or Moscow. Instead Mr. Clinton was road testing his gradual return to public view. Today he made his first political appearance since his speech to the nation about Monica Lewinsky last week. Today's subject: school safety and crime. He appeared on friendly turf, before a receptive crowd in heavily Democratic Worcester, Massachusetts."
Without so much as a soundbite she moved on: "Well Republicans are doing some political road testing of their own, about Monica Lewinsky as a potential issue in the fall congressional campaign. In a televised debate, California's incumbent Democratic Senator Barbara Boxer, was accused by Republican challenger Matt Fong of having a double standard: one for Mr. Clinton another for Clarence Thomas and Bob Packwood."
Finally, Zahn noted that Bruce Lindsey had been called to appear before the grand jury on Friday.

-- CNN's The World Today at 8pm ET. Anchor Jim Moret noted how Attorney General Reno had officially announced a 90 day review for Al Gore. After a soundbite from Gore calling his actions "legal" and "proper," Moret told viewers about Bruce Lindsey's expected appearance. For Clinton's day Moret went to John King who filed from the White House lawn, not Martha's Vineyard where he's been the last week.
King opened by introducing a glowing tribute to Clinton from Congressman Jim McGovern: "A very welcome and public show of Democratic support for a President who needs every friend he can get these days." After a clip of Clinton King segued into a bite from Senator Kennedy: "That Mr. Clinton said not a word about Lewinsky didn't matter to his most loyal Democratic allies."
But, King then cautioned, "there were reminders along the roadside that some aren't ready to move on and fresh reminders as well of the damage the President's relationship with Lewinsky has done to his stature and his party. CNN has learned that a half dozen top Democratic strategists have told party leaders in recent days that they are worried the Lewinsky controversy is demoralizing Democratic base voters, especially women."
Viewers heard Amy Isaacs of the liberal Americans for Democratic Action denounce Clinton's abuse of power in the workplace. King added: "More and more, Mr. Clinton's conduct is becoming an issue in close congressional races as Republicans push Democrats to defend, or condemn, their President." As an example, CNN showed California Democratic Senator Barbara Boxer saying in a debate "What the President did was wrong."
King contended that "most advisers think the President could help fellow Democrats if he emerged from a vacation with his family and delivered a more apologetic explanation of his relationship with Lewinsky." But don't count on it. King concluded: "Another explanation might not be forthcoming any time soon. The President is telling some associates he thinks the American people have heard enough, at least for now."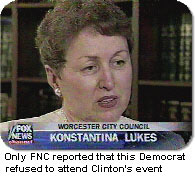 -- FNC's Fox Report at 7pm ET: Brian Wilson uniquely relayed that "though most of the state's top Democrats were in attendance, Konstantina Lukes, a nine year veteran of the Worcester City Council, stayed away."
Lukes explained to FNC viewers: "For him not to understand the consequences of what he has done in the last seven months, and to be in denial is to me unfathomable and I cannot as an individual or as an elected official stand by quietly and not express my opinion."
Like CNN's King FNC's Wilson reported that Clinton's advisers want him to apologize. With reporters kept far away during the Worcester trip, Wilson observed, Clinton's trip to Russia may present the first chance for reporters to ask Lewinsky questions. But, Wilson suggested, "There is a slim possibility that this will all be answered tomorrow. The President is doing an event at a church here on Martha's Vineyard to commemorate the 35th anniversary of the 'I Have a Dream' speech. What better place to make another confessional than in a church?"
Anchor Jon Scott noted the expected Lindsey appearance before FNC ran a piece about parents upset that their kids are learning about sex from news stories about Clinton.

-- NBC Nightly News. From Martha's Vineyard David Bloom offered the Clinton team's reaction to Yeltsin's problems. Anchor Brian Williams asked about Clinton's field trip. Bloom replied with a two sentence summary over video of a cheering crowd and protesters outside:
"The President, as you see, received a rousing ovation in Worcester Massachusetts where Democrats outnumber Republicans four-to-one, but outside there were some protesters evidenced by signs that called on the President to resign. The President made virtually no reference to the Lewinsky affair, saying only he's had some experience with this before, his poll numbers, he said, dropping but not this tough."


One veteran reporter did have an opportunity to press Clinton for more about how he feels about his Lewinsky deceit, or to at least pass along his observations about the President's demeanor and mood. But Walter Cronkite suspended his reporter role for a few hours on Tuesday when he, his wife and grandson welcomed the Clinton family aboard his boat. (See the August 26 CyberAlert.)
In the August 27 USA Today Peter Johnson highlighted Cronkite's refusal to talk:
"The most trusted man in America, former CBS News anchor Walter Cronkite, can also be trusted to be discreet.
"Cronkite's office in New York was flooded with calls Wednesday, all from reporters keen on talking to him about the mood aboard his boat Tuesday during an afternoon sail with the first family off Martha's Vineyard.
"Cronkite, 81, turned down all requests. His chief of staff, Marlene Adler, said Cronkite considered the sail -- which marked the Clintons' first public appearance since their vacation began -- a 'private, personal day.'
"Neither Adler nor the White House would get into how the sail came about or who, the Cronkites or the Clintons, initiated it."
Can you imagine Cronkite's reaction in 1973 if a retired CBS Newsman spent a few hours with the Nixon family and then refused to say a word about what he observed?


Leading, respected Democrats taking seriously the possibility of impeachment or calling upon Clinton to resign are just not newsworthy to the networks. First an update on the August 27 CyberAlert item on House Minority Leader Dick Gephardt and then a check of how the networks reacted when a retired Senator, a revered Democrat, called for Clinton to call it quits.
-- The August 27 CyberAlert reported that Wednesday night the ABC, CBS, FNC, CNN and NBC evening newscasts all ignored a front page Washington Post story that morning which highlighted how Gephardt called the President's behavior "reprehensible" and wouldn't rule out Democratic cooperation in conducting impeachment hearings. Wednesday morning neither CBS or NBC uttered a word about Gephardt's comments, but ABC's Good Morning America gave them 15 seconds. In addition, though CNN's The World Today skipped Gephardt, Inside Politics did run a story and an interview segment with Gephardt.
UPDATE: I went back and checked two more Wednesday night shows and discovered that though FNC did nothing on its Fox Report newscast, its 6pm/12am ET Special Report with Brit Hume, hosted by Tony Snow, led with a piece from Carl Cameron on the road with Gephardt in Louisville. Cameron declared: "Campaigning cross country for Democratic congressional candidates, Gephardt in Kentucky made it clear that the President should not expect abject Democratic support and the potential for impeachment is very real."
Cameron played soundbites from Gephardt and some other upset candidates, including the Democratic Senate candidate in Kentucky, Scott Baesler, who said of Clinton's behavior: "It's reprehensible. Period."
Just like every other network evening newscast, however, MSNBC's The News With Brian Williams on August 26 skipped Gephardt though about half the show dealt with Clinton-related scandal. Williams talked with a New York Times reporter about Al Gore, discussed with reporter John Palmer Clinton's plans for Thursday's trip and interviewed Senator Orrin Hatch. He asked the Utah Republican about Clinton issuing own report, the idea that Clinton is guilty of abuse of power, what will happen if the details "get unbearably gross to hear about," whether Clinton should say more, and Reno's probe of Gore, but no question about Gephardt.
-- Sunday's Washington Post carried an op-ed by retired Democratic Senator Sam Nunn of Georgia, the kind of person people are referring to when talking about a "revered" figure or an "elder statesman." He condemned how Clinton placed his "own personal interests far above the national interests" and wrote that Clinton must disclose all of his illegal behavior which, Nunn concluded, "will require personal sacrifice and may even require his resignation, but it would fulfill the President's most important oath -- to preserve and protect our nation."
Coverage of the August 23 op-ed: On Sunday's Meet the Press moderator Tim Russert asked James Carville to react to Nunn's formulation, but that evening NBC Nightly News didn't mention it. In fact, no evening newscast or morning news show uttered a word about Nunn. On Thursday MRC news analysts Geoffrey Dickens, Clay Waters, Jessica Anderson and Paul Smith checked some shows and confirmed the lack of coverage. Nothing Sunday morning on ABC's Good Morning America, CBS's Sunday Morning or NBC's Today. Ditto for Sunday night on ABC's World News Tonight, CBS Evening News, CNN's The World Today or NBC Nightly News. And zilch Monday morning on any of the three broadcast network morning shows.


CyberAlerts going on vacation. And me too. So, while I may issue a CyberAlert next week with a few backed up items that I didn't find room for over the past few weeks, don't expect another daily analysis of the previous day's television coverage until after Labor Day.
Next week Tim Graham and the MRC news team will be producing fresh issues of MediaWatch and Notable Quotables, and Tim Lamer will write a Media Reality Check fax report, so look for those to be posted on the MRC home page (http://www.mrc.org) next Wednesday, Thursday and Friday. -- Brent Baker

---
>>> Support the MRC, an educational foundation dependent upon contributions which make CyberAlert possible, by providing a tax-deductible donation. Use the secure donations page set up for CyberAlert readers and subscribers:
http://www.mrc.org/donate
>>>To subscribe to CyberAlert, send a blank e-mail to: mrccyberalert-subscribe
@topica.com. Or, you can go to: http://www.mrc.org/newsletters. Either way you will receive a confirmation message titled: "RESPONSE REQUIRED: Confirm your subscription to mrccyberalert@topica.com." After you reply, either by going to the listed Web page link or by simply hitting reply, you will receive a message confirming that you have been added to the MRC CyberAlert list. If you confirm by using the Web page link you will be given a chance to "register" with Topica. You DO NOT have to do this; at that point you are already subscribed to CyberAlert.
To unsubscribe, send a blank e-mail to: cybercomment@mrc.org.
Send problems and comments to: cybercomment@mrc.org.
>>>You can learn what has been posted each day on the MRC's Web site by subscribing to the "MRC Web Site News" distributed every weekday afternoon. To subscribe, send a blank e-mail to: cybercomment@mrc.org. Or, go to: http://www.mrc.org/newsletters.<<<

---
Home | News Division | Bozell Columns | CyberAlerts
Media Reality Check | Notable Quotables | Contact the MRC | Subscribe