NPR Blacklists; Chronology of Media Deceit for Clinton; a Lewinsky Top Ten
1) Al Hunt denounced the Christian Coalition and National Right to Life Committee for putting their ability "to buy influence" ahead of "real campaign finance reform."
2) NPR caved in and blacklisted Steve Emerson, a terrorism expert who upsets anti-Western Arab extremists, documented Boston Globe columnist Jeff Jacoby.
3) "Media Apologies Owed After Clinton Admits Lies: A Chronology of Embarrassing Error," a MediaWatch Review details how top journalists aided in Clinton's deceit. Now one admits his "shame."
4) Letterman's "Top Ten Chapter Titles in Monica Lewinsky's Book."
---

Catching up with an item I didn't have room for earlier, back on August 22 on CNN's Capital Gang Al Hunt denounced two conservative groups for daring to oppose co-called "campaign finance reform." Here's the Outrage of the Week from the Executive Washington Editor of the Wall Street Journal:
"Washington State Congresswoman Linda Smith is a down the line social conservative and ardently anti-abortion. Yet the National Right to Life Committee and Christian Coalition are threatening not to support her Senate bid this year. Why? Because she supports real campaign finance reform, which these vested interests fear may diminish their ability to buy influence. What this tells us is that money and power matter more than ideals and values to the Christian Coalition and Right to Life Committee."
Of course, they are standing on ideals and values, the ideals and values of the First Amendment.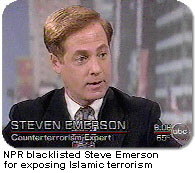 Only conservatives blacklist, at least according to liberal mythology. But National Public Radio does too, as uncovered by Boston Globe columnist Jeff Jacoby. In an August 31 column for the Globe Jacoby documented how readily NPR caved into demands from Islamic extremists to shut out Steve Emerson, a respected expert on terrorism who upsets those who hate Israel by pointing out how Arab and Palestinian leaders and governments foster terrorism against the West.
Over the last ten years Emerson has provided the MRC with expert comment for many MediaWatch articles, including on the players in the October Surprise theory and those behind the Pan Am 103 bombing. You may remember him from his on-air work on CNN in the early 1990s.
Below are some excerpts from Jacoby's column:
On Aug. 20, NPR's popular Talk of the Nation dealt with breaking news: the U.S. raids on Osama bin Laden's terror facilities in Sudan and Afghanistan. One of several guests interviewed by telephone was Steven Emerson, an investigative journalist and a leading expert on Islamic fundamentalist terrorism. Emerson has reported in detail on Islamic extremism and has focused public attention on the network of terror cells and front groups operating in the United States. His 1994 television documentary Jihad in America won some of journalism's most coveted awards, and he has repeatedly been invited to testify before Congress on Islamic violence and US counterterrorist policy....
In short, Emerson was an ideal guest for NPR's show, and his brief on-air conversation with host Melinda Penkava was unobjectionable.
Unobjectionable, that is, to anyone except the Islamic terrorists and their supporters whom Emerson has done so much to expose. In recent years, he has been the target of a brutal campaign of vilification and defamation.
The Council on American Islamic Relations -- a radical group that warmly defends Hamas and other terror outfits -- has led the way in demonizing Emerson as an anti-Arab racist....
Right after his NPR interview, CAIR urged its adherents to go on the attack.
One of the many attackers was Ali Abunimah, a leader of the Chicago-based Arab American Action Network. Judging by its Web site, the AAAN's chief project is condemning "the genocidal policies of the U.S. government toward the people of Iraq." But Abunimah has a pet project of his own: Lobbying NPR to blacklist Steven Emerson.
In June, he e-mailed NPR's news division to say he was "horrified" that Emerson had been used in a story on Mohammad Salah, a reputed Hamas fund-raiser....
He pressed his vendetta up and down the NPR food chain: To the network's national news editor, Michael Fields; to the general manager of the affiliate that had produced the story; to Jackie Northam, who had reported it; to Loren Jenkins, NPR's foreign editor. The network caved.
Fields assured him that quoting Emerson had been a "mistake" and that "it won't happen again" -- i.e., that Emerson would be blacklisted.
But on Aug. 20, Emerson appeared on Talk of the Nation. Livid, Abunimah fired an e-mail to Ellen Silva, TOTN's producer.
"I am shocked and disappointed," he wrote, "that TOTN had Steven Emerson on its call-in show today as a guest. Mr. Emerson is a well-documented anti-Arab, anti-Muslim racist. When he was last on NPR on June 24, in a report by Jackie Northam, there was a public outcry....This should not have happened again....Last time, I accepted the explanation that it had been an innocent error. But how many errors can be innocent? This is a very serious matter and will require an appropriate response."
Abjectly, NPR caved again. The following exchange ensued.
From: Ellen Silva
Thank you for your letter.
Our executive producer was in charge of that decision -- not me. I take your point and extend an apology to you from the staff of TOTN.
Please take care,
Ellen
From: Ali Abunimah
Thank you for your response. Who is the executive producer of TOTN? Have you forwarded my concerns to him or her? Other than an apology, which we received previously, what assurance can I have that this won't happen again?
From: Ellen Silva
I have forwarded your concerns to him. You have my promise he won't be used again.
It is NPR policy.
E
NPR's obsequious surrender speaks for itself. That an expert who testifies before Congress would be barred from the airwaves of the radio network Congress subsidizes is too scandalous to need elaboration.
It remains to add only that, late last week, I learned of the Abunimah-Silva correspondence and asked NPR to explain its blacklist policy. Silva retracted everything. "I was wrong to use the word 'policy,'" she said. "I misspoke. We don't have a policy on Steven Emerson." I asked several times why NPR was repudiating its words. Silva declined to answer.
END of Excerpt


Many in the media spent the months leading up to August 17 defending Clinton and disparaging Ken Starr, but when Clinton admitted he'd been lying all along there was a deafening silence from those in the media who aided in Clinton's seven months of deceit about his behavior and maligning of Ken Starr. For the August 24 MediaWatch Associate Editor Tim Graham collected the most enthusiastic examples from media stars, such as Bryant Gumbel, who once demanded: "Given Kenneth Starr's track record, should we suspect that he's trying to do with innuendo that which he has been unable to do with evidence?"
The MediaWatch Review appears below, but after the issue went to print one rare media figure did admit his guilt in helping Clinton perpetrate a fraud: USA Today founder Al Neuharth. In his August 21 column Neuharth conceded: "He now is a self-confessed liar and philanderer. He long has been a double-talking double-dealer. Shame on him. But shame on many of you, and on me, too." Neuharth elaborated:
"For more than a decade, I generally was a Clinton fan. It started when I met him in the Governor's Mansion in Little Rock, Ark., in July 1987. That year, I interviewed governors of all 50 states. Put Clinton at the top of my published list of Democrat potential Presidents.
"Some of my Arkansas media associates warned me Clinton made Gary Hart look like an amateur womanizer. Others said his draft-dodging made Jane Fonda and Tom Hayden seem like flag-waving patriots.
"I dismissed this as political gossip. For a decade, I focused more on Clinton's charisma than his character.
"Why my mea culpa now? 'The Speech' Monday night. I listened and re-listened. Read and re-read. And finally, I got it.
"When Clinton said that his under-oath lying about his affair with Monica Lewinsky was 'legally accurate,' it was the same old double-talk. No shame. No blush. Instead, he put the blame on independent counsel Ken Starr for forcing him to 'fess up about his misdeeds.
"I apologize for failing to use my podium these past years to point out the President's serious shortcomings. Bill Clinton is brilliant. But he's full of baffle and B.S. He's unfit to sit in the Oval Office."
As they say, better late than never. But why did it take him so long?
From the August 24 MediaWatch, the Review titled "Media Apologies Owed After Clinton Admits Lies: A Chronology of Embarrassing Error."
Faced with the prospect of a President perjuring himself before a federal grand jury, media pundits sensed danger, and began wondering how to get Clinton out of it, composing drafts of a confessional speech to the country. But the President's August 17 admission that he lied for seven months only underscored the need for a bucket of media mea culpas. From the day the Lewinsky story first broke in The Washington Post on January 21, some in the media chose to defend the President at all costs to their reputations for accuracy - or reverence for the truth.
-- By 5 p.m. Eastern time on January 21, Newsweek's Eleanor Clift had staked out the so-what defense on MSNBC: "Well, he's been elected twice with people knowing he has had affairs. Now is the fact that this woman is 21. I mean, she's still of age, I suppose. You know, I think that the distaste that people may feel for this will also be because of the fact that the probing into this person's private life has occurred. I think past Presidents, Lyndon Johnson for one, certainly Jack Kennedy, these things went on, you know, libido and leadership are linked."
-- That night, Bryant Gumbel tried a bolder attack, asking Scott Pelley on CBS's Public Eye: "Scott, as you and I both know, a popular move these days is to make a titillating charge and then have the media create the frenzy. Given Kenneth Starr's track record, should we suspect that he's trying to do with innuendo that which he has been unable to do with evidence?"
-- On January 25, weekend Today co-host Jodi Applegate took on Gennifer Flowers just days after The Washington Post revealed that Clinton admitted having sex with Flowers in his Paula Jones deposition. Applegate insisted the audio tapes Flowers played in 1992 were doctored: "Given that all of these are still only allegations against the President, why should people believe you now, even still?" Flowers replied: "Well, in the first place, he admits the relationship took place, so I mean the truth is out." Applegate snapped: "According to The Washington Post."
-- As CNN's Impact concluded that night, Bernard Shaw warned that Clinton could be wrongly accused: "A final thought on what you have seen and heard in this edition of Impact. A breaking news story is never the full picture. Remember speculation that Middle Eastern terrorists bombed the Oklahoma City Federal Building? In fact, Americans did it. Remember first reports that Princess Diana was hounded to death by the paparazzi? In fact, we learned that the man driving her speeding limousine was drunk. And that investigation is not over. Remember Richard Jewell highly suspected in the Olympic park bombing? In fact, the FBI apologized for targeting the wrong man. And now we are in the middle of another breaking story; the President and his accusers. All the facts are not in."
-- Morning show interviews with Hillary Clinton hesitantly skimmed the surface of Lewinsky's allegations, but also suggested an innocent President. On January 27, Today co-host Matt Lauer asked: "So if what you have heard is something you can believe, and if what the President has told the nation is the whole truth and nothing but the truth, then you'd have to agree that this is the worst and most damaging smear of the twentieth century." On the 28th, ABC Good Morning America co-host Lisa McRee inquired: "What is it about your husband, Mrs. Clinton, that seems to make him a lightning rod for these types of allegations?....You've also talked about your husband's generosity and his warmth, and his, you know, his warmth with people even, you know, people he hardly knows."
-- That evening, Bryant Gumbel tossed James Carville the very definition of a softball on Public Eye: "Where does Lewinsky fit into this conspiracy theory? Is she victimizing the President or is she too a victim?"
-- NPR anchor and former weekend Today co-host Scott Simon laid another pompous commentary on Today viewers on February 1: "So over the next few weeks President Clinton's most delicate relations may not be with an independent counsel who stones every turn of his life or an old intern spinning astounding stories, but with millions of Americans who've come to like and admire Bill Clinton and don't want to feel foolish for believing in him. And to be sure prosecutor Kenneth Starr has also put himself on trial. If after all of the agony over these past few weeks it doesn't produce a single plausible actual charge against President Clinton, and probably soon, it may be the independent prosecutor who could be dismissed by the American public."
-- On the February 27 Dateline NBC, Josh Mankiewicz (son of McGovern campaign manager Frank Mankiewicz) deplored asking the Secret Service to testify: "But ever since agents began guarding Presidents after the assassination of William McKinley, the Secret Service has kept its secrets. Now the man investigating the President may want to ask agents in the White House what they know about Bill Clinton and Monica Lewinsky. And that's made a lot of current and former agents wonder who they're supposed to protect the President from - an assassin, or a character assassination?"
-- CBS Sunday Morning host Charles Osgood took out his poet's pen on February 28: "The jokes, the snickers, and the flippery/ The slope we're on is long and slippery/ And there is something in the air which this country best beware/ for there is danger in the dirt and lots of people could get hurt/ And what we sow, we someday reap/ Last night as I laid down to sleep/ I dreamed an apparition swarthy/ the unshaved ghost of Joe McCarthy."
-- On March 10, Newsweek's Jonathan Alter declared on Today: "I do think there is some value in [ex-conservative writer David Brock's] apology because it does illuminate some larger facts about our times. I think when historians look back on all this, they're gonna be less concerned about all the legal details of who said what to whom when, and more concerned about the way we drove this truck into the muck. And if David Brock, who helped drive the truck into the muck, wants to help push it out now, great."
-- CNN's Bruce Morton deplored what Monicagate was doing to the profession of politics on The World Today April 1: "Has anybody in the history of America, any President certainly, had his character so trashed, so publicly, for so long? I think the answer is no and I think Mr. Clinton is probably personally damaged by that and I think, if you were a young state representative, 28 years old, you're sitting with your wife and kids thinking: do I want to run for President someday? What are you going to say? You're going to say good grief no, look what they do to them."
-- On April 11, Eleanor Clift was still spinning for Clinton on The McLaughlin Group: "We don't live in Salem and I think the country is sick of the witch hunt. The Paula Jones case was the gateway to Miss Lewinsky. Now that the Jones case has been thrown out, I think it's going to be very difficult to go after a young woman and try to force her to answer questions about intimate matters."
-- Bryant Gumbel took his latest shot at the scandal on the July 1 Public Eye, waving the white flag of European decadence: "Over five months have passed now since those first over-hyped reports alleged a sexual relationship between President Clinton and Monica Lewinsky. Although Mr. Clinton has denied it and nothing has been proven, the mere suspicion seems to have obsessed a good number of media people and other Americans. What some view as high scandal in our country, is barely cause for concern elsewhere. Richard Schlesinger takes a look at the French connections."
Monicagate didn't even rise to the level of a real scandal, the networks implied. On February 12, Tom Brokaw introduced: "In Depth tonight. More on the alleged White House scandal." On May 3, CNN Late Edition host Wolf Blitzer asked: "What is the White House strategy right now in dealing with all of these late breaking developments involving this so-called scandal?" The President's admission should put any of that so-called analysis to rest.
END of Article


From the August 31 Late Show with David Letterman, the "Top Ten Chapter Titles in Monica Lewinsky's Book." Copyright 1998 by Worldwide Pants, Inc.
10. "Beret Full of Bill"
9. "Hillary: That Cat's Got Claws"
8. "I'm Not Even Gonna Tell You What I Did With Alan Greenspan"
7. "Things You May Not Know About The Return Policy At The Gap"
6. "Going Down In History"
5. "Linda Tripp: So Not My Friend"
4. "My Childhood Crush On Gerald Ford"
3. "Cute Guys On The Grand Jury"
2. "Sticking To My Testimony"
1. "The Presidential Salute"
From the Late Show Web page (http://marketing.cbs.com/ lateshow/topten/), which features "the extra jokes that didn't quite make it into the Top Ten," nine more:
-- "Oh No! Here Comes Hillary!"
-- "First Aid for Rug Burns"
-- "I Didn't Know a Beret Could Do That!"
-- "It Rhymes with Horatio"
-- "The Day I Ran Out of Wisk"
-- "The Oval Office As Seen From Three Feet High"
-- "The Swollen Missile Crisis"
-- "Madeline Albright: Now That Chick Can Party"
-- "Sucking Up To The Boss"
That's all for my vacation-week CyberAlert, which I intended to only relay some sidetracked material that got bumped over the past few weeks, but ended up with a couple of new items. Don't expect to see another edition until next week.
But, media bias tracking continues in my absence. Check the MRC Web site (www.mrc.org) over the next few days for the new MediaWatch and Notable Quotables as well as this week's Media Reality Check fax report. If not today, the Reality Check should be up Thursday with MW and NQ following soon after. -- Brent Baker

---
>>> Support the MRC, an educational foundation dependent upon contributions which make CyberAlert possible, by providing a tax-deductible donation. Use the secure donations page set up for CyberAlert readers and subscribers:
http://www.mrc.org/donate
>>>To subscribe to CyberAlert, send a blank e-mail to: mrccyberalert-subscribe
@topica.com. Or, you can go to: http://www.mrc.org/newsletters. Either way you will receive a confirmation message titled: "RESPONSE REQUIRED: Confirm your subscription to mrccyberalert@topica.com." After you reply, either by going to the listed Web page link or by simply hitting reply, you will receive a message confirming that you have been added to the MRC CyberAlert list. If you confirm by using the Web page link you will be given a chance to "register" with Topica. You DO NOT have to do this; at that point you are already subscribed to CyberAlert.
To unsubscribe, send a blank e-mail to: cybercomment@mrc.org.
Send problems and comments to: cybercomment@mrc.org.
>>>You can learn what has been posted each day on the MRC's Web site by subscribing to the "MRC Web Site News" distributed every weekday afternoon. To subscribe, send a blank e-mail to: cybercomment@mrc.org. Or, go to: http://www.mrc.org/newsletters.<<<

---
Home | News Division | Bozell Columns | CyberAlerts
Media Reality Check | Notable Quotables | Contact the MRC | Subscribe