Rivera Suicidal; Starr "Very Violent"; Actress Believed Clinton
1) Starr's report dominated the Wednesday night newscasts. CNN's Frank Sesno complained that "Clinton's lawyer was not even given the chance to see the report" before it went to Congress.
2) Geraldo Rivera, distraught about how Clinton's plight means the loss of heroes for a generation, admitted: "I would have been suicidal, except for McGwire." Rivera scoffed at Dan Burton for "howling like a stuck pig."
3) Didn't Clinton's August 17 speech mean that he "held up his end of the bargain?" asked ABC's Lisa McRee. On fundraising, "Has he done anything that anybody else wouldn't have done?"
4) NBC's Gwen Ifill castigated Ken Starr's delivery of his report as "a very violent action" in the political process.
5) Dan Rather again tagged Starr as the "Republican Special Prosecutor."
6) Clinton greeted by parents supportive of his education spending or by angry protesters? AP and Reuters disagreed.
7) Actress Andie MacDowell conceded "I thought Clinton was innocent"; declared his speeches "make you want to stand up and scream, 'God bless America!'" and hoped Hillary could become President.
---

The arrival of the Starr report in 36 boxes delivered by a van to Capitol Hill led and consumed half of the broadcast network shows Wednesday night. CNN devoted an hour-long 8pm ET special to the development and all but a few minutes of FNC's 7pm ET Fox Report focused on Starr's report. Every network reported how the report alleges perjury, obstruction of justice and abuse of power to suppress the truth and that the boxes contained grand jury transcripts, the Tripp tapes and a video of Clinton's testimony. All also played David Kendall's short statement in full, ran a soundbite from Senator Robert Byrd comparing Clinton to Nixon and played an excerpt from Clinton in Florida admitting to donors that he let the country down.
Of the broadcast networks, only CBS's Scott Pelley pointed out that Starr delivered the report Wednesday in order to avoid White House appeals which could have delayed it for months. ABC's Jackie Judd and FNC's David Shuster noted that Starr's report included exculpatory material. NBC's Lisa Myers uniquely asserted that amongst the documents delivered is an FBI lab report which concluded the DNA on the dress matches Clinton.
There's far more coverage than I have room to summarize, so I'll focus on the broadcast networks. But first a bit on CNN and FNC. Frank Sesno and Judy Woodruff hosted CNN's special and earlier in the day Sesno characterized the unannounced decision by Starr to deliver the report as unfair to Clinton. At 5:30pm ET, midway through a special one-hour Inside Politics, CNN's Washington Bureau Chief complained:
"If you're just joining us it has been a momentous day. President Clinton's lawyer was not even given the chance to see the report from the Independent Counsel, Ken Starr, before that report, all 500 pages of it, 18 boxes, went to Congress today..."
FNC's Fox Report featured two diverse panel discussions. One with Brit Hume, Dick Morris and Eleanor Clift and the other with former RNC counsel Ben Ginsburg, conservative activist Amy Moritz Ridenour and comedian/satirist Harry Shearer. But more memorable: co-anchor Jane Skinner's clothing, or lack thereof. Sitting behind FNC's clear plastic or glass anchor desktop with no front to it she wore skirt or something, it was so short I couldn't tell what it was, that ended a good foot above her knees.
Now on to the broadcast network evening shows for Wednesday, September 9:
-- ABC's World News Tonight. Jackie Judd summarized what's in the report, adding: "And, sources say, the report cites weaknesses in the case. That would allow Starr to pre-empt the expected criticism of the President's allies that the case doesn't hold up."
Introducing Sam Donaldson at the White House, Peter Jennings intoned: "However this turns out it is a turning point in Mr. Clinton's presidency. It is not an exaggeration to say that he has less control of his destiny than at any time since he was elected."
Donaldson highlighted how "After meeting with the President at the White House this morning to discuss the scandal, a group of House Democrats appeared shaken by what they'd heard."
Linda Douglass looked at how Congress is preparing and then Jennings talked with Cokie Roberts who found it significant that Democrats are no longer automatically defending Clinton and asserted that they are worried there may be more bad stuff coming.

-- CBS Evening News. Opening tease from Dan Rather:
"Congress receives special prosecutor Ken Starr's findings. The future of the Clinton presidency rides on the back of a van as boxes of Starr's conclusions, evidence and accusations arrive on Capitol Hill for potential impeachment proceedings."
He then began the show: "Good evening. It was a history making day in Washington for special prosecutor Ken Starr, President Clinton and the nation..."
Up first, Bob Schieffer from Capitol Hill. Next, from the White House, Scott Pelly relayed: "Sources tell CBS News that Ken Starr moved his report to Capitol Hill today because he was afraid the President's attorneys would try to block it with a motion in federal court."
Eric Engberg tracked the changing mood in DC with a crisis mentality setting in and impeachment now seen as possible. Finally, Rather posed one question each to Schieffer, Pelley and Gloria Borger who said the Cabinet members are "depressed" but all are staying.

-- NBC Nightly News. Tom Brokaw ominously intoned: "Tonight, the future of the Bill Clinton presidency is in a locked vault in a congressional office building..."
First, David Bloom checked in from Florida with Clinton. Second, Lisa Myers reviewed Starr's report, offering this tough assessment: "Legal sources tell NBC News the report is overpowering, relentless. That it lays out the story of a President allegedly subverting the very legal process he took an oath to uphold."
She uniquely relayed: "Among the goods believed to be the report: an FBI lab report on Lewinsky's blue cocktail dress. A law enforcement source outside Starr's office told NBC News that the semen on Monica's dress was found to have virtually the same DNA as a sample provided by the President."
Third, Gwen Ifill examined how the "House is an uproar trying to decide what to do next." Later, Ann Thompson provided a glowing profile of Henry Hyde, Chairman of the Judiciary Committee whom friends say is a "man of the highest principle." Thompson asserted: "The man who votes against Mr. Clinton 64 percent of the time on Capitol Hill must now sit and judge the President." After a clip of Hyde, Thompson offered some imbalanced labeling as she led into a positive soundbite from U.S. Rep. Jesse Jackson Jr.: "Such independent thinking makes Hyde popular with the right wing and with Democrats who respect his fairness and willingness to reach across the aisle."


Mark McGwire saved Geraldo Rivera from suicide. A bad day for Bill Clinton is a worse day for his hero-worshiper Geraldo Rivera. On Wednesday's Upfront Tonight, Rivera's new 7:30pm ET/11:30pm PT half-hour news show on CNBC, Rivera mourned for Clinton and flailed at Starr.
At the top of the September 9 show Rivera painted Starr as the unfair aggressor: "Starr's surprise attack stung Congress and left the White House numb with shock and raw with anger."
Later, over video of the boxes being carried into a building, he relayed one of his one-source swipes at a White House enemy, this time Ken Starr:
"The timing and manner of the delivery did not please the people around Monica. A source close to the Lewinsky team told me late today that it was outrageous, saying quote, 'Why did he do it? After all that Monica and her family have been through for Mr. Starr to parade secret grand jury information before the world, like it was a contestant in a beauty contest, speaks volumes about this man's motivations. He could have called the Sergeant at Arms and arranged for the private delivery. They could have gone into the FBI garage or one of the warehouses in the Capitol. Why the spectacle?' End quote."
That makes perfect sense. Deliver a report to Congress by dumping it in the parking garage of an executive branch agency.
But that idea seems brilliant compared to the penetrating analysis offered from the White House lawn by Rivera's co-anchor, Diane Dimond, who is fresh from co-anchoring Paramount's Hard Copy. She told Rivera:
"It makes you wonder, standing here, if history won't repeat itself. It was one month ago today, and many, many years ago, August 9th 1974, that Richard Nixon resigned. I didn't realize that 'til I did a little research."
This kind of insight takes "research"? (And yes, her name is Dimond, not Diamond.)
Finally, introducing a piece on how home run hitter Mark McGwire is filling the role of hero, Rivera lamented:
"Perhaps the biggest loser today wasn't the First Family after all, but rather this generation's sense of innocence. If the President is and adulterer and a liar, where are our heroes?"
Jane Wells concluded her McGwire story: "....And for a nation looking for some good news, his timing could not have been better."
To which Rivera responded in wrapping up the show: "You know, Diane, I would have been suicidal except for McGwire, I think."
Dimond: "What great news, huh? A lot of bad news."
Rivera, echoed Dimond's assessment of the Clinton news: "A lot of bad news."
We're tracking Rivera's new show because with it Rivera, who is now part of the NBC News staff, has been given the credibility or imprimatur of NBC News. All this Clinton spinning aired around stories from NBC News reporters, such as David Bloom, Lisa Myers and Gwen Ifill.
Last week Rivera took joy in announcing how Congressman Dan Burton admitted an old affair, sneering at the idea that Burton is another victim of a White House-run smearing operation. MRC analyst Geoffrey Dickens picked this up from the September 2 Upfront Tonight:
"Of all the President's enemies on Capitol Hill none has been as vocal or as melodramatic as Indiana's veteran Republican Congressman Dan Burton. He's the guy who had the melon shot in his backyard in a futile attempt to prove that Vince Foster's suicide was really a murder. He's the one who released selectively edited transcripts of Web Hubbell's prison phone calls. And if politicians are remembered for a single phrase or incident Dan Burton will forever be known as the Congressman who called the President of the United States a scumbag. Now Mr. Burton is howling like a stuck pig. In a bizarre town hall meeting he accused the White House of conducting a campaign of character assassination against him by orchestrating a story in Vanity Fair magazine that may expose Mr. Burton's own sexual adventures."


If Good Morning America's plummeting ratings ever leads ABC to dump co-host Lisa McRee, she's well qualified to jump aboard one of Rivera's shows. Check out two of her Wednesday morning, September 9, questions, both transcribed by MRC analyst Clay Waters. First she suggested Clinton has met his burden and then she insisted he didn't do anything different fundraising-wise in 1996 than everybody else.
To Congressman Jim Moran(D-VA):
"But Congressman, at the same time. Members of the President's party as well as Republicans begged him to talk, to go public, to say if he did something wrong, to apologize. He goes on television, he makes the speech. Whether or not he said the words, 'I'm sorry,' in it, we all knew what he meant. Is this fair? Now everyone's distancing themselves from them and ready to attack him even though he sort of held up his end of the bargain?"
To ABC's Cokie Roberts:
"Thirty seconds, but I want to get this in: Janet Reno, ninety-day investigation to look into whether a special prosecutor should be appointed for this campaign finance thing. Is that a big problem for the President? Has he done anything that anybody else wouldn't have done?"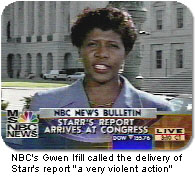 For months media figures have complained about Ken Starr's slow pace, urging him to finish his report and deliver it to Congress ASAP. But when he did on Wednesday NBC's Gwen Ifill characterized Starr as some kind of criminal perpetrator, calling the delivery "a very violent action."
MRC news analyst Clay Waters caught this assessment from Ifill on MSNBC at 4:06pm ET over live video of the boxes containing Starr's report being unloaded from the van:
"...Already, some of the more thoughtful members of the House and Senate have admitted, yes they expect to be overwhelmed. There's very little they can do about this, when someone drives, as one House Judiciary Committee member put this some weeks ago, a truck bomb up to the steps of the Capitol and just dumps it on them. Now this is probably not the most advisable comparison when you consider what happened on these very steps not so many weeks ago, but it is in some ways, politically, a very violent action for Ken Starr to leave this on them weeks before an election when they're trying to decide how to deal with it."


House leaders Newt Gingrich and Dick Gephardt agreed Wednesday to set aside partisanship as they handle possible impeachment hearings, but not Dan Rather. Tuesday night he once again added a Republican tag to Ken Starr's job title. MRC news analyst Jessica Anderson caught this September 8 CBS Evening News introduction by Rather to two stories:
"There's fast-breaking news tonight about President Clinton's political stock. Republican Special Prosecutor Ken Starr tonight rejected a bid by the President's personal lawyers for an advanced copy of Starr's soon-to-be-given-to-Congress report. The President has a pivotal meeting with key House Democrats tomorrow, as two more important Democrats today went public with criticism and others kept their distance for the fall campaign."


What was the more newsworthy portion of Clinton trip Tuesday to a Silver Spring, Maryland elementary school: his rhetoric demanding more spending and one parent's sign telling the media to ignore the scandal or the hostile reception he received from protestors? As MRC analyst Clay Waters noticed, on September 8 the AP and Reuters delivered contrasting spins on the day.
-- The lead from an Associated Press dispatch by Sandra Sobieraj headlined: "Clinton Pushes Education Agenda."
"The Democratic Governor turned up his nose and refused to share the stage with President Clinton, but a half-block from Pine Crest Elementary, one parent's sign warned off talk of scandal Tuesday: 'Dear Press, The topic is education.'
"Inside, Clinton hewed to the theme and pressed a returning Congress to spend $5 billion to outfit public schools for a record 52.7 million children enrolling this fall -- a 500,000 increase from last fall that has pushed many of this 'baby boom echo' into temporary classrooms...."
-- In contrast, here's the lead of Timothy Ryan's story for Reuters, headlined: "Clinton Has Tough Ride As He Returns To Public Eye."
"It was a tough first day of school for President Clinton.
"The President went to a suburban Maryland elementary school Tuesday to talk about education, trying his best to shift the spotlight away from his affair with former White House intern Monica Lewinsky.
"But there were reminders everywhere of the scandal, in which Clinton has lied about his relationship with the young woman and has failed to satisfy some of his own Democratic supporters with his admission of the affair and his expressions of regret.
"About 25 protesters turned out to jeer Clinton on his way to the Pine Crest Elementary School in Silver Spring, holding signs that read 'Time to Resign,' 'Get Lost' and 'You're fired.'
"Another banner at the top of the lane leading to the school read: 'Embarrassed, disheartened, disgusted by our President.'..."


And, the Oscar for the Stupidest or Most Gullible Actress in a Political Drama, goes to....Andie MacDowell.
Promoting an upcoming movie the actress, who broke into stardom a decade ago in the film Sex, Lies & Videotape, appeared Tuesday night on CBS's Late Show with David Letterman. She conceded she really believed Clinton's denials and started to explain how he's really, even now, still the victim of a Republican conspiracy. This exchange, transcribed by MRC analyst Jessica Anderson, is worth reading, if only to gain a better understanding of how enthralled the artistic community is with Clinton:
Andie MacDowell: "My husband's been giving me a real hard time lately."
David Letterman: "What's his problem?"
MacDowell: "Oh, well, maybe I'm very naive or foolish or something, I don't know, but up until a couple of weeks ago, I thought Clinton was innocent."
Letterman: "Oh, so you're the one. We've found her!"
MacDowell: "I have been defending him from everybody. I have these big debates."
Letterman: "Now, do you know the man?"
MacDowell: "Well, I've seen him give some speeches, and he gives these amazing, I mean, just so intelligent, so bright, and gives these charismatic speeches, that just make you want to stand up and scream, 'God bless America!' And then the whole time he's been sleeping with that girl in the crowd. You know, I just, I couldn't believe it."
Letterman: "So what has this done now to your support, to your feeling about the man, and so, can you rebound from this or not? Because this, this is the key question, you know: Can he regain your trust? Because that's..."
MacDowell, cut in: "Okay, well, here's the thing, here's the thing: What if it still was all a set-up, which is what I've been trying to tell everybody [laughs]. That it was a Republican thing, you know, I mean, it's all a political move, and it's actually, okay, wait a minute [laughs]. That Monica was, like, in on this thing, right? And that other lady, the tape-recording lady. I mean, you know, she saves the dag-gone dress -- what's that about, you know? And the tape recorder, I mean, the whole thing is just so bizarre."
Letterman: "So you're saying Newt Gingrich breaks into the Oval Office..."
MacDowell jumps in: "Planned, yeah, he planned the whole thing!"
Letterman: "...puts a gun to Clinton's head and says, 'Okay, pull down your zipper.'"
MacDowell, laughing: "Yeah! Yeah!"
Letterman: "Alright, well, I'll make some calls, see what we can find out. But getting back to the earlier, more elemental question, can you get over this, put this behind you? Because in a microcosm, this is the question we all must ask ourselves, now."
MacDowell: "Oh, I don't know. I mean the whole thing is just, I'm just fed up with the whole thing."
Letterman: "Yeah, I think it is. It's certain we've had enough of this, but yet it seems now to have a new momentum that it did not have, obviously, a month ago or so, don't you think?"
MacDowell: "Oh, I think Hillary should be President. Just let him step aside. Let Hillary do it."
She wasn't joking around about really thinking it was "all a set-up" and would have held to her theory if Letterman hadn't embarrassed her by making fun of it. -- Brent Baker

---
>>> Support the MRC, an educational foundation dependent upon contributions which make CyberAlert possible, by providing a tax-deductible donation. Use the secure donations page set up for CyberAlert readers and subscribers:
http://www.mrc.org/donate
>>>To subscribe to CyberAlert, send a blank e-mail to: mrccyberalert-subscribe
@topica.com. Or, you can go to: http://www.mrc.org/newsletters. Either way you will receive a confirmation message titled: "RESPONSE REQUIRED: Confirm your subscription to mrccyberalert@topica.com." After you reply, either by going to the listed Web page link or by simply hitting reply, you will receive a message confirming that you have been added to the MRC CyberAlert list. If you confirm by using the Web page link you will be given a chance to "register" with Topica. You DO NOT have to do this; at that point you are already subscribed to CyberAlert.
To unsubscribe, send a blank e-mail to: cybercomment@mrc.org.
Send problems and comments to: cybercomment@mrc.org.
>>>You can learn what has been posted each day on the MRC's Web site by subscribing to the "MRC Web Site News" distributed every weekday afternoon. To subscribe, send a blank e-mail to: cybercomment@mrc.org. Or, go to: http://www.mrc.org/newsletters.<<<

---
Home | News Division | Bozell Columns | CyberAlerts
Media Reality Check | Notable Quotables | Contact the MRC | Subscribe