Who Owes $36 M?; Just Sex Lies, So Let's Move On; Court-Martial Clinton?
1) Only NBC questioned the sincerity of Clinton's move to consult ministers; CBS highlighted poll showing most think Starr's sexual details were "inappropriate." All look at videotape controversy.
2) Geraldo Rivera upset by call for Clinton to pay the $4 million cost of the Lewinsky investigation: "Who's going to be paying for the other $36 million that Ken Starr spent and came up empty?"
3) ABC's Lisa McRee insisted it's just lying about sex, so why not drop impeachment, censure him and "let us get on with it as a country."
4) CBS actually raised the issue of a double standard for Clinton. Observed David Martin: "In the military he would be relieved of his command and probably court-martialed."
5) Letterman's "Top Ten Bill Clinton Tips For a Happy, Healthy Marriage."
---

The controversy over Republican plans to release the videotape of Clinton's deposition topped the ABC, CNN and FNC evening shows on Tuesday night. CBS and NBC went first with Democrats angry at Clinton and how a Senator raised the subject of resignation in a meeting with top Clinton aides.
The three broadcast networks, but not CNN or FNC, ran full stories on Clinton's decision to consult weekly with two ministers: Tony Campollo (sp?) and Gordon MacDonald. But only NBC dared wonder "is it a real search for answers or a smart political move?"
NBC highlighted the plight of Clinton aides burdened by legal bills and only FNC focused on how the White House is still using executive privilege claims to block testimony. CBS's Dan Rather showcased a poll which found most believe it was "inappropriate" for Starr to release the sexual details. (But CBS also delivered a surprising story on how many in the military are upset that Clinton does not have to meet their conduct standards. See item #4 below.)
Here are some highlights from the Wednesday, September 15 evening shows:
-- ABC's World News Tonight. Peter Jennings opened the show: "Good evening. Sex, lies and videotape. That is what the Congress is fighting about today. The White House is in it too. Whether the videotape of the President's testimony to the grand jury should be made public..."
Jackie Judd explained how Judiciary Committee members viewed the tape Wednesday and it is expected to be released within days. It doesn't make Clinton look good, Judd reported: "Sources say even the grand jury became frustrated with the President's testimony. And one source who spoke to Democrats after they watched the tape said grand jurors passed questions on to prosecutors that 'were pointed and reflected their impatience with Mr. Clinton's tortuous answers.'"
After noting that Democrats don't want it released, she concluded with their spin: "But Democrats also say that if the tape is released Ken Starr and his prosecutors will take some hits too for their insistent questioning of the President for the sexual details of his meetings with Monica Lewinsky."
From Capitol Hill Linda Douglass told Jennings that a meeting between Senate Democrats and top White House aides turned "nasty" and Senator Biden raised the idea of resignation. Senator Hatch, she added, is in some trouble among his colleagues for floating the idea of brokering a deal.
Jennings then went to Sam Donaldson at the White House who explained that Clinton aides are concerned that in choosing clips from the tape the media will play excerpts showing Clinton getting angry but not the prodding that led to his upset.
Up next, Peggy Wehmeyer with a brief look at the two ministers Clinton says he will consult with weekly: Tony Campollo and Gordon MacDonald. ABC finished its coverage by briefly noting that Democratic Congresswomen met with Hillary Clinton and praised her afterward. Later, ABC's A Closer Look examined the difference in opinion between the public which wants Clinton to stay and Washington politicos who want him to resign.

-- CBS Evening News. At the top of the show Dan Rather announced:
"Good evening. President Clinton and Congress are digging in over survival of the Clinton presidency. House Judiciary members wrangled over a Republican push to make public the President's videotaped, what was supposed to be secret testimony, to the Ken Starr grand jury. The President has recruited a pastoral counseling team and a new political team to deal with Congress. The latest CBS News/New York Times poll indicates the public favors censure and move on, nothing more. But that's not option A in Congress where some support of the President is eroding."
Up first, Bob Schieffer intoned: "For the first time here, Democratic office holders are actively and seriously, discussing among themselves whether the President ought to resign for the good of the country and the party. One prominent Democratic Senator told me today, and I quote, 'this presidency is over and the President ought to leave.'"
On the videotape, Schieffer discovered: "Our sources say the President was not just evasive, but profane, at times lost his temper and at one point stormed out of the room."
Next, Rather highlighted some poll numbers, asserting: "There's a gap tonight between Congress's view and what the public wants next."
Specifically, 57 percent favor censure compared to 36 percent who want impeachment hearings to begin and 32 percent who think Clinton should resign. Rather emphasized public disgust with Starr: "Nearly two-thirds polled say the explicit content of Starr's report is quote 'inappropriate.' Majorities of those polled say Congress was wrong to release the sexy details and that the special prosecutor's motive was to quote 'embarrass' the President."
The exact numbers: 65 percent called the release of sexual details inappropriate; 59 percent thought it wrong for Congress to release them and 59 percent said they were meant to embarrass Clinton.
Third, from the White House Scott Pelley reported that top Democrats told the White House aides in the meeting Schieffer referred to that the legal perjury defense must end, but Clinton is digging in. Pelley observed: "Here's one reason: a new CBS News/New York Times poll shows that today only 39 percent believe Mr. Clinton should leave office. But, if he lied under oath 49 percent say he should be impeached or resign."
(Question: Can we take the vote away from the 10 percent who don't yet realize he lied under oath?)
Fourth, Sandra Hughes highlighted how Clinton's problems are having an impact on support from women with his favorable rating falling to 37 percent from 43 percent before the report.
Fifth, Dan Rather introduced a profile piece on Tony Campollo, from the archives by Harry Smith, by declaring: "In addition to the Secret Service agents who protect the President's body, he now has a team to save his soul. Or at least bring him peace." Smith noted that Campollo says "his role now is to rescue a fallen brother."

-- CNN's The World Today at 8pm ET started with the video, as John King offered the most thorough preview of what it shows:
"The White House is bracing for public release of videotaped testimony that shows an angry President sparring with prosecutors, refusing to detail his relationship with Monica Lewinsky. Sources tell CNN, the tape captures several angry outbursts, a President being evasive as he is questioned under oath, walking a fine line in acknowledging sexual contact with Lewinsky, but insisting he did not lie under oath in the Paula Jones case, when he testified he and Lewinsky did not have a sexual relationship."
Candy Crowley provided reactions from Capitol Hill before anchor Jim Moret played a clip of Defense Secretary Cohen insisting Clinton's problems are having no impact on military morale. Jonathan Karl delivered a piece on Clinton's unwavering, solid support among African Americans.
Later in the show, Bruce Morton highlighted the disconnect between public opinion across the country and the assessment of Clinton in Washington. He began: "A funny thing has happened on the way to the impeachment: the chattering class, the Washington columnists and commentators, the liberal media, are really down on the President..."
After running some pro-Clinton soundbites from citizens, Morton asked: "Why the split between voters and pundits?"
Andrew Kohut of the Pew Center answered: "The public thinks that things like this are fairly commonplace and go on all the time in Washington. They have a very cynical view of Washington leaders, they think, you know, this is not unusual. The people within Washington, the leadership class, say, 'Hey, there's a lot of sex in Washington, but it doesn't go on between the big boss and the kid who goes out for pizza or runs the Xerox machine. This is really extraordinary.'"
Morton elaborated in concluding: "And reporters don't like being lied to, and know that all politicians aren't liars. The voters are less sure of that, and seem to be saying, anyway, 'Things are pretty good right now, leave the President alone, media; don't rock the boat."

-- FNC's 7pm ET Fox Report led with the videotape release. Carl Cameron told viewers: "The President is said to have lost his temper when asked about specific sex acts with Monica Lewinsky, refused to answer some questions..."
Cameron uniquely picked up on Newt Gingrich's comment that impeachment hearings could begin this year after the election and instead of citing just Biden or one anonymous Senator upset at Clinton in the big meeting between Democratic Senators and top White House officials, Cameron asserted that "during that meeting two U.S. Senators openly discussed the merits of resignation."
Jim Angle checked in from the White House, reporting they are trying to shift topics to things like the farm crisis, and have added three people to the staff to handle the impeachment matter. Co-anchor Jon Scott then talked with Dick Morris about potential bad news for Hillary: a line buried in Starr's report says that the investigation of Madison is nearing conclusion on the Castle Grande deal she handled.
FNC also featured: David Shuster on how the White House is still using executive privilege claims to block testimony from Bruce Lindsey, Cheryl Mills and Lanny Breuer; Gary Matsumoto on whether Clinton has the moral authority to lead the country; Jon Scott interviewed the Reverends Joseph Lowrey and Robert Schuller about that question; and Julie Kirtz on how Betty Friedan still says Clinton's problems are not relevant while Patricia Ireland is willing to criticize, but both say Clinton's policies "have been good for women," so critics call them both hypocrites.

-- NBC Nightly News. Tom Brokaw opened:
"Good evening. President Clinton tonight has a new team of spiritual leaders. He has implored America's military leaders not to let their guard down. He's scheduled a news conference for tomorrow. At the same time congressional Republicans are considering releasing the President's grand jury transcripts. And Senate Democrats held a heated closed-door meeting today trying to decide what they should do. It is not business as usual in Washington and it won't be for some time."
From the White House David Bloom noted how Senator Biden raised the resignation issue and reported that Clinton won't drop his legal defense because tat would leave him vulnerable to indictment later. On the video, Gwen Ifill said only that it shows Clinton "determined to dodge the truth."
Observing that Starr estimated the Lewinsky portion of his investigation cost about $4 million, Tom Brokaw turned to Pete Williams for a review of how legal costs have burdened all involved. For example, Williams noted: "Legal sources estimate presidential secretary Betty Currie, who earned $60,000 a year, could owe at least $50,000 to her lawyers. For a few top staffers, like Deputy White House counsel Bruce Lindsey, legal bills for all the investigations into Whitewater now total more than a million dollars."
Williams acknowledged that taxpayers will pick up the tab for anything involving government duties, but failed to point out how Lindsey's tab his so high because he refuses to cooperate and is constantly in appeal. Williams then portrayed Starr as the villain:
"...the Washington book store owner who successfully fought off a Starr subpoena for records of the books Monica Lewinsky bought. He ran up $125,000 in legal bills and says Starr's prosecutors were out of control."
Bill Kramer: "They've been doing this for three, four years. And there wasn't anybody who was putting an appropriate governor on their actions."
Williams did, however, conclude: "Even though most White House staffers think Starr has gone overboard, some now say if he President had just told the truth earlier, many would never have needed a lawyer in the first place."
Later, announcing Clinton's decision to consult with two ministers, Tom Brokaw made NBC the only network to actually raise doubts about Clinton's sincerity: "But is it a real search for answers or a smart political move?"
Jim Miklaszewski noted that Gordon MacDonald, "who had his own extramarital affair 12 years ago, sought redemption, then wrote a book about it that the President says he's already read twice."
Third time's the charm?
Miklaszewski allowed Jesse Jackson to praise Clinton's decision, before raising the doubts plugged by Brokaw: "But political foes like the Reverend Jerry Falwell say religious redemption is still not good enough." Miklaszewski concluded:
"Even some of the President's closest friends question his sincerity and worry today that these weekly prayer meetings are more about political salvation than personal redemption."


Republican Senator Frank Murkowski's suggestion that Clinton reimburse taxpayers for the $4.4 million the Lewinsky investigation cost did not sit well with Geraldo Rivera. He opened Tuesday's Upfront Tonight on CNBC: "Is it adding insult to injury? Now they want him to pay for his own prosecution."
Later, during an interview with the Alaskan, Rivera proposed:
"I wonder, if that is fair then why not reimburse the President his legal fees for Whitewater, Travelgate, and Filegate since nothing has been found either to merit indictment or of the quality to be sent to the Hill for inquiry of impeachment? Fair is fair. Why not have him reimbursed?"
And Rivera pressed his point again: "I was just wondering who's going to be paying for the other $36 million that Ken Starr spent and came up empty?"


Clinton hired three more lawyers Tuesday to handle the impeachment probe, but the White House press office won't need any beefing up. It already has the co-host of a network morning show advancing its spin. Here are the questions posed by Good Morning America co-host Lisa McRee on Tuesday morning, as MRC analyst Clay Waters caught them, to Republican Rep. Bill McCollum and Democratic Rep. Martin Meehan:
-- "But if there is no obstruction of justice, abuse of power proven, if it is simply about lying about a sexual relationship, is that impeachable?"
-- "The voters have twice elected this man President. Is it worth overturning the will of the people in order to impeach him if the only thing you can prove is that he lied about a sexual relationship with Monica Lewinsky?"
(Of course, Gore would become President, not Dole, so the will of the people would not be reversed.)
-- "In fact in 1974 the House Judiciary Committee staff wrote a guideline for lawmakers saying, quote, not all Presidential misconduct is sufficient to constitute grounds for impeachment. It seems that the polls indicate that the public feels the same way, that censure may make the public happy. Why not make a deal with the President? Get him to admit he was untruthful, and make a deal for censure, and let us get on with it as a country?"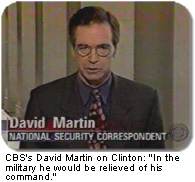 Is Clinton the beneficiary of a double standard that upsets many in the military? CBS actually gave its tough defense reporter David Martin time to explore the subject on Tuesday's Evening News. Using Clinton trip to Fort McNair to discuss military readiness with top military leaders as his peg, Martin observed:
"He is the Commander-in-Chief and he had an adulterous affair with a woman who is the equivalent of a buck private. And then he lied about it. In the military he would be relieved of his command and probably court-martialed."
Martin ran soundbites from a man and a woman in uniform who thought Clinton should be punished followed by Secretary Cohen's assurance that Clinton's action are not hurting morale.
Martin then gave voice to a point often made by conservatives but absent from network news:
"But Air Force Lieutenant Kelly Flinn was forced to resign to avoid being court-martialed for almost identical transgressions: committing adultery and lying about it. And when the Air Force's top General justified the seemingly harsh treatment of this young woman, he did it in terms that could just as well apply today to Bill Clinton."
General Ron Fogelman, May 21, 1997: "This is not an issue of adultery. This is an issue of about an officer, who is entrusted to fly nuclear weapons, who disobeyed an order, who lied. That's what this is about."
Martin then concluded: "The simple fact is that although he commands the military the President is not subject to military law. If he were his career would be in ruins. But he is subject to civilian law and to public opinion and they could end his career as surely as a court-martial."
I recall some passing references to this kind of military comparison, but I'm pretty sure this is the first time a network has so clearly raised the double-standard issue.


From the September 15 Late Show with David Letterman, the "Top Ten Top Ten Bill Clinton Tips For a Happy, Healthy Marriage." Copyright 1998 by Worldwide Pants, Inc.
10. Try not to preface sex with, "Do I have to?"
9. Don't embarrass her in front of the entire world -- women hate that.
8. Never ever wife-swap with the Shalalas.
7. Every few months, let her run the country.
6. If you must smoke cigars, get an actual humidor.
5. Six key words: deny, deny, deny, apologize, apologize, apologize.
4. Have them geniuses at NASA develop a space ray that makes her forget what a bastard you are.
3. Remember, it takes two people to maintain a cold, loveless marriage of convenience.
2. Celebrate anniversary with a passionate night of lovemaking, and let her know how it went.
1. Don't get caught.
And from the Late Show Web page, some of the "extra jokes that didn't quite make it into the Top Ten."
-- Three words: Spray 'N' Wash
-- Have several marriages at once -- chances are one of them will yield a happy, healthy marriage
-- Build time machine, go back to year when there were no such things as tape recorders and DNA tests
-- Build bridge to the 21st century, push loose-lipped interns off it
-- Tell her she looks just as young as the first time you cheated on her
-- Never let a day go by without looking your wife in the eye and reminding her that you're the victim of a vast right-wing conspiracy
-- Try and make sure at least one out of every 30 sexual encounters is with your wife
-- Only date women with same name as wife, to avoid embarrassing exclamations during sex
-- Nothing says "I love you" like a half-assed apology
-- The romantic gifts that you've retrieved from your intern make lovely anniversary presents
-- Share a hobby with your wife, like making shady real estate deals
-- Two words: "Dry clean"
One of the Letterman staff's better collections, especially numbers 3 and 2. -- Brent Baker

---
>>> Support the MRC, an educational foundation dependent upon contributions which make CyberAlert possible, by providing a tax-deductible donation. Use the secure donations page set up for CyberAlert readers and subscribers:
http://www.mrc.org/donate
>>>To subscribe to CyberAlert, send a blank e-mail to: mrccyberalert-subscribe
@topica.com. Or, you can go to: http://www.mrc.org/newsletters. Either way you will receive a confirmation message titled: "RESPONSE REQUIRED: Confirm your subscription to mrccyberalert@topica.com." After you reply, either by going to the listed Web page link or by simply hitting reply, you will receive a message confirming that you have been added to the MRC CyberAlert list. If you confirm by using the Web page link you will be given a chance to "register" with Topica. You DO NOT have to do this; at that point you are already subscribed to CyberAlert.
To unsubscribe, send a blank e-mail to: cybercomment@mrc.org.
Send problems and comments to: cybercomment@mrc.org.
>>>You can learn what has been posted each day on the MRC's Web site by subscribing to the "MRC Web Site News" distributed every weekday afternoon. To subscribe, send a blank e-mail to: cybercomment@mrc.org. Or, go to: http://www.mrc.org/newsletters.<<<

---
Home | News Division | Bozell Columns | CyberAlerts
Media Reality Check | Notable Quotables | Contact the MRC | Subscribe