GOP Blamed for Partisanship & "Lynch Mob Mentality"; Tape Release "Smells"
1) The networks Friday night portrayed the House Republicans as partisan ram rodders, instead of looking at Democratic cover up. Dan Rather refused to accept the name of the Christian Coalition.
2) Liberal author Erica Jong's claim that Clinton's a "victim" was too much for even Katie Couric, but she argued removing him from office may be an excessive punishment.
3) Previewing the tape, CBS's Bob Schieffer said Clinton's sex definition will make viewers "laugh out loud." Countering rumors, NBC's Lisa Myers reported he did not "storm out of the room."
4) "Is there anything anyone can do to stop this?" pled ABC's Lisa McRee on releasing the tape. Of the House Republican decision, MSNBC's Edie Magnus declared: "It smells."
---
>>> The networks have announced special coverage Monday for the Clinton videotape. All the broadcast networks will go live at 9am ET/8am CT/7am MT/6am PT, but none will run the tape in its entirety. The media will by then have a full transcript and should be able to report anything interesting, though they won't be able to show those sections until the feed reaches those portions. CNN, MSNBC, FNC and CourtTV all plan to run it live as it's fed from the Rayburn House Office Building. It's four hours long, so it should run until at least 1pm ET. ABC's World News Tonight and the CBS Evening News will double their length to one hour, starting at 6:30pm ET, so some local affiliates may adjust the normal air time. No word yet on NBC, but NBC will have Dateline at 10pm ET/PT and ABC will extend Nightline to at least one hour starting 35 minutes, in the Eastern and Central time zones, after the end of Monday Night Football.
The cable networks will all re-play the tape in the evening, but so as to not compete with their broadcasting side's prime time, FNC will wait until 11pm ET and MSNBC will even avoid West coast prime time, waiting until 2am ET/11pm PT for a full replay. (CBS and NBC picked a bad night to debut their new shows.) CNN has announced it will run a special at 8pm ET, a two-hour Larry King Live at 9pm ET and then run the tape at 11:30pm ET/8:30pm PT. C-SPAN should prove popular: it will play the tape in prime time at 8pm ET/5pm PT, but if the House is still in session the tape will have to wait. <<<

Victory for Republican partisanship or a triumph over Democratic efforts to suppress the truth? The House Judiciary Committee vote Friday afternoon to release the videotape of Clinton's grand jury testimony was seen by the networks through the eyes of Democrats upset by losing to the GOP majority. Instead of portraying it as a great victory for openness and the people's right to know over efforts to cover up, the broadcast networks stressed how it showed "nasty" partisan behavior, with Republicans taking most of the blame.
Peter Jennings sighed that "the Republicans had their way," before Linda Douglass opened her story: "Democrats came out of the House Judiciary Committee hearing and said 'so much for bipartisanship.'" Dan Rather delivered only the Democratic reaction, charging: "President Clinton's spokesman is calling it a rush to pre-judgment. Others in the Clinton administration call it quote, 'a lynch mob mentality.'"
CBS and NBC offered previews of what the tape will show. CBS reporter Bob Schieffer learned that those who have seen it say Clinton's definitions of sex are "laughable." NBC's Lisa Myers relayed that while he's "often irritable," contrary to rumors, he "does not lose control" and does not "storm out of the room." (See item #3 for more.)
Friday night ABC assessed reaction from women and found most mad at Lewinsky for using her charms and angry at Clinton for deceiving them. NBC's David Bloom highlighted a 1974 quote from Clinton saying disgracing the office is justification for impeachment. NBC also tracked down the man who provided the story of Henry Hyde's affair. Dan Rather warned that Clinton is also "under fire" again from Paula Jones and, he ominously intoned, "the forces behind her." And Rather took a shot at a conservative group by refusing to accept their name, announcing: "Speaker after speaker addressing the political lobbying group that calls itself quote, 'the Christian Coalition,' laced into President Clinton..."
Here are some highlights from the Friday night, September 18, broadcast network evening shows:
-- ABC's World News Tonight. Peter Jennings opened:
"Good evening. Yesterday it was nasty in Washington. Today it was almost poisonous. The Republicans had their way and the public is going to see all the President's testimony to the grand jury, and most of Monica Lewinsky's, sometime on Monday. That is four hours of tape and 2,800 pages. In the House Judiciary Committee, where it was decided, it was absolute party line."
Linda Douglass began and ran with the Democratic spin:
"Democrats came out of the House Judiciary Committee hearing and said 'so much for bipartisanship.'"
Viewers heard complaining soundbites from John Conyers (We got rolled) and Jerrold Nadler (Republicans not interested in impartial inquiry but in embarrassing Clinton.)
Douglass continued: "Democrats saw a rare opportunity to put the Republicans on the defensive today. Although both sides agreed to edit out 155 sections from the Starr material, Democrats wanted to cut out 30 other passages from Monica Lewinsky's testimony, additional details about her sexual encounters with the President. Republicans said no."
Republican Steve Buyer then suggested those upset don't have to watch the tape.
Douglass then explained that the GOP fears just what ABC emphasized: "Republicans tried to play down the disputes because they fear the public will begin to see them as a partisan lynch mob chasing after the President. That is exactly what the Democrats hope voters will think."
Democrat Robert Wexler asserted: "This has become an effort that has in fact now been engineered by the right wing of the Republican Party to take over the impeachment process."
Next, Douglass played the Hyde/Frank exchange in which Henry Hyde said bipartisanship doesn't mean Republicans must surrender and Barney Frank declared the meeting "was very civil and very partisan."
At this point, finally, Douglass got to the Republican view:
"In fact, a majority of both parties in the House voted to release all of Starr's evidence, except parts found to be not relevant. Some Republicans charge the Judiciary Democrats are the ones playing partisan games, trying to protect the President."
Tom DeLay: "I don't know what they're afraid of. Are they afraid of the truth. The American people deserve and have the right to know the truth."
Douglass concluded by playing into the Democratic spin of highlighting contentiousness: "Now the Judiciary Committee is notoriously partisan here in the House. Fierce liberals on one side, outspoken conservatives on the other side, few in between. And Peter if today was a sign of things to come, this could be a very long and bitter process."
Up next, Jackie Judd explained how the committee argued bitterly over what to remove from Lewinsky's testimony in which she detailed ten sexual encounters. What remains is still very graphic, such as "what he did to arouse her." Judd noted that Republicans complained that Democrats wanted to take out much more and Democrats complained that the Republicans so wanted to embarrass Clinton that they kept in descriptions of phone sex that do not impact the perjury charge.
Later in the show, Erin Hayes took A Closer Look at how women are reacting to Lewinsky. She learned: "Many women, in light of the Starr report, find themselves reassessing Ms. Lewinsky." Reassessing negatively, that is. A woman with a baby asserted: "What I learned was Ms. Lewinsky really pursued the President and the President was interested." Another women opined: "She's one of the most willing victims I've ever seen."
Hayes summed up reaction: "Women's talk about Monica Lewinsky reveals little sympathy." But that doesn't get Clinton off the hook, letting one woman explain that he should have resisted. Hayes concluded: "Many women feel deceived by the man once hailed as the feminist President. And disappointed that a young woman could acquire enough power to threaten a presidency using some of the oldest tricks in the book."

-- CBS Evening News. Dan Rather began by relaying the White House spin:
"Good evening. President Clinton's spokesman is calling it a rush to pre-judgment. Others in the Clinton administration call it quote, 'a lynch mob mentality.' This after the Republican-controlled House Judiciary Committee voted to release, at 9am eastern time Monday, President Clinton's videotaped testimony to the Starr grand jury. Also being released then: sexually explicit material in thousands more pages of transcripts. The deeply partisan attempts at pre-spin control are already under way."
CBS's lead story then barely touched the House fight, focusing instead on the tape's content. See item #3 for more.
Then Dan Rather announced: "President Clinton is under fire tonight on another front. It's a move by Paula Jones, and the forces behind her, to have the President cited for contempt."
Scott Pelley explained that the issue rises from when Clinton swore at the Jones deposition that he had no sexual relations with Lewinsky and could not remember being alone with her. Judge Susan Weber Wright was in the room and now the lawyers for Jones will file a motion to cite Clinton for contempt of court. Raising a development ignored by the networks when she issued a ruling just before Labor Day, Pelley noted that in that ruling Wright had said she "had concerns" about the accuracy of Clinton's testimony.
Rather, who works for a company that calls itself quote, "CBS News," then turned his fire on, well I'll let him tell you their name:
"Also in Washington today, speaker after speaker addressing the political lobbying group that calls itself quote, 'the Christian Coalition,' laced into President Clinton. Some of the strongest criticism came from the group's founder, television preacher and Republican leader Pat Robertson. He said even if the President resigns it isn't good enough."
Finally, from the Kansas State Fair, where people "get together for carousels and candy apples," Jim Axelrod found that because Clinton lied most want him to leave office.

-- NBC Nightly News. Tom Brokaw delivered the only opening summation that even attempted some balance, but he still had the GOP in the position of defending their action:
"Good evening. There was never any real hope the President's fate before Congress would be resolved in a truly bipartisan fashion. And that was never more clear than today when the House Judiciary Committee voted to release the President's videotaped testimony and 2,800 pages of documents. Republicans defended the vote as being in the public interest. Democrats said it's designed only to embarrass."
From Capitol Hill Gwen Ifill let Democrats complain about "obscene and sexually explicit" material and Republicans charge Democrats with trying to cover up. Noting that more documents will probably be released later next week, Ifill warned that will happen "even as both sides are watching the polls that say Americans may not want to learn any more details of the President's sex life." She then concluded:
"One congressional leader says impeaching the President is the most serious duty the Congress has other than declaring war. Today it got off to a less than promising start."
David Bloom checked in with the White House reaction and how they are trying to show business as usual but at an event to release a report from the race advisory panel "the event, overshadowed by scandal, served as a poignant reminder of how much the Lewinsky affair's cost Mr. Clinton's presidency in lost momentum. And his talk of the need for reconciliation sounded very personal."
Bloom noted that the White House hopes the public will recoil, especially with Pat Robertson on the attack. After a clip of the Christian Coalition head, Bloom picked up an illuminating quote from Clinton, the first time I've seen this point raised on a network. Bloom elaborated:
"And Republicans who believe that disgracing the Oval office is alone grounds for impeachment, point to this statement from Bill Clinton at the height of Watergate. Quote, 'another factor that I think constitutes an impeachable offense,' Mr. Clinton said in 1974, 'would be willful, reckless behavior in office, just totally incompetent conduct of the office and the disregard of the necessities that the office demands.'"
(Though he didn't say so, the quote ran a few days ago in the New York Times and on Friday in the Washington Post and came from an interview conducted by a then-law student with Clinton, then a congressional candidate. The law student: John Whitehead, now head of the Rutherford Foundation which is funding the Jones case. A small world.)
Later, for the In Depth segment, Kerry Sanders tracked down in Florida Norm Sommers, the man who told Salon about Hyde. Sommers claimed that while playing tennis six years ago Fred Snodgrass told him how Hyde had destroyed his marriage. Sanders picked up the story: "Fast forward six years. Clinton supporter and life long liberal Democrat Sommers says he's troubled the same Henry Hyde will now sit in judgment of the President."
So, he peddled his story, asking for $1,000, to 56 media organizations. All ignored him, but the 57th, Salon, bit, though they did not pay. Sommers assured Sanders that there was no White House involvement.
In a second piece for the In Depth segment, Bob Faw looked at what all the sexual outing is doing to politics. Leading into a soundbite from a liberal author, he summarized her view: "And writer Erica Jong says if we want only squeaky clean we will pay a price."


Speaking of Jong, author of "What Do Women Want?", she appeared on Friday's Today along with Anita Blair of the Independent Women's Forum. MRC news analyst Mark Drake noticed that Jong went too far even for Katie Couric but Couric also countered Blair.
Jong enthused about how Clinton had appointed Ruth Ginsburg to the Supreme Court, named the first female Secretary of State, and vetoed the "misnamed partial birth abortion" bill. So Couric asked if his public accomplishments should overshadow his personal indiscretions. "Yes they should," declared Jong, claiming: "I think he's been the victim of a witch hunt."
Jong whined on about how it's "a sad story of a man fighting an addiction and in the end succumbing once or twice to this semi-consummated sex, fumbling around in doorways, behind the bathroom door. It is so sad. Your heart goes out to this President....I see them both as victims."
That was too much for Couric, who replied: "To portray them [Monica Lewinsky and Bill Clinton] as victims is certainly, you know, something that's worth considering but you realize, full well, that people across the country are listening to you and they are basically going, [to cameraman] Joe, get me on the shot, [points finger in mouth and gags] 'give me a break.'"
When Blair suggested we need a President we can trust, which is why Clinton must go, Couric countered:
"But Anita, you've looked at the polls. Clearly, the American people are disgusted by what they have read, but they do, as we've said here on this program, want the punishment to fit the crime. I mean, are you, are you coloring this with too broad a brush, do you think?"


Friday night CBS and NBC delivered previews of what we can expect to see on the Clinton video.
-- On the CBS Evening News, Bob Schieffer reported: "Dan, sources who have seen the videotapes say the President's attempt to explain how he did not have sex with Monica Lewinsky, as he explains and defines sex, is laughable, that it may cause people to laugh out loud. They also say that the tape raises real questions about whether the President tried to get others to lie for him. But these sources also add that at the times when the President talks about how Ken Starr has hounded him, he is very convincing."
Schieffer added: "Sources say some of the saltiest passages are Miss Lewinsky's descriptions of phone sex with the President. Democrats are convinced they're being released only to embarrass Mr. Clinton."

-- On the NBC Nightly News, Lisa Myers informed viewers: "Congressional sources who've seen the four-hour tape describe this Clinton as often irritable, at times so angry he turns purple and at one point appears shaken by a question. But these sources say the President does not lose control, blow up or storm out of the room, contrary to some reports."
She too raised the possibility that viewers may sympathize with Clinton: "But some Americans also may be offended by the prosecutors and their tough sexually explicit questions which clearly anger Clinton."


Can't we stop this tape release, pleaded ABC's Lisa McRee hours before NBC's Edie Magnus denounced Republicans for a decision she declared "smells."
-- Questioning ABC legal analyst Jeffrey Toobin Friday morning, Good Morning America co-host Lisa McRee posed a plea in the form of a question, noticed MRC analyst Clay Waters:
"Is there anything anyone can do to stop this? Could a grand juror say, 'I don't want my questions released.' Could the President do it, could anybody stop this release?"
And: "As a lawyer, is this a terrible precedent we're setting?"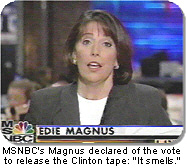 -- At 3:16pm ET on Friday MSNBC host Edie Magnus made clear how upset majority rule made her. Opening a roundtable with four guests she went first to former federal prosecutor and Jones lawyer Gilbert Davis, but her question was more of a declaration of misdeed by the House Republicans:
"Gil, I'm going to start with you. We've been hearing a parade of lawmakers during the day today, come out to talk about this meeting where the Judiciary Committee came to the decision to release this. The Republicans of course are coming out and saying this was serious, bipartisan, collegial, cooperative, respectful conversation, and the Democrats are coming out and saying they rammed it down our throats. There was never any discussion. This is a rush to judgment purely to embarrasses this President. My question at the get go is already it smells. It's the weightiest thing they do, to remove a President from office, and already it smells."
What smells is that no matter what Clinton does and no matter how far Democrats go to hide his deeds, many in the media still are unable to rise above their long-held assumptions that Republicans trample on fairness. -- Brent Baker

---
>>> Support the MRC, an educational foundation dependent upon contributions which make CyberAlert possible, by providing a tax-deductible donation. Use the secure donations page set up for CyberAlert readers and subscribers:
http://www.mrc.org/donate
>>>To subscribe to CyberAlert, send a blank e-mail to: mrccyberalert-subscribe
@topica.com. Or, you can go to: http://www.mrc.org/newsletters. Either way you will receive a confirmation message titled: "RESPONSE REQUIRED: Confirm your subscription to mrccyberalert@topica.com." After you reply, either by going to the listed Web page link or by simply hitting reply, you will receive a message confirming that you have been added to the MRC CyberAlert list. If you confirm by using the Web page link you will be given a chance to "register" with Topica. You DO NOT have to do this; at that point you are already subscribed to CyberAlert.
To unsubscribe, send a blank e-mail to: cybercomment@mrc.org.
Send problems and comments to: cybercomment@mrc.org.
>>>You can learn what has been posted each day on the MRC's Web site by subscribing to the "MRC Web Site News" distributed every weekday afternoon. To subscribe, send a blank e-mail to: cybercomment@mrc.org. Or, go to: http://www.mrc.org/newsletters.<<<

---
Home | News Division | Bozell Columns | CyberAlerts
Media Reality Check | Notable Quotables | Contact the MRC | Subscribe