Starr = Stalin; Did Turner Tilt CNN's Cold War?; Lockhart's Spins
1) Ominous world economic news and Kosovo massacres dominated Thursday night. FNC exclusively disclosed how Democrats haven't bothered seeing the Starr evidence and noted Espy's trial start.
2) "We haven't seen anything like this since Josef Stalin's days or the Nazi days," declared actress Vanessa Redgrave of Ken Starr.
3) CNN's Cold War series has begun. Ted Turner demanded it be "unjingoistic" and non-triumphant. He also said Kent State was as bad as Tiananmen and blamed the "right-wing media" for blocking peace.
4) Joe Lockhart, Clinton's new Press Secretary, has spent his life spinning through the revolving door: Carter to NBC to Carter to Mondale to ABC to CNN to Dukakis to NBC to Sky TV to Clinton.
5) Letterman's "Top Ten Questions in the White House Press Secretary Job Interview."
---
Correction: An alert reader informed me that in one instance the October 1 CyberAlert pegged the national debt at $5.5 billion. That should have read $5.5 trillion.

The three broadcast networks led Thursday night with downbeat stories on the stock market, the world economy and the dangers of hedge funds on the wider market as Fed Chairman Alan Greenspan appeared before a Senate committee to defend the Fed's bailout of the Long Term Capital Management fund. Fallout from the massacres in Kosovo, that have prompted a build-up toward a possible U.S.-led NATO airstrike, topped CNN and FNC and made the line-ups on the broadcast networks.
Zilch on Monicagate on ABC and NBC. On the CBS Evening News Dan Rather noted that more documents will be released Friday as he bade farewell to White House Press Secretary Mike McCurry. NBC's Tom Brokaw also briefly noted McCurry's departure, but not ABC's Peter Jennings. CNN and FNC delivered glowing tributes. (See item #4 for more on McCurry's successor.)
Getting back to Monicagate, CNN delivered full stories on how Hillary Clinton is lobbying and threatening Democrats and on how the documents to be released will provide fodder for both sides. FNC provided three unique stories: a look at negotiations for a settlement of the Jones case, the discovery that several Democrats on the Judiciary Committee have yet to look at the evidence, and only FNC told viewers that Mike Espy's trial began Thursday. On CNBC's Upfront Tonight Geraldo Rivera provided a platform for Terry Lenzner of Investigative Group International to deny the charge from Dick Morris that he has intimidated other women out of coming forward.
Instead of a show by show rundown, below today are two sections: First, the ominous openings from the October 1 ABC, CBS and NBC evening shows. Then a look at how CBS, CNN and FNC approached the scandals.
-- ABC's World News Tonight. Peter Jennings:
"Good evening. We're going to begin with the stock market tonight. Investors all over the world appear to be spooked by the current trends in the global economy. It was a gloomy day on the markets in Asia and Europe and South America. The International Monetary Fund warns that there's a possibility of global recession in 1999...."
-- CBS Evening News. Dan Rather:
"Good evening. Wall Street took another big hit today, part of a world-wide stock sell-off..."
-- NBC Nightly News. Tom Brokaw:
"Good evening. Tonight we're covering a world in considerable turmoil. Does this mean the good times are finally over? Financial markets everywhere are going in only one direction: down, down, down. There's talk of military action against Serbia for Kosovo. And Saddam Hussein: Why does the U.S. let him get away with it?"
And now on the scandal front:
-- Dan Rather announced on the CBS Evening News: "White House officials geared up today for the Republican-led Congress's latest download of thousands of Ken Starr documents. They're due out tomorrow, including heavily edited transcripts of Linda Tripp's secret recordings of Monica Lewinsky, the friend Linda Tripp betrayed. But come tomorrow the official White House comment will not come from spokesman Mike McCurry. McCurry gave his last official briefing today, including an apology."
McCurry: "I know at times I came up short. I know at times that I didn't have the right information. Frankly, the President misled me too so I came here and misled you on occasion and that was grievously wrong of him and he's acknowledged that."
Rather: "At the end, for his long-time professionalism Mike McCurry received a standing ovation. He'll be succeeded as Mr. Clinton's official spokesman by Joe Lockhart who has been McCurry's deputy."
-- CNN's The World Today. Co-anchor Joie Chen noted that Democrats are drafting a resolution to limit the scope and duration of an impeachment inquiry to no more than six weeks and only to Lewinsky matters.
John King examined how the First Lady is making the case to House Democrats to oppose impeachment and "playing a little political hardball" by suggesting the White House won't help those who vote yes. Brooks Jackson forwarded the various spins on the about to be released documents.
-- FNC's Fox Report. Carl Cameron explained how Democrats want impeachable offenses to be defined and then want the probe limited to only the Lewinsky matter. After a soundbite from John Conyers, Cameron segued into a clip of Republican Charles Canady by observing: "But Watergate contained no restrictions on time or scope and Democrats had pressed Republicans to adopt the Watergate model for any upcoming investigation. Republicans say the Democrats new demands are another political ploy."
Following a bite of Democrat Bob Wexler insisting that "nothing amounts to an impeachable offense" in Starr's report, Cameron delivered some fresh information:
"And Republicans say statements like that indicate that many Democrats are prepared to pre-determine and vindicate the President without an adequate perusal of all of Starr's evidence that is still locked behind closed doors here on Capitol Hill in the Ford Building. And information obtained by Fox News indicates that of the 15 Judiciary Committee Democrats six of them have yet to go the Ford Building and look at that evidence. In fact, all 21 Republicans have and when you add up the hours Democrats have only spent about 21.8 hours looking at the additional Starr report evidence whereas Republicans have spent 114.5 hours behind closed doors looking at the evidence."
Next, David Shuster disclosed that Clinton is now offering Jones $750,000 but Jones needs a million just to cover lawyer costs as her former lawyers have an $800,000 lien against her.
Finally, only FNC, in a story by Rita Cosby, highlighted the first day of trial for former Agriculture Secretary Mike Espy who is charged with receiving and lying about illegal gifts.


Ken Starr is the greatest threat since Stalin and Hitler? That's the extremist allegation leveled by actress Vanessa Redgrave in an interview with Geraldo Rivera on Thursday's Upfront Tonight. Rivera brought her aboard his CNBC show to highlight a letter issued last week by 67 international entertainers and intellectuals which claimed: "The democratically elected President of a free nation has been subjected for eight months to inquisitorial harassment by a fanatical prosecutor with unlimited power." (For more details, check to September 25 CyberAlert: http://archive.mrc.org/news/cyberalert/1998/cyb19980925.html#2)
From London, actress Redgrave declared: "Democracy is seriously in danger." Asked how by Rivera, she asserted:
"First of all because the special prosecutor's been given unlimited powers. He's not been elected. He has more powers than any elected leader of any democratic country in the world today. These powers were given him by the Judiciary Committee, a majority on the Judiciary Committee and a majority in the Congress. He has the powers to create a situation in which we have a trial without jury of the kind that -- here speaking from my own point of view and not from the text -- we haven't seen anything like this since Josef Stalin's days or the Nazi days."
It's nice that the left now realizes Stalin wasn't so great. As for Redgrave's nonsensical reference to how "these powers were given him by the Judiciary Committee, a majority on the Judiciary Committee and a majority in the Congress," that's not accurate since the Attorney General and a panel of federal judges handle the appointment. Which also means Starr is accountable to someone -- to the AG, those judges and the judge overseeing the grand jury. But even if her point about the Judiciary Committee were accurate, or if she just meant they passed the law creating ICs, Congress itself is democratically elected.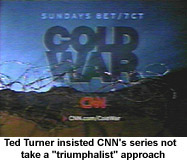 Last Sunday CNN began its 24-part "epic" titled "Cold War." The 24-part series airs Sunday nights for an hour at 8pm and 12am ET, followed by a half hour show called "CNN Postscript" with follow-up and discussion about that night's episode. With a few weeks off around Christmas it will run through April 4. (The 9pm to 10:30pm PT showing knocks out the 10pm PT replay of NewsStand on Sunday nights.)
Up front it must be said that in an era of TV news magazines dominated celebrity interviews, crime and scare stories about what causes cancer, Ted Turner deserves credit for spending $12 million to produce a serious documentary series about an important topic. In fact, on the same night Cold War debuted, September 27, ABC devoted most of 20/20 to JonBenet Ramsey.
That said, there are some troubling signs about the messages that may be delivered in the series produced for Turner by British filmmaker Jeremy Isaacs. Most fall under the heading of "moral equivalence." So, in date order, here are some items I've observed that are worth considering:
-- Turner's mandate: Unjingoistic and not triumphant that the U.S. won. From a December 27, 1997 New York Times story by Mark Landler flagged at the time by MRC analyst Clay Waters:
"Sir Jeremy said he was swayed when Mr. Turner told him he believed the documentary should approach the cold war from the perspective of neither the United States nor the Soviet Union. 'He wanted a project that dealt unjingoistically with the cold war,' Sir Jeremy recalled. 'He did not want a triumphalist approach.'"
-- No honorable anti-communists. Even Time magazine, partners with CNN in the NewsStand show, raised a concern about balance. In the September 21 issue James Collins reported that the series clearly reveals the moral deficiencies of the Soviet system, but Collins cautioned:
"As for the portrayal of the U.S., there may be some lapses in perspective -- in the episode on the McCarthy era, for example, it is unfortunate that the filmmakers found no honorable anti-communists to balance the comments made by those who were sympathetic to the party."
-- Show research provided by the left-wing National Security Archive, best-known for its anti-Reagan activities in the 1980s aimed at undermining his policies in Central America. In the September 20 CNN special previewing the series, producer Taylor Downing explained:
"The National Security Archive suggested to us that they brief us, they provide us a background for each episode that we're making because as a program maker, when you join a team like this, you have to become an expert in something in a matter of weeks.
"So they would prepare for us a set of briefing documents for each episode. These would contain copies of articles, extracts from books. They would contain original documents, papers that maybe weren't easily available that hadn't been published. They would contain a chronology..."
-- NSA provided initial "fact-checking." On the CNN preview National Security Archive Executive Director Tom Blanton described his role:
"The script for 'Backyard,' which is a show we've just been looking at to do some comments on -- we sent them the briefing book for that probably seven months ago. In September, they sent us the rough script and a rough cut of the interviews. We sit down and look at the tape with the script. We say, 'Oh, that fact's wrong,' or 'Oh, that came from that source, and that's not the best source. I'd use this source.'"
-- U.S. censored information/used propaganda just like the Soviets. Film researcher Miriam Walsh, on the CNN preview show, recalled her triumph in uncovering rare film, but then preposterously contended both sides equally limited information flow:
"The problem with Russian material is informal moments, because it's all contrived, are far and few between. And I'm looking at these nitrate outtakes, and I'm thinking, 'Oh, my gosh. This is just words and snow and why did they film this?' And all of a sudden, I saw this film, and Khrushchev just comes running into the picture, and he pulls this Politburo member to the ground and jumps on top of him and just starts playing with him.
"And I'm just thinking, 'No, that's not Khrushchev.' You know, 'Just don't be so stupid.' You know, 'Go back.' And then he gets up, and he's just messing around in the snow, and he's just like a two-year-old. And I mean, it was just amazing. I was just thinking, 'This is the leader of a superpower?'
"I wouldn't accuse the Soviets totally of contrived footage. I mean, the Americans were just the very best at contriving their material, and some of the propaganda films that came out of the States in the '50s and '60s are just shameless. And you just look at them and you think, 'My God,' you know, 'these families are perfect.'
"And then you look at the Russian material and, you know, you get -- you get people in the West going, 'Oh, it's so censored.' And, you know, to me, both sides are very censored, and that is one of the features of media in the cold war that we're very slow to see on our own side."
There's a bit of a difference between a society in which the state-run press controls all the information and a country which has a free press but the government produces a few propaganda films.
-- Turnerism #1 -- Should have had more social spending. From the end of the preview special:
"Everybody would be living in a garden of Eden if we'd have just taken half the money that was spent on the cold war and used it for positive purposes. But, you know -- but we did -- we are alive. You know, it's a celebration, as much as anything else."
-- Turnerism #2 -- Kent State and Tiananmen Square are morally equivalent. Washington Post reporter Lisa de Moraes interviewed Turner for a September 24 story. She relayed:
"The documentary strives to be a scrupulously evenhanded, nonpartisan look at both sides of the Cold War. But in its entirety it delivers the Ted Turner mantra that Americans are too provincial for their own good.
"'We are often judgmental about people that are different from us....and we don't even understand what their problems are,' Turner says. 'A lot of students got killed at Tiananmen Square, but I remember several students got killed at Kent State. And, remember, they have a lot more students than we do. We shot down our own students.'"
-- Turnerism #3 -- Ban men from office, elect only women. From the de Moraes story:
"While the documentary series is largely a chronological, blow-by-blow account of superpower conflict, it takes several detours to devote whole episodes to espionage, Latin America and Africa, each of which spans the 46 years of the Cold War.
"Turner added those hours to the original outline to illustrate how the two superpowers exported their rivalry to various unfortunate lands. 'The superpowers backed and provided weapons for people, they didn't even know what their political beliefs were,' Turner says with some outrage. 'If they were the enemies of the Russians we gave them weapons, and if they were our enemies they gave them weapons. It's like giving kids in high school weapons and then egging them on to use them. I've said for years that all men should be banned from any kind of political office for 100 years. Let the women run the world for a while. Women don't look at things the same; they don't have all that testosterone in them.'"
-- Turnerism #4 -- China's one-child policy a great idea. Again, from de Moraes:
"Turner also had Isaacs add an hour on China, a country that Turner thinks is grievously misunderstood by Americans. 'They have different problems than we have. We're not very sympathetic of that,' he says. 'They have five times as many people in a country slightly smaller than ours with far less good agricultural land and far less water. So, for instance, their one-child family program, which is an anathema to us, was absolutely necessary. If they had not instigated that program, it's estimated there would be 300 million more Chinese in China right now. And they would absolutely have had no choice but to either starve to death or go to war with their neighbors to take their land.'"
-- Turnerism #5 -- "Right-wing media" blocked peace. Once more from de Moraes:
"Turner himself engaged in some freelance diplomacy during the last years of the Soviet Union. During a 1985 meeting with Gorbachev, Turner says, he argued that the Soviet leader should be the one to take the first step toward nuclear disarmament because the 'right-wing media' in America would 'slaughter' an American President who took the first step.
"'You've got much more control and you can do it,' Turner said. 'History will remember that you were the one that took the lead; you're going to be known as one of the world's great peacemakers.'"
Turnerism #6 -- A hit at Clinton as a "sex maniac." One last quote from de Moraes:
"Arms control remains the great unfinished chapter of the Cold War, in his view. 'We were so close to the edge, and as long as those vast arsenals of nuclear weapons remain, there's always a possibility that another Adolf Hitler could arise in one of these countries. A madman can get control of a country. We have a sex maniac in control of our country.'"
This Sunday's episode covers 1945-47. CNN has set up a special Web page with background information, transcripts of interviews and previews of upcoming episodes. Go to: http://www.cnn.com/SPECIALS/cold.war/


Tom Brokaw ended Thursday's NBC Nightly News with an "attaboy Mike" to Mike McCurry. Will McCurry's replacement be as popular with the media? As they say, time will tell. But Joe Lockhart already has a head start as a media veteran himself, having worked for ABC, CNN and NBC in between toiling for liberal candidates. Here's the original-length MediaWatch Revolving Door story on Lockhart that was later shortened to fit into the October 5 issue:
Lockhart's Career Path
NBC, ABC, CNN & Now Clinton
When President Clinton tapped Joe Lockhart in late July to replace Mike McCurry as Press Secretary as of October 5, ABC's Peter Jennings didn't bother telling viewers how Lockhart used to work for ABC News. In a full story for CNN, Wolf Blitzer also skipped over Lockhart's time at the cable network.
As The Washington Post's Howard Kurtz noted in a September 9 profile, "he will be the first White House press secretary since Ron Nessen in the Ford administration to have had a recent career as a newsman. The son of journalists and the husband of a longtime ABC producer, Lockhart was spinning through the revolving door between media and politics long before that phrase became fashionable." Indeed, Lockhart has bounced back and forth between journalism and advocacy politics since his father, an executive with NBC News, landed him a volunteer spot in Jimmy Carter's 1980 reelection campaign.
As recounted by Kurtz, Lockhart soon "left to become an NBC foot soldier, writing for the network's internal wire at the Democratic National Convention in New York." After the convention he spun again, talking "his way into a paying job" with the Carter campaign.
Following a stint at Gannett pulling off marketing gimmicks for the launch of USA Today in 1982, Kurtz observed "politics seemed to exert a magnetic pull" so Lockhart "climbed aboard Walter Mondale's presidential campaign. He was responsible for the care and feeding of the network cameramen and technicians, riding with them on the 'zoo plane' and helping them find backdrops for better shots."
Mondale's loss led Lockhart to a Press Secretary position for Democratic Senator Paul Simon. But he soon crossed back to the media once more as an assignment editor for ABC News in Chicago, later accepting the same title in CNN's Washington bureau. There, Kurtz learned, "Lockhart did some off-air reporting on the Iran-contra scandal, once making dozens of calls to track down an old college photo of shadowy operative Albert Hakim. But his main job was moving reporters and crews around the city." In a couple of years he tired of CNN and signed aboard the 1988 Dukakis presidential campaign as a traveling press aide.
With his wife Laura Logan, Deputy Press Secretary for John Glenn's 1984 presidential run, transferred to London by her employer, ABC News, Lockhart followed and landed a slot with the nemesis of liberals: Rupert Murdoch. Kurtz recounted: "After looking for work for months, Lockhart became a freelance producer for NBC and helped cover the revolution in Romania. He applied for a producer's job at British-based Sky News and was stunned when executives there wanted him for on-air work....Soon his daily business reports were running back home on Fox, albeit at 5 a.m. Sky News dispatched him to Washington to report on the Gulf War, but in classic show biz fashion, his program was later canceled." Back in the States he worked for the Clinton campaign, assuming the Deputy Press Secretary position at the White House.
END of article


From the October 1 Late Show with David Letterman, the "Top Ten Questions in the White House Press Secretary Job Interview." Copyright 1998 by Worldwide Pants, Inc.
10. "Does cigar smoke bother you?"
9. "How many lies per minute can you type?"
8. "You wouldn't ask a lot of questions if the President had to hide a girl in your podium, would you?"
7. "How long can you stare at Sam Donaldson without giggling at his hairpiece?"
6. "Are you willing to work for Al Gore in a few months?"
5. "Please state, in 100 words or more, absolutely nothing."
4. "Would you talk on the phone with the President while he's 'otherwise engaged'?"
3. "Do you give your word that you will do your best -- just kidding, like someone's word means anything around here."
2. "Would you mind having sex with Hillary once in a while?"
1. "Is your wife cute?"
And from the Late Show Web page, some of "the extra jokes that didn't quite make it into the Top Ten." (The Web address: http://marketing.cbs.com/lateshow/topten/)
-- "Do you have any experience working for a pathological liar?"
-- "When did you first become interested in sabotaging your career?"
-- "What issues are you particularly strong at not commenting on?"
-- "Where do you see yourself in five years, after parole?"
-- "You're not one of those goody goodies who always has to tell the truth, are you?"
-- "You don't mind giving Helen Thomas her post-briefing sponge bath, do you?"
-- "Can you name what planet Sam Donaldson is from?"
-- "How many foreign languages can you lie in?"
Hits on Clinton and Donaldson, what more can you ask for? -- Brent Baker

---
>>> Support the MRC, an educational foundation dependent upon contributions which make CyberAlert possible, by providing a tax-deductible donation. Use the secure donations page set up for CyberAlert readers and subscribers:
http://www.mrc.org/donate
>>>To subscribe to CyberAlert, send a blank e-mail to: mrccyberalert-subscribe
@topica.com. Or, you can go to: http://www.mrc.org/newsletters. Either way you will receive a confirmation message titled: "RESPONSE REQUIRED: Confirm your subscription to mrccyberalert@topica.com." After you reply, either by going to the listed Web page link or by simply hitting reply, you will receive a message confirming that you have been added to the MRC CyberAlert list. If you confirm by using the Web page link you will be given a chance to "register" with Topica. You DO NOT have to do this; at that point you are already subscribed to CyberAlert.
To unsubscribe, send a blank e-mail to: cybercomment@mrc.org.
Send problems and comments to: cybercomment@mrc.org.
>>>You can learn what has been posted each day on the MRC's Web site by subscribing to the "MRC Web Site News" distributed every weekday afternoon. To subscribe, send a blank e-mail to: cybercomment@mrc.org. Or, go to: http://www.mrc.org/newsletters.<<<

---
Home | News Division | Bozell Columns | CyberAlerts
Media Reality Check | Notable Quotables | Contact the MRC | Subscribe