Lott & Armey Okayed Gays Being "Destroyed"; Lying Fine with MSNBC
1) A quiet weekend, scandal-wise. ABC and NBC speculated about a Jones deal. NBC's Tim Russert let Louis Farrakhan spout off about how oral sex isn't as bad as murders ordered from the Oval Office.
2) Nightline, Time and Gannett join the blame the right for murder crusade. Deborah Mathis: "The Christian Right per say and some particular members on Capitol Hill have helped inflame the air" so that the murderers breathed air that was filled "with the idea" that "gays are different and...therefore evil can be destroyed."
3) Ann Coulter's lesson: MSNBC doesn't mind lying by liberal activists about how Clinton never had sex with Lewinsky, but if you are conservative and say something tacky and you're gone.
4) Update: Nickelodeon's legal expert, who assured the kids that Clinton did not commit perjury, is being paid by two prominent figures in the illegal foreign fundraising scandal.
5) The Washington Post revealed why there's so little sympathy for Microsoft.
---
>>> October 19 MediaWatch now up on the MRC home page thanks to MRC Webmaster Sean Henry and Research Associate Kristina Sewell. Articles include a page one story on how ABC avoided GOP budget arguments; a Review titled "Democrats Greedy, But GOP Worse," by the MRC's Tim Graham on how Bill Moyers used PBS to preach for "campaign finance reform"; a back page look at signs CNN's Cold War series may present liberal historical revisionism; On the Bright Side about how Nightline and FNC exposed Sidney Blumenthal's dissembling; and three NewsBites: "Invisible Espy" by MRC analyst Mark Drake on how the networks have ignored the trial of the Clinton Agriculture Secretary, "Starr Fishing" by Geoffrey Dickens on how two networks turned a slim story into proof of a "vast right-wing conspiracy," and "A Life Sentence" by Jessica Anderson on how CBS News slanted a story to blame a judge for not letting a convicted woman get an abortion.
To read the issue, click on MediaWatch on the top of the MRC home page: http://www.mediaresearch.org <<<

A fairly uneventful weekend on the scandal and politics front. Sunday night, October 18, ABC's World News Tonight and NBC Nightly News led with the storms and floods in Texas. Both ran pieces previewing the Microsoft suit set to begin Monday in federal court. (Football bumped the CBS Evening News in the Eastern and Central time zones.)
On ABC, Tim O'Brien looked at the chances the judge will reinstate the Jones case as her lawyers plan to request this week if they don't reach a settlement. O'Brien explained that in dismissing the Jones case the judge said Jones was not "adversely affected," but a subsequent Supreme Court ruling decreed sexual harassment victims do not have to show adverse result. O'Brien cautioned, however, that another Supreme Court case said the harassment must be "severe or pervasive."
NBC Nightly News didn't get any closer to scandal than a story on growing Hispanic voter participation. NBC also ran a piece on the Pope's 20th anniversary.
Sunday morning, NBC's Meet the Press featured this illuminating exchange:
Tim Russert: "Do you believe the President's moral behavior should bring about his removal from office in any way?"
Louis Farrakhan: "Let me tell you, sir, to be very frank, if the moral behavior of every President of this United States was put on the line for morality, every one of them should be turned out. George Washington, the father of this country, was a slave master. The people that wrote the Constitution were slave masters. They had mistresses and babies out of wedlock. Surely, sex was not considered a high crime and a misdemeanor to these men. John Kennedy did not have high morals, neither did Franklin Delano Roosevelt. And when you look at Monica Lewinsky and say, 'Oh, what he did in the Oval Office,' from the Oval Office, kings and rulers have been ordered to be murdered from the Oval Office, unjust wars have been sanctioned from the Oval Office. So Monica Lewinsky is nothing compared to the evil that has come from that office to the poor of this nation and the poor and the weak of the world."
Friday night, October 16, ABC's World News Tonight led with the funeral for Matthew Shepard while CBS and NBC also ran full reports on that but went first with how the stock market recorded a record gain for the week.
The Shepard stories all showed snow pouring down in Wyoming and clips of some of the nutty protestors, a presence Dan Rather alluded to in his introduction: "But even as he was laid to rest, it was clear the hatred that killed him lives on." CBS reporter Cynthia Bowers actually ran pro and con soundbites on the need for a hate crime law with Concerned Women for America's Janet Parshall giving the con view. Among the protestors was this enlightened sign shown by NBC: "Aids Cures Fags." NBC also ran a story by its own Wyoming native, Pete Williams, on how people in his state are trying to understand why what happened occurred. ABC's Rebecca Chase reported on the supposed rising crime rate against gays.
ABC and CBS went scandal-free Friday night. ABC took time to note the Pope's 20th anniversary in office with a series of three stories, including one by Peggy Wehmeyer on how the Pope is cracking down on dissent in the U.S., where most ignore his teachings, by replacing liberal Cardinals and Bishops.
NBC Nightly News offered one scandal story, an examination of the Paula Jones settlement chances. Lisa Myers reported that family friend Bill McMillan had been brought in to settle the feuding among her past and present lawyers. Davis/Cammarata want $800,000, Donovan Campbell wants $1.4 million and the Rutherford Institute says it's owed $400,000. That's $2.6 million in total, so Jones won't get much Myers observed. The new Jones proposal: $2 million with one million from Abe Hirschfeld and the rest from Clinton.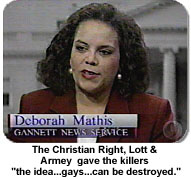 Two more examples over the weekend of members of the media assigning blame to conservatives for the murder of Matthew Shepard.
-- Opening Nightline on Friday night anchor Chris Wallace showed the anti-gay protestors at the funeral but noted that elsewhere there's a "more thoughtful" debate going on about the meaning of the killing. He ran down the issues Nightline would explore:
"How much of a threat do gays live under? Have anti-gay comments by the religious right contributed to attacks? And what can be done to stop the violence?"
Actually, from what I saw the show avoided any more hits on the religious right and spent most of its time with a gay filmmaker who interviews men who murdered gays.

-- On Inside Washington, a show which appears on PBS stations around the country and on the CBS-affiliate in Washington, DC, host Gordon Peterson asked panelist Deborah Mathis of the Gannett News Service about a column she wrote during the past week. Mathis explained what she charged:
"What I call the anti-homosexual crowd, those being many people who identify themselves as Christians, the Christian Right per say and some particular members on Capitol Hill have helped inflame the air so that the air that these bad people breathed that night was filled, filled with the idea that somehow gays are different and not only are they different in that difference they're bad and not only are they bad they are evil and therefore evil can be destroyed. The next step to that to me, it's a three-step process, and that ends in destruction. I don't say that they were told to do that, they certainly weren't part of any plan to do that, but again, what air are they breathing now. It's the air filled with that hate."
Gordon Peterson: "Is that fair, to draw that line, from you know Trent Lott, you mentioned Trent Lott in the column."
Mathis: "I mentioned Trent Lott, Jesse Helms and Dick Armey particularly. The Christian Coalition, the Family Research Council and the Concerned Women for America."

-- Catching up on a "blame everyone but the perpetrators" item from last week, here's a paragraph from an October 19 Time magazine news story by Assistant Managing Editor Howard Chua-Eoan:
"Wyoming had been the site of many archconservative victories. The legislature three times crushed bills to outlaw discrimination against gays and lesbians. That stance may become problematic. Did the lack of legal restraint foster the assault? It certainly prevents Henderson and McKinney [the accused] from being charged with a hate crime, though two women arrested as accomplices say the men made anti-gay remarks following the episode."
"Lack of legal restraint"? They are facing the death penalty. If that didn't deter them what more could have?
As the MRC's Tim Graham reminded me, back in 1991 Howard Chua-Eoan, then an Associate Editor, blamed society for Jeffrey Dahmer's murder spree, writing in an August 19, 1991 essay:
"There is a 'logic' too to Dahmer's crime. Raised in a culture that condoned racial prejudice and despised homosexuals, Dahmer appeared to believe he could preserve a place in mainstream society -- with all its furtive hopes of family, friends, and future -- by destroying the evidence of his homosexuality. He killed his 'lovers' -- mostly blacks -- dismembered them, and in some cases, may have devoured their remains. Crime is a logical, if messy, quick fix to the shortcomings of society. Is that the lesson then? That we get the criminals our societies deserve? Yes, of course."

On Inside Washington columnist Charles Krauthammer labeled the argument by Mathis "really nonsense." In a comment that also decimates the Time contention, he observed:
"When the Weathermen put a bomb in Madison, Wisconsin and killed people in the Vietnam War you couldn't blame it on McGovern or other people or Bobby Kennedy or others in Congress who were against the war."


Lie day after day about how Bill Clinton never had sex with Monica Lewinsky and MSNBC will invite back on again and again despite the hole in your credibility. But if a conservative says something tacky but arguably accurate, goodbye. That's the lesson revealed in an October 16 Washington Post profile of Ann Coulter, author of "High Crimes and Misdemeanors: The Case Against Bill Clinton."
Deep in the piece, the Post's Howard Kurtz ran through her resume, recalling how she became a paid "contributor" for MSNBC in 1996. But it didn't last long:
"Her cutting comments became legendary. While Pamela Harriman's casket was being carried off an airplane, she described the late ambassador as having slept her way to the top. 'What she said was so outrageous she was immediately put on probation, and the next one was even worse,' an MSNBC official says.
"Coulter was debating a disabled Vietnam vet when she snapped, 'People like you caused us to lose the war.' (She says she didn't know the guest, appearing by satellite, was disabled.) That ended her MSNBC career."


UPDATE: A September 28 Nick News special on Nickelodeon, detailed in the September 29 CyberAlert, featured Reid Weingarten as the legal expert for the kids. Host Linda Ellerbee described him simply as "a well-respected Washington lawyer who at different times has both prosecuted and defended public officials accused of crimes." The CyberAlert noted his Democratic affiliation but not who he specifically represents.
An October 10 Washington Post story, on how a federal judge has ruled that foreign citizens are not prohibited from making "soft money" donations, filled in his client list. Weingarten presently represents two figures in the foreign money scandal: Yah Lin "Charlie" Trie and Pauline Kanchanalak.
On Nickelodeon Weingarten corrected a girl who said President Clinton has committed perjury, a fact even accepted by many Democratic House members:
"Well that's not yet been determined. Clinton's explanation is 'when I testified in my mind I believed I was telling the truth.' And if that's true, if you believe that or if a jury one day believes it or if Congress believes it, that he believed that he was attempting to tell the truth, even if the information turns out to be incorrect, he's not committed perjury. You need two things. You need a deliberate lie under oath and what you're lying about has to be directly connected to what's being investigated."
Nice that Nickelodeon, and Ellerbee's Luck Duck Productions which produced the show, inflicted such an independent analyst on the kids. Talk about a conflict of interest with Starr in 1994, Weingarten is actively involved in the scandal now.


A note of personal privilege. With the Microsoft case set to begin today in federal court in Washington, DC, I thought I'd pass along a tidbit I caught Sunday which illustrates why it is that so many people who owned computers before Microsoft became so dominate, even if they think ideologically that the government suit is wrong, aren't too upset by seeing Microsoft harassed.
In an October 18 Washington Post story titled "Inside Microsoft: An Edgy, Driven World," reporter Elizabeth Corcoran delivered a sympathetic, inside look at life from the point of view of hard working Microsoft software programmers, specifically the 60-person team working on FrontPage. This paragraph jumped out at me:
"Programmers don't waste much time thinking about a program's possible bugs. They're more prone to envisioning what the program should do, rather than what it actually does."
How nice. While they're in dreamland all us users have to "waste much time" dealing with the reality of all the bugs. -- Brent Baker

---
>>> Support the MRC, an educational foundation dependent upon contributions which make CyberAlert possible, by providing a tax-deductible donation. Use the secure donations page set up for CyberAlert readers and subscribers:
http://www.mrc.org/donate
>>>To subscribe to CyberAlert, send a blank e-mail to: mrccyberalert-subscribe
@topica.com. Or, you can go to: http://www.mrc.org/newsletters. Either way you will receive a confirmation message titled: "RESPONSE REQUIRED: Confirm your subscription to mrccyberalert@topica.com." After you reply, either by going to the listed Web page link or by simply hitting reply, you will receive a message confirming that you have been added to the MRC CyberAlert list. If you confirm by using the Web page link you will be given a chance to "register" with Topica. You DO NOT have to do this; at that point you are already subscribed to CyberAlert.
To unsubscribe, send a blank e-mail to: cybercomment@mrc.org.
Send problems and comments to: cybercomment@mrc.org.
>>>You can learn what has been posted each day on the MRC's Web site by subscribing to the "MRC Web Site News" distributed every weekday afternoon. To subscribe, send a blank e-mail to: cybercomment@mrc.org. Or, go to: http://www.mrc.org/newsletters.<<<

---
Home | News Division | Bozell Columns | CyberAlerts
Media Reality Check | Notable Quotables | Contact the MRC | Subscribe