Putzhead Pounce; Pro-Lifers "Incite...Murderous Violence"; Carville's Hate
1) Putzhead Pounce. ABC, CBS, FNC and NBC all decided to do the same story Monday: the dirty, mean and nasty New York Senate race.
2) ABC, CBS & CNBC gave validity to blaming conservatives for the doctor killing. "Critics charge rhetoric from the anti-abortion movement is helping to incite this kind of murderous violence," insisted Dan Rather. Geraldo: "Doesn't anti-abortion rhetoric... verge on almost a back-handed pat on the back" to killers?
3) Today's Matt Lauer gave James Carville a virtually challenge-free platform to sell his mean-spirited attack book on Ken Starr.
4) Keith Olbermann suggested he thinks Starr is Jezebel, and other pro-Clinton quips from MSNBC's supposed contrarian.
5) Larry King can't tell parody for reality, missing the whole point of Rush Limbaugh's analysis.
---
Correction: The October 26 CyberAlert spelled "valet" as "vale."

The Putzhead Pounce. Network newscasts aren't all that different on some nights. Not only did all the networks lead Monday night with stories on the murder of the abortion doctor, but four of them decided to run pieces about the New York Senate race between incumbent Republican Alfonse D'Amato and Democrat Chuck Schumer. The ABC, CBS, FNC and NBC reports all offered the same spin -- how it's a dirty race. Just check these intros to stories which all highlighted how D'Amato called Schumer a "putzhead."
-- Peter Jennings on ABC's World News Tonight: "This is probably the meanest campaign in the country."
-- Dan Rather on the CBS Evening News: "This race is also down and dirty, negative and nasty."
-- Jane Skinner on FNC's Fox Report: "Here in New York the mud is getting very thick."
-- Tom Brokaw on NBC Nightly News: "One of the closest and nastiest Senate races of all is going on in the state of New York."
-- Even CNBC got into the act. On Upfront Tonight Jane Welles opened her piece: "They aren't talking issues much in this U.S. Senate race. They're too busy throwing mud. It's nasty. It's dirty. It's ugly and it's too close to call."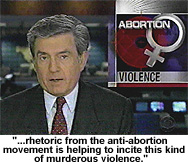 The murder of the abortion doctor in Amherst, New York topped the ABC, CBS, CNN, FNC and NBC evening shows Monday night, October 26. CNN and NBC refrained from blaming the "climate" created by pro-life groups, but not ABC, CBS or CNBC's Geraldo Rivera which also portrayed those advocating murder as part of the pro-life cause.
Dan Rather made a direct link between the right to life movement and the murder, declaring Dr. Barnett Slepian "the latest abortion-provider to be targeted by a violent, sometimes murderous, section of the anti-abortion movement." Later, CBS devoted a whole story to how "critics charge rhetoric from the anti-abortion movement is helping to incite this kind of murderous violence."
ABC's Peter Jennings fed the pro-life slogan "respect life" back to them by reciting a sign reading "Don't murder doctors." Seconds later reporter Bill Redeker demanded a Catholic priest defend his mock cemetery.
Every network highlighted the "Christian Gallery" Web site run by Neal Horsley which lists the addresses and phone numbers of abortion doctors, implicitly implying he's a legitimate part of the pro-life movement, but only CBS showed viewers the URL and only ABC aired a soundbite from a "Reverend" who tagged the killer "a hero." FNC anchor Jon Scott interviewed Horsley, who said he would not be sorry if the murderer got Slepian's address from his Web site.
Showing no more originality in soundbite picks than the New York Senate race stories show they made in topic selection, both ABC and CBS ran this same soundbite from a father with two kids in his arms: "This is what he was about right here, right here, children,. This is what he should be remembered for. Not abortions."
Geraldo Rivera raised an old canard, analogizing Jerry Falwell and pro-lifers to Netanyahu and allies whose rhetoric inspired the assassination of Rabin.
Here's a rundown of highlights from the Monday, October 26, evening shows:
-- ABC's World News Tonight. Peter Jennings opened:
"Good evening. In Amherst, New York today near the city of Buffalo someone put up a picture of the doctor who was killed in his home Friday night and a hand-lettered sign that said: 'Respect Life. Don't Murder Doctors.' Doctor Barnett Slepian, as much of the country must know by now, is the latest obstetrician and gynecologist to be attacked, murdered in his case ostensibly because he performed abortions. There's a $100,000 reward now for information leading to his killer. Doctor Slepian was 52. He performed abortions, said a friend, because he believed a woman had the right to choose. But it was helping babies come into the world, said another, that was his life."
Bill Redeker explained what happened and played the clip of the father cited above before putting someone who did not murder anyone on the defensive:
"The killing has also reignited the abortion debate here. Today a Catholic priest defended this provocative mock cemetery marking hundreds of abortions performed in New York state this year."
Father Jim Bastian, Catholic priest: "There are murders that are happening each and every day. And in this case this display represents 440 in New York state."
Next, ABC's John Miller told viewers about the pattern of attacks around Canada's Remembrance Day and then moved to Neal Horsley's Christian Gallery and how he quickly crossed out Slepian's name. Miller added: "Activists on the most radical end of the pro-life camp make no apologies for the sniper."
Rev. Donald Spitz, Pro-Life Virginia: "I think the person that did it is a hero, I think they are a hero."
Amazing how the Unabomer was never referred to as being on "the most radical end of the environmental movement."

-- CBS Evening News. Dan Rather began by asserting:
"Good evening. The FBI posted a $100,000 reward today for the killer who gunned down a doctor in his own home, apparently because the physician performed abortions. He was just the latest abortion-provider to be targeted by a violent, sometimes murderous, section of the anti-abortion movement."
Following Jeffrey Kofman's overview story which included the father's soundbite, Rather acknowledged abortion opponents do not advocate murder, but then he gave legitimacy to pro-abortion liberals who impugn those on the other side:
"Most opponents of abortion are a law-abiding citizens who oppose violence. Some of them were quick to condemn this doctor's assassination, but critics charge rhetoric from the anti-abortion movement is helping to incite this kind of murderous violence."
Did Al Gore's anti-business and technology rhetoric "incite" the Unabomer? I don't think CBS ever gave that theory airtime, nor should they have. But by giving airtime to claims of conservative culpability for nut cases CBS is showing its anti-conservative prejudice.
In the piece introduced by Rather reporter Richard Schlesinger began by showing Neil Horsley's web site of providers "he calls butchers." Schlesinger read aloud its full name, up through "killers," as viewers could read its address on-screen: "christiangallery.com/atrocity/killers.html."
Schlesinger then allowed liberal advocates to malign conservatives:
"The abortion battle has been at the intersection of politics and passion since 1973 when the Supreme Court legalized the procedure. But abortion-rights activists now believe some leaders of the mainstream anti-abortion movement are inciting supporters on the fringe to violence." [video of Atlanta bombing]
Kelli Conlin, abortion rights activist: "What they've got to stop doing is saying these people are murderers. They got to stop saying woman's health facilities are places where murder is committed."
Schlesinger: "To what extent do you send a signal that it's okay to take a shot at an abortion doctor?"
Kathleen Murphy: "To no extent."
Schlesinger: "Kathleen Murphy is an anti-abortion activist."
Murphy: "The abortion industry tends to lump everyone together in the pro-life movement as people that are only interested in violence or taking away woman's rights."
Schlesinger concluded: "That charge carries extra weight now, eight days before elections where in many races abortion is a major issue. It might be hard for voters to remember that the vast majority of anti-abortion protests are peaceful, so soon after a doctor was shot to death in his own home."

-- CNN's The World Today opened with a piece by Susan Candiotti followed by a story from Martin Savidge on how "anti-abortion leaders say they've become victims themselves as they are lumped by critics into the category of zealots." They must have been watching CBS.
-- FNC's Fox Report opened with Slepian followed by an interview with Horsley. David Shuster added a full report on the Jones case.

-- NBC Nightly News opened with one story on Slepian, by Rehema Ellis, who avoided the blame game.

-- CNBC's Upfront Tonight. Geraldo Rivera topped the show by previewing his crusade to expose the evil pro-lifers:
"If abortion is murder, what is the assassination of a doctor who performed abortions? Does the absence of vigorous, universal public outrage fuel the notion that violence under certain circumstances is less hideous than otherwise? My colleague Diane Dimond is off tonight. I'm flying solo. Hi everybody and welcome to our program, to borrow the words of Dr. Bill Bennett, debates the death of outrage. Are ugly politics feeding a climate of hate?"
Rivera produced two interview segments. First, with Susan Hill of the National Women's Health Organization in Raleigh, who is also on Horsley's list. Rivera asked and answered his own question:
"Do you blame anyone specifically other than the outrageous murderous dogs who do this? Do you think that there is a climate that makes it more permissible to take on people like yourself?"
Hill: "I'm sure of that. I've been providing abortion services for 25 years. The climate has never been this hostile and I blame the pro-life community...
Next, to Jerry Falwell, he forwarded this liberal theory impugning conservatives in Israel and the U.S.:
"When Yitzak Rabin was assassinated by an extremist who was opposed to the peace talks, many commentators at the time blamed Bibi Netanyahu who was Mr. Rabin's opponent at the time, for his political rhetoric, saying that by saying that people who were making peace with the Palestinians were in effect countenancing terrorism he in effect set up Rabin. Don't you feel some of that same heat. Doesn't anti-abortion rhetoric at some point verge on almost a back-handed pat on the back to those people?"


NBC's Today provided James Carville with a platform to push his book disparaging Ken Starr. On Monday's show, MRC news analyst Geoffrey Dickens observed, co-host Matt Lauer opened the interview by wondering why anyone would read a book so obvious in its content and he ended with a challenging question about how White House operatives were "not fully informed," but in between he read some of Carville's diatribe and prompted Carville to sound off. At no point did he challenge any of the assertions in the book.
Here are all the questions Lauer posed on the October 26 Today:
-- "James Carville, one of the President's most unwavering and excitable defenders is out with a new book today called, And the Horse He Rode In On: The People vs. Kenneth Starr. It sets out point by point why the independent counsel's investigation is in Carville's words, 'A fanatical plan to bring down the President.' James Carville good morning, good to see you. Let me read you something you write in the first two pages of the book. Quote, 'I don't like Ken Starr. I think he's an abusive, privacy invading, sex obsessed, right-wing, constitutionally insensitive, boring, obsequious, and miserable little man who's risen further in his life by his willingness to suck up to power than his meager talents and pitiful judgement would have ever gotten him.' Strong letter to follow."
-- "But in the first two pages when you write that why does the reader even have to go further? I mean that's basically the book right there isn't it?"
-- "So to use a James Carville type expression this is a case of my dog's meaner than you're dog."
-- "Remember when the First Lady was here back in January and she talked about the vast right-wing conspiracy. You agree with a lot of what she had to say. If there is a hierarchy in that conspiracy, like a military hierarchy, where does Ken Starr fall? Is he a private, is he a general, what is he?"
(Carville replied that Starr is "interconnected" to all the players and claimed: "I don't think anyone disputes there's a right-wing conspiracy.")
-- "The one moment you remember from that interview, 'Great human being.' You tell a story in this book about the first time you ever kind of met Ken Starr. In an airport, he came up to you, what did he say?"
-- "When did you realize it was Ken Starr?"
-- "You remembered that guy from the airport?"
-- "You point a sharp stick in the eye of the press in this book. You said in the first few days of the Lewinsky story there were inaccuracies. I think you say that, quote, 'In other words one out of every five journalists had no idea what they were talking about. Two out of every five journalists were making it up as they went along.'"
-- "What would the figures have been though, James, for the people who were put forth by the White House. The administrative people, the advisers, the cabinet members who were not fully informed?"
-- "And the Horse He Rode In On: The People vs. Kenneth Starr. It's always good to have you here."


Ken Starr is Jezebel? Yes, suggested Keith Olbermann last week on MSNBC's The Big Show with Keith Olbermann. That's amongst the liberal pontificating from Olbermann collected from last week's shows by MRC news analyst Mark Drake:
-- October 19:
"Remember how silly it sounded when the President said he'd forgotten days and dates when Monica stopped by? Newsweek: Ken Starr forgot he talked to Paula Jones' attorney."
"Speaking of the former White House intern, Newsweek magazine reporting this week, that despite their cozy immunity deal, Lewinsky and the Independent Counsel, Mr. Starr have never met face to face. The reason: a source telling Newsweek 'you don't want to schedule an appointment between Jezebel and the Pope.' Wait, I'm confused. In this reference, Jezebel is who?"
-- October 20:
To Democrat Robert Wexler: "Congressman, I got a letter from a viewer a couple months ago which I thought stated it almost as simply and eloquently as you did there, which is, 'Bill Clinton did not hurt me,' is what she wrote, 'Bill Clinton hurt himself.'"
"When we come back: so far nearly two hundred newspapers around the nation have called for the President to resign. Were those calls premature?"
-- October 21:
To John Dean: "She [Hillary Clinton] obviously was one of the investigating team and one of that group of lawyers, young lawyers that were recruited to, to staff the staff of the investigation team from the judiciary in '74. This time it's David Schippers and what we could call the modern version of the Chicago Untouchables. He's got people in here who've investigated mobsters, and prosecuted street gangs with ties to Libyans and friends of Sam Giancana. Is this heavy handed or this the appropriate kind of investigative, prosecutorial team that you'd want looking into the President?"


How dense can you get? From CNN host Larry King's collection of ramblings in Monday's USA Today:
"Shouldn't someone tell President Clinton that one of his archenemies, Rush Limbaugh, actually said the following last week, speaking in defense of Bill Gates and Microsoft? 'It's OK to lie, everybody lies in business, especially in a civil case.' Apparently to Rush, lying is OK about business but not about sex."
Houston to Larry: Since many liberals don't care that Clinton lied but want Gates pursued, Limbaugh decided to parody the liberal position. He wasn't being serious. It's hard to imagine how clueless you must be to miss the mocking of your own position. -- Brent Baker

---
>>> Support the MRC, an educational foundation dependent upon contributions which make CyberAlert possible, by providing a tax-deductible donation. Use the secure donations page set up for CyberAlert readers and subscribers:
http://www.mrc.org/donate
>>>To subscribe to CyberAlert, send a blank e-mail to: mrccyberalert-subscribe
@topica.com. Or, you can go to: http://www.mrc.org/newsletters. Either way you will receive a confirmation message titled: "RESPONSE REQUIRED: Confirm your subscription to mrccyberalert@topica.com." After you reply, either by going to the listed Web page link or by simply hitting reply, you will receive a message confirming that you have been added to the MRC CyberAlert list. If you confirm by using the Web page link you will be given a chance to "register" with Topica. You DO NOT have to do this; at that point you are already subscribed to CyberAlert.
To unsubscribe, send a blank e-mail to: cybercomment@mrc.org.
Send problems and comments to: cybercomment@mrc.org.
>>>You can learn what has been posted each day on the MRC's Web site by subscribing to the "MRC Web Site News" distributed every weekday afternoon. To subscribe, send a blank e-mail to: cybercomment@mrc.org. Or, go to: http://www.mrc.org/newsletters.<<<

---
Home | News Division | Bozell Columns | CyberAlerts
Media Reality Check | Notable Quotables | Contact the MRC | Subscribe