Hyde's Letter Is "War"; ABC: Go Left to Replace Newt; No Dems on ABC
1) Dan Rather gloated: "The incredible shrinking impeachment inquiry." Hyde's announcement topped ABC, CBS and FNC. Moves against Gingrich highlighted by all but ABC.
2) "This letter is a declaration of legal war," Geraldo Rivera alleged in denouncing Hyde's effort as "a perjury trap."
3) ABC's Aaron Brown argued Republicans should move left if they replace Gingrich: "You need someone who is more inclusive."
4) No liberal Democrats on ABC News: They won't appear while NABET in a labor dispute. GMA cancels trip. World News Now leaves USA.
5) They're back: Left-wing crusaders Donald Barlett and James Steele have moved up the media hierarchy to Time magazine.
6) Letterman's "Top Ten Famous Politician Wrestling Nicknames."
7) One more Ratherism: "...if Fidel Castro came looping through on a hippopotamus."
---
>>> "Networks Promote 'Pragmatic Centrist' Republican Governors Who Used to Be Media Targets: 'Cold-Hearted' Governors Now 'Moderates.'" The November 6 MRC Media Reality Check fax report has been posted on the MRC home page by Webmaster Sean Henry. In the fax report the MRC's Tim Graham contrasts media pronouncements since the election about "pragmatic" and "moderate" GOP Governors with how the networks vilified Michigan Governor John Engler, as a hard-right conservative, after he was elected in 1990. Go to the MRC home page at http://www.mrc.org <<<

Henry Hyde's announcement about impeachment hearings with Ken Starr as the only witness and that he asked President Clinton to admit or deny 81 items in the Starr report, topped the ABC, CBS and FNC evening shows Thursday night. Dan Rather's top of the CBS Evening News tease: "The incredible shrinking impeachment inquiry. Republicans backtrack, now call hearings with only one main witness: Ken Starr."
CNN and NBC went first with the devastation in Central America from Hurricane Mitch. CBS, FNC and CNN also focused on the perilous situation facing Speaking Newt Gingrich. CNN and NBC ran separate stories on how Republicans are talking about dumping him while ABC gave it just a sentence. CBS, CNN and FNC aired pieces on how the lawyers for Paula Jones will soon leave her, but only FNC's Rita Cosby reported that "President Clinton is no longer interested in settling the Paula Jones sexual harassment suit" and has even withdrawn his $700,000 offer.
Here are some highlights from the Thursday, November 5, evening shows:
-- ABC's World News Tonight. Peter Jennings delivered the oddest of openings, tying together Hyde and Hurricane Mitch:
"Good evening. Our first two major stories tonight are about priorities. And we begin in Washington where Republican politicians understand now all too clearly how strongly much of the public feels about impeachment hearings involving President Clinton."
Jennings went first to Linda Douglass: "Members of the House Judiciary Committee are gritting their teeth at the thought of beginning the unpopular task of impeachment hearings."
Douglass explained how Hyde will call only Starr and sent 81 questions to Clinton, noting: "They do not focus on sex but on things like whether Mr. Clinton tried to keep Monica Lewinsky quiet by buying her gifts."
After a soundbite from Clinton on how voters want their business handled, she concluded: "Many congressional Republicans think they are under more pressure from a public fed up with impeachment because GOP leaders have failed to focus attention on anything else. Some members blame Newt Gingrich for that and want him to pay by forfeiting his job as Speaker."
Jennings then introduced the second story: "The other priority tonight is Central America. It is must clearer to individual Americans today and the Clinton administration what a blow Tropical Storm Mitch has been..."

-- CBS Evening News. Following the tease from Rather quoted above, Bob Schieffer summarized Hyde's points and plans before jumping to Gingrich's troubles:
"The White House hasn't decided how to respond to that, but the best news for the President is that all of this is coming to a head just as Republican House Speaker Newt Gingrich suddenly finds himself dealing with his own crisis, a growing number of Republicans are blaming Gingrich for the pasting they took on election night and want to dump him."
Schieffer named four who are being asked to run for leadership posts: Bob Livingston, Steve Largent, David McIntosh and Chris Cox.
From the White House Scott Pelley reported that Clinton was non-committal on cooperating as the 81 questions "go to the heart of allegations of perjury and obstruction of justice."
Later in the show Phil Jones provided a story on how Clinton had rejected a $950,000 offer from the Jones team. As for why her lawyers are quitting after the current appeal, Phil Jones relayed:
"CBS News had learned her lawyers are fed-up with Jones's friend and public relations adviser Susan Carpenter McMillan who they say has convinced Jones she can get millions of dollars. This circus last Saturday was the final straw for the lawyers. Paula Jones and McMillan flew to Washington to literally kiss real estate tycoon Abe Hirschfeld..."
Phil Jones concluded: "If Jones does change her mind Mr. Clinton has offered to settle out of court for $700,000. Remember, when this began, all it would have cost the President to settle was an apology."

-- CNN's The World Today. John King looked at Hyde and White House reaction to the 81 questions, Bob Franken at the rejection of the $950,000 offer and how Jones's lawyers are quitting and Gene Randall at how Bob Livingston told Gingrich he should consider stepping down.

-- FNC's Fox Report led with Carl Cameron on Hyde making an appeal for Clinton's cooperation and how Livingston may challenge Gingrich and Largent may face off against Armey. Jim Angle relayed White House reaction to the 81 questions before Rita Cosby focused on Jones:
"Buoyed by Democratic election victories, President Clinton is no longer interested in settling the Paula Jones sexual harassment suit, according to sources close to the case....Sources tell Fox News that Jones's lead attorney called the President's lawyer, Bob Bennett, Thursday morning saying she'd accept $950,000 to settle the case. But Bennett said the White House is not interested in settling anymore. He withdrew his previous offer of $700,000...."

-- NBC Nightly News. Claire Shipman went through what Hyde said and how the White House won't admit to perjury or obstruction of justice.
Tom Brokaw then turned to how "results of this election have thrown congressional Republicans into turmoil." Gwen Ifill reported that Gingrich spent the day on the phone shoring up support, adding: "Also vulnerable in Capitol Hill's current vengeful mood, sources say, Gingrich deputies Dick Armey of Texas and John Boehner of Ohio." Ifill named four possible challengers: Livingston, Largent, McIntosh and Jennifer Dunn before running a soundbite from U.S. Rep. Joe Scarborough on how Gingrich should go. Ifill concluded:
"This time the Speaker's fight for survival will be hand to hand combat as he fends off attacks not only from his liberal enemies but also from his conservative friends."

Geraldo Rivera is not pleased with Henry Hyde's plan to move things along by getting President Clinton to either admit or deny 81 items in Starr's report. To Rivera, it's "war" meant to land Clinton in "a perjury trap."
Rivera opened the November 5 Upfront Tonight on CNBC:
"This letter is a declaration of legal war. Hi everybody and welcome back to the impeachment debate. Earlier today Chairman Hyde said he wanted streamlined hearings, with just one major witness: Ken Starr. And a New Year's deadline on the impeachment vote. He also said the catch was White House cooperation, but he's not just asking for cooperation. Answering these questions could be legal suicide for the President. Listen to what they call a perjury trap. Question 20: 'Do you admit or deny that you gave false and misleading testimony when you stated during your deposition in January that you did not know if Monica Lewinsky had been subpoenaed to testify in that case.' Question 21: 'Do you admit or deny that you gave false and misleading testimony before the grand jury that you did know that Monica Lewinsky had been subpoenaed to testify.' He either knew she had been subpoenaed or he didn't know. If he knew he lied in the deposition. If he didn't know, then he lied to the grand jury. A perjury trap."
In other words, he did commit perjury.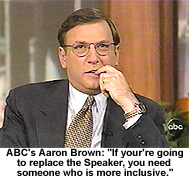 If Republicans decide to replace Newt Gingrich the new Speaker should be "more inclusive, not less inclusive" like a social conservative. So argued Good Morning America substitute co-host Aaron Brown on Thursday in another example of how the media culture assign the GOP setback to being too conservative, not to failing to espouse a clear set of conservative principles. MRC analyst Jessica Anderson took down these two questions posed to Randy Tate, Executive Director of Christian Coalition:
"Randy, in listening to the Speaker yesterday, I thought maybe he was talking about you, at least indirectly, when he said this criticism is coming from people who want to make the party narrower-based with fewer members. That, in fact what it sounds like the Speaker is saying is the party needs to be more moderate, not more conservative."
"But, Randy, there are people, I think lots of people today, who are looking, for example, at California, even the Carolinas, and saying that this kind of strident, conservative, social conservative position is not a winning position, and if you're going to replace the Speaker, you need someone who is more inclusive, not less inclusive."
"Strident" conservative positions? North Carolina's Lauch Faircloth ran TV ads about how he got a postage stamp to highlight breast cancer and in California Matt Fong didn't exactly take the Christian Coalition line when he endorsed the Log Cabin Republican's policy goals.

ABC News this week has displayed all the technical smoothness of a local cable access show. Ted Koppel spent more time on Tuesday's Nightline trying to find the right camera and figuring out which guest had both sound and picture, and could hear Koppel without an echo, than conducting interviews.
It's all because NABET, the National Association of Broadcast Engineers and Technicians, staged a walkout on Monday. Angered by the unannounced labor action, since Tuesday ABC has locked out the technicians. This has led Good Morning America to cancel a West Coast trip, move World News Now to London and.....interview no liberals since top Democratic politicians have decided to support the people who refused to do their jobs on Monday.
In the November 5 Washington Post reporter Lisa de Moraes described some of the impact on ABC. Here's an excerpt:
....ABC crews were asked to leave the headquarters of California Democratic gubernatorial winner Gray Davis Tuesday afternoon and police removed ABC crews from the Fairmont Hotel in San Francisco where Sen. Barbara Boxer was celebrating her reelection Tuesday night. Both Davis and Boxer won with strong backing from organized labor.
In both cases, ABC got injunctions that permitted their news crews to return to the Democratic gatherings. The network argued that the Democrats were violating ABC's First Amendment rights....
In addition to technical glitches that resulted from the use of fill-in staff, ABC's election reports were noticeably missing interviews with Democratic politicians, who heeded NABET's boycott. That included Davis and Boxer in California.
But they weren't the only Democrats to cold-shoulder ABC News. The day before the elections, Gore canceled an interview for Good Morning America. Colorado Gov. Roy Romer, head of the Democratic National Committee, also backed out of an appearance on the morning news show....
But politicians weren't the only people giving ABC the brushoff. Sandler, whose movie "The Waterboy" opens tomorrow, canceled a Good Morning America appearance yesterday.
The NABET battle also drove the network's World News Now 2-5 a.m. program out of the country and over to London. "Given the circumstances, it makes sense to use all available facilities, and
London is certainly an equipped and available facility," ABC News spokeswoman Eileen Murphy said....
With so much bad karma coming out of California, ABC yesterday decided to scrap its plans to take "Good Morning America" on the road to California next week. Anchors Lisa McRee and Kevin Newman were to have hosted the show from San Francisco, Carmel, Los Angeles and San Diego. Instead, they're staying in New York. That's a big blow to the ratings-starved morning show....
END Excerpt
Liberals can afford to boycott ABC News since they know their views will be well represented by the sympathetic news staff. (One Democrat didn't follow the marching orders: North Carolina Senator-elect John Edwards appeared on Wednesday's GMA, but otherwise no Democratic officials appeared Wednesday or Thursday morning, MRC news analyst Jessica Anderson observed.)

The evils of corporate welfare is the November 9 Time magazine cover story. I haven't had a chance to read the 13-page piece, the first of a weekly series, but the byline jolted me by reminding me of some of the most tendentious left-wing bias ever documented by the MRC. The byline: Donald Barlett and James Steele, most infamous for a 1991 series in the Philadelphia Inquirer and other Knight-Ridder newspapers called "America: What Went Wrong." The series became a book with the same name.
Of course what went wrong for Barlett and Steele was Ronald Reagan and Democrats giving in to business interests. To give you a flavor of their liberal crusading spiced up with exaggerated hype about the dire conditions of the country, here's a quote from a 1991 installment on deregulation:
"For you, the American taxpayer and consumer, deregulation has meant fewer airlines and higher air fares, more unsafe trucks on the highways, and your tax money diverted to pay for the S&L debacle....The results: There are more rich people than ever before. There are more poor people than ever before. And the ranks of those in between are shrinking, their standard of living falling."
For an idea of how loose they are with basic facts, here's an excerpt from the December 1991 MediaWatch article on the series:
Assertion: A dramatic front page chart showed a 13-inch high stack of dollar bills labeled "Increase in the salaries of people earning more than $1 million: 2,184 percent." In contrast, a quarter-inch high stack reflected the 44 percent growth in salaries of those making $20,000 to $40,000.
Reality: Barlett and Steele's numbers reflected the total, non- inflation adjusted, dollars earned by everyone reporting an income over $1 million, not the "increase of salaries of people earning more than $1 million." Translated: In 1983, 10,800 households reported an income of over $1 million, for a total of $24 billion. By 1988, millionaires reported $172 billion in income. But that's because the number of households reporting a $1 million-plus income soared six-fold to 65,300. As Joint Economic Committee economist Chris Frenze explained to MediaWatch, the 1986 tax reform cut the marginal rate from 50 to 31 percent, leading the wealthiest to take money out of shelters and report it as income.
END Excerpt
To read the MediaWatch Janet Cooke Award on the series, go to: http://www.mrc.org/mediawatch/1991/watch19911201.asp#Award
A few months later, far from being embarrassed by its shameless manipulation of emotions through misleading generalities in the "America: What Went Wrong" series, Barlett and Steele wrote a front page story on the unfairness of a capital gains tax cut. They charged that a cut would "encourage another round of corporate takeovers, such as the ones in the 1980s that led to the closing of plants and the elimination of jobs." They also preposterously asserted: "An Inquirer analysis of the 70-year history of the capital gains preference shows no evidence linking the tax to the creation of jobs."
To read a MediaWatch article about this story, go to: http://www.mrc.org/mediawatch/1992/watch19920201.asp#FiveB
After their book was published in the spring of 1992, MediaWatch asked: "So who in the media have cared enough to check Barlett and Steele's wild assertions? Just Philadelphia magazine Senior Editor Paul Keegan. In April he found: 'Their series is so fundamentally flawed, its intellectual underpinnings so weak, that it actually says little about what went wrong with America, and everything about what went wrong with Barlett and Steele.'"
Nonetheless, Time considered them a great addition to the staff. In a "To Our Readers" letter in the November 9 edition, Time Editor-in-Chief Norman Pearlstine, crowed: "Barlett and Steele came to Time, Inc. 18 months ago from the Philadelphia Inquirer, where, over 26 years, they earned their reputations as America's finest investigative reporters."
More like America's finest transformers of liberal polemics into a news story format. Liberals and conservatives oppose corporate welfare, but I bet the series approaches the subject from the left. Next week Time promises "Life with America's Biggest Sugar Daddy."

From the November 5 Late Show with David Letterman, the "Top Ten Famous Politician Wrestling Nicknames." Copyright 1998 by Worldwide Pants, Inc.
10. "Sneak Attacki" Pataki.
9. "Attitude Fixin'" Richard Nixon
8. Strom "The Vi-Aggravator" Thurmond
7. John Quincy Badass
6. Ted "The Plastered Bastard" Kennedy
5. Barbara "Don't Be Fooled By The Name -- She's Actually a Wrestler" Boxer
4. Eleanor "Macho Man" Roosevelt
3. Al "Da Loser" D'Amato
2. Bill "The Internator" Clinton
1. Chairman Pow
And from the Late Show Web page, some of "the extra jokes that didn't quite make it into the Top Ten."
-- Margaret "The Iron Girdle" Thatcher
-- Hillary "Nutcracker" Clinton
-- Bill "Homewrecker" Clinton
-- Al "Bore 'n' Snore" Gore
-- Jimmy "J.J." Carter
-- Gerald "Built Like A "Ford
-- Bill "Openfly" Clinton

One more Ratherism on top of the "this race was as hot and squalid as a New York elevator in August" cited in the November 4 CyberAlert and the "nasty enough to gag a buzzard" quip quoted in the November 5 CyberAlert.
On Thursday's FNC Fox Report, in an item on how Dan Rather will be part of the upcoming 60 Minutes II, co-anchor Jon Scott highlighted another election night Ratherism: "He said when folks heard a former wrestler won the Minnesota Governorship they couldn't have been more surprised than quote, 'if Fidel Castro came looping through on a hippopotamus.'"
Experience CBS News. What drugs has Rather been experiencing? -- Brent Baker
---
>>> Support the MRC, an educational foundation dependent upon contributions which make CyberAlert possible, by providing a tax-deductible donation. Use the secure donations page set up for CyberAlert readers and subscribers:
http://www.mrc.org/donate
>>>To subscribe to CyberAlert, send a blank e-mail to: mrccyberalert-subscribe
@topica.com. Or, you can go to: http://www.mrc.org/newsletters. Either way you will receive a confirmation message titled: "RESPONSE REQUIRED: Confirm your subscription to mrccyberalert@topica.com." After you reply, either by going to the listed Web page link or by simply hitting reply, you will receive a message confirming that you have been added to the MRC CyberAlert list. If you confirm by using the Web page link you will be given a chance to "register" with Topica. You DO NOT have to do this; at that point you are already subscribed to CyberAlert.
To unsubscribe, send a blank e-mail to: cybercomment@mrc.org.
Send problems and comments to: cybercomment@mrc.org.
>>>You can learn what has been posted each day on the MRC's Web site by subscribing to the "MRC Web Site News" distributed every weekday afternoon. To subscribe, send a blank e-mail to: cybercomment@mrc.org. Or, go to: http://www.mrc.org/newsletters.<<<
---
Home | News Division | Bozell Columns | CyberAlerts
Media Reality Check | Notable Quotables | Contact the MRC | Subscribe