Danger of "Extreme Right-Wing"; Gingrich Skipped; Livingston's Outburst
1) Democrats won't appear on ABC but that doesn't mean their views aren't advocated. Lisa McRee referred to "extreme right-wing conservatives." Connie Chung took up the anti-impeachment cause.
2) On NBC's Today Katie Couric coached Jack Kemp about how the Republicans should broaden their appeal, as if they aren't the majority.
3) Tuesday night all the networks ignored Gingrich's Monday GOPAC talk. CNN compared the "bit less conservative" Jennifer Dunn to the "fiercely conservative" Steve Largent. FNC focused on how Clinton's retort to Hyde's questions puts Democrats in a quandary.
4) ABC and NBC showcased Livingston's floor outburst in profiles of him. CBS had a top Democrat assess whether he's better than Gingrich, but only CBS led with Justice questioning Clinton.
5) Letterman's "Top Ten Real Reasons Newt Gingrich is Leaving."
6) A Parade magazine excerpt of a book by Peter Jennings says "fear of communism leads to the Korean War," not the invasion.
---
>>> Contrarian Media. A story Geraldo Rivera should watch. From the abcnews.com Web site, the plug for a story set to run on the Wednesday night 20/20: "Lying Under Oath. In the wake of the Monica Lewinsky scandal, many Americans may feel that it is okay to lie under oath in a civil suit. This is simply not so. Sam Donaldson talks to three women who did just that, and paid a very high price -- time in prison." <<<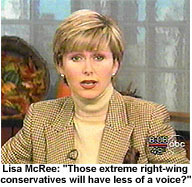 Democrats won't cross the NABET picket line to appear on ABC News shows, but it doesn't mean their liberal views are no longer advocated on air. The Democrats still benefit from an on-air staff which reflects their thinking.
On Monday's Good Morning America, co-host Lisa McRee interviewed Republican Congressmen Chris Cox and Steve Largent. MRC analyst Jessica Anderson caught this question in which McRee used a loaded label about "extreme" conservatives, asking Cox:
"Ninety percent of the voters we talked to said they want more cooperation and less confrontation. Let's turn to you, Congressman Cox. Do you think now that the Republican voice will become more moderate and that those extreme right-wing conservatives will have less of a voice?"
She certainly hopes so.
A bit later on the November 9 show Connie Chung, previewing the House hearing later in the day, pressed from the left in interviewing two professors, one who believes Clinton's actions are impeachable and one who does not.
To Northwestern University Law School Professor Stephen Presser, who believes Clinton's offenses, if true, are impeachable: "When President Nixon, when the articles of impeachment were voted on regarding President Nixon, filing a false income tax return was not part of the article, the articles of impeachment which were passed. Aren't you raising the bar a little too high?"
To Presser and anti-impeachment Harvard University Law School Professor Laurence Tribe: "Allow me to just pose one final question to both of you, and that is that the voters have spoken. This last election made it very clear that they don't want to have anything to do with impeachment, so shouldn't the will of the people rule?"


Demanding conservatives and Republicans respond exclusively to the Democratic spin is not limited to GMA. Though Republicans are in the majority in both Houses of Congress, on Tuesday morning, MRC analyst Geoffrey Dickens observed, Today co-host Katie Couric spent an entire interview segment with Jack Kemp arguing that they must broaden their appeal and be less conservative. Just what Republicans were doing for 40 years while in the minority. Here are all of her November 10 questions.
-- "Seems like the Republican party has been saying this for a long, long time. 'We want a big tent, we want to broaden our appeal.' Why can't you do it?"
-- "When it comes to the GOP's failure in these recent midterm elections as far as I understand you would say there were two things they forgot, Ronald Reagan and minorities."
-- "During the campaign did Republican candidates and the Republican party in general spend too much time concentrating on the President's problems with Monica Lewinsky and not enough on solutions for America's problems?"
-- "So what will the Republican Congress need to do vis a vis these impeachment hearings? I mean the American people have made...[Kemp interrupts]"
-- "What about some of these very right wing Republicans who like to discuss very socially divisive issues? You don't support what you call sort of conservative activism. Or that you have a name for that in terms of pushing a conservative agenda in a legislative forum. Social agenda."
-- "Right but you believe as Ronald Reagan did that some of these social issues should be decided within the context of a home or churches or outside of government."
-- "Real quickly, you gonna run for President in the Year 2000?"


Though Newt Gingrich did not address GOPAC until 9pm ET Monday night, too late for even the West coast feeds of the evening shows, on Tuesday night none of the networks evening shows mentioned his good-bye speech. On Monday night, MSNBC carried it live for about three minutes at the top of The News with Brian Williams before Williams interviewed Dick Gephardt about how Gingrich was too partisan. FNC stayed with Gingrich for about ten minutes and then went to Hannity & Colmes. Other than C-SPAN, only CNN stuck with Gingrich until 9:45. CNN followed with an expanded Larry King Live until 11pm ET, knocking off a repeat of Newsstand: CNN & Time.
Tuesday night, November 10, ABC, CBS, CNN and NBC all led with the big snowstorm in the upper Plains states followed by reports on the buildup to a possible showdown with Iraq. FNC started with an 8 year-old Jacksonville girl found dead under a neighbor's bed.
The broadcast networks avoided Washington politics. The closest they came: ABC ran "A Closer Look" and NBC devoted its "In Depth" segment to the terrorist campaign against abortion providers and how the Justice Department is offering a $500,000 award for Slepian's killer. The CBS Evening News featured an Eye on America on the 75 death row inmates set free, since the Supreme Court reinstated the death penalty, because they were wrongfully convicted. Dan Rather introduced the story by noting: "Many lawmakers are outraged over convicts who sit for years on death row using their seemingly endless legal appeals. On the other hand there are the death row alumni, convicts who escaped executions when their convictions turned out to be false."
About half way through CNN's The World Today Brooks Jackson looked at the battle for Majority Leader with Jennifer Dunn and Steve Largent challenging Dick Armey. Jackson asserted: "On substance, Dunn is a bit less conservative on some issues. Examples: Armey and Largent voted against public funding for abortions in the District of Columbia. Dunn voted for. And on cutting the federal gas tax, forcing states to fund their own roads, Armey and Largent were for, Dunn was against. Largent is the most fiercely conservative, one of only 17 who voted to keep the federal government closed after a three week shutdown in 1996."
Jackson concluded: "Running for these House offices is often like running for class President -- more about personalities than issues. And so it is this time."
Co-anchor Jim Moret took a few seconds to uniquely note that John Huang has received limited immunity from Starr for information on Webster Hubbell.
On FNC's Fox Report David Shuster checked up on the questions submitted five days ago by Henry Hyde to Clinton and learned the White House has yet to decide what to do. Shuster explained the quandary facing Democrats on the Judiciary Committee:
"For committee Democrats each passing day seems to raise the possibility that they will be placed in a box. If Mr. Clinton denies that he lied under oath Democrats would have a difficult choice -- either contradict the President, saying in effect that he continues to mislead, or support Mr. Clinton's version of the facts. But that would require calling witnesses and stringing out hearings that Democrats said should end quickly."


Infighting among House Republicans for the number two slot as Bob Livingston secured the number one position, topped the ABC, CNN, FNC and NBC evening shows Monday night. CBS went first with how Justice Department lawyers questioned Clinton about his involvement in 1996 "issue" ads on his behalf. ABC gave this only a sentence, the rest cited it in larger stories. All but FNC ran profiles of Livingston with all but the one on CBS showcasing a soundbite of his yelling on the floor in a debate about giving in to Clinton in late 1995 debate related to the government shutdown.
On CBS Phil Jones had a top Democrat assess whether Livingston is better than Gingrich and he asserted "they will still be going after Social Security. They will be against major health care reform." Jones decided that the challenge to Armey means "it's going to be a while before Republicans can talk about civility," concluding: "What began as the 1994 Contract with America, has actually turned into a contract on the political lives of most of the revolution's leaders."
All mentioned how the Judiciary Committee heard from scholars on both sides of the debate over whether Clinton's offenses are impeachable, but only FNC emphasized how the consensus was that it's either impeachment or nothing, "a major setback to lawmakers thinking about a compromise with the President." And every network gave brief mention to how the Supreme Court let stand rulings on how Bruce Lindsey and the Secret Service do not have a privilege to avoid testifying.
Here are some highlights from the Monday, November 9, evening shows:
-- ABC's World News Tonight led with Linda Douglass on how Chris Cox dropped out, clearing the way for Livingston to become Speaker. Noting he wants to sharpen Republican message, she cautioned: "But first he must deal with the 800 pound gorilla, which is being driven by conservatives on the Judiciary Committee."
After clips of scholars on each side, she concluded:
"Some Republicans would like to find a magic bullet that would make impeachment disappear. But Judiciary Committee members don't want to be seen compromising their principles. Finding the solution will be Bob Livingston's first big management challenge if, as expected, he becomes Speaker."
Peter Jennings reviewed the "distinguished history" of the Livingston family, which included a signer of the Declaration of Independence and a Mayor of New York. Jennings explained that his father abandoned his mother so she raised him alone. Then he got to the infamous clip:
"Mr. Livingston knows the power of an outburst."
Livingston, yelling in December 1995: "As Winston Churchill said, we will never, never, never give in. We will stay here til Doomsday. And Merry Christmas."

-- CBS Evening News. Dan Rather opened: "Good evening. New post-election shockwaves tonight and not all of them in the Republican camp. Among them: With a renewed push by Republicans to appoint yet another special prosecutor, President Clinton was questioned behind closed doors by the Justice Department for its investigation of possible campaign fundraising violations....."
Scott Pelley reported on how Clinton was questioned for an hour and a half about the $40 million ad campaign paid for with soft money DNC funds. Pelley soon jumped to the House hearings, running a clip from each side.
Next, Phil Jones noted Livingston's lock on the Speakership, letting a Democrat evaluate whether he's better than Gingrich.
Jones: "The question is will any of this make any difference to most Americans? David Obey is senior Democrat and a friend of Livingston."
Obey: "I think you'll get the same legislation you would have gotten with Gingrich. They will still be going after Social Security. They will be against major health care reform. They'll still be going after environmental laws. The difference is that members will get along better, it will be a little less of a personal snake pit here."
Jones: "It's going to be a while before Republicans can talk about civility. Tonight Dick Armey, the Majority Leader on the Gingrich team, already facing one opponent, Steve Largent, has still another challenger, Jennifer Dunn of Washington State. Some Republicans want a woman in a high leadership post. And so the political blood-letting continues. At this point what began as the 1994 Contract with America, has actually turned into a contract on the political lives of most of the revolution's leaders."

-- CNN's The World Today. Bob Franken looked at the leadership battles and Jonathan Karl profiled Livingston, noting he has a black belt and showing the outburst clip. Charles Bierbauer filed a full report on the impeachment scholars before anchor Jim Moret noted how Clinton had been questioned. Later, while waiting for Gingrich to begin his GOPAC talk, Brooks Jackson looked at the Republican Governors who won and Martin Savidge reviewed the history of GOPAC.

-- FNC's Fox Report led with Jim Angle on the two White House losses before the Supreme Court. David Shuster offered a contrarian angle on the scholars: "It was a major setback to lawmakers thinking about a compromise with the President. Nearly all of the legal scholars testified impeachment is the only constitutional punishment available." Carl Cameron highlighted Gingrich's welcome back to the Capitol and the battle for he number two slot as well as a challenge to House Republican Conference Chairman Boehner.

-- NBC Nightly News. Gwen Ifill began by showing a "hero's welcome" on Capitol Hill for Gingrich before moving on to summarizing the races for the leadership positions. Ifill concluded: "Livingston assured one top Republican today that it's his intention to be Speaker of the House not Speaker of the World, a not so veiled reference to the beginning of the post-Gingrich era."
Brokaw introduced a Lisa Myers profile of Livingston:
"Well before he became Speaker Gingrich was well-known in national politics, the conservative commando with the strategy first taking control of the House, then reforming welfare, reducing the role of government, trying a variety of new approaches to old problems. He did change a lot of the old rules but in the end his friends got him, including the man who will succeed him. As little known as Gingrich is famous."
Lisa Myers explained how Livingston is not a visionary but a manager, adding: "The 6 foot, five inch former prosecutor has a black belt in martial arts, plays the harmonica and has a flair for drama. He had this to say during the 1995 government shutdown."
Livingston yelling in an unedited version of what ABC showed: "As Winston Churchill said, we will never, never, never give in. We will stay here til Doomsday. Defeat this motion to recommit and pass this continuing resolution. And Merry Christmas."
Myers: "Livingston vows never to do that again. He said even his mother said he looked like a lunatic."
Myers recalled how he's a "man of modest means" who is a "pragmatic conservative" most often described as "tough."
From the White David Bloom ran through bad news for Clinton on three fronts: a) impeachment hearings today and Hyde vowed to press on; b) Supreme Court victories for Starr on Lindsey and Secret Service testimony; c) Clinton questioned about breaking spending limits during the 1996 campaign.


From the November 9 Late Show with David Letterman, the "Top Ten Real Reasons Newt Gingrich Is Leaving." Copyright 1998 by Worldwide Pants, Inc.
10. Vernon Jordan got him a job at Revlon.
9. Figured he'd have a decent chance playing for the Knicks' scab team.
8. Phil Donahue wants the hair back.
7. Ran out of personalized House of Representatives stationery, didn't realize he could order more.
6. Finally taking that romantic Caribbean cruise with Pat Buchanan.
5. Fears 20-year-old nude photos will turn up on the Internet.
4. Just doesn't feel Newty anymore.
3. Do you know what it's like working side-by-side with Barbara Boxer every day and not be able to touch her, not be able to hold her?
1. Strom's starting to get a little "ripe."
And from the Late Show web page, some of "the extra jokes that didn't quite make it into the Top Ten."
-- Tired of Ted Kennedy cutting in line at the congressional all-you-can-eat chili bar.
-- Tired of being the only politician interns wouldn't fool around with.
-- This season, wants to be full-time department-store Santa.
-- Once in a lifetime opportunity to play curmudgeonly college janitor on "Felicity."
-- All that blah-blah-blah about laws and stuff gets on your nerves after a while.


The November 8 Parade, the Sunday newspaper supplement, featured an excerpt from The Century, a book by Peter Jennings and Todd Brewster which is a companion to a 27-hour series on this century to air on ABC next year. Across the bottom of the pages Parade ran a timeline. Here's the item for 1950: "Fear of communism leads to the Korean War -- and to McCarthyism."
No earlier item in the 1930s or 1940s on how "fear of Nazism leads to World War II." --Brent Baker

---
>>> Support the MRC, an educational foundation dependent upon contributions which make CyberAlert possible, by providing a tax-deductible donation. Use the secure donations page set up for CyberAlert readers and subscribers:
http://www.mrc.org/donate
>>>To subscribe to CyberAlert, send a blank e-mail to: mrccyberalert-subscribe
@topica.com. Or, you can go to: http://www.mrc.org/newsletters. Either way you will receive a confirmation message titled: "RESPONSE REQUIRED: Confirm your subscription to mrccyberalert@topica.com." After you reply, either by going to the listed Web page link or by simply hitting reply, you will receive a message confirming that you have been added to the MRC CyberAlert list. If you confirm by using the Web page link you will be given a chance to "register" with Topica. You DO NOT have to do this; at that point you are already subscribed to CyberAlert.
To unsubscribe, send a blank e-mail to: cybercomment@mrc.org.
Send problems and comments to: cybercomment@mrc.org.
>>>You can learn what has been posted each day on the MRC's Web site by subscribing to the "MRC Web Site News" distributed every weekday afternoon. To subscribe, send a blank e-mail to: cybercomment@mrc.org. Or, go to: http://www.mrc.org/newsletters.<<<

---
Home | News Division | Bozell Columns | CyberAlerts
Media Reality Check | Notable Quotables | Contact the MRC | Subscribe