CBS Hits Livingston's PAC; Prosecutions for Lying; FNC Takes on CNN
1) First out of the box with a hit on Bob Livingston: CBS's Eric Engberg on the evils of how "Livingston exploited gaping legal loopholes in the election laws."
2) Only the cable networks covered Lucianne Goldberg's appearance in the Tripp taping case. All led the last two nights with Iraq.
3) Today and 20/20 highlighted how people are prosecuted and get prison time for lying about sex in a civil case. NBC's Matt Lauer: "You are currently being punished for doing exactly what the President is being accused of doing."
4) FNC focused on the controversy about how CNN's Cold War series reflects moral equivalency between the Soviet Union and U.S.
5) The CBS drama JAG found ratings gold in producing an episode based on CNN's discredited Tailwind story.
6) Rivera's advice: "I'm gonna do everything I can to prove that there is a vast right-wing conspiracy that's been out to smear this man." And now Rivera's also on MSNBC for two hours a night.
---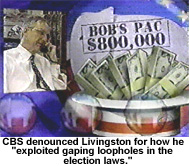 Thursday night CBS News became the first network to deliver a hit on Speaker-to-be Bob Livingston, portraying his legal fundraising work on behalf of House candidates as sleazy. And despite Dan Rather's boast about a "CBS hard news investigation," anyone could have read the same story in a newspaper the day before.
Mid-way through the November 12 CBS Evening News, Dan Rather announced:
"A CBS hard news investigation tonight digs deep, into the drive to dump Newt Gingrich and have Louisiana's Bob Livingston take over as House Speaker. Turns out Congressman Livingston is a master at winning friends and influencing people the old-fashioned way."
In a "Follow the Dollar" report Eric Engberg explained how Livingston, who ran for re-election unopposed, had $600,000 in funds to give candidates and he created BOB's PAC to distribute another $800,000. Engberg then ominously intoned:
"And CBS News also found that Livingston exploited gaping legal loopholes in the election laws to get more bang for his buck by channeling donations from business lobbyists through his PAC to other GOP campaigns. Federal Election Commission records show how it works. Example: In September United Parcel Service sent Livingston's PAC a check for $5,000, but it's made out to a House candidate named Ernie Fletcher. Records show the check is earmarked for Fletcher and that BOB's PAC simply passes it on to him. Livingston thus collects the political chit. All tolled, business PACS delivered checks totaling about $50,000."
After allowing no time for anyone to defend Livingston or this type of fundraising, but following two soundbites from an official with the Center for Responsive Politics, Engberg concluded: "Playing the money game better than anyone, Livingston became the unopposed king of the Hill by first becoming the king of cash."
So, this was a "CBS hard news investigation" that "digs deep." Yeah, deep into page A14 of the Washington Post from the day before. "PAC Gave Speaker-to-Be Some Reach: New in Spring, It Grew to $1 Million, Most of Which Went to Aid House Candidates" read the November 11 headline. Here's an excerpt from the piece by Washington Post reporters Charles R. Babcock and Ruth Marcus:
When House Appropriations Chairman Bob Livingston (R-La.) decided last spring to make a bid for speaker, one of his first orders of business was setting up a political action committee.
Livingston's leadership PAC was aptly named "B.O.B.S. PAC," for "building our bases," and the new fund-raising tool allowed him to do just that.
In the space of six months, B.O.B.S. PAC became one of the largest leadership PACs on the Hill. In a coast-to-coast, industry-by- industry fund-raising drive, it took in more than $1 million and handed out close to $800,000 in contributions to Republican candidates, much of it to the House members whose votes Livingston needs to succeed outgoing Speaker Newt Gingrich (R-Ga.).
That money came on top of the more than $600,000 Livingston gave to the party and individual candidates out of his personal campaign funds, and the separate events that Livingston -- a big draw as Appropriations chair -- hosted directly to support GOP contenders....
END Excerpt
Babcock and Marcus proceeded to cite examples of business PACS giving money to Livingston's PAC that was then passed on to specific candidates. Babcock and Marcus should get a research fee from CBS News.


Wednesday and Thursday night ABC, CBS, CNN, FNC and NBC all led with multiple stories on the build-up against Iraq. ABC and NBC have not run a political story since Monday and after two nights off neither did CBS until its Thursday hit on Livingston detailed in item #1 above. The Thursday, November 12 The World Today on CNN and FNC's Fox Report did feature full stories on the appearance by Lucianne Goldberg before a Howard County, Maryland grand jury looking at whether Linda Tripp violated state law by taping conversations while in her Columbia, Maryland home.
(On Wednesday night, November 11, NBC and FNC aired full reports on the OJ Simpson child custody situation and all ran pieces on the 80th anniversary of the end of World War I. FNC's Fox Report ran a short item read by the anchor on how Senator Arlen Specter recommended dropping the impeachment inquiry and having Clinton face charges after he leaves office. CNN's Jonathan Karl provided a report on how some Republicans, led by Brian Bilbray of California, think the inquiry is hurting the party so an estimated 20 GOP members a "poised" to vote against impeachment if it reaches the full House.)
To give you a flavor of the showdown with Iraq news, here's how each of the broadcast networks opened Thursday night:
-- Peter Jennings on ABC's World News Tonight: "Good evening. We begin tonight with the high-stakes blame game between the United States and Iraq. The Clinton administration says again today that Saddam Hussein is liable to be attacked very shortly because he will not abide by the rules for international weapons inspection. The Iraqi government says there's a stand-off because the Clinton administration will not allow international economic sanctions against Iraq to be lifted. It's a very messy business in which it is difficult for Iraq or the United States to prevail."
-- Dan Rather on the CBS Evening News: "Good evening. Quote, 'We're not playing games anymore with Saddam Hussein.' That's the word tonight from the President of the United States. Push may come to shove within the next 48 to 96 hours."
-- Tom Brokaw on the NBC Nightly News: "Good evening. The message to Iraq tonight could not be more clear: Major, sustained air strikes are headed your way unless Saddam Hussein allows UN weapons inspectors back into that country."


Now they tell us. After months of hearing how no one is ever charged with perjury for lying about sex in a federal civil case, never mind getting punished for it, on Wednesday NBC's Today and ABC's 20/20 showed how that's just not "legally accurate" or otherwise true. Today interviewed a psychiatrist in home detention for lying about sex with a patient and ABC's Sam Donaldson told her story plus found two other examples of women who got actual prison time for lying about sex in a federal civil case. That's exactly what Geraldo Rivera says never happens, causing him to lose a bet, a fact his colleagues at Today were not hesitant to point out.
Here are some excerpts from both stories.
-- From the November 11 Today, as transcribed by MRC analyst Geoffrey Dickens. Co-host Matt Lauer opened the 8am hour item:
"In the wake of this year's scandal in Washington some people have suggested that lying under oath in a civil suit never gets prosecuted especially when the topic is sex. Well as NBC's Dan Abrams tells us now that's not entirely true."
Dan Abrams began: "Many of the nation's leading legal scholars appeared before Congress this week debating whether the President's actions could be considered impeachable offenses."
After clips from scholars on both sides, Abrams continued: "And one presidential historian who worked in the Kennedy White House questioned the whole idea of prosecuting someone for lying about sex....That was the issue raised by Geraldo Rivera on his CNBC talk show earlier this year when he issued the following challenge."
Geraldo Rivera on CNBC: "If anyone could find another instance of a federal perjury prosecution for a sex lie, especially one told in a dismissed civil case, in other words a case just like the prosecution of Bill Clinton we would pay $10,000."
Abrams: "Rivera's point? No prosecutor would have even considered charging President Clinton for lying in the Paula Jones case if he weren't the President. But months later attorney Victoria Toensing found a similar case which was prosecuted."
Victoria Toensing: "Earlier this year, a woman psychiatrist in a VA hospital had oral sex with her male patient. He later sues for medical malpractice. She in a civil proceeding denies it. He, ala Linda Tripp, tape records their conversations and the Justice Department indicts her."
Abrams: "In that case Barbara Battalino was charged with perjury and in a plea bargain received 6 months of home detention. Rivera paid up. And while federal prosecutions for lying are rare they do happen."
Abrams concluded: "The majority of those cases weren't about civil depositions or about sex and while that might help the President it won't help Geraldo get his money back."
Lauer then interviewed Barbara Battalino from her home in Los Osos, California, where she's under house arrest. Lauer got right to the point: "You are the person we just heard about in that story. So just to get things straight. You are currently being punished for doing exactly what the President is being accused of doing. Do you think there are two standards of justice at work here?"
Two more of Lauer's questions emphasized the double standard afforded Clinton:
"You have been obviously not given the kind of attention that the President has been given but you think legal scrutiny, in terms of legal scrutiny you are being held to a higher standard."
"Now lets talk about what's happened to you. You are under house arrest. You had to give up your federal job as a psychiatrist at the Veteran's Affair administration. You resigned your medical license and you paid a fine. The President still has his job, still has a license to practice law and there has been no fine. How do you feel about it?"

-- Wednesday night on ABC's 20/20 Sam Donaldson declared:
"You hear some people say on television or in the newspaper that no one gets prosecuted for lying under oath in a civil suit, certainly not if they're lying about sex. The question of what the evidence shows in the case of President Clinton is now being investigated by the House Judiciary Committee. And tonight, we are passing no judgment on that, not even looking at that. But as to the overall proposition that no one really gets in trouble in such cases, you're about to meet three women who have first hand knowledge about that. Here are their stories."
Donaldson proceeded to detail three cases, interviewing all three women on-camera: Diane Parker, currently serving 13 months in federal prison in Florida, former University of South Carolina basketball coach Pam Parsons who served four months in the mid-'80s, and Battalino. Donaldson explained: "These three women have never met. But they have something in common. They were all convicted of perjury because they lied under oath about sex in a civil suit."
Before getting to the specific cases, Donaldson allowed federal judge Lacey Collier to tell why perjury matters in all cases: "If a person comes to court and cannot be counted on when he takes the oath, then that's very destructive of the entire system because truth, justice, that is what we're all about in the judicial system. And it fails when the truth is not told under oath."
In the Parker case, she was a postal worker. A colleague sued the Post Office alleging she had sexually harassed him. While she denies they ever had sex, they did go on a personal trip together, a fact she denied in a deposition.
In the Parson case, in 1981 Sports Illustrated ran a story raising the allegation that she had sex with a member of the woman's basketball team she coached. Donaldson elaborated: "Parsons filed a civil suit against Time, Incorporated, the publisher of Sports Illustrated, asking for $75 million. She gave a deposition under oath in which she denied that she and the player in question had had a sexual relationship. The problem was, she was lying." Time won and Parsons was prosecuted for perjury, Donaldson noted: "In 1985, Parsons and her lover spent four months in a minimum security prison."
Without explicitly mentioning Clinton or the usual crew of Clinton apologists on CNBC and MSNBC, Donaldson observed:
"Federal district judge Lacey Collier says he's disturbed when he sees people on television argue that it's no big deal to lie in a civil suit or that no one gets prosecuted for perjury in such cases."
Collier: "So I would hate to think that I would have to sentence someone who came before me and their defense was that I heard such-and-such a professor or Sam Donaldson say that nobody ever got prosecuted for this, and then why are you giving me a year in jail, which is what the guidelines require. That's troubling to me just as a judge."
After the story, Diane Sawyer asked Donaldson: "I know it wasn't your story, but did any of them compare themselves to President Clinton?"
Donaldson gave a bit of hope to Clinton: "Well, we didn't ask any of the women about the President. But Diane Parker did volunteer that she thinks Mr Clinton should be let alone."
Sawyer nonetheless stressed the bigger picture: "But the message is sometimes perjury is prosecuted."
Donaldson: "Tonight, there are at least 115 people in federal prison solely because of a perjury prosecution. So while some people don't have to pay the price, Diane, as we've seen tonight, some people do."
Now, how long before evening news viewers learn any of this?


FNC picked up on the controversy over CNN's Cold War series. On Thursday's "Fox Files" segment on the 7pm ET Fox Report co-anchor Jon Scott introduced the piece:
"CNN's not just reporting the news these days, it's back in the news again. The network that last made headlines over its erroneous reporting on the Tailwind story is now taking shots over a documentary series on the cold war."
Eric Burns began by allowing Catholic University historian Lee Edwards to commend CNN for making a $12 million investment in a serious topic and uncovering fresh archival footage. Burns then played this series of soundbites interspersed with his prompts:
John Leo of U.S. News & World Report: "It makes an exact moral equality between the Soviet Union and the United States."
Edwards: "This idea that both the Soviet Union and the United States were responsible for the cold war."
Burns: "In equal shares."
Edwards: "In equal shares."
Leo: "An outrageous point."
Burns: "It is also a point that a great many historians do not accept."
Edwards: "The Soviet system collapsed because it was brutal and it suppressed the rights and obligations and liberties of millions and millions of people."
Burns: "And killed many of them."
Edwards: "Killed them, of course."
Burns: "Is this now, Lee, the consensus opinion of historians?"
Edwards: "Absolutely."
Burns went on to note that both columnist Charles Krauthammer and the Weekly Standard recently made the moral equivalence criticism, allowing Edwards to complain: "When you start equating, as this series does, Joe Stalin and Joe McCarthy. The KGB and the FBI..."
Burns read a response from CNN's Steve Haworth: "How anyone can measure moral equivalency strictly in terms of air time devoted to separate subjects is beyond me." Burns added that "Jeremy Isaacs, co-executive producer of the series, points out that it includes a vivid description of the violence of Stalin's regime, a comparison of the Soviets and Nazis and an account of Soviet takeover techniques."
Let me try to help Haworth. It's not just that equal time is devoted to the bad things done by both sides it's that by giving each side's bad things equal weight and time CNN's series does suggest both were equally wrong or equally culpable for the cold war. As Krauthammer wrote in a column run in the October 30 Washington Post about episode 6 which aired on November 1:
"The premise is explicit: There was paranoia on both sides of the Iron Curtain. 'Both sides turned their fear inward against their own people. They hunted the enemy within.' In the Soviet Union it produced he gulag; in the United States the Red scare. Half the show on one, half on the other. This is moral equivalence with a sledgehammer...."
I hope the November 1 episode was an aberration to an otherwise quality series, but I'm not confident. CNN has yet to get to the 1960s, Gorbachev, Reagan and "Star Wars." This Sunday's 8pm and 12 am ET episode is called "Sputnik." Here's the plug from the CNN Web page: "With security and pride at stake, the Americans and Soviets embark on a decades-long space and arms race." Last week's show on Stalin will air again Friday and Saturday night at 10pm ET and PT.

To read the October 30 CyberAlert on the Cold War series, which includes excepts from a critical New Republic story, go to: http://www.mediaresearch.org/cyberalerts/1998/cyb19981030.html#4
If you have any doubts about the moral equivalence displayed in the November 1 "Reds" episode on the 1950s, go to the Cold War web page which has transcripts for all the already aired episodes: http://www.cnn.com/coldwar


More bad news for CNN. Thanks to CBS a lot more people know about the Tailwind story than ever saw it in the first place. As reported by Lisa de Moraes in the November 12 Washington Post:
CNN's discredited "NewsStand" report on the use of sarin gas during the Vietnam War may have been a debacle for the cable network, but it was a ratings gold mine for CBS. The eye network's drama series "JAG" pulled down its biggest audience ever Tuesday night -- about 17.1 million viewers -- with an episode based on the subsequently retracted CNN report.
The episode of the "Few Good Men"-ish drama series featured Lt. Cmdr. Harmon Rabb Jr. (star David James Elliott) -- a former ace pilot turned lawyer -- helping a congresswoman investigate a journalist's report that U.S. soldiers used the nerve gas to kill fellow Americans during the Persian Gulf War.
Only about 722,000 viewers watched CNN's first telecast of its Operation Tailwind report, on the June 7 debut edition of "NewsStand," which alleged that the United States used sarin against American defectors during the Vietnam War. A second telecast, at 1 a.m. June 8, averaged 400,000 viewers. CNN retracted the story in July.
END story


An impassioned Geraldo Rivera jumps to Clinton's defense by denigrating Ken Starr. And now NBC's cable channels are featuring him for five hours a night.
MRC analyst Geoffrey Dickens caught this advice for Clinton's lawyers from Rivera on the impeachment hearings. On CNBC's Rivera Live he demanded:
"Because if I were the President's lawyer I wouldn't let Starr be the only witness. The public be damned, excuse me ladies and gentlemen, but I'm not gonna let my client go down for reasons of expediting our discomfort. I'm gonna call any witness I can to prove that Ken Starr is a partisan zealot who has had a chip on his shoulder and has it in for my client from the get-go. And I'm gonna do everything I can to prove that there is a vast right-wing conspiracy that's been out to smear this man."
Whether it's temporary or permanent I don't know, but this week NBC has decided to nearly double Rivera's night-time exposure. In addition to Upfront Tonight at 7:30pm and 2:30am ET (4:30 and 11:30pm PT) and Rivera Live at 9pm and 12am ET (6pm and 9pm PT) on CNBC, MSNBC now repeats Rivera Live at 10pm and 1am ET (7pm and 10pm PT) each night, replacing Time & Again.
Just what we need. More Geraldo. --Brent Baker

---
>>> Support the MRC, an educational foundation dependent upon contributions which make CyberAlert possible, by providing a tax-deductible donation. Use the secure donations page set up for CyberAlert readers and subscribers:
http://www.mrc.org/donate
>>>To subscribe to CyberAlert, send a blank e-mail to: mrccyberalert-subscribe
@topica.com. Or, you can go to: http://www.mrc.org/newsletters. Either way you will receive a confirmation message titled: "RESPONSE REQUIRED: Confirm your subscription to mrccyberalert@topica.com." After you reply, either by going to the listed Web page link or by simply hitting reply, you will receive a message confirming that you have been added to the MRC CyberAlert list. If you confirm by using the Web page link you will be given a chance to "register" with Topica. You DO NOT have to do this; at that point you are already subscribed to CyberAlert.
To unsubscribe, send a blank e-mail to: cybercomment@mrc.org.
Send problems and comments to: cybercomment@mrc.org.
>>>You can learn what has been posted each day on the MRC's Web site by subscribing to the "MRC Web Site News" distributed every weekday afternoon. To subscribe, send a blank e-mail to: cybercomment@mrc.org. Or, go to: http://www.mrc.org/newsletters.<<<

---
Home | News Division | Bozell Columns | CyberAlerts
Media Reality Check | Notable Quotables | Contact the MRC | Subscribe