ABC's Fairness Decree; Starr Hit in Advance with Democratic Attacks
1) ABC ended live coverage of the Starr hearing before CBS and NBC because, Peter Jennings explained, Republicans weren't attacking Ken Starr and that's not fair.
2) ABC stressed how Democrats didn't defend Clinton. Dan Rather said Starr outlined "alleged" impeachable offenses and harped on how Clinton's lawyers faced "time and content restrictions."
3) ABC's Tim O'Brien gave Ken Starr a preview of Democratic attacks, hitting him with a bunch of questions about his fairness.
4) Spike Starr on Whitewater. ABC's Lisa McRee demanded: "Why should he have a right to bring it all up during the hearings?"
5) Geraldo Rivera shot back at a guest: "I disagree strongly with your characterization of Ken Starr as a man of law." And Abbe Lowell followed Rivera's script.
---
>>> "Where's the Story on Clinton's Sexual Harassment Insurance?" The latest syndicated newspaper column by MRC Chairman L. Brent Bozell III explores media hypocrisy for demanding Newt Gingrich personally pay his $300,000 penalty but not caring who pays Clinton's settlement with Paula Jones or about why insurance companies have altered rules to pay. In one quote dug up for Bozell by the MRC's Tim Graham, Newsweek's Evan Thomas was outraged by Bob Dole's offer to help Gingrich, implying Gingrich was a crook and bemoaning that Dole had "become an influence peddler so he can post bail for Newt Gingrich." For the next few days the column will be posted on the MRC home page. Or, go to: http://www.mediaresearch.org/columns/news/col19981119.html <<<

ABC's definition of fairness: End hearing coverage for a soap opera so viewers don't hear too much from Republicans and Starr. As ABC News signed off its live coverage at about 3:17pm ET, so the network could show General Hospital, Peter Jennings told viewers they were leaving because Republicans weren't attacking Starr:
"We were trying to make the point a little earlier today that we heard Mr. Starr at length this morning and we saw a lot of Democratic agitation, so we wanted an opportunity for the Democrats this afternoon to have a go at Mr. Starr, in purely generic terms, and the Republicans do not seem disposed to have at him, so we are going to try to keep the sense of balance by coming back a little later on today and listening to Mr. Clinton's lawyer David Kendall question Mr. Starr as well."
Keep in mind Jennings offered this reasoning after Abbe Lowell's grilling of Starr and after several Democrats had their five minutes to attack. (In fact, Kendall did not begin until 8:35pm ET and ABC did not interrupt prime time in the East, but Nightline showed excerpts.)


Ken Starr finally got his side onto the network news Thursday night as the three broadcast networks led with multiple stories about his appearance featuring many soundbite of his comments as well as Democratic attacks on him. But an even balance of comments for and against him is quite an accomplishment in a network news world where, for the past eleven months, correspondents often didn't bother to provide viewers with a pro-Starr response to the spin delivered by Clintonites.
During the day, FNC, CNN and MSNBC, as well as C-SPAN, provided continuous coverage. When Starr finished up at about 10:30pm ET the three commercial cable networks showed some of the wrangling over issuing subpoenas, but all soon went to interviews. CNN ran its normal sports and business shows at 11pm ET, but returned with a special at 12am ET Thursday morning.
The broadcast networks all went live at 10am ET, but NBC signed off at about 11am ET in mid-Starr only to return at noon, just in time for Sheila Jackson-Lee's first nettlesome interruption of Starr. All let their affiliates pick up with regular shows during the 1:15 to 2pm ET lunch break. ABC and CBS resumed live coverage at 2pm ET, but Washington's NBC-owned station did not re-join the hearings until 3pm, after Sunset Beach. As noted in #1 above, ABC cut to General Hospital at 3:17pm ET and NBC and CBS signed off when the hearings had a break just before 4pm ET. That was it in the DC market, though I don't know if PT/MT affiliates were offered more coverage.
The evening shows on the broadcast networks all noted how Starr cleared Clinton in the Travel Office and FBI files matters, observed that few if any minds were changed, aired reports from Tokyo on reaction from the White House spinners and featured video from Tokyo TV of Clinton answering a woman's question about whether Hillary and Chelsea forgave him.
CBS Evening News anchor Dan Rather put all kinds of caveats around Starr, stressing how he delivered a summation "of what he sees as a pattern of behavior that amounts to alleged impeachable offenses." Rather also harped on how "Clinton's lawyers had their first chance to cross-examine Starr but with time and content restrictions." NBC's seconds story: How "moderate" Republicans will block impeachment.
Below are some quotes from the November 19 evening shows made possible by MRC analysts Jessica Anderson, Paul Smith and Geoffrey Dickens who stayed late in case there was an outbreak of bias. There wasn't, but this should give you a flavor of how the networks summarized the big day for those who missed live coverage.
-- ABC's World News Tonight. Peter Jennings began with this pre-theme music tease: "On this Thursday, the Independent Counsel Kenneth Starr tells the House Judiciary Committee in person why he believes the President is liable for impeachment."
He then opened the show: "To begin this evening with the impeachment process and Bill Clinton means, today, the impeachment process and the Independent Counsel Kenneth Starr. Today for only the third time in the country's history, the Judiciary Committee took up the question of whether a President should be impeached, and the only witness today was Mr. Starr, who began with a lengthy statement on what his investigation had concluded. So first we go to Washington and ABC's Jackie Judd."
Jackie Judd began: "Kenneth Starr, as witness for the prosecution, calmly and methodically laid out his case against the President." And she concluded her piece: "Clearly, the Independent Counsel had a huge challenge going into this hearing, to reshape his public image and to restore credibility to his much-maligned investigation. But at least for a couple of hours today, Ken Starr got to focus on what he says is the real issue: the evidence against the President."
Jennings then told George Stephanopoulos: "One of the things that I know struck you, and struck others, was that there was not much defense of the President from the Democrats' questioning of Mr. Starr."
Stephanopoulos agreed: "Amazing. You know, the Democrats don't want to defend what the President did. All they want to say is, whatever he did, it doesn't rise to level of impeachment."
Despite no appearance by ABC's conservative analysts George Will and Bill Kristol during the day or night, ABC managed to stress the point as Linda Douglass opened the next story: "As soon as the hearing began, Democrats tried to shift the focus to Kenneth Starr's behavior." After showing several examples of Democratic attacks on Starr, she concluded: "As for the case against the President, Republicans said today it is clear-cut, a case of lying under oath, which they say is impeachable. Though the Democrats challenged Ken Starr all day long, they did not argue, Peter, with his conclusion that the President did lie repeatedly."
But next, instead of emphasizing how the committee Democrats weren't taking Starr's case seriously, ABC blamed "both sides" for partisan games. Jennings observed to Cokie Roberts: "I'm very struck on how such an historic occasion as this, there's so much political posturing." Roberts concurred: "Indeed, speeches made all day long, by both sides...."

-- CBS Evening News. Dan Rather opened: "Good evening. America's third ever impeach the President inquiry in Congress lasted all day and late into the evening. The venue, the Republican-led House Judiciary committee. The only witness, special prosecutor Kenneth Starr. He was sworn in, under oath, in the witness chair and under fire. Starr delivered a two hour plus summation of what he sees as a pattern of behavior that amounts to alleged impeachable offenses. Tonight, President Clinton's lawyers had their first chance to cross-examine Starr but with time and content restrictions. It was an extraordinary mix of lofty constitutional law and muddy mosh pit politics."
Bob Schieffer ran through the day's testimony before Scott Pelley, from the White House, noted: "For the White House and for Democrats today this was a day to put Ken Starr on trial and discuss as little as possible the charges facing the President. No one here at the White House was willing to defend the President's actions today."
After a report from Bill Plante in Tokyo, Rather highlighted another pro-Clinton CBS News poll, though he failed to say when it was taken. "Reason for Republican inquiry?" read the on-screen heading with 56 percent answering "to damage Clinton" and just 34 percent saying "to investigate charges."
Finally, from Fort Worth reporter Bob McNamara focused on how most don't care and want the whole inquiry dropped. McNamara found that conservative talk host Mark Davis of WBAP senses "political fatigue." Davis remarked: "They're just tired. They're tired and they're bored and want the story to go away."

-- NBC Nightly News. Tom Brokaw's top of the show tease: "Starr turn. Day one of historic impeachment hearings. The prosecutor Ken Starr makes his case against the President. Lying under oath, abuse of power then he gets grilled. In Depth Tonight. Perjury, lying under oath how many Americans really serve time? More than you may think."
From Washington, Brokaw opened the show: "Good evening. For only the third time in history the House Judiciary Committee today held hearings on whether the President of the United States should be impeached. It's been a long day into the night of acrimonious exchanges. A detailed legal brief against the President and some levity and very little new information. All of the principals from Ken Starr to the other lawyers and members of the Judiciary Committee were not deterred from the positions they brought into the hearing room early this morning. We begin tonight with NBC's Lisa Myers."
Lisa Myers started by noting: "In a day of high drama before a bitterly divided committee Starr calmly, methodically laid out his case, charging the President subverted the legal process, misused the powers of his office and violated his oath to faithfully execute the laws."
After some clips of Starr, Myers showed some Democratic attacks: "From the outset Starr was under ferocious attack. Democrats called him obsessed" and "The Democrat's lawyer, Abbe Lowell, grilled Starr about alleged misconduct by prosecutors including charges they improperly pressured Lewinsky to cooperate last January."
Myers concluded: "So far Starr has been unflappable though he probably hasn't changed many minds. He admits critics can disagree with some of his conclusions but insists no one can challenge the heart of his case that the President repeatedly lied under oath."
For its second story, NBC highlighted how many "moderate" Republicans oppose impeachment. Brokaw introduced the story from Gwen Ifill: "Any impeachment hearing is in the final analysis a political process. Yes there are legal definitions and grounds for impeachment but it is carried out in a political arena. The Congress. And that political dimension was evident from the opening gavel today. More on that tonight from NBC's Gwen Ifill."
Gwen Ifill explained: "Just upstairs from the impeachment hearings today political reality. Illinois Congressman John Porter. One of at least a dozen House Republicans who say that even if the committee recommends impeachment he probably won't....Also watching in his Capitol Hill office Republican Peter King of New York. He agrees...."
Ifill concluded: "The political mood has changed drastically since Ken Starr's report arrived here two months ago. Now even the President's enemies want middle ground, not impeachment."
Later, NBC Nightly News became the first network evening show to tell viewers that many are prosecuted for lying about sex in a federal civil case. Like Dateline and Today, Pete Williams focused on the case of Barbara Battalino. For details on her case and the Dateline, Today and ABC 20/20 stories on this subject, check the November 13 and 16 CyberAlerts: http://www.mediaresearch.org/cyberalerts/1998/cyb19981113.html#3 http://www.mediaresearch.org/cyberalerts/1998/cyb19981116.html#3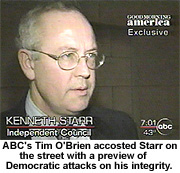 Ken Starr got a practice run-through of Democratic attacks on his integrity and fairness just hours before his appearance, thanks to ABC News. Thursday's Good Morning America led with Tim O'Brien's ambush interview of Starr as he left a building Wednesday night.
MRC analyst Jessica Anderson took down several of the questions O'Brien posed as he and Starr stood on a sidewalk, but she also noticed this is how ABC labeled Starr on-screen: "Independent Council Ken Starr." Those in NABET may not know Hamlet any better than I, but I don't recall them ever making such a goof. Jessica noted that it was corrected to "counsel" later in the interview.
Here are several of the questions which reflect the angle and tone of them all:
-- "But did you in any way assist Paula Jones's lawyers in deposing the President?"
-- "One of the things that people don't get, and it's come out before, but they still don't get, how this case, starting as a land deal in Arkansas became an investigation of lying about sex in the White House."
-- "When you sought to expand your jurisdiction to include Monica Lewinsky and her involvement in the Paula Jones case, why did you not think it was necessary to tell the Attorney General that you had supported Paula Jones's right to appeal and had discussed that with her lawyers?"
-- "It amazes your defenders, let me ask you two more questions. It amazes your defenders as you make this great case against the President, the public doesn't seem to buy it. They say, yes, adultery is wrong, lying is wrong, especially under oath, but is it worth all this time and all this money and possibly removing the President? This may be the red letter pitch, why is this offense so great?"
O'Brien posed about ten questions, but other than the very last one cited above, none dealt with the substance of his findings or the President's actions. Not much different that what the Democrats pursued the next day.


ABC's Lisa McRee hit a Republican and a Democratic guest with the same theme Thursday morning: Ken Starr's unfairness. Republican Congressman Charles Canady and Democratic Congressman Marty Meehan appeared together on the November 19 Good Morning America.
Co-host Lisa McRee's first question to Canady: "If Kenneth Starr did not have enough evidence to file charges related to Whitewater and campaign finance, why should he have a right to bring it all up during the hearings?"
Her second question went to Meehan, but instead of challenging him with a Republican agenda item she hit Starr again by tossing this set-up question: "But clearly, according to what Starr has presented so far, last night in writing, about two-thirds of it will be about the Monica Lewinsky matter, but another third will be related to Webster Hubbell and campaign finance and alleged hush money. Is that fair, Congressman Meehan?"


Geraldo Rivera dominated the Thursday CyberAlert, so just one Geraldoism today. Even liberal former Senator Lowell Weicker is too pro-Starr for Rivera. On Thursday's Upfront Tonight on CNBC he shot back at the former independent Governor of Connecticut:
"I must say I disagree strongly with your characterization of Ken Starr as a man of law. What kind of man of law absent politics would present to the American people all this sexual, salacious material before the election and withhold until after the election that the President has been cleared in Whitewater, Filegate, and Travelgate?"
The November 19 CyberAlert listed the five questions Rivera said he'd like to ask Ken Starr. During Thursday's Judiciary Committee hearing minority counsel Abbe Lowell posed four of the five, or 80 percent. To read Rivera's proposed questions, go to: http://www.mediaresearch.org/cyberalerts/1998/cyb19981119.html#2
Look over items #3, 4 and 5 today. Can you tell the difference between the preoccupations of network journalists and Democratic politicians? --Brent Baker

---
>>> Support the MRC, an educational foundation dependent upon contributions which make CyberAlert possible, by providing a tax-deductible donation. Use the secure donations page set up for CyberAlert readers and subscribers:
http://www.mrc.org/donate
>>>To subscribe to CyberAlert, send a blank e-mail to: mrccyberalert-subscribe
@topica.com. Or, you can go to: http://www.mrc.org/newsletters. Either way you will receive a confirmation message titled: "RESPONSE REQUIRED: Confirm your subscription to mrccyberalert@topica.com." After you reply, either by going to the listed Web page link or by simply hitting reply, you will receive a message confirming that you have been added to the MRC CyberAlert list. If you confirm by using the Web page link you will be given a chance to "register" with Topica. You DO NOT have to do this; at that point you are already subscribed to CyberAlert.
To unsubscribe, send a blank e-mail to: cybercomment@mrc.org.
Send problems and comments to: cybercomment@mrc.org.
>>>You can learn what has been posted each day on the MRC's Web site by subscribing to the "MRC Web Site News" distributed every weekday afternoon. To subscribe, send a blank e-mail to: cybercomment@mrc.org. Or, go to: http://www.mrc.org/newsletters.<<<

---
Home | News Division | Bozell Columns | CyberAlerts
Media Reality Check | Notable Quotables | Contact the MRC | Subscribe