Connie Chung: CNN's New Prime Time Star
Is the Fourth Network a Charm?
Connie Chung Tonight will become part of CNN's prime time lineup on June 24. The home for the 8 p.m. show will be the network's new street-level studio in New York.
Chung certainly has the background to host a prime time show. She is a broadcast veteran who started at a Washington, D.C. television station in 1969 and has since worked at all three broadcast networks before moving to CNN in January 2002. Described as an "icon journalist" in her official CNN biography, Chung co-anchored the CBS Evening News with Dan Rather for two years and has hosted several primetime specials and news magazines at each of her stops.
Chung's most famous moments – and many of her most outrageous incidents of liberal bias – have come in interviews on these specials and magazines. How can anyone, for example, forget Newt Gingrich's momma?
Just Between You and Me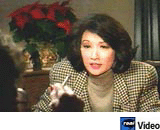 Chung interviewed Kathleen Gingrich, mother of then-Speaker of the House Newt Gingrich, and deviously convinced her to share the Speaker's thoughts on Hillary Clinton. After being assured by Chung that she could be trusted – "Why don't you just whisper it me? Just between you and me" – Kathleen Gingrich said Newt thought Hillary was a bitch. Complete with video.
Jesse Jackson is a "Charismatic National Symbol"
In a short preview story on ABC's Good Morning America, Chung hyped her upcoming interview with Karin Stanford, who had a baby fathered by Jackson. Chung called Jackson the "charismatic national symbol of civil rights" and defended him when ABC news reader Antonio Mora suggested Jackson was a hypocrite for fathering a child out of wedlock while preaching responsibility to African-American men.
Gary Condit was a Conservative
During her Gary Condit interview on ABC, Chung insisted that the California Democrat was a conservative, despite the moderate voting record he had compiled.
And Hamas Prefers to be Called "Freedom Fighters"
Sitting in as Newsnight host on CNN, Chung interviewed a spokesman for the terrorist group Hamas – the group had recently taken credit for a homicide bombing – and noted that its members prefer to be called "freedom fighters" instead of terrorists.
Bush Administration Influence Peddling
In a seven-minute segment on Newsnight devoted to the Enron scandal and the related issue of who had input into the Bush energy policy, Chung asked several questions that supported the liberal agenda. "Do these documents confirm the worst suspicions of influence peddling?" Chung inquired of one guest. The veteran journalist was also astonished that 29 of the 36 groups that discussed energy policy had donated money to the Bush campaign.
Connie's Liberal Bias Through the Years
A cheerleader for abortion, an opponent of capital gains tax reductions and a firm supporter of a national medical system – she once asked viewers if they would pay $1,000 more in taxes a year if the government would pay for medical care for everyone – Chung has rarely missed a chance to promote the liberal agenda. Check out some of her more outrageous comments from as far back as 1989.
A Little Music Please…Chung's Tribute in Song to Dan Rather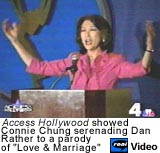 It's no secret that the pairing of Rather and Chung as co-anchors was a failed chemistry experiment. Chung claims to have forgiven and forgotten and offered this tribute in song to the CBS anchor at a New York Chapter of the National Association of Television Arts and Sciences dinner in November 2001. Complete with video.