| | |
| --- | --- |
| June 24, 2008 | Volume 2, Number 8 |
---
FALL PREVIEW: GOING EASY ON OBAMA, ROUGH ON HIS CRITICS
---
The media elite's approach to the general election came into sharper focus last week, as journalists provided embarrassing People-magazine style puffery of Barack and Michelle Obama, even as they scorned conservatives as smear artists waiting to savage their heroes.
A big front-page profile in Wednesday's New York Times cast Michelle Obama as a victim of nasty right-wing attacks. "Conservative columnists accuse her of being unpatriotic and say she simmers with undigested racial anger," frowned reporters Michael Powell and Jodi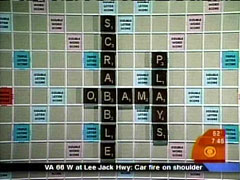 Kantor. "The caricatures of Mrs. Obama as the Angry Black Woman confound her, friends say. Her own family crosses racial boundaries...and she has spent much of her adult life trying to address racial resentment."

That morning's Early Show on CBS featured a puffball segment, "Five Things You Should Know" about Barack Obama. Reporter Jeff Glor undoubtedly helped millions of voters make up their minds by describing how "in addition to enjoying basketball and cycling during down time, Obama loves to play Scrabble." Viewers also learned that "Obama's job as a teenager was at a Baskin-Robbins, and to this day he does not like ice cream."

The next morning on Today, NBC's Lee Cowan gushed over both Obamas: "In victory and in defeat, Michelle Obama had always been there, dressed as brightly as her husband's smile — determined though, not to steal the spotlight but to put her signature touch on what's become their campaign." [Audio/video (0:29): Windows Media (1.80 MB) and MP3 Audio (134 kB)]

On Thursday, after Barack Obama broke a pledge to accept public funds, CBS Evening News correspondent Dean Reynolds rationalized Obama's move, citing the Swift Boat Veterans for Truth as evidence of past "smears" against Democratic nominees. But Reynolds skipped over the fact that most of the "unlimited" and "unregulated" independent spending has so far been committed by liberals.

Then on Friday's Election Center, CNN's Wolf Blitzer promoted the "warning directly from Barack Obama's lips....that the Republicans are going to try to play the race card against him in an effort to simply scare voters." How accommodating of CNN to help Obama pre-smear his critics as racists, a sign of just how biased this fall's coverage may be.

For more, see the June 19, 20 and 23 CyberAlerts.



---
Home | News Division | Bozell Columns | CyberAlerts
Media Reality Check | Notable Quotables | Contact the MRC | Subscribe