Liberal Bias by Year
---
Click here for Brian Williams' Liberal Bias by Topic | Click here for more Profiles in Bias
BRIAN WILLIAMS NBC Nightly News Anchor, 2004 - Present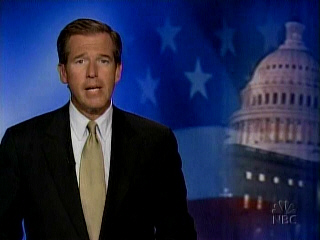 2006
Economic Progress or Dirty Trick?
NBC Features Leftist on Katrina/Race: Bush 'Clueless Patrician'
Brian Williams Equates Elite U.S. Military With Terrorist Bombers
ABC & NBC Celebrate Princeton Salutatorian Who's an Illegal
Sarcastic Williams Worries Over 'Fears Oil Profits Might Plummet'
Williams Champions Nancy Pelosi
Falling Gas Prices Leads NBC, But Williams Raises Election Motive
Brian Williams: Media Awakened By Katrina
Williams Uses NBC Time To Defend Flimsy Charge of Bias


2005
Enola Gay Vet Indignant When Williams Asks If He Has "Remorse"
Brian Williams: "You just told me the story about one photograph from the war that always kind of catches you, the Japanese soldier returning to his city that's been destroyed. Do you have remorse for what happened? How do you deal with that in your mind?"
Enola Gay navigator "Dutch" Van Kirk: "No, I do not have remorse! I pity the people who were there. I always think of it, Brian, as being, the dropping of the atom bomb was an act of war to end a war."
— Exchange as the two stood next to the plane at the Smithsonian's new National Air and Space annex near Dulles airport, in a segment on the 60th anniversary of the dropping of the first atomic bomb on Hiroshima, Japan, NBC Nightly News, August 5.
Brian Williams is More Biased Anchoring from NBC
Scarborough and Williams Fret About Bush's Damage-Free Backdrop
Williams Embraces Bill Clinton, Pines: "Two for the Price of One"
NBC's Williams Measures Deaths in Iraq During Hurricane Coverage
NBC's Williams Seemingly Endorses Racism Explanation for Delay
Race Raised by Williams and Koppel
NBC's Williams Measures Deaths in Iraq During Hurricane Coverage
Jennings: Iraq "Bleak," Williams: "Unease," Rather: "Inspiring"
Sickening Moral Equivalence From NBC Anchor Brian Williams
George Washington, Terrorist
"Andrea, what would it all matter if proven true? Someone brought up today the first several U.S. Presidents were certainly revolutionaries and might have been called 'terrorists' at the time by the British crown after all."
-- Anchor Brian Williams asking reporter Andrea Mitchell about accusations that the new president-elect of Iran was a ringleader in the 1979 seizure of the U.S. embassy in Tehran and the holding of 52 American hostages for more than a year, NBC Nightly News, June 30, 2005.
Williams Frets CBS's "Mistakes...Obscured....Legitimate Story"
Williams Touts Specter's Independence
Williams Claims Filibuster to Block Judges "Used by Both Sides"
2004
NBC's Williams Ties Bush's "Kenny boy" Nickname and "Handcuffs"
New Anchorman, Same Old Liberal Bias
Williams Insists Nightly News "Mirrors the Country it Covers"
2003
Brian Williams Waxes Over "a Tanned, Slim and Fit Bill Clinton"
NBC's Williams Finds Iraq War Amputees Still Aren't Anti-War
Williams Realizes Bombing of Baghdad Not Like Dresden
Williams Worries About "Hot Breath of Patriotism Police"
Williams Grants How Conservatives See Liberal Bias at LA Times
Brian Williams Contends NBC's "Traps and Filters" Kill All Bias
Williams Deplores Opinion in Cable News: He Should Know
CNBC's Williams Raises Sharpton's Racial Hucksterism
So Reagan's Friends Are the Real Villains?
2002
Brian Williams Now Unbiased

More of Brian Williams' Liberal Slant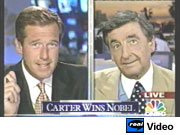 Brian Williams: "Is it fair to call him [Jimmy Carter] the best former President in, at minimum, modern American history, and perhaps, well, I guess, the last 200 years?"
Historian Marshall Frady: "Which embraces all presidencies. I think absolutely."
— Exchange on CNBC's The News with Brian Williams, October 11, 2002.



2000
Russert & Williams Easy on the Democrats
Williams Admits the Obvious

Williams Sees "Strident" and "Red Meat" Conservatives
"Howard, who are the Republicans who are not happy with the way this event looked tonight and similar groupings of these six, meaning, and it's red meat for conservatives, the positions rather strident tonight: anti-gay, pro-Jesus, and anti-abortion and no gray matter in between?"
-- Brian Williams, after a debate amongst Republican presidential candidates, to Newsweek's Howard Fineman, Jan. 6, 2000 MSNBC's The News with Brian Williams.

1999
Brian Williams Picks on Hyde
---
Previous Compilations on Williams
New Anchorman, Same Old Liberal Bias (11/30/2004 Media Reality Check)
Brian Williams is More Biased Anchoring from NBC (5/31/2002 National Review Online)
New Anchorman, Same Old Liberal Song (5/22/2002 Media Reality Check)
More of Brian Williams' Liberal Slant
---
Click here for Brian Williams' Liberal Bias by Topic
Click here for more Profiles in Bias | Click here for more Media Clips