---
CBS's Mike Wallace: Too Many Minutes of Liberal Bias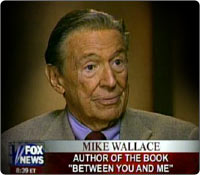 To mark his retirement, the May 21 edition of 60 Minutes devoted a tribute to Mike Wallace. Below, from the MRC's archive, are some comments and views from Wallace that were not mentioned on the tribute show:
Wallace proclaimed that if he were traveling with enemy soldiers he would not warn U.S. soldiers of an impending ambush
Wallace was "astonished" wounded vets back the Iraq war.
Wallace declared only a "[expletive] up" America could elect Bush.
He insisted the liberal bias charge is "damn foolishness."
He lent his name to a fundraiser for a pro-gun control group.
He doubted Bush's "validity," and said Iraq was not a "good war."
He mocked President's Bush's smarts and belief in freeing people from oppression as he demanded, "Who gave George Bush the duty to free people around the world?"
And, Wallace voted for Green Party presidential candidate Ralph Nader.
---
■ Wallace: Journalist First, American Second (with Vintage Video). An illustrative anecdote about how Mike Wallace viewed the world: On an edition of the PBS panel series Ethics in America, devoted to war coverage, which was taped at Harvard in late 1987, Wallace proclaimed that if he were traveling with enemy soldiers he would not warn U.S. soldiers of an impending ambush. "Don't you have a higher duty as an American citizen to do all you can to save the lives of soldiers rather than this journalistic ethic of reporting fact?", moderator Charles Ogletree Jr. suggested. Without hesitating, Wallace responded: "No, you don't have higher duty...you're a reporter." When Brent Scrowcroft, the then-future National Security Adviser, argued that "you're Americans first, and you're journalists second," Wallace was mystified by the concept, wondering "what in the world is wrong with photographing this attack by [the imaginary] North Kosanese on American soldiers?"

George Connell, a Marine Corps Colonel, reacted with disdain: "I feel utter contempt. Two days later they're both walking off my hilltop, they're two hundred yards away and they get ambushed. And they're lying there wounded. And they're going to expect I'm going to send Marines up there to get them. They're just journalists, they're not Americans." The discussion concluded as Connell fretted: "But I'll do it. And that's what makes me so contemptuous of them. And Marines will die, going to get a couple of journalists."
For a full transcript of the exchanges, see the March 17, 2006 CyberAlert: www.mediaresearch.org

(Second thoughts for Mike Wallace? In 1994, he declared that if he were traveling with enemy soldiers he would not warn Americans of an ambush. But seven years later he seemed to backtrack a bit, telling the Wall Street Journal: "You certainly don't want to do any harm to this country [or] to the war effort." Check the October 26, 2001 CyberAlert: www.mediaresearch.org )


■ Wallace "Astonished" Wounded Vets Back Iraq War, Finds Contrarian. Appearing by phone on the Imus in the Morning radio simulcast on MSNBC, to plug his then-upcoming 60 Minutes report on the struggles and achievements of some military members severely wounded in Iraq, Mike Wallace admitted he was "astonished" at how "almost all of them support the war despite the fact that it's taken such a toll on them." He elaborated, "We asked them flat out: What about should we be there? And the ones that are the most severely hit believe yes, we should have been there. They are not angry at the President..."
Indeed, in the 60 Minutes piece, Wallace gave four wounded vets a total of 45 seconds to express support for the war -- but then allocated twice as much time to a wounded vet to denounce the war. Over video of Tomas Young with Cindy Sheehan, Wallace note how he "has become an anti-war activist since he was paralyzed in Iraq." Young recalled how he heard President Bush "standing on the rubble of the World Trade Center with a megaphone saying that we were going find the people that did it and smoke them out of their caves and all that rah rah. And so I wanted to go to Afghanistan to seek some form of retribution on the people that did this to us." Instead of Afghanistan, Wallace pointed out, "he found himself in Iraq, which he considers the wrong war in the wrong place."
See the February 13, 2006 CyberAlert: www.mrc.org


■ Mike Wallace: Only a "[Expletive] Up" America Could Elect Bush. CBS's Mike Wallace, of 60 Minutes fame, ridiculed President Bush's qualifications for office when asked by the Boston Globe what questions he'd pose to Bush if he got the chance. Wallace said he'd want to ask if Bush thinks his election "has anything to do with the fact that the country is so [expletive] up?" The Boston Globe's headline over the q and a session conducted by Suzanne Ryan and run in Thursday's Arts and Entertainment section: "At 87, Wallace still tells it like it is." Ryan had asked Wallace: "President George W. Bush has declined to be interviewed by you. What would you ask him if you had the chance?" Wallace, on a media tour to promote his memoir, Between You and Me, began his answer: "What in the world prepared you to be the commander in chief of the largest superpower in the world? In your background, Mr. President, you apparently were incurious."
See the December 9, 2005 CyberAlert: www.mediaresearch.org


■ Mike Wallace: Liberal Bias "Damn Foolishness," No Bias in Memos. Interviewed by his son, Chris, in a pre-taped session for Fox News Sunday, Mike Wallace of CBS's 60 Minutes rejected as "damn foolishness" the notion of any liberal media bias. Mike Wallace contended, as if it were in doubt, that reporters are "patriots just as much as any conservative. Even a liberal reporter is a patriot, wants the best for this country." Mike Wallace then condescendingly charged: "Your fair and balanced friends at Fox don't fully understand that." He also confirmed that he had told Dan Rather that Rather should have resigned when his producers were fired over the Bush National Guard memos story, but when Chris Wallace suggested that story agenda reflected a bias -- "I think that they were quicker to believe it and, therefore, sloppier about checking it out than they would have been about John Kerry" -- Mike Wallace scorned the idea: "I don't believe that for a moment."
See the November 7, 2005 CyberAlert: www.mediaresearch.org


■ Celebrity Journalists Gather to Help Left-Wing Anti-Gun Group. Can you imagine the National Rifle Association hosting a fundraiser that's emceed by PBS's Mark Shields, featuring CBS's Mike Wallace and former Washington Post editor Ben Bradlee, supported by Walter Cronkite and current personalities at CNN and NBC News? Probably not. But a liberal group that champions more gun control, the Brady Center to Prevent Gun Violence, will be doing just that in hosting an 80th birthday party fundraiser for humorist Art Buchwald in September in Washington at the French embassy.
See the July 12, 2005 CyberAlert: www.mediaresearch.org

■ Mike Wallace Doubts Bush's "Validity," Says Iraq Not "Good War" (with Video). CBS News veteran Mike Wallace, at a Smithsonian Institution "National World War II Reunion" event shown later by C-SPAN, denounced the war in Iraq. "This is not, in my estimation, a good war," Wallace declared. "I don't know how we got into a position where our present Commander-in-Chief and the people around him," the 60 Minutes correspondent lamented, "had the guts to take our kids and send them on what seems to be -- it sure is not a
noble enterprise." Citing President George W. Bush's lack of military experience, both Wallace and fellow panelist Allen Neuharth, founder of USA Today, unfavorably compared him to George Washington and Wallace contrasted Bush with President Franklin Roosevelt, but failed to acknowledge that FDR lacked any military experience.
For a full transcript of Wallace's comments, see the June 1, 2004 CyberAlert: www.mediaresearch.org

■ CBS's Wallace Mocks Bush's Smarts and Belief in Freeing People. During his 60 Minutes sessions aired Sunday night with Bob Woodward, author of the new book, Plan of Attack, CBS's Mike Wallace mocked President's Bush's smarts and belief in freeing people from oppression. Wallace demanded: "Who gave George Bush the duty to free people around the world?" Wallace also jeeringly proposed: "The President of the United States, without a great deal of background in foreign policy, makes up his mind and believes he was sent by somebody to free the people -- not just in Iraq, but around the world?" Woodward shared Wallace's concern: "It is far-reaching, and ambitious, and I think will cause many people to tremble." Having established Bush's irrationality, Wallace moved on to wondering "how deep a man is President George W. Bush?" Woodward contended: "He is not an intellectual. He is not what I guess would be called a deep thinker."
See the April 19, 2004 CyberAlert: www.mediaresearch.org


■ Mike Wallace of 60 Minutes voted for Green Party presidential candidate Ralph Nader, TV Guide revealed. Wallace's admission came just four days after Don Hewitt, the Executive Producer of the show, charged that George W. Bush "may have stolen the election," but he didn't mind until Bush governed as a conservative. See the June 13, 2001 CyberAlert: www.mediaresearch.org


■ March 2006, when Wallace announced his retirement, the MRC's Tim Graham gathered some old Notable Quotables from Wallace, including:
Yes, America Had A Tantrum. "There was a temper tantrum that did take place in the American electorate last November. No doubt about it. They were mad at the Democrats, they were mad at the President. They were frustrated because, there's all kinds of reasons to be frustrated, and talk radio -- in my estimation, I think the President is right about that -- focuses on that." -- 60 Minutes reporter Mike Wallace agreeing with the Peter Jennings radio commentary blaming the November election result on "a temper tantrum....a nation full of uncontrolled two-year-old rage."-- Interview with Arianna Huffington, CNBC's Talk Live, May 6, 1995.
We're Just Objective Reporters, Not Commentators. "The fact of the matter is that everybody you're looking at here is a reporter, and the fellow in Moscow [Dan Rather] as well, and we report about other people. There's not a commentator on this stage, and that fellow in Moscow is not a commentator. So we simply don't do what you're saying."
-- 60 Minutes correspondent Mike Wallace defending a panel of CBS reporters against charges of liberal bias, especially on abortion coverage, on the May 18, 1990 Donahue.
Nostalgia For Brutal Order. "Many Soviets viewing the current chaos and nationalist unrest under Gorbachev look back almost longingly to the era of brutal order under Stalin."
-- Mike Wallace on 60 Minutes, February 11, 1990.
Mike's Inspirational Reading. "I read Mother Jones carefully and look forward to every issue. After all, stories that started out in Mother Jones have wound up on 60 Minutes."
-- CBS 60 Minutes correspondent Mike Wallace as quoted in a 1989 subscription letter for the far-left magazine.
---
Click here for more Profiles in Bias | Click here for more Media Clips