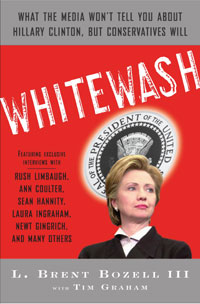 Amid all the discussion of Hillary Rodham Clinton's presidential prospects, the single most important question is ignored: Why Hillary? How did she become a presidential front-runner despite her never having held elective office before she ran for the Senate, her staggering number of personal, political, and financial scandals, and her leftist political agenda?
The answer is that she has a secret weapon: the news media.
In Whitewash, L. Brent Bozell III and Tim Graham of the Media Research Center, America's largest and most respected media watchdog organization, expose the unprecedented media favoritism that is the real key to Hillary's political career. Marshalling stunning evidence compiled exclusively by the Media Research Center, the authors show how the media have relentlessly promoted Hillary from the moment in 1992 when Time magazine introduced her to the country as an "amalgam of Betty Crocker, Mother Teresa, and Oliver Wendell Holmes."
To expose the truth about Hillary that the supposedly objective media have buried, Bozell and Graham have interviewed dozens of leading conservatives who are fighting to let Americans hear the whole story: Rush Limbaugh, Newt Gingrich, Sean Hannity, Ann Coulter, Mark Levin, Mary Matalin, Laura Ingraham, Cal Thomas, and many others.
Whitewash reveals:
How Hillary's media allies have rushed to pronounce her "unbeatable" and "inevitable" to counter Barack Obama's unexpectedly strong campaign


How the frequent claim that "no one has been has been more investigated than Hillary Clinton" is not just incorrect, but utterly absurd


How the media's "Obama Mania" is nothing compared to the fifteen-plus years of cheerleading for Hillary


The major news program that recently spun Hillary's most significant political failure—the 1993 health care fiasco—as "ahead of its time"


The Republican congressman who says the Clintons "went after" him "mercilessly" for daring to investigate Hillary scandals


How liberal reporters—and female liberal reporters especially—have ignored Mrs. Clinton's record in order to hail her as a feminist pioneer


How the American people would not have learned about virtually any of Hillary's many scandals were it not for the upstart alternative media
No political figure in America today has benefited more from a water-carrying media than Hillary Rodham Clinton. The national press long ago abandoned its responsibility to seek out the truth. Fortunately Brent Bozell and Tim Graham have stepped in fill that void, as they show whether this media phenomenon is fit to be president.
---
Home | News Division | Bozell Columns | CyberAlerts
Media Reality Check | Notable Quotables | Contact the MRC | Subscribe