Diana Dunks the Monks; Gore's Image Hurt; Hume Hits
---
1) Diana dunked the monks Friday morning, September 5. Neither visuals of monks in appropriate garb nor tales of money laundering and document shredding stirred network interest. NBC's Today and This Morning on CBS stuck to Diana all morning, MRC analysts Eric Darbe and Steve Kaminski told me. ABC's Good Morning America interrupted Diana coverage for a two hour salute to departing co-host Joan Lunden, but skipped the hearings in the news updates.
---
2) The resumption Thursday of hearings held by the Senate Governmental Affairs Committee prompted stories on all three morning shows on Thursday, but CNN and MSNBC both failed to provide any live coverage and actually provided fewer live updates than they did most days during the July hearings. Here's a rundown of the Thursday, September 4 morning shows: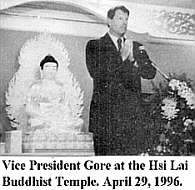 Good Morning America ran a full report by Bob Zelnick during the 7am news which previewed the expected testimony that day from the Buddhist nuns and also noted the revelation that Al Gore had raised hard money, not just soft money as he had incorrectly claimed. GMA also aired a brief item during the 8am news update.
NBC's Today also ran a full story at 7am, from Joe Johns, reviewing the phone calls and previewing the expected testimony. Later in the 7am half hour Katie Couric interviewed Tim Russert about Gore's calls and the status of an independent counsel decision.
On CBS's This Morning, Jane Robelot gave Gore a few seconds in a pre-taped one minute "floating" news update that CBS affiliates can run during the 7am hour. But, as usual, MRC News analyst Steve Kaminski reported, This Morning ran nothing during the 8am hour, the hour carried by virtually all CBS affiliates. Most only carry portions of the 7am hour. The last This Morning mention during the 8am hour of the fundraising hearings aired way back on July 9, the morning after opening statements.
If you want live coverage, it look like you still can't turn to CNN or MSNBC. On Thursday:
CNN went live with the Jerusalem bombing from 9 to 10:50am ET. Candy Crowley's first live update from the Hart Building didn't appear until 12:18pm ET, though the hearings were a topic on CNN & Company at 11:30am ET and on Burden of Proof at 12:30pm ET (but not in the 8:30pm ET edition). After another update from Crowley in the 1pm ET hour, CNN anchor Natalie Allen interviewed veteran journalist Elizabeth Drew. Her first question shows the priority the networks put on the entertainment value of the hearings:
"If you were a Hollywood producer and were assigned the task of doing the made for TV movie on these hearings, what would be the story line?"
At 10am CNN promised the scheduled 10am ET special on the hearings would air later at 2pm ET, but it never appeared. (It did run Friday morning at 10am ET as CNN aired live coverage for about an hour. MSNBC stuck to Diana.)
CNN's Inside Politics at 4pm ET devoted most of the show to the hearings, but between 10am and 4pm ET CNN provided just two live updates from Candy Crowley.
MSNBC also stuck with Jerusalem in the morning and spent most of the rest of the day with live coverage from London. Either Lisa Myers or Joe Johns provided an update once an hour and MSNBC aired a short "Money Trail" wrap-up segment at about 4:45pm ET.
As in July, the Fox News Channel and National Empowerment Television plan to provide live coverage of the hearings everyday, though I don't know how much time Fox spent on Diana. On the Web, both http://www.foxnews.com and CNN at http://allpolitics.com/ gaveltogavel are providing audio and visual feeds.
---
3) Five nights after her death Diana and related stories still dominated the Thursday broadcast evening shows, but each did find time for a story on the Senate hearings. ABC and CBS led with Diana, but NBC put the Jerusalem bombing at the top of its show. Here's the rundown:
NBC Nightly News covered only four topics: the Jerusalem bombing, Diana, Gore and Rupert Murdoch buying the Los Angeles Dodgers baseball team. Total time on Diana and related events: about 12 minutes, or just over half the newscast.
Amongst the five Diana stories, a 3:20 "In-Depth" segment featuring NBC reporter Richard Roth's conversation with a member of the paparazzi arrested at the crash scene. "The first time he ever saw Diana in person was in the wreck. And as he told NBC's Richard Roth, he was stunned," Tom Brokaw intoned.
Roth asked the photographer: "Could you see, was she breathing, was she moving?"
So, apparently it's fine for a "mainstream" media outlet to have a photographer describe what he saw at the crash scene, but it would be awful to actually see his photos in such a disreputable publication as the Star or National Enquirer.
About 20 minutes in, NBC went to Lisa Myers for a story on the hearings. She explained that the Buddhist nuns illegally laundered tens of thousands of dollars and that when a Gore aide said she needed more money the monks and nuns wrote $5,000 checks to the DNC and were then reimbursed by the temple. Myers added:
"The nuns, who were granted immunity to testify, say they did not know laundering campaign money was illegal, yet they later destroyed and altered documents to cover it up."
After a file clip of Gore denying that he knew the 1996 temple event was fundraiser, Myers observed: "But the temple event was planned after a White House meeting between Gore, temple leaders and Democratic fundraisers. And documents show that Gore's staff knew it was a fundraiser, called it that in memos, even listed the price per head."
Next, from Martha's Vineyard NBC's Claire Shipman explored the impact on Gore's political future.
The CBS Evening News began with six and a half minutes on Diana. By the end of the show viewers had seen eleven minutes of Diana-related stories, exactly half the newscast. In his fundraising story Bob Schieffer was the only reporter Thursday night to pick up on a revelation highlighted in Thursday's Washington Times that the Gore event was not the only time the temple had laundered money. Schieffer have the news a sentence: "Investigators also revealed evidence the group also laundered money at events featuring the President and Mrs. Clinton."
Schieffer skeptically concluded: "The nuns now concede the fundraiser was to raise money. The Democratic officials who were there say they knew it was a fundraiser. The Vice President's staff has said previously they knew it was to raise money, but somehow, some way, they say no one told the Vice President."
ABC's World News Tonight led with what Peter Jennings called a "wave of resentment and anger against the British Royal family." The opening stories took six minutes, but of the three broadcast shows ABC dedicated the least time to Diana, just over nine minutes.
ABC gave two minutes to fundraising with a full story from Linda Douglass. She began by noting how Gore has "gone into the bunker" to avoid the press. Douglass stated that the "temple illegally reimbursed some of the nuns" and then destroyed the documents which showed what happened. Douglass concluded with a rather favorable spin on Gore's behalf:
"There is no evidence that Gore knew about the reimbursement scheme. Plus, he insists he didn't know the event was a fundraiser in the first place. Still, an investigation into all of this could threaten one of Gore's most important political assets, his squeaky clean image."
Just who created and believes that image? Could it be the Washington press corps?
---
4) Brit Hume says that his colleagues didn't question his objectivity until he applied the same standard to Bill Clinton as he had to George Bush. MRC entertainment analyst Tom Johnson alerted me to Hume's comments in an August 30-September 4 TV Guide profile. Hume, who is now Washington Managing Editor for the Fox News Channel, covered the White House for ABC News from the Bush years through Clinton's first term.
In TV Guide Hume explained how most the press corps do not consider liberal views anything but objective (bracketed items as printed by TV Guide):
"I make no bones that I am a conservative. I think there is a perception [among journalists] that the ordinary, average liberal viewpoints represent neutrality. I don't think they do. What you have is liberals believing that their viewpoint represents the center. That's not correct."
(See the September 3 CyberAlert for more on how the Washington press corps can readily recognize conservative views but don't think Eleanor Clift, Al Hunt or Margaret Carlson espouse liberal opinions.)
Hume pointed out the double standard applied to him by his colleagues: "'The whole thing is about my being fair,' says Hume. 'When did people start [questioning his objectivity]? When I applied the same kind of coverage to you-know-who -- Bill Clinton.'"
---
5) Look for some liberal comments from Bryant Gumbel in USA Weekend. The Sunday newspaper supplement appears in most papers on Sunday, but some will include it today or on Saturday. If you are not familiar with it, USA Weekend is published by Gannett and competes with Parade as a magazine insert. Gumbel's new CBS show will debut on October 1 and next week he'll host the Emmy Awards.
An ad for USA Weekend that I caught in the Concord (NH) Monitor earlier this week promised:
"A confident and candid interview with CBS's new hope on:
Why he doesn't watch prime-time TV.
Why it's hard for African Americans to be conservative.
Why people are cynical about the media."
The last two items look like they could be interesting.
-- Brent Baker

---
Home | News Division | Bozell Columns | CyberAlerts
Media Reality Check | Notable Quotables | Contact the MRC | Subscribe