Berger Bumped; Networks Shamed into Covering Mother Teresa
---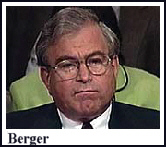 1) On Thursday the highest ranking official yet appeared before the Senate Governmental Affairs Committee, but two of the broadcast networks Thursday night ignored National Security Adviser Sandy Berger's appearance. And twelve nights after her death, Diana topped all three network evening shows on September 11, though CBS gave more time to Mother Teresa:
ABC's World News Tonight led with two Diana stories totaling 4:30. First, a poll showing that most Britons want Prince William to be next King, not Charles. Second, a story on the crash investigation. (Much later in the show ABC allocated 1:45 to preparations for Mother Teresa's funeral.)
After stories on a new CDF report showing a drop in AIDS deaths, a new drug to correct osteoporosis and a Pentagon report on sexual harassment in the military, ABC provided the only broadcast mention of the hearings. Anchor Forrest Sawyer's 18 second item, in full:
"And at the Senate hearings on campaign finance today the Senators heard from the highest ranking member of the Clinton Administration yet to testify. National Security Adviser Sandy Berger said that donations from Chinese businessmen never influenced foreign policy. He also defended his presence at political meetings during last year's election."
Not exactly a skeptical tone.
CBS Evening News anchor Dan Rather made it to Calcutta, but the show still led with a "new eyewitness account of the immediate aftermath of the crash that killed Princess Diana." After a second Diana story CBS went to Calcutta for a look at funeral preparations. CBS viewers didn't hear anything about the hearings, but they did see these stories, in order:

Pentagon sexual misconduct report
Albright in Israel. Palestinian protests
Clinton rejected Lott call to withdraw Weld
AIDS down, teen birth rate down, life expectancy up
Judge ruled American Airlines liable for Colombia crash
Class action lawsuit against Ford over stalling cars
Treasury wants to pay Social Security checks electronically
Dan Rather in Calcutta reviewing the life of Mother Teresa, "a towering force for good the world over."
Calcutta as a "city of joy."
NBC Nightly News spent about five and a half minutes on Diana, topping the show with the crash investigation and a story on the flowers being removed in London and the program ended with a profile of two photographers who spent years chasing Diana. Like CBS, NBC did not utter a word about the hearings. Here's a rundown of the rest of the show:
Mother Teresa funeral preparations (two minutes)
Army sexual harassment report
Clinton proposal to limit access to medical records
In Depth on prostate cancer/Michael Milken In His Own Words
AIDS deaths and infant mortality declining
Senate approved national education standards compromise. David Bloom on Clinton's plan.
Paparazzi who chased Diana
ABC's Nightline on Wednesday examined the charges against Al Gore and the impact on his presidential plans. The show was the first Nightline since July 31 to deal with the hearings and the third fundraising scandal-related show since the hearings began.
---
2) Morning show wipe-out, less time for two top Democrats than for one Republican, and MSNBC's shrinking updates:
Neither the appearance of former DNC Chairman Don Fowler nor the growing evidence against Al Gore interests the morning shows. On Thursday, This Morning on CBS and NBC's Today ignored all aspects of fundraising. Only ABC's Good Morning America even mentioned the hearings, but barely. During the 7:30am news update MRC news analyst Gene Eliasen noted, Kevin Newman took 30 seconds to report that Sandy Berger would be asked how those who gave illegal money got into the White House and that a poll found a drop in the number who consider Gore to be honest. (How any GMA viewer would know questions have been raised about Gore's honesty is a mystery since the show has yet to tell its viewers anything about any of the series of revelations over the past week.)
CNN went live to Sandy Berger when he made his opening statement at 11:30am ET in Thursday and remained with him until almost 12:30pm ET. MSNBC also carried Berger live from about 11:30 to 12:20pm, their first live coverage of the week.
But Haley Barbour got more live coverage than two top Democrats combined. Both CNN and MSNBC aired Barbour for about four hours on July 24, but CNN gave a combined total of about two hours and forty minutes to Fowler and Berger. MSNBC skipped Fowler, so Thursday's less than an hour on Berger compares to four times more time given to Barbour.
The Incredibly Shrinking Update. When the hearings began, MSNBC promised a daily Money Trail update at 4:30pm ET each day. Back in July it often lasted 15 minutes or more. Wednesday, MSNBC allocated just three minutes. The hearings got more time on Thursday, but still only eight minutes for an update from Joe Johns and analysis from Norah O'Donnell.
---
3) The networks plan live coverage Friday night/Saturday morning of Mother Teresa's funeral, but would they be offering such coverage if they had not done so much on Diana? CBS reporter Mike Wallace thinks not. From USA Today's Peter Johnson on September 10:
"Wallace said that network news execs have been shamed into covering Mother Teresa's funeral in Calcutta, India, on Saturday -- NBC's Tom Brokaw, CBS' Dan Rather and ABC's Peter Jennings will be there -- knowing that critics would savage them if they didn't. 'It would be impossible to cover Diana's death in such an extraordinary fashion without giving full understanding and compassionate coverage to the funeral of this remarkable woman,' Wallace said."
Indeed, Friday night the three broadcast networks plan to air live coverage from 12:30am ET Saturday morning to about 2:30am ET. In the eastern and central time zones, ABC's coverage will start at 11:35/10:35pm with Nightline and continue for three hours.
A 9:30pm PT/10:30pm MT start means the coverage will bump part of prime time in half the country, so unlike Diana's early Saturday morning funeral Mother Teresa's will cause the networks to lose some prime time ad revenue.
---
4) From the September 9 Late Show with David Letterman, the "Top Ten Complaints of Larry King's New Wife." The CNN host married for the seventh time last weekend. Copyright 1997 by Worldwide Pants Incorporated.
10. During sex, he shouts, "Connie, from Baton Rouge!"

9. Engraving on his wedding ring reads, "30-day money back guarantee"

8. Two words: suspender rash

7. Always out drinking with his brother Don King

6. She's listed on his speed dial as "the future ex-Mrs. King"

5. Instead of a diamond ring, he gave her one of his heart valves

4. In his newspaper column, Larry gave the marriage two months

3. He keeps holding "auditions" for wife number 8

2. At his age, he needs suspenders on more than just his pants

1. Refuses to kick Perot out of the garage
---
Reminder: To see if the Friday morning shows did anything on the hearings (doubtful), check our Media Reality Check fax report. It will be posted on the MRC Web page Friday afternoon. If they didn't, that would make the above cited GMA item the totality of coverage in the week during which the two biggest name Democrats (former DNC Chairman and the current NSC chief) testified and serious allegations of misdeeds were raised about the Vice President.
-- Brent Baker

---
Home | News Division | Bozell Columns | CyberAlerts
Media Reality Check | Notable Quotables | Contact the MRC | Subscribe