Reagan Did It Too; Post Promoted Counsel's "Integrity"
---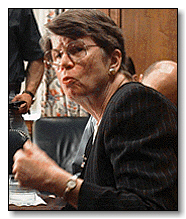 1) A busy news day Thursday with plenty to tell viewers about on the fundraising front, or so you'd think. Janet Reno lashed out in anger at the White House for delaying the release of the videotapes, the Senate committee recalled Richard Sullivan to probe his knowledge of a Ron Carey Teamster-DNC money funneling plan which has already led to three guilty pleas from consultants who worked for both campaigns; and the House investigating committee welcomed its first witnesses, but the three who had been granted immunity asked that cameras not film their testimony. According to CNN's AllPolitics Web site, two "straw donors" said that "at [Charlie] Trie's request, they separately wrote $12,500 checks to the Democratic National Committee in February 1996 for a fundraiser at a Washington, D.C., hotel. Neither knew anything of the event, and were reimbursed a week later by Antonio Pan who had a Hong Kong address."
ABC's lead: Democratic-provided video of Ronald Reagan supposedly encouraging donations at a 1987 White House event. NBC allocated just 24 seconds to all the days's events, ignoring everything but Reno. Only CNN viewers would even know the House held a hearing since ABC, CBS and NBC didn't mention it. But for that matter, neither CBS or NBC told viewers anything about the Senate hearing, though CBS ran a "Reality Check" suggesting that if the Senators want to find fundraising improprieties they "could easily start by setting up a great big mirror."
Here's a rundown of Thursday, October 10 evening show coverage:
NBC Nightly News. Here's the entirety of what Tom Brokaw, who led with Hurricane Pauline hitting Mexico, told viewers about fundraising:
"In Washington today, Attorney General Janet Reno whose been under fire all week for her handling of the campaign fundraising investigation said very bluntly she was quote mad' when she found out the White House had turned over videotapes of those coffee fundraisers the day after she announced her decision not to ask for an independent counsel in the matter. She also said that decision could still be reversed."
Total time: 24 seconds and nothing on the House or Senate hearings. But NBC followed with a full story from David Bloom at the White House on Clinton praising gun manufacturers for agreeing to include child-proof safety locks when their guns are sold.
-- ABC's World News Tonight for second day in a row led with fundraising. Peter Jennings announced:
"We begin again tonight on the subject of campaign fundraising in the White House. Today Republicans and Democrats battled on over whether the White House was used as a staging ground by President Clinton to raise outright political money. Today the Attorney General weighed in on how she thought the White House at the very least was not forthcoming soon enough with information. And now tonight we at ABC News have come upon a videotape in which President Ronald Reagan seems to be clearly lobbying for money at a donors meeting in the White House."
Reporter Linda Douglass outlined Reno's anger at the tape delay, but noted that Reno maintained that the tapes don't change her opinion that coffees legal because there's no evidence of solicitation. Douglass then shifted to Reagan:
"Democrats insist Mr. Clinton's Republican predecessors went farther that he did in asking for money. Democratic sources provided ABC News with a never before seen videotape of Ronald Reagan in the White House in 1987 thanking the Republican's biggest contributors, known as the Eagles."
Reagan in the White House before a large crowd on September 30, 1987: "You started as just 85 contributors. Your support helped our party and in a few short years you helped us come roaring back." Douglass: "President Reagan talks about the importance of the 1988 presidential election and asks the contributors for more support."

Reagan: "I'll campaign hard for the nominee of our party. And let me ask you now, I know this is silly, but can I count on you to help?"

Douglass: "A Republican campaign finance attorney concedes Reagan's appeal may have violated the law, but on a very small scale."

Jan Baran, attorney: "President Reagan may have made a solicitation, although very indirectly, compared to five years of the Clinton presidency during which time there was extensive, pervasive, repeated, unprecedented political use of the White House."

Douglass concluded: "Republicans charge it is Mr. Clinton's incessant use of the White House as a fundraising tool that makes him stand out. But Democrats say Ronald Reagan's veiled fundraising pitch is just more proof that everybody does it."
Total time on Reno: 45 seconds
Total time on Reagan: 1:20
Next ABC ran a piece from Brian Ross on Democratic ties to Teamster election fraud, the subject of Thursday Senate hearing. But first it should be noted that when three consultants, who worked both for the Clinton campaign and for Ron Carey's committee, plead guilty back on September 18 the three broadcast networks ignored the development. Three weeks later, ABC is the first to get around to it.
Ross explained the three guilty pleas, including one by Martin Davis, and the connection to the Clinton campaign. He reported that two top Democratic officials now under investigation for the money swap are Clinton campaign chief Terry McAulife and his finance director Laura Hardigan. Both have denied the allegation, but Ross continued:
"At today's Senate hearings former Democratic finance director Richard Sullivan testified that Hardigan brought him to a lunch with Teamster consultant Martin Davis."

Sullivan: "He mentioned if we were to help him raise some money for Carey it would help him in his efforts to raise money for us from unions."
That Ross introductory sentence and Sullivan soundbite totaling 17 seconds encompassed the entirety of Thursday night broadcast network coverage of the Senate hearing.
The CBS Evening News, like NBC, started with El Nino causing Hurricane Pauline to pound Mexico. Dan Rather transitioned from that to Reno:
"Stormy political weather in Washington tonight over the White House coffee tapes. The Clinton camp took a blast of heat from Janet Reno, the President's own Attorney General."

Scott Pelley began: "In the Rose Garden the President and his Attorney General barely exchanged a glance after her extraordinary broadside." Pelley went on to show soundbites of Reno, report that the Senate committee has demanded the other 100 tapes and note that the Justice Department wants the originals, not dubs.
Several stories later, and 20 minutes into the newscast, Rather declared:
"Again today U.S. Senate investigators poured scorn over the White House coffee tapes and other fundraising practices. And again today U.S. Senators killed an attempt to pass legislation to reform campaign fundraising. Now maybe you're wondering how all this could be. Well, just look at the Senate committee members running the hearings and their own fundraising. That's just what we did for tonight's CBS Evening News Reality Check by Eric Engberg."

Engberg opened: "Hot on the trail of dirty money raised in the presidential campaign, the Thompson committee, like the French cop in the movie Casablanca, is shocked, shocked at those swarmy fundraising abuses...What they don't make pronouncements about is how much first hand experience members of the committee in shaking the money tree...And individual members of the committee have a certain familiarity with the shenanigans they're denouncing."
Engberg ticked off a list. Foreign influence on U.S. politics: Thompson was a lobbyist for Toyota. Riady family: Carl Levin got $715 from James Riady. (Yes, just $715, less than $1,000) Using the White House: When Quayle was VP Don Nickles signed a letter offering donors the chance to meet the VP at his house. Fundraising calls from government buildings: Bob Smith did it from his Senate office. Government employees helping with fundraising: Max Cleland, when Georgia's Secretary of State, used state workers to track his supporters.
Engberg concluded with the everybody is just as guilty of just as serious violations angle:
"When it comes to sniffing out the breakdown of a system created to police money and politics, this committee, like many places on Capitol Hill, could easily start by setting up a great big mirror."
CNN's The World Today led into a Wolf Blitzer piece on the White House fighting back by highlighting Reno's comments. Blitzer ran the same Reagan video as ABC. After a brief anchor-read item on the Senate hearing, CNN aired a full report from Bob Franken on the House hearing, making CNN the only network to acknowledge the House even held a hearing.
---
2) CNN and MSNBC did not offer any live coverage Thursday and in the morning on Today aired an interview segment, but the theme seemed to be "Can't we all just get along?"
The cable networks resumed regular programming Thursday with neither CNN or MSNBC offering any live coverage. CNN provided hourly updates from the Senate from Brooks Jackson at just past 10am ET, 11am, 12 pm and 2pm, but MSNBC did not air an update from Joe Johns until about 12:15 pm ET. Instead, MSNBC spent much of the day showing live reports from Milan, Italy on "fashion week" in the post Versace era. Neither Jackson or Johns looked at the House hearings.
Thursday's Today brought aboard Tim Russert who wasn't bothered by Ickes' memory loss and argued that it's natural for the public to say they all do the same thing.
Lauer asked, as transcribed by MRC news analyst Eric Darbe:
Lauer: "Harold Ickes is clearly up to the task of jousting with these Senators, but several times, as a matter of fact dozens of times, during his testimony he used the phrase 'I don't know' or 'I don't remember,' how damaging to his credibility?"

Russert replied: "Not very Matt, because people expected that. His goal was simple, avoid legal trouble, do not implicate himself or the President legally, and score a few political points, he did what he set out to do."
After an exchange about Thompson retracting a charge he made about Clinton meeting with a union official, Lauer worried about the loss of bipartisanship:
"Remember back in January at the inauguration, it was like Woodstock, Republicans and Democrats walking around, holding hands, pledging love and peace, nine months later, we fast forward, I want to play you a little sample of an exchange between Republicans and Democrats at the hearing yesterday." Following he clip of a disagreement between Thompson and Glenn, Lauer wondered: "What happened to peace and love Tim?"

Lauer stuck to the topic, next asking: "But will it backfire with the with voters, with the public who seem to really genuinely like that spirit of bipartisanship?"

Russert jumped at the chance to pick up the they all do it theme: "I think so Matt, and I think the whole issue of campaign finance reform. They hear all these allegations. They hear people fleeing the country or taking the fifth or can't remember, and they think that both parties are avoiding accepting responsibility. The front page of the paper today: a firm pays $8 million fine. Why? Because they gave illegal contributions to both parties. And nothing will be done and the American people will say 'they're all alike.'"
Twelve hours later NBC Nightly News ignored the House hearing showcasing Democratic foreign money laundering and a Senate hearing on a money swapping plan between a union and the Clinton team. Yes, the public will think they all do it when the networks don't tell them about the illegalities of one party.
---
3) Tim Graham, the MRC's Director of Media Analysis, wrote up this item on a contrast between the actions of the White House counsel who handled the videotapes and how the Washington Post portrayed him a few weeks ago:
White House special counsel Lanny Breuer was subpoenaed by the Justice Department to tell why he waited more than two full days before informing the department's investigators last Saturday about the existence of the White House coffee tapes. As the White House man in charge of responding to subpoenas from Senate investigators, Breuer has a lot of explaining to do about why it took three months to respond to a specific request for videotapes from the White House Communications Agency.
Is Breuer the Stonewaller-in-Chief? Not according to The Washington Post, which just a few weeks ago ran a Style section profile with the headline "The White House's Lanny Breuer Wins Points for Integrity from Both Sides." Reporter Howard Kurtz asserted in the September 23 tribute that "many Republicans give him high marks," but only cited one anonymous source. Kurtz then drew tributes from five Clinton White House operatives and a Senate Democratic investigator. Kurtz noted that when Breuer was asked about Republican charges of deliberate foot-dragging, he said "It is utterly baseless." Mocking Breuer's soft-spokenness, Kurtz added: "Then he really ratchets up the rhetoric: 'It is utterly, completely baseless.'" Kurtz ended with a sympathetic quote from fellow White House lawyer Lanny Davis noting amazement at how little Breuer gets angry with people, "given the incredible pressure he's under and the tugs and pulls on him, it's amazing to me that it's so rare."
---
4) Thursday night ABC's 8pm ET family hour drama which is set around the life of a liberal priest at an urban Catholic church, Nothing Sacred, delivered an episode in which the priest gives a young woman money so she can have an abortion. But not all of television promotes abortion as the best option. Two weeks ago the CBS Sunday night family hour drama, Touched by an Angel, offered a pro- life message.
As detailed by MRC entertainment analyst Melissa Caldwell: Touched by an Angel took on abortion in the September 28 episode, but in a departure from Hollywood's decided pro-choice bias, the show chose to support life, even in the case of severe birth defects. The episode featured a pro-choice woman, Joanne, who gets pregnant. She discovers early on that the child has down syndrome. Bill, the father of the child tells his wife "knowing early gives us other options, right?...This is a mistake and we can correct it and move on...I don't want you to [abort], but it is the only way we are going to have the family we always wanted."
Joanne contemplates having the abortion, and even goes to a clinic with the intent of getting one, but at the last minute she changes her mind, deciding that it is a miracle just to be able to have a child. When her husband questions her choice saying "You were the one preaching pro-choice all these years. What happened?", she replies "I got pregnant...I'm still pro-choice, and Bill, I just made one. I'm going to have this baby." MRC analyst Adam Pogach noted, that although the word "abortion" was never used, the show's message was definitely life affirming.
---
5) Over hype of the day. Plugging an upcoming CBS Evening News story on the first video to capture a Killer Whale killing a Great White Shark, Dan Rather exclaimed: "And what shark watchers have learned from the battle of the century off the California coast."
WWI. WWII. Vietnam. Iran-Iraq War. Rwandan massacre. Whale kills shark.
-- Brent Baker

---
Home | News Division | Bozell Columns | CyberAlerts
Media Reality Check | Notable Quotables | Contact the MRC | Subscribe