All a "Partisan Hit Job"; Donaldson: "Expel" Clinton; Newt Deserved It
1) Two reporters, Evan Thomas and Nina Totenberg, were less impressed with the managers than a liberal columnist. Thomas: Clinton's lawyers "absolutely demolished the prosecutor's case."
2) ABC's Linda Douglass insisted the Blumenthal/Hitchens conflict is "likely to have little bearing on the case" against Clinton. CBS's Bill Plante relayed how Clinton supporters think in 20 years people will realize "that the whole thing was a partisan hit job."
3) Christopher Hitchens may be a left-winger who opposes Clinton, but he told Tim Russert he won't testify against Blumenthal.
4) Sam Donaldson said that if Senators "decide that this President has committed crimes they ought to vote to expel him from office."
5) Dan Rather insisted it really is all about sex and MSNBC's "man on the street" reaction: A college professor from Boston who charged the scandal is driven by the Christian Right trying to void the Bill of Rights.
6) Newt not vindicated. Two reporters on Fox News Sunday justified the Democratic attacks in a matter for which the IRS has cleared Gingrich. Brit Hume on his colleague's reasoning: "Bunk."
7) Alec Baldwin is back, telling a conservative how "the Clintons have basically kicked your ass" and that he knows "Henry Hyde and those people, they must feel really empty and low."
8) An actor in the NBC mini-series "The '60s" regrets that the youth of today are not similarly committed to political causes.
---

Two reporters less impressed with the Republican House managers than a Democratic political activist. Saturday night on CNN's Capital Gang Mark Shields, a former Democratic operative turned columnist, assessed the day:
"I thought from watching Huthinson and Graham and Rogan today, that I thought they made a strong case, I really, I thought it was a persuasive case."
Of course the Wall Street Journal's Al Hunt disagreed. As did two reporters over on Inside Washington, the syndicated show carried by many PBS stations. Newsweek Assistant Managing Editor Evan Thomas on the videotape of Monica Lewinsky:
"At first I thought that she was helping the defense, but then the President's lawyers stood up and absolutely demolished the prosecutor's case. I mean I thought it was a real mismatch and helped the President."
Nina Totenberg of NPR and ABC News agreed, claiming that despite being denied the opportunity to put on their case in a normal fashion, it was the House managers who demanded too much:
"It is indicative of the House managers that they have consistently asked for too much and ended up with too little. They probably ought to have asked, you know, for just two counts and limited it to the perjury. They now come over here and they lay out a case in a manner that is so selective that it allows them to be blown up like as my husband, my wonderful late husband used to say, like 'gone goslings,' and it's, I don't think it's just a mismatch between good lawyers and less good lawyers. This isn't just a matter of quality of breeding so to speak. It's a matter over bad judgment, overstating your case."


Saturday night all the broadcast networks led with highlights of what each side played from the Monica Lewinsky videotaped deposition. "Good evening. The case against the President that has so far had to do with sex and lies today turned to videotape," announced NBC Nightly News anchor Brian Williams. The three shows also featured one clip of Vernon Jordan and ABC and CBS, but not NBC, showed a bite from Sidney Blumenthal.
Reporters squeezed in a mention of the affidavit from left-wing journalist Christopher Hitchens contradicting Blumenthal as Hitchens recounted a March 1998 lunch during which Blumenthal described Lewinsky as a stalker who made sexual demands on the President. ABC's Linda Douglass insisted the revelation is "likely to have little bearing on the case against the President." But over on CBS Bob Schieffer passed on how prosecutors think it "bolsters their contention that there was an organized White House effort to obstruct justice by smearing Ms. Lewinsky."
Barely a minute later on CBS Bill Plante relayed how a White House operative suggested that in 20 years people will remember how "the whole thing was a partisan hit job."
Some quick highlights from the Saturday, February 6 evening shows.
-- ABC's World News Tonight. Linda Douglass summarized the case made by the managers, illustrated with deposition clips. After playing a soundbite of Blumenthal recalling how Clinton told him Lewinsky was a stalker, Douglass concluded: "The managers accused Blumenthal of peddling that story to reporters. Under oath Blumenthal denied it, but tonight journalist Christopher Hitchens filed a sworn affidavit saying Blumenthal told him such a story. Tonight Blumenthal denied that. Senators say all of this might cause trouble for Blumenthal, but is likely to have little bearing on the case against the President."
Tim O'Brien presented the case made by the White House lawyers before Cokie Roberts appeared to show excerpts from her interview with Senator Robert Byrd set to run on This Week the next morning. Byrd said Clinton's actions are covered by high crimes and misdemeanors and he is guilty, but the question is should he be removed.

-- CBS Evening News. Bob Schieffer began his summary of the case made by both sides: "The tapes rolled and suddenly the tedious written transcripts came to life..." Schieffer found "the most striking contrast" was between Clinton saying he did not know what Jordan was doing job search-wise versus Jordan saying he kept Clinton fully informed. Schieffer concluded with the Hitchens affidavit: "Prosecutors say that bolsters their contention that there was an organized White House effort to obstruct justice by smearing Ms. Lewinsky."
From the White House Bill Plante checked in on the debate over censure, concluding by conveying the Clinton spin that all people will remember is that whole scandal was "a partisan hit job." Plante relayed:
"The President's defenders say they can live with any form of censure as long as it doesn't say he broke the law. They say that the President will survive this particularly if he can keep to his agenda and they can't resist gloating a little bit even though they promised not to. One White House official told me today, in 20 years, he said, people will remember three things about this: that the President was impeached in the House, that he was acquitted in the Senate and that the whole thing was a partisan hit job."

-- NBC Nightly News. Gwen Ifill opened her story: "Monica Lewinsky, poised confident and apparently unflappable, finally spoke to the Senate today, appearing on videotape to re-tell a familiar story, but with an immediacy that kept Senators riveted." Ifill concluded with Blumenthal:
"Outside the Senate chamber today lawmakers circulated a signed affidavit from a journalist who disputes Sidney Blumenthal, the senior White House aide, when he says he never leaked damaging information about Lewinsky to reporters. Not a direct connection to the President, but potentially damaging to another member of Bill Clinton's inner circle."
Later, anchor Brian Williams interviewed manager Asa Hutchinson. After asking if any minds were changed and the impact of the Blumenthal/Hitchens development, Williams wondered if the managers are willing to go away: "Are you -- the thirteen House managers -- prepared as a group to say we made our last, best effort and withdraw, fade away now as a group, and let the Senate go into final arguments?"


Christopher Hitchens, a frequent contributor to Vanity Fair and The Nation, may, as he said on Sunday's Meet the Press, "have nothing but contempt for President Clinton," but he despises conservatives even more. Only Meet the Press devoted a guest segment to the Hitchens/Blumenthal story with Hitchens appearing as the opening guest. But when Tim Russert asked if he'd be willing to testify against Blumenthal, Hitchens was adamant in rejecting the idea of cooperation:
"If Mr. Clinton is acquitted and allowed to walk and a separate case is brought against Sidney, that would be a scandal and a disgrace and no I would not. I would rather be held in contempt than, than support such a scandalous outcome, I won't testify if its just against him."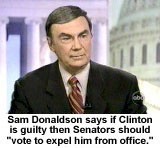 Sam Donaldson says if Clinton is guilty then Senators should "vote to expel him from office." Hardly an outrageous view -- following the rule of law -- but not one heard too frequently from a member of the media, especially one who works at the White House weekdays.
Discussing how Senator Byrd told Cokie Roberts about how he is conflicted about whether to vote to remove Clinton, though he believes he is guilty, in the February 8 This Week roundtable segment Donaldson suggested:
"I would like the Senators to look at the evidence and the facts. But if they decide that this President has committed crimes they ought to vote to expel him from office. I think if Mr. Clinton, and I know it's not going to happen perhaps, but if he were taken from office by a vote of the Senate the next day people would go to work, the masters of the universe would day trade their stocks, mothers would take their children to day care centers, there would not be rioting in the streets and the country would go on."
George Stephanopoulos: "Sam, it's not going to happen. It's not even close."
Donaldson: "I didn't say it would happen. I'm simply saying I think if the Senate did that -- because Senator Byrd says what is good for the country -- I think the country would go on and the rule of law, if they believed he committed these crimes, would be re-established."
(A RealPlayer clip of these comments from Donaldson will be placed on the MRC home page Monday morning by Kristina Sewell and Sean Henry of the MRC. Go to: http://www.mrc.org)


On Saturday, of the broadcast networks, only CBS provided live coverage, showing the House managers from 10 to about 11:30am ET. While the Washington Post reported that both ABC and NBC offered a feed to affiliates, neither Washington's ABC affiliate or NBC-owned station picked it up.
Two noteworthy items from Saturday daytime coverage. First, Dan Rather insisted the whole thing really is about sex. Second, as the network did three weeks earlier, MSNBC used the lunch break to showcase anti-impeachment process comments from people in the streets of Manhattan.

-- Wrapping up live CBS News coverage around 11:40am ET, Dan Rather proposed to Phil Jones:
"Some, not all, but some of the Republicans -- I'd have to say a majority, if you disagree say so -- have continually said look this is not about sex, it's about the law. Roughly what percentage of those Republicans pressing to have the President removed from office insist on that because when you boil it down, there obviously was some lying by someone. There obviously was some lying by the President. It was all part of a cover story at base to cover up a sexual relation. Is that the view or not?"
Jones agreed that some Republicans believe sex is at the base of the scandal, but are trying to make the case that it's more about obstruction and perjury.

-- At 12:54pm ET, during the lunch break, MSNBC anchor Brian Williams turned to Nanette Hansen for a take on public reaction. From a restaurant in Manhattan she aired the views of two people: a "college instructor" and her husband, "historian and author" Richard Rosenfeld. Both are from Boston. How representative of "the American people" are college professors from Boston?
The wife told Hansen: "I have to say that with respect to Monica Lewinsky I think that if the religious right had not been after the man she was in love with none of this would have come to our attention and she would have had an interesting story to tell her grandchildren. As it is I don't think that covering up a sexual matter has anything to do with impeachability."
Her husband, who first offered his name, continued her liberal reasoning: "I remain part of the 75 percent of Americans who feels that the country's treasure and government should not be spent on investigating the private life of the President and his efforts to keep private."
Hansen asked: "Does this have anything to do with politics for you or this is just the way you see it?"
The man took another shot at conservatives: "I think it's entirely about politics and unfortunately the politics of the very far right, not even the politics of the Republican Party, the politics of one part of the Republican Party which is trying to get involved in governing in a way that they're prevented from doing by the Bill of Rights, religious extremists."
This wasn't MSNBC's first time to find and highlight only liberal opinion. During the lunch break on January 16 MSNBC went to Times Square. Lisa Kim checked in: "We've been out here pretty much all morning and will be this afternoon. People are not really paying attention to the trial. A lot of people are telling me that they're just sick and tired of this coverage, that they want this whole deal to end very shortly."
Kim turned to "Bill and Robin" supposedly in from Atlanta. Bill offered: "I think it's been a Republican witch hunt from the beginning..." Robin agreed.


Sunday morning only Fox News Sunday mentioned the IRS vindication for Newt Gingrich and how his much maligned college course was not partisan, so it did not violate tax laws by accepting tax deductible donations. Not a word on the This Week or Late Edition end of show roundtables.
On Fox News Sunday Juan Williams and NPR's Mara Liasson dismissed the vindication, claiming Democratic attacks were just politics as normal with Liasson actually suggesting Gingrich got what he deserved as Democrats treated him the same way he treated Jim Wright. All this was too much for Brit Hume, who scolded his two Fox News contributors.
Host Tony Snow began the segment by playing this December 21, 1996 soundbite from Democratic Congressman David Bonior: "Mr. Gingrich engaged in a pattern of tax fraud, lies and coverups in paving his road to the second highest office in the land. He is not worthy of that office."
Juan Williams soon asserted: "David Bonior was engaged in a fight with a man who was the head of the Republican revolution at the time and who was standing up on his high horse and pretending to be totally above any impropriety and he was making it clear 'you are coming close to the line'..."
Cutting him off, Hume interjected: "Coming close to the line? He accused him of tax fraud, that's not coming close to the line that's accusing him of an illegality."
Williams continued: "That's what prompted the IRS investigation. He's playing politics and I must say you wouldn't say the Republicans are above playing politics in the Clinton case would you?"
When Snow suggested he didn't recall Democrats being accused of partisanship at the time as Republicans are being charged now in the Clinton scandal, Liasson remarked:
"I think it was recognized that Bonior was taking a page out of Newt Gingrich's book. Newt Gingrich mounted an attack on Jim Wright. That was considered audacious and insurrectionary at the time and Bonior learned his lesson from him. You know you just wonder when does all this will stop, is there ever some kind of truce where both sides feel like they've had enough."
Of course one difference is that Wright was guilty.
All this rationalization of the Democratic hit on Gingrich was too much for Hume, who countered:
"I'm amazed at what my colleagues are saying here. Here you have a man accused of a crime and the agency charged with identifying such crimes comes out and says absolutely not and you guys are shrugging this off and saying it's all politics, it's dirty and so forth. Bunk. This was wrong, what was said about him. It was wrong, it was factually wrong and to excuse it as being okay because it's in the political arena seems to me to be off the mark. David Bonior ought to be offering an apology. This is not what happened in the case of Bill Clinton. Bill Clinton was the subject of an investigation by the executive branch of the government, acting through the independent counsel, and was found in the judgment of the independent counsel to be involved in what might be high crimes and misdemeanors, which were referred to the appropriate body, the House of Representatives. That is way different from being cleared by the IRS."
For details on the IRS ruling and the lack of media attention, go to: http://www.mediaresearch.org/news/cyberalert/1999/cyb19990204.html#4 and: http://www.mediaresearch.org/news/cyberalert/1999/cyb19990205.html#3


Alec Baldwin is back. On Friday's Politically Incorrect he celebrated, telling a conservative guest how "the Clintons have basically kicked your ass" and that he knows "Henry Hyde and those people, they must feel really empty and low." In a December 11 appearance on NBC's Late Night with Conan O'Brien the actor shouted: "If we were in other countries, we would all right now, all of us together, all of us together would go down to Washington and we would stone Henry Hyde to death!" It was his idea of a comedy skit, but even Hollywood insider Jack Valenti soon condemned the outburst.
Here's the relevant exchange from the February 5 Politically Incorrect:
Alec Baldwin: "Let's just face facts about Clinton and his wife. The fact is that these people have been the target of a conservative campaign to bring them down on every conceivable level."
Tom Fitton of Judicial Watch: "There was no conservative involved in the FBI files, Alec. There was no conservative there. That was his White House."
Baldwin: "Richard Mellon Scaife, all those kinds of people."
Fitton: "Richard Mellon Scaife wasn't there when the President was with Monica Lewinsky."
Baldwin: "The fact remains that we are into the final moments, we're involved in an end game now and it's going to result in one thing. That is, the Clintons have basically kicked your ass. And I know that's painful. I know that's painful. I feel like Henry Hyde and those people, they must feel really empty and low because they gave it everything they had. It looks like they're going to come up three lemons now."
You can watch via RealPlayer the December 11 Late Night outburst from Alec Baldwin. Go to: http://www.mediaresearch.org/news/cyberalert/1998/cyb19981215.html#5


"Like wow man" the '60s were really neat. Sunday night NBC aired the first part of a two part mini-series called "The '60s." Part two airs Monday night, February 8. On Friday's Today, MRC analyst Mark Drake noticed, one of the actors revealed his longing for a return to the values of that decade.
On the February 5 Today actor Jerry O'Connell told Katie Couric: "When I first read the script my initial reaction was wow. As a child of the '80s, as an '80s generation person, I know that scares people when I say that, but, you know I didn't really do anything. I write. I never protested. I never, you know, stormed the streets of Chicago. I've never been to a political rally in my life and I never painted a sign and picketed and really believed in a cause and it kind of made me a little embarrassed for my generation. You know I feel like maybe we could have done more."
Couric: "You feel like, you know, you're envious of people who could care that deeply, and be so committed to certain ideals."
O'Connell: "Because basically the youth of the '60s really changed this nation and changed the world and the whole world was watching and I mean that was just not me. I felt very bad about it, so maybe this will inspire the millennium generation to become a little more politically active."

He and his generation could care and show less apathy about Clinton's scandalous behavior, but I don't think that's the kind of "politically active" cause that would please O'Connell. -- Brent Baker

---
>>> Support the MRC, an educational foundation dependent upon contributions which make CyberAlert possible, by providing a tax-deductible donation. Use the secure donations page set up for CyberAlert readers and subscribers:
http://www.mrc.org/donate
>>>To subscribe to CyberAlert, send a blank e-mail to: mrccyberalert-subscribe
@topica.com. Or, you can go to: http://www.mrc.org/newsletters. Either way you will receive a confirmation message titled: "RESPONSE REQUIRED: Confirm your subscription to mrccyberalert@topica.com." After you reply, either by going to the listed Web page link or by simply hitting reply, you will receive a message confirming that you have been added to the MRC CyberAlert list. If you confirm by using the Web page link you will be given a chance to "register" with Topica. You DO NOT have to do this; at that point you are already subscribed to CyberAlert.
To unsubscribe, send a blank e-mail to: cybercomment@mrc.org.
Send problems and comments to: cybercomment@mrc.org.
>>>You can learn what has been posted each day on the MRC's Web site by subscribing to the "MRC Web Site News" distributed every weekday afternoon. To subscribe, send a blank e-mail to: cybercomment@mrc.org. Or, go to: http://www.mrc.org/newsletters.<<<

---
Home | News Division | Bozell Columns | CyberAlerts
Media Reality Check | Notable Quotables | Contact the MRC | Subscribe