Revenge Rejected; Hero Heckler; Racist GOP; Oops: NBC Showed a Broaddrick Sign
1) Forget what Clinton did. NBC's Jamie Gangel to Linda Tripp: "The country has gone through a year of scandal which many people blame you for. Was it worth it?"
2) Wolf Blitzer and Sam Donaldson assured viewers the story that Clinton is plotting revenge is not true. The White House will be busy saving Social Security, Blitzer relayed, "so they say there's not going to be a whole lot of time for vendettas or revenge."
3) Al Hunt declared the Senate gallery heckler the real "hero" and ABC's Politically Incorrect showcases him before their audience.
4) Time's Jack E. White savored how the pro-impeachment Republicans will lose their seats and proclaimed the GOP is "all too willing to embrace bigotry if it's dressed in a suit and tie."
5) NBC's Today inadvertently showed a man holding a sign reading: "NBC SUPPORTS RAPE" and "FREE LISA MYERS."
6) Time magazine gave one sentence to how the IRS cleared Newt Gingrich, but used it to tell Ken Starr it's time to quit.
---
>>> "The News Magazines Look Past a Verdict: Hecklers Present Wisdom, House Managers are 'Two-Year-Olds,' and Al Gore Wins with Democrats." The latest Media Reality Check fax report by Tim Graham is now up on the MRC home page after being distributed by research associate Kristina Sewell and posted by Webmaster Sean Henry. To read it go to: http://www.mrc.org or directly to: http://www.mediaresearch.org/news/reality/1999/fax19990212.html <<<

Jamie Gangel's last question to Linda Tripp on Friday's Today:
"When all is said and done, Monica's life has been ruined, President Clinton remains in office, the country has gone through a year of scandal which many people blame you for. Was it worth it?"
Unbelievable. Don't blame Clinton for what he did and lying about it, blame the women we should all be thankful to for letting us know about it all.
That question reflected the tone of the entire interview which Today spread over two segments in the 7 and 7:30am half hours Friday morning, with Gangel spending the entire interview demanding Tripp respond to the charges against her forwarded by the pro-Clinton camp and the negative image of her formed by derisive media characterizations.
The next CyberAlert will have much more on this interview.


The day it became likely that the majority of the U.S. Senate will not hold President Clinton responsible for his actions, ABC's World News Tonight led with stories on one jury making gun manufacturers liable for shootings committed by criminals while another jury decided a cigarette-maker should pay $55 million in a punitive award to a woman who chose to smoke.
All the other networks led with the trial and how another Republican Senator, Olympia Snowe, would vote not guilty while a New York Times story revealed Bill Clinton plans revenge against his House accusers. On an ABC story a bit into the newscast, Sam Donaldson delivered the official reaction to the revenge story: "White House Chief of Staff John Podesta angrily told the staff this morning 'that's nonsense.'" CBS's Scott Pelley learned that Clinton "took special note of the names of the five Democrats who voted against him on the day he was impeached." Every network but NBC allowed time for manager Chris Cannon to condemn the strategy. Though the trial has been in progress barely a month, Dan Rather opened by remarking how "the hour approaches for the U.S. Senate finally to vote."
Here are some highlights from the Thursday, February 11 evening shows:
-- ABC's World News Tonight. Introducing a piece from Sam Donaldson on the revenge story, anchor Peter Jennings noted the no vote announced by Olympia Snowe. Donaldson summarized the New York Times story and allowed Congressman Chris Cannon to ask: "What happened to repentance, atonement and contrition? This is gloating and it's wrong."
RNC Chairman Jim Nicholson got a soundbite before Donaldson allowed former Carter aide Jody Powell to urge the White House not to gloat. Delivering the White House view Donaldson then showed Joe Lockhart deny anyone has revenge in mind. Donaldson offered this elaboration in concluding his piece:
"Tomorrow after the vote the President will talk about all this in a television address. No gloating, only expressions of sincere regret for his action and a desire to move ahead, according to his aides. And as far as those anonymous sources suggesting revenge, White House Chief of Staff John Podesta angrily told the staff this morning, 'that's nonsense.' He told them, Peter, that anyone telling reporters that doesn't know what they're talking about."
We'll see.

-- CBS Evening News. From Washington, DC, Dan Rather opened: "Good evening. The hour approaches for the U.S. Senate finally to vote. The President will be acquitted. The only question is how many votes there will be against him."
Bob Schieffer reported the Snowe "no" and how a majority vote on both counts is now in doubt and allowed Cannon to label the revenge idea "the height of arrogance." Noting the White House denial, Schieffer showed that not even liberals buy it, leading into a clip of Senator Charles Schumer urging Clinton to be contrite by noting: "Even the President's friends urged him to ease off."
CBS then went to other news, but returned to the scandal for the final story of the night. With the White House behind him, Rather announced: "As the Senate moves toward final votes on the impeachment charges against President Clinton, the President and his advisers, behind me over there, are gearing up for a sort of three Rs of post impeachment plan: Relief, Regrets and maybe Revenge."
Scott Pelley relayed that while they deny the specific plan to take revenge on the House managers, "that is not to say that the President is going to forget who his enemies were. We're told he took special note of the names of the five Democrats who voted against him on the day he was impeached. One of the President's closest advisers told us tonight, 'are we going to invite these people to Camp David? I don't think so, but we still have to do business with them.'"

-- CNN ran a trial special from 10 to 10:30pm ET followed by a special Capital Gang. (Making me feel a little better about some of my spelling errors, a CNN promo during the day pushed a special edition of "Capitol Gang.") The 8pm ET World Today began with Candy Crowley on the Senators and how no minds are being changed by all the speeches. Bob Franken looked at how the managers want a majority vote as validation and from the White House Wolf Blitzer assured viewers that they plan to push issues like Social Security, education and health care, "so they say there's not going to be a whole lot of time for vendettas or revenge."

-- FNC Fox Report. Carl Cameron looked at the Senate vote count, Jim Angle at the revenge story and Julie Kirtz profiled an angry and tired Chris Cannon. Kirtz relayed a view not heard much in the media: "Cannon believes the entire trial was a sham because, he says, Senate rules prevented the managers from presenting all of the evidence."

-- NBC Nightly News. Like Rather, Tom Brokaw anchored from Washington, DC. He led the show:
"Good evening. Well, the end is near. By this time tomorrow night we should be reporting on the results of the Senate vote on the articles of impeachment against President Bill Clinton. And tonight, not even the President's most outspoken critics in Congress believe that he will be convicted. In fact, on both counts there may not even be a majority of the Senate votes against the President, much less two-thirds."
Gwen Ifill explained how chances for 51 votes on either count "grew bleak today" with Snowe's no vote. She gave the revenge story two sentences: "House Republicans, angered tonight by reports that the White House plans to target them politically after this is all over. The White House says it plans no such revenge, but Democrats around the country are already gearing up, ready for a little political payback."


Heckler now a hero and celebrity. A major Washington media leader pointed to him for inspiration and ABC's Politically Incorrect closes its show for its theater audience with him repeating his rude and illegal outburst.
-- On CNN's special Capital Gang at 10:30pm ET Thursday night, after Bob Novak said the Senate didn't allow a real trial and could have had live witnesses in the same amount of time, Wall Street Journal Executive Washington Editor Al Hunt proclaimed:
"You know who the hero of this whole thing is, its that guy, what was his name, Richard Llamas, the guy who stood up in the Senate gallery last week and said 'Good God vote and get over with this' will you. If they had stretched this out for another two or three weeks, which if they would have had the kind of witnesses Bob wanted to have, I want to tell you something, I think the people may have stormed the United States Capitol."
-- All this week ABC's Politically Incorrect has been taped at the Warner Theater in Washington, DC. A February 11 USA Today article by Cesar Soriano revealed how host Bill Maher is promoting the heckler's view:
"A local celebrity closes the Washington shows. Richard Douglas Llamas, an unemployed carpenter who was arrested last week for heckling the Senate impeachment trial, stands up and repeats his famous line: 'Good God almighty, take the vote and get it over with!' Says the self-described libertarian Maher: 'That pretty much sums up the past year of this country.'"


Time magazine national correspondent Jack E. White relishes the idea that all the awful Republicans who forced the country to endure their "bogus, inflated case" will be sent packing when the White House gets its revenge. He also recently proclaimed that the Republican Party is "all too willing to embrace bigotry if it's dressed in a suit and tie."
-- On Wednesday night's McLaughlin Special Report at 8:30pm ET and PT on MSNBC host John McLaughlin inquired: "Question: is this why we are seeing a rush to the tall grass with an acquittal vote by so many senators? Are they afraid of this Democratic onslaught against them, Jack White?"
MRC news analyst Mark Drake caught the noteworthy reply from White: "They oughta be. I mean I can't think of anything that would be better for the American Republic than to see some of the Republicans who brought this bogus, inflated case and have put the country through all this turmoil for the last almost a year than for them to be sent packing and to be replaced by someone who can put this in somewhat better perspective."
-- That reminded me of this quote from White in the February 1 Time praising Cheryl Mills, which we ran in the February 8 Notable Quotables:
"Her [White House lawyer Cheryl Mills] rhetoric wasn't fancy, but it was on target. The G.O.P. is a party, after all, that owes its post-Barry Goldwater resurgence to opposition to civil rights. And while its leaders from time to time proclaim their belief in racial justice, their pledges have been mostly lip service. They're too genteel for a sheet-wearing bigot like David Duke but all too willing to embrace bigotry if it's dressed in a suit and tie. Mills, 33, is just the sort of hard-nosed advocate to drag such hypocrisy to the surface."
To read the rest of the Notable Quotables issue, go to: http://www.mediaresearch.org/news/nq/1999/nq19990208.html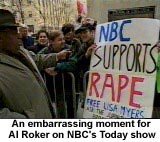 An embarrassing moment for Today. Flipping through Thursday's New York Post the MRC's Tim Graham noticed a "Page Six" item about how a man got on the air Tuesday on Today with a big sign demanding NBC air the Lisa Myers interview with Juanita Broaddrick, the woman who now charges Bill Clinton with sexually assaulting her in 1978. To learn more about the item broken by Matt Drudge and a Fox News Channel story about it, go to: http://www.mediaresearch.org/news/cyberalert/1999/cyb19990203.html#4
During the 8am news update on February 9 Al Roker was, as usual, outside Today's Manhattan street-side studios, mixing his weather report with brief conversations with fans. After talking with a kid wishing her mother a happy birthday, Today put up on-screen the national weather map. Immediately after the map came down Today was back on Roker in the street as he approached a man who said "we drew a picture of you." Roker replied "thank you" and you could see the man's sign read: "Kaulai Hawaii Loves Al Roker!"
But those words were actually on the outside of a folded over sign, viewers soon learn to Roker's horror as the man lifted open the sign from the bottom and you could see for barely two seconds these big words in blue, red and black: "NBC SUPPORTS RAPE." Then in smaller letters: "FREE LISA MYERS." And below that, viewers saw most of: "Air the JUANITA BROADDRICK INTERVIEW." Roker reeled and mumbled "Okey-doke. Thank you very much" as Today quickly jumped back inside to a safer shot.
(Friday morning MRC Webmaster Sean Henry will post, on the MRC home page, a RealPlayer clip of this Today show scene.)


Newt Gingrich may win but no one will know and Ken Starr never will win over the media. As reported in the MRC's latest fax report plugged at the top of this issue, neither Newsweek or U.S. News this week bothered to mention how the IRS cleared Gingrich and the Progress and Freedom Foundation of any wrongdoing in accepting tax-deductible donations to support his "Renewing American Civilization" college course.
Gingrich got one sentence in the winners side of the "Winners & Losers" column in the February 15 Time magazine, but Time couldn't resist taking a shot at Starr:
"NEWT GINGRICH. IRS says foundation that gave him money was clean; message to Ken Starr: quitters win."
For more on what the IRS ruled and the lack of coverage by everybody except CNN and Fox News Sunday, go to http://www.mediaresearch.org/news/cyberalert/1999/cyb19990204.html#4 and http://www.mediaresearch.org/news/cyberalert/1999/cyb19990205.html#3 and http://www.mediaresearch.org/news/cyberalert/1999/cyb19990208.html#6

Though it is a holiday weekend, Senate votes on removing a President only come along about once a century, so I may distribute a CyberAlert later today or over the weekend if the bias warrants it. -- Brent Baker

---
>>> Support the MRC, an educational foundation dependent upon contributions which make CyberAlert possible, by providing a tax-deductible donation. Use the secure donations page set up for CyberAlert readers and subscribers:
http://www.mrc.org/donate
>>>To subscribe to CyberAlert, send a blank e-mail to: mrccyberalert-subscribe
@topica.com. Or, you can go to: http://www.mrc.org/newsletters. Either way you will receive a confirmation message titled: "RESPONSE REQUIRED: Confirm your subscription to mrccyberalert@topica.com." After you reply, either by going to the listed Web page link or by simply hitting reply, you will receive a message confirming that you have been added to the MRC CyberAlert list. If you confirm by using the Web page link you will be given a chance to "register" with Topica. You DO NOT have to do this; at that point you are already subscribed to CyberAlert.
To unsubscribe, send a blank e-mail to: cybercomment@mrc.org.
Send problems and comments to: cybercomment@mrc.org.
>>>You can learn what has been posted each day on the MRC's Web site by subscribing to the "MRC Web Site News" distributed every weekday afternoon. To subscribe, send a blank e-mail to: cybercomment@mrc.org. Or, go to: http://www.mrc.org/newsletters.<<<

---
Home | News Division | Bozell Columns | CyberAlerts
Media Reality Check | Notable Quotables | Contact the MRC | Subscribe