ABC & NBC Resist Broaddrick Story; Starr Hammered More in Prime Time
1) ABC's Cokie Roberts: Hillary Clinton "can do good without running for public office."
2) The Juanita Broaddrick stories in two newspapers generated a few seconds on GMA and Today, full stories on CBS and CNN, but zilch on ABC and NBC in the evening and nothing on ABC, CBS or NBC Sunday morning. NBC's Lisa Myers "frustrated" by not getting on air.
3) "Presidents are people too" Clinton got to say in reply to one of three softball questions from U.S. reporters at his news conference, a lack of tough inquiries noted by Sam Donaldson.
4) In part two of NBC's prime time attack on Ken Starr a lead character regretted how he spread "forty million dollars worth of misinformation." And on ABC's The Practice a lawyer suggested Starr showed his "true calling was pornography" while another lawyer cited CNN's Tailwind as an example of media misdeeds.
---
>>> February 22 MediaWatch and Notable Quotables now online on the MRC home page thanks to MRC research associate Kristina Sewell and Webmaster Sean Henry. In MediaWatch read a front page story about the networks urging the GOP to go left and the Review by the MRC's Tim Graham, "No Valentines for Tripp 'The Betrayer,'" on how NBC and CNN treated her. A back page piece, "Networks Nix Newt News," summarizes how all but CNN and Fox News Sunday skipped the IRS ruling clearing Gingrich. Under the "www.bias.com" department heading MRC analyst Mark Drake lists some of MSNBC's loaded descriptions of scandal players he came across on the network's Web site. Plus Newsbites: "Tom's Tilt" on how Tom Brokaw, on Letterman's show, accused Republicans but not Democrats of hypocrisy and zealotry; "Jared Who?" by Jessica Anderson how the rest of the media failed to pick up on ABC's story confirming that Kathleen Willey was harassed; and "Buttoned Broaddrick" by Geoffrey Dickens on NBC's failure to show their interview. To read this and past issues of MediaWatch, go directly to: http://www.mediaresearch.org/news/mediawatch/1999/mw1999archive.html <<<

Hillary Rodham can do more "good" outside the Senate than in it, ABC's Cokie Roberts asserted on Sunday's This Week. Just after George Stephanopoulos recommended Hillary Clinton skip the Senate and go right to Manchester, New Hampshire to launch a presidential bid, Roberts suggested she has no reason to run for the open New York Senate seat:
"The truth is that the main reason to run for public office is to do good. And she can do good without running for public office."


Juanita Broaddrick still blacked out by ABC's World News Tonight and NBC Nightly News, though the CBS Evening News and CNN's The World Today, after ignoring Friday's Wall Street Journal editorial page piece, picked up on her story after the Washington Post put it on its Saturday, February 20, front page. Of the broadcast network Sunday shows only Fox News Sunday raised the subject. (Tony Snow asked Speaker Denny Hastert about it and the subject was the lead item for the roundtable.) Not a syllable on ABC's This Week, CBS's Face the Nation or NBC's Meet the Press nor on CNN's Capital Gang or the syndicated Inside Washington, though on McLaughlin Group Eleanor Clift denounced it.
MSNBC's Brian Williams gladly relayed, as if accurate, Joe Lockhart's charge "that in the past that page of the Wall Street Journal has branded the President a drug smuggler and a murderer."
For those of you relying on a broadcast network or the New York Times for your news, Juanita Broaddrick is the woman who accused Bill Clinton of sexually assaulting her in 1978. A few weeks ago the Drudge Report revealed that NBC's Lisa Myers landed an exclusive interview, but the network refused to air it. As noted in the February 3 CyberAlert, FNC ran a story about how NBC was holding back the interview. Go to: http://www.mediaresearch.org/news/cyberalert/1999/cyb19990203.html#4
A few days later, FNC's Brit Hume sported a "Free Lisa Myers" button, to see it, go to: http://www.mediaresearch.org/news/cyberalert/1999/cyb19990205.html#2
In Saturday's Washington Post, Howard Kurtz reported on NBC's blown exclusive:
"Several NBC sources said Myers and her Washington bureau chief, Tim Russert, were frustrated by their inability to get the story on the air. They and other advocates believe that each time they came up with further corroboration, NBC management raises the evidentiary bar a little higher. They also feel badly about winning Broaddrick's trust, combing through her records and disrupting her life, only to keep holding the story, these sources said.
"Myers, who has pursued Broaddrick for a year, would say only that the story 'remains a work in progress. We learn something new every day.' An NBC executive said that 'there are some serious aspects of it that are still unable to be confirmed.'
"But Broaddrick eventually grew frustrated and agreed to talk to the Journal. I feel so betrayed by NBC,' Broaddrick said yesterday. Her son, Kevin Hickey, said Myers had assured them after the taping that there was no chance the interview would not run as scheduled on Jan. 29. NBC also interviewed a friend of Broaddrick's who saw Broaddrick after the alleged assault and confirmed her account."
To read the entire Kurtz story, go to: http://www.washingtonpost.com/wp-srv/politics/special/clinton/stories/media022099.htm
A lot happened on this story on Friday and Saturday and I think CyberAlert can be of most value by reviewing what the networks did and did not pick up on day by day over the weekend, so here's a timeline:
-- Friday, February 19. The Wall Street Journal's editorial page featured a lengthy piece by Dorothy Rabinowitz, headlined "Juanita Broaddrick Meets the Press," recounting her interview with Broaddrick. Wall Street Journal material is inaccessible to non-subscribers, but I did come across one place where her piece is posted: http://freeweb.pdq.net/danno/wsj.htm
On the NBC front, Rabinowitz reported that when the interview did not air, for any journalist asking NBC what happened to the interview "the office of NBC News President Andrew Lack had a simple, uplifting message -- namely that NBC wanted to make sure the story was 'rock solid' journalism."
(That's a strange standard to apply to a story NBC actually already aired: back on March 28, 1998 the NBC Nightly News carried a piece by Myers recounting Broaddrick's allegation. For a look at that story, go to the December 29 CyberAlert: http://www.mediaresearch.org/news/cyberalert/1998/cyb19981229.html#5)
Friday coverage generated by Rabinowitz: Zilch on CBS's This Morning or NBC's Today. Not a word in the evening on ABC, CBS, CNN or NBC, but both Good Morning America and MSNBC picked up on it.
MRC analyst Jessica Anderson noticed that while talking about the day's newspapers, GMA host Charles Gibson highlighted the story though both he and Diane Sawyer were baffled about why it appeared on the editorial page and not the regular news pages.
Charles Gibson: "I'm very interested, there is a story on the editorial page, it's a curious place for it, on the editorial page of the Wall Street Journal today, and it's a story that's been around for a while, or that's been alluded to in the press, but now the Wall Street Journal has put it right out front here. A woman, known until now only as 'Jane Doe #5, is in the headline, and she has a name, they've given her a name, it's Juanita Broaddrick."
Diane Sawyer: "This is in the Starr Report and in the Paula Jones case."
Gibson: "Well, yeah, in the Starr Report, not the report that was published, but in the background evidence that actually House members didn't have access to for awhile, and only some members saw it, there were other women who had allegations against Bill Clinton that were specified, and she was called Jane Doe #5. She alleged a sexual assault by then-Attorney General in Arkansas Bill Clinton in 1978. And she had denied it for years and years, even denied it in a deposition in the Paula Jones case. Then has now changed her story, and now talks to the Wall Street Journal about this alleged sexual assault, and it's on the editorial page, which seems a strange place for it."
Sawyer: "It is an interesting decision."
Contrary to Sawyer's implication, a WSJ news editor did not deem the story unworthy and place it in the editorial section. The WSJ news and editorial sections are run separately.
Friday night MSNBC's The News with Brian Williams stressed the official Clinton denial and White House denigration of the Wall Street Journal.
Brian Williams: "Late news tonight concerning this morning's Wall Street Journal which published the first-ever in depth account of the woman known as Jane Doe No. 5 in the Clinton scandal, Juanita Broaddrick. The story, notably printed on the opinion page and not in the news section of the national newspaper, sites sources but no physical or photographic evidence as it details an alleged sexual assault on the woman 21 years ago by then Arkansas Attorney General Bill Clinton. Well, tonight the President's lawyer has responded. David Kendall, of the firm Williams and Connolly, says in a statement: 'Any allegation that the President assaulted Mrs. Broaddrick more than 20 years ago is absolutely false. Beyond that, we are not going to comment.' White House Press Secretary Joe Lockhart went further earlier today noting that in the past that page of the Wall Street Journal has branded the President a drug smuggler and a murderer. There has been much talk about a NBC News investigation into Miss Broaddrick that so far has not aired. Today a network spokeswoman said NBC News does not comment on newsgathering."
Appearing on CNN's Reliable Sources on Saturday night, Wall Street Journal editorial writer John Fund took issue with Lockhart's charge which MSNBC passed along:
"It is disappointing and sad when Joe Lockhart says, 'We're going to dismiss this whole story because The Wall Street Journal is not important,' because we've called the President a drug smuggler and a murderer. He knows better than that. We have never done that. We have reported on corruption in Arkansas. We have never made those kind of inferences, and it's just kind of sad that the White House strategy of deny, delay, denigrate, and distract continues to this day, and you simply attack the messenger and not address the facts."

-- Saturday, February 20. "'Jane Doe No. 5' Goes Public with Allegation" announced the Washington Post's front page story over the subhead: "Clinton Controversy Lingers Over Nursing Home Owner's Disputed 1978 Story." Freed of its off the record obligation, the Post went with a story based largely on interviews reporter Lois Romano conducted with Broaddrick last spring. To read the story, go to: http://www.washingtonpost.com/wp-srv/politics/special/clinton/stories/janedoe022099.htm
Coverage: NBC's Today allocated 18 seconds. Nothing Saturday night on ABC's World News Tonight or NBC Nightly News, but the CBS Evening News ran a piece and CNN's The World Today featured a three and a half minute story by Bob Franken.
During the 7am news update on Today Soledad O'Brien read his item: "President Clinton's lawyer David Kendall brands as absolutely false charges that the President sexually assaulted an Arkansas woman more than twenty years ago. Juanita Broaddrick's story has been circulating for several years but was not widely reported until an item appeared on the editorial page of Friday's Wall Street Journal."
In the evening, ABC found time for a full story on how the NAACP is organizing a project to end racial profiling by police --though the story failed to note that at the same convention NAACP Chairman Julian Bond intolerantly claimed House Republicans have "become the running dogs of the wacky radical right" -- and a piece on women in Rome wearing jeans to protest a judge's ruling that a woman could not have been raped because tight jeans are too difficult to pull down. NBC squeezed in stories on survivalists preparing for the millennium bug, how Chicago Mayor Richard Daley has won black support and a 60-year old rookie cop in El Porto, Florida.
The CBS Evening News did manage to give 1:51 to Broaddrick, the first broadcast evening show mention since March. Anchor John Roberts, who narrated the story, began: "For more than a year she has been known as Jane Doe No. 5, a woman who Paula Jones lawyers believe had suffered a sexual assault at the hands of President Bill Clinton. Now, despite sworn testimony to the contrary, Jane Doe No. 5 has come forward to tell her story."
Roberts recited the basics of the Washington Post story on the assault, how her story has not always been consistent and that Starr dropped the matter when he found no White House influence. Roberts added: "Kevin Hickey, Broaddrick's son, says the memory is still painful to his mother."
Hickey: "She fully understands that this was 20 years ago and would just assume leave it there. But I think there comes a point where you have to decide 'well, I want my side of this told. And if it's going to be out there it's going to be accurate.'"
Roberts ended by relaying the Kendall denial.
Finally, on the McLaughlin Group Newsweek's Eleanor Clift naturally managed to attack Clinton haters and the right wing:
"These allegations go back more than 20 years. This woman made no charges at the time. It's my understanding that she couldn't even recall initially the year. Investigative reporters for major publications have looked at it since 1991. Ken Starr passed on it. You know, where is this going to go except among all the Clinton haters and the right-wing conspiratorialists. It's great fodder. But you know, you proved they guy's a cad, you're not going to prove he's a violent criminal."
Pat Buchanan agreed to an extent with Clift, cautioning the alleged incident occurred more than 20 years ago and asking: "Why are other journalists not going forward with this story when they've gone forward with other allegations? So I think you've got to put a question mark over the story."


Reporters spent months complaining about lack of access to President Clinton, noting he had not answered questions since last April. So, what did they ask about when they got the chance in a joint news conference held Friday afternoon by President Clinton with the French President?
Three U.S. reporters were called upon. First, Terence Hunt of AP asked about extending the Kosovo deadline, though Kosovo is all the French reporters asked about. Second, Helen Thomas of UPI wondered: "What lessons have you learned from your 13 month ordeal? Do you think the office of the presidency has been harmed? And what advice do you give future Presidents?" Third, Larry McQuillan of Reuters inquired: "I wonder if you could share with us some your thoughts about the pros and cons of Hillary running for the Senate seat in New York?"
Clinton avoided the star network reporters, but any of these veterans could have posed a tough question.
Friday night both ABC and CBS featured clips of Clinton's nauseous "Presidents are people too" answer to Thomas. After playing that soundbite ABC's Sam Donaldson observed to anchor Charles Gibson: "Of course there are a lot of other questions to ask. What about Judge Wright's threat to hold the President in contempt of court, what the threats that are swirling around this town that Mr. Clinton intends to take revenge on House Republicans and Ken Starr. But all those questions Charlie are going to have to wait for the President's first general news conference which his Press Secretary says may take place sometime in March."
You just don't appreciate Sam Donaldson until you see how pathetic the rest of the White House press corps is in comparison.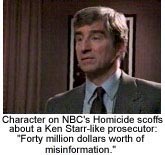 After a year of being impugned by the network news divisions, now the network prime time entertainment shows are hammering Ken Starr. In part two of NBC's Law & Order/Homicide arc, on Friday night NBC continued its attack on Starr as a lead character bemoaned how he spread "forty million dollars worth of misinformation" and another character bitterly complained that "in an impeachment report to Congress he can allege just about anything he wants" without proof. Catching up with NBC, on Sunday night's The Practice on ABC a lawyer suggested Starr showed his "true calling was pornography."
-- First, a reprint of the February 18 CyberAlert item for those of you trying to follow the show plots at home, then the new material from part two and the ABC show:
The NBC dramas Law & Order and Homicide are running crossover episodes this week involving the detectives and prosecutors from New York City investigating a murder of a woman found dead in New York who worked in Baltimore, but who had ties to the White House, thus prompting a clash with the Independent Counsel.
Law & Order aired Wednesday night and it soon became clear that the Independent Counsel, "William Dell," is supposed to match Ken Starr. The detectives in both cities learn that the murdered woman, "Janine McBride," was a lesbian recently transferred from a position in the Old Executive Office Building with the Council of Economic Advisers. They find a witness who may have seen the murderer, but the witness was a lover who is also a married mother with young kids so the prosecutors promise to protect her identity.
While in a room at the Watergate Hotel New York City prosecutor "Jack McCoy," played by Sam Waterston, as well as "Danvers," the Baltimore prosecutor, are summoned to the office of Independent Counsel William Dell who demands to know name of the witness, whereupon this exchange occurs:
Danvers: "Aren't you charged with investigating financial misdealings by the administration? How does Janine McBride figure into that?"
Dell: "The street only runs one way Mr. Danvers. You tell me what you know. If you're not familiar with the independent counsel statute..."
McCoy cuts him off: "I know the statute. I also know about the leaks of grand jury testimony from your office. The Justice Department is investigating your investigation."
Dell, growing angry: "Mr. McCoy!"
McCoy: "Speaking for myself I'm not putting my witness in my murder case in jeopardy just to satisfy your curiosity."
Danvers: "I have to follow Mr. McCoy's lead on this."
Sounds like a script written by David Kendall.
McCoy is forced to appear before Dell's grand jury where Dell actually personally questions his witnesses. When McCoy refuses to tell him the name of the witness, saying he promised to keep him or her anonymous, Dell goes into irrelevant personal matters from McCoy's past.
Dell demands: "Mr. McCoy, what are you hiding?"
McCoy responds: "Nothing. I'm simply trying to discharge my duties as a prosecutor for New York County."
Dell: "Your duties. Mr. McCoy, weren't you called before the disciplinary committee of the New York Bar Association for withholding a witness statement in a murder case?"

Dell's questions grow more personal, saying in one question: "This ADA was one of your lovers, isn't that right?" Dell then recklessly impugns New York City police detective "Leonard Briscoe," played by Jerry Orbach, saying he once was called before a police ethics commission, prompting an outraged McCoy to point out he was cleared. Undeterred, evil Dell starts talking about how Briscoe's daughter was murdered by a drug dealer. The scene then builds to its climax:
Dell: "Wasn't he a passenger in a car driven by another one of your lovers at the DA's office when she was killed? Wasn't he drunk at the time? The accident report indicates that he was. Now one last time Mr. McCoy, what is the name of your witness and what did they tell the police?"
McCoy, shaking his head in disgust: "Mr. Dell, have you no shame? Have you no shame?"
END Reprint
Friday night on Homicide: Life on the Street, the show painted Independent Counsel Dell as unable to tell the difference between a tawdry personal lesbian love triangle and true corruption. The story picks up after "Ned Berkes," the boyfriend of the murdered woman, "Janine McBride," kills the woman arrested for the murder. Detectives learn that "Walter Boyce," an imprisoned drug dealer/murderer, asked the woman who killed McBride to commit the murder because of a contract from former DEA agent "Theodore Dawkins" who is now working as a private investigator for lawyers working for the President to "dig up dirt" on William Dell.
Prosecutors Jack McCoy from New York and Ed Danvers from Baltimore visit the White House Deputy Chief of Staff, a woman named "Bernardi" who admits she had McBride transferred because Bernardi had been having a lesbian affair with Katherine Raynor who had been involved with McBride in another lesbian hook up. Bernardi admits asking Dawkins to bribe McBride for silence which then led McBride before she was killed to tell Dell she knew of administration corruption. Bernardi charges: "This William Dell. He's in our closets. He's in our bedrooms. This started as an investigation in the President's business affairs, policy matters. This thing has become its own sick argument."
Danvers gets Dawkins indicted, prompting a visit from goons working for Dell who demand the indictment be dropped and threaten to expose how Danvers was involved in a racist incident as a teen, thus killing his just announced nomination for a state judgship.
Dell takes custody of Dawkins and gives him immunity because Dell is so obsessed that he irrationally thinks Berkes was part of a nefarious White House operation instead of seeing the reality that Berkes was just upset his girlfriend turned out to prefer women over men.
All this leads to this exchange in which McCoy and Danvers sound like Abbe Lowell:
Dell: "You have five minutes. I have a press briefing to get you."
McCoy: "You son of a bitch. You offered Dawkins immunity to get whatever you can on the administration."
Danvers: "But you refused immunity to Walter Boyce who's already doing life in prison just so you can torpedo our case."
Dell: "There are larger issues at stake. This is more than a murder here."
Danvers: "More than a murder?"
Dell: "Corruption at the highest level."
McCoy: "What proof do you have? Dawkins has no corroboration. All you've got is innuendo and allegations."
Danvers: "That's all he needs. He set it up so this case will never get to court. You don't want a jury trial, a chance to determine who's guilty and who's not. Because let's face it the only case you can make in court stops with Theodore Dawkins. But outside the courtroom, at a press conference or in an impeachment report to Congress, he can allege just about anything he wants."
McCoy: "And never have to prove a thing."
Displaying his arrogance, Dell tells a story about how a Supreme Court Justice told him why inside the beltway lawyering is so "worthy and dignified" while that outside the beltway is so "savage and bitter." It's "because the stakes so damn small."
In the next scene Katherine Raynor complains about how Dell's sex obsession will ruin her life as she'll become a Leno joke target, telling Baltimore and NYC cops: "What did I do that was wrong? I went to work every day, I did my job, I met someone, I fell in love. What did a I do to deserve any of this?"
Then the show cuts to a picture of Dell on TV saying the original murder was "an attempt by high ranking members of this administration to silence a witness who was prepared to testify about sexual improprieties at the office of the White House chief of staff."
In disgust, McCoy turns off the TV and scoffs: "Forty million dollars worth of misinformation."
Danvers laments: "And we helped him dig up the dirt."
About a two-minute long RealPlayer video clip of these scenes will be posted on the MRC home page Monday morning by Webmaster Sean Henry. A clip from Law & Order is available from the February 18 CyberAlert or on the MRC video page: address below.

-- Sunday night on ABC's The Practice, a drama set in Boston focusing on an eccentric criminal law firm, the firm takes up the case of a restaurant owner suing a local TV station for fraud. The station promised a positive story on the chef but aired an expose about roaches in the kitchen, thus bankrupting the restaurant.
Wrapping up her closing argument, lawyer "Lindsey Dole" raises some famous real incidents of media misdeeds:
"Look what's happening today. Forget the tabloids. We have reporters at major newspapers, including the Boston Globe right here, getting caught making up stories, writing stories about people who don't really exist, plagiarizing. CNN, Time magazine reporting about Tailwind and germ warfare. Don't let the facts spoil a good story, you can just print the retraction on weekends or put in a footnote. Anything to get the story and to get it first. Who cares who gets hurt. These people got hurt. They were defrauded. It cost them everything they had worked their whole lives for. Hail, hail freedom of the press. I think it's time to send a little message to all the cockroaches."
In response, the TV station's lawyer facetiously contends:
"It's just open season on the press these days, isn't it? And why shouldn't it be. I mean, look at what the press has done lately. We all know that it was the media that planted that intern in the Oval office. We know it was the press that caused all those Republican Congressmen to have that sudden explosion of conscience. And it was the journalists who convinced Kenneth Starr that his true calling was pornography."

Reminder: The video clips highlighted in CyberAlerts as being featured that day on the MRC home page are accessible for 30 days in RealPlayer format on the MRC's new Media Bias Videos page: http://www.mediaresearch.org/news/biasvideo.html. -- Brent Baker

---
>>> Support the MRC, an educational foundation dependent upon contributions which make CyberAlert possible, by providing a tax-deductible donation. Use the secure donations page set up for CyberAlert readers and subscribers:
http://www.mrc.org/donate
>>>To subscribe to CyberAlert, send a blank e-mail to: mrccyberalert-subscribe
@topica.com. Or, you can go to: http://www.mrc.org/newsletters. Either way you will receive a confirmation message titled: "RESPONSE REQUIRED: Confirm your subscription to mrccyberalert@topica.com." After you reply, either by going to the listed Web page link or by simply hitting reply, you will receive a message confirming that you have been added to the MRC CyberAlert list. If you confirm by using the Web page link you will be given a chance to "register" with Topica. You DO NOT have to do this; at that point you are already subscribed to CyberAlert.
To unsubscribe, send a blank e-mail to: cybercomment@mrc.org.
Send problems and comments to: cybercomment@mrc.org.
>>>You can learn what has been posted each day on the MRC's Web site by subscribing to the "MRC Web Site News" distributed every weekday afternoon. To subscribe, send a blank e-mail to: cybercomment@mrc.org. Or, go to: http://www.mrc.org/newsletters.<<<

---
Home | News Division | Bozell Columns | CyberAlerts
Media Reality Check | Notable Quotables | Contact the MRC | Subscribe