Myers Freed; Media Dismiss Broaddrick and Hope She Goes Away
1) The Broaddrick interview by Lisa Myers is set to air Wednesday night on Dateline. NBC News President Andrew Lack denied the network sat on the interview, insisting they spent the last five weeks completing "more cross-checking and more digging."
2) NY Times admitted it and LA Times knew of her charge in 1992, but "regarding it as the kind of toxic waste traditionally dumped just before Election Day, both newspapers passed on the story."
3) A media reporter surprised at lack of media interest in Broaddrick. Newsweek's Jonathan Alter: "This story was peddled by the same old right-wing enemies of Clinton in Arkansas."
4) "Sexgate was supposed to be over," Time lamented. And they hope it will be, insisting the public wants Broaddrick to go away.
5) Dan Rather told Don Imus he hopes the public doesn't want to hear about Juanita Broaddrick.
6) The Wall Street Journal's Alan Murray belittled the Dorothy Rabinowitz exclusive, while the night before his paper reported the same thing the Washington Post's John Harris declared: "I think we need to be highly skeptical of the story."
7) Geraldo Rivera went on a tirade against the Wall Street Journal. Broaddrick hung up on him, calling him "biased."
8) Network coverage update: Nothing since Saturday on the broadcast networks.
---
>>> The latest edition of Notable Quotables, the MRC's bi-weekly compilation of the latest outrageous, sometimes humorous, quotes in the liberal media, is now up on the MRC home page. Topic headings in the February 22 issue include "Northeastern Liberals: In Touch"; "Admiring the Liars....Hating the Truth Tellers"; "'Horrible' FNC Fed the Right"; and "Racist Managers, Honest Clinton." To read the issue go to the MRC home page or directly to: http://www.mediaresearch.org/news/nq/1999/nq19990222.html
For the complete archive of every issue back to 1988, go to: http://www.mediaresearch.org/news/nq/archives.html <<<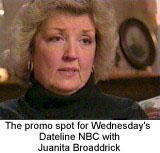 Lisa Myers, free at last. Late Tuesday NBC News announced it will carry the long-held Lisa Myers interview with Juanita Broaddrick. Her piece will run on Wednesday's (February 24) Dateline NBC which will air at 8pm ET/PT, 7pm CT/MT. (If they ran it on Tuesday night's show which airs at 10pm/9pm, or waited until Friday's 9pm/8pm, they could have kept it out of the family hour.)
"With some conservative groups charging that NBC sat on the interview because it was embarrassing to Clinton," a story on the MSNBC Web site noted, NBC News President Andrew Lack countered: "Everyone involved in the process knows there's no truth to that." The Washington Post's Howard Kurtz quoted Myers as assuring: "There was no delay. We used every day of this process to gather information."
Below is the text of NBC's promo spot for Wednesday's show followed by excerpts from the Tuesday MSNBC Web story and Wednesday Washington Post piece on NBC's decision.
-- At the end of Tuesday's Dateline NBC viewers saw this promo spot:
Announcer: "Coming up on Dateline Wednesday: She was part of the Paula Jones case. She's been investigated by Ken Starr and some members of Congress read her story in secret before they voted on impeachment. Now the woman once known only as Jane Doe No. 5 is making headlines with her serious allegations."
Juanita Broaddrick: "All these stories are floating around, different stories of what really happened, of what people think happened. And I was tired of everybody putting their own spin on it."
Announcer: "Who is she? What does she have to say? What are all the details of her controversial story? And why is she speaking out now?"
This promo features the first-ever Broaddrick voice and close-up video aired by a network. Wednesday morning MRC Webmaster Sean Henry will post a RealPlayer clip of this spot. Just go to: http://www.mrc.org or http://www.mediaresearch.org
For this and other RealPlayer clips cited in CyberAlerts over the past month: http://www.mediaresearch.org/news/biasvideo.html

The interview, conducted on January 20, was originally scheduled to run on January 29, according to what Dorothy Rabinowitz reported in the Wall Street Journal that Broaddrick had told her. To read about the Rabinowitz story, learn what coverage it and a Washington Post story generated the next day and to access links to previous CyberAlerts with details about the original Myers story in March 1998, the FNC story on Broaddrick, how the Drudge Report revealed NBC News was holding the interview and comments from Tim Russert about the controversy, go to the February 22 CyberAlert: http://www.mediaresearch.org/news/cyberalert/1999/cyb19990222.html#2

-- From the MSNBC Web site, a story trying defend the delay:
....NBC News President Andrew Lack said on Tuesday that the network wanted to complete its reporting on the story before airing it and wasn't angry that others had run the story first.
Myers' interview with Broaddrick quickly circulated within the media, with some conservative groups charging that NBC sat on the interview because it was embarrassing to Clinton. "Everyone involved in the process knows there's no truth to that," Lack said.
NBC spokesperson Alex Constantinople said, "We did a lot of reporting of our own to put the story into context."
NBC planned to run the story on the first "Dateline NBC" available as soon as the reporting was complete, Lack said, and NBC finished its work Tuesday. He said the timing of the broadcast had nothing to do with the end of Clinton's impeachment trial. "When you have a story that was 21 years ago, that involves lots of information and facts and involves serious charges, you need to do a lot of checking," he said. "And that's what we were doing."
Lack said he found it "odd" that NBC was criticized for taking too much time in reporting. "You wouldn't have asked that question a few years ago," he said. "That is unfortunately some of the fallout of the pace of journalism over the past few years."
END Excerpt
To read the full story: http://msnbc.com/news/242994.asp

-- From a February 24 Washington Post Style section story by Howard Kurtz:
...."I kept asking for more information and more cross-checking and more digging, and that takes time," NBC News President Andrew Lack said yesterday. "I felt comfortable this morning that we had dotted all the i's and crossed all the t's." He said he had not been influenced by the end of the President's impeachment trial or the fact that the woman, Juanita Broaddrick, has given her account to the Wall Street Journal and The Washington Post....
Broaddrick said yesterday that she did the interview with NBC correspondent Lisa Myers "so people can see me and validate the situation. It's important for them to hear it from the person this happened to. It's very emotional to me. It's very real to me. I have no fear of the President, which is probably silly. Some people say they are absolutely in awe that I am so brave. I just did it to protect myself."
The eight-hour session with Myers was "the hardest day of my life since I lost my father in '71," Broaddrick said, but she also called the interview "therapeutic. I felt a weight has been lifted. This is something my husband and I have never been able to talk about."
For Broaddrick to tell her story on national television will likely give added impact and visibility to a difficult, disputed story that many news organizations have shied away from. As Lack put it: "You can see her, you can measure her differently" than in a newspaper interview....
Since Internet columnist Matt Drudge reported that NBC was holding the Broaddrick interview, the network has received a torrent of calls and e-mail messages from angry viewers demanding that it be broadcast. "These are very serious charges," Lack said. "I was a little surprised that people were not appreciating enough that we were doing our job."
Said Myers: "There was no delay. We used every day of this process to gather information."
END Excerpt.
To read the rest of Kurtz's story, go to:
http://www.washingtonpost.com/wp-srv/WPcap/1999-02/24/043r-022499-idx.html


The New York Times on Wednesday caught up with the Washington Post and Wall Street Journal and ran its first Broaddrick story, but revealed in the very first paragraph that they deliberately ignored her charge in 1992.
The February 24 story by Felicity Barringer and David Firestone began:
The allegation was passed on to reporters for The Los Angeles Times and The New York Times in the waning days of the 1992 presidential campaign. Regarding it as the kind of toxic waste traditionally dumped just before Election Day, both newspapers passed on the story -- that a nursing-home executive had been sexually assaulted in 1978 by Bill Clinton, then the Attorney General of Arkansas.
The rumor persisted in the shadowlands of the Internet, even after a sworn denial by Juanita Broaddrick, the woman involved. Mrs. Broaddrick reversed herself last spring, during questioning by investigators for the independent counsel Kenneth W. Starr. Last month, during the impeachment process, she decided to make the assault charges public in an interview with NBC News. Then she chafed because the interview was not broadcast.
Now, Mrs. Broaddrick has found a different avenue to tell her story, giving several news organizations, including The New York Times, an account of an encounter with Clinton in an Arkansas hotel room. The interviews represent are the first time she has spoken openly about an allegation first made public last March. In the interview, she describes a scene in which Clinton invited himself to her room and then attacked her.
President Clinton's personal lawyer, David A. Kendall, has strenuously denied the charge. "Any allegation that the president assaulted Mrs. Broaddrick more than 20 years ago is absolutely false," he said in a statement released Friday. "Beyond that, we're not going to comment." The White House declined further comment on Tuesday.
The problems with Mrs. Broaddrick's allegation are obvious. There is no physical evidence to verify it. No one else was present during the alleged encounter in Little Rock hotel room nearly 21 years ago. The hotel has since closed. And Mrs. Broaddrick denied the encounter in an affidavit in January 1998 in the Paula Jones case, in which she was known only as "Jane Doe No. 5." Through all those years, she refused to come forward. When pressed by the Jones lawyers, she denied the allegation. And now, she has recanted that denial.
Her allegation has long been fodder for Clinton's legal and political opponents; lawyers for Ms. Jones earned a stern judicial rebuke last spring when they made Mrs. Broaddrick's name public in a legal pleading based on unsubstantiated hearsay accounts.
But despite the problems with the allegation, it became part of the background noise of the impeachment process in Congress, pushed by conservative House Republicans even after Starr made only a glancing reference to it in a supplement to his report....
END Excerpt
Gee, maybe it wouldn't have been such a nefarious rumor for so long if the New York Times had done its job and pursued the story in 1992 instead of waiting for two major newspapers and a network to report it before it bothered to get around to it.


MSNBC jumped on its sister network's exclusive video, with both InterNight and Hockenberry focused Tuesday night on Broaddrick. I missed InterNight, but on the 10pm ET/PT Hockenberry Newsweek's Jonathan Alter discounted the newsworthiness of her charge by insisting "this story was peddled by the same old right-wing enemies of Clinton in Arkansas." But Newsweek's "Conventional Wisdom" box seemed to concede Clinton's guilt.
The February 23 Hockenberry opened with an interview with David Schippers followed by segments with Stuart Taylor and an apoplectic Lanny Davis. Then Wall Street Journal editorial writer John Fund, Alicia Mundy of Media Week and Jonathan Alter.
Mundy declared: "I'm very surprised at the number of major publishing institutions and media outlets that are ignoring this."
After Hockenberry blamed "cyber gossip," aka Drudge, for fueling the story, Fund corrected him: "There was no cyber gossip about this anywhere before NBC Nightly News aired it March 28th of last year. NBC News was first. Let's get that on the record, that's a fact."
Later, Mundy asserted: "If you have the woman willing to put her name and her picture out there and willing to say period this is what happened and you can believe me or not believe me, but she's willing to do that. She has no attachments to any of those right-wing nut groups. She has great credibility. I think you have to sit and listen to her. This is a serious charge."
Alter jumped in: "It is not true she doesn't have any attachments to any right-wing groups. [shouting over Fund who was saying she was a Clinton campaign worker] I'm not calling her a right-winger but this story was peddled by the same old right-wing enemies of Clinton in Arkansas. That doesn't mean it's not true, but her story was peddled by them. Again, that's the context."
The "Conventional Wisdom" box in the March 1 Newsweek contains this after an even arrow for Jane Doe No. 5: "Should have leveled (unproven) assault charge in '78, or '92. But sounds like our guy."
So, "our guy" Clinton is probably guilty of a felony, but, as the MRC's Tim Graham noticed, there's not another word in Newsweek about the incident.


Time magazine at least ran a full-page story, though it reflected annoyance at even having to report on another "sexgate" item, offered a loaded ideological label to lessen the credibility of the Wall Street Journal story and ended by stating the public wants her to go away.
"New Woman, New Charges" announced the headline over the piece in the March 1 issue by Adam Cohen. The subhead: "Sexgate was supposed to be over, but a Clinton acquaintance now alleges he once assaulted her."
The story began: "Just when the air was clearing in Washington -- when politicians were finally putting aside the presidential sex scandal and moving on to Social Security and tax cuts -- another woman has come forward alleging sexual misconduct by Bill Clinton. Corroboration is scant, the White House denials are emphatic, but this tale has an unpleasant new twist: it is a charge of sexual assault."
Cohen later added: "Last week the precise details of the allegation were published in the Wall Street Journal's vociferously conservative opinion pages, and other media outlets quickly followed with their own stories."
The article concluded with this hope noticed by the MRC's Tim Graham:
"With impeachment over and the statute of limitations on the alleged crime long passed, the story seems unlikely to have much traction. Broaddrick herself says, 'I'm just hoping this absolutely goes away in the next week.' A weary nation would probably agree."
To read the whole story, go to: http://cgi.pathfinder.com/time/magazine/articles/0,3266,20166,00.html


Dan Rather agrees with Time as he told Don Imus he hopes the American people have "heard all they want to hear about this and are saying you know, 'Next. Let's move on to the next thing.'" MRC analyst Mark Drake caught this exchange from about 7:37am ET Tuesday on the Imus in the Morning syndicated radio show simulcast by MSNBC:
Don Imus: "Even this Juanita Broaddrick thing that, this interview that the people over there at NBC News have been sittin' on for some reason, who knows but...."
Dan Rather jumped in: "Well, I think the reason is pretty obvious that they're, they don't call me and tell me why they run or don't run these things, but I think it's pretty obvious. They are nervous about, number one, whether this information is accurate, whether it's really true or not. And then number two, even if it does it turns out to be true, it happened a long time ago and number three, they've gotta be figuring maybe, just maybe the American public has heard all they want to hear about this and are saying you know, 'Next. Let's move on to the next thing.'"
Imus: "I was reading in either Time or Newsweek that even the woman herself, Juanita Broaddrick said that she hopes that this thing went away this week and even she was sick about hearing about it and it's her story."
Rather: "Well, let's hope she gets her way with that."
That explains why Rather's weekday CBS Evening News has avoided Broaddrick after the Saturday edition ran a story prompted by the Washington Post report.


Instead of being proud of his paper's scoop, the Wall Street Journal's Alan Murray belittled the Dorothy Rabinowitz exclusive while the night before his paper reported the same thing the Washington Post's John Harris declared: "I think we need to be highly skeptical of the story."
MRC analyst Jessica Anderson took down some highlights of a Friday Washington Week in Review discussion about Broaddrick, whose story appeared that morning in the Wall Street Journal.
Alan Murray, Wall Street Journal Washington Bureau Chief: "Well, Ken [Bode], one of the great things about the newspaper I work for is that there is an absolute, almost fierce separation between the editorial pages and the news pages. And I work for the news pages, and this was done as an opinion piece on the editorial pages. So I learned about it when you learned about it, when I read the paper this morning. I do think one of the things you have to keep in mind about this is that both Ken Starr and the House managers declined to pursue this issue, primarily because there was no evidence of obstruction of justice. This woman changed her story. She, she denied that anything happened to the Paula Jones attorneys, and then she, and then she again started saying that something did happen. But, but even the piece that ran on the Wall Street Journal editorial page said that there was no evidence that she was pressured to change her story, that she felt any, any pressure from the White House. And that's why it hasn't come up before now."
Later, when moderator Ken Bode asked, "The White House say anything about this today?" The Washington Post reporter John Harris replied: "They said it comes, consider the source. It comes from a very partisan source, the Wall Street Journal editorial page. I think we have to say, in fairness, there have been lots of stories over many years about President Clinton and his personal background. This does not fit the pattern or seem to be consistent with that behavior in any way. So I think we need to be highly skeptical of the story."
The next morning his own paper put the story on its front page.


Raising Broaddrick's charge sent Geraldo Rivera into a full tirade Monday night, MRC analyst Geoffrey Dickens documented, after Broaddrick hung up on Rivera during a phone conversation.
He opened the February 22 Rivera Live:
"After the malignant story spread like that sick-out at American Airlines over this weekend the White House today again responded to renewed questions about Juanita Broaddrick, the Arkansas nursing home operator who alleges a 1978 sexual assault by Bill Clinton. The ancient and uncorroborated charge which was flatly denied as outrageous and untrue on Friday by David Kendall, the President's personal lawyer and which the purported victim once denied herself under oath, has made the rounds since the 1992 presidential campaign. But Friday's flamboyant, full page regurgitation by the President's arch foes on the Wall Street Journal's editorial page, the same crew who've accused him of murder and drug dealing by the way, followed by more measured stories in the Washington Post, Newsday and Time magazine among others has caused a storm in the scandal starved Capitol.
"Well guess what. The story is not only 21 years old and unproven it's also been reported before. By us. On March 30, 1998. We along with NBC's Lisa Myers reported virtually every detail of the allegation which of course are impossible, by their very nature for the President to now disprove. So if it is old hat, why all the commotion now? It's because it is payback time in Washington.
"Hi everybody I'm Geraldo Rivera. Juanita Broaddrick has denied in a sworn affidavit that the alleged attack by Bill Clinton ever took place. And she did that without any involvement or coaching, indeed without any contact whatsoever with the President of the United States. In addition the only person aside from the alleged victim's husband who claims now to have heard the story back in 1978 when it supposedly happened is a friend of Ms. Broaddrick's named Norma Rogers. But Ms. Rogers is someone with good reason to hate the President. Bill Clinton as governor commuted the sentence of a man who had killed Ms. Roger's father. The hotel where the alleged incident took place no longer exists. It's records were destroyed so we don't, we probably won't ever know if Juanita Broaddrick was lying when she denied under oath that her encounter with Clinton ever happened. Or if she is lying now. What we do know is that while her retracted allegation could not be used by the impeachment prosecutors it was secretly shown in a sealed room to wavering Republican House members just before their vote on impeachment. So why has it surfaced again now? And what can possibly come of it? Professor Alan Dershowitz do you share my outrage?"
As John Fund pointed out on CNN's Reliable Sources, the Journal has never accused Clinton of murder and drug-running. See the February 22 CyberAlert.
Then Rivera got personal:
"NBC News' credibility is at issue here. Because the Dorothy Rabinowitz rabid statement in the Wall Street Journal. I don't know if you read the Wall Street Journal. I'm sure it's a fine, fine publication and if you want to make a lot of money in the stock market it's great but when you read the editorial page it's like it's written by, 'Where are these people?' These are the Mena, Arkansas and drug dealing and Vince Foster died, they should indict the little tart and get it over with. I mean I don't know how reasonable people don't say the editorial page, the op-ed page and the news coverage are the same publication. It's really wacked, it is wild and wacked to me and they should be so ashamed of themselves. I mean I don't know how they could ever point the finger at anyone as being tabloid anything when they write that absolute crap!"
Later, Rivera recounted how he barged in on a call with Broaddrick:
"I spoke briefly to Juanita Broaddrick today and she didn't want to talk to me, she was talking to one of my producers. I got on the phone and said, 'Hi it's me.' I introduced myself. And I asked her the question. I said, 'Did anyone put you up to that sworn affidavit in which you denied, you know, that you had been, that this had happened?' And she said, 'No.' And I said, 'Okay.' And then she said she didn't want to talk to me. And I said, 'Why not?' She said, 'Because I'm too biased.' 'What do you mean too biased?' [She] said, 'Too biased in favor of Clinton.' I said, 'Well you are only talking to people who are against Clinton?' And that's when she, uh, she hung up on me. So anyway."
Geraldo "biased" in favor of Clinton? How'd she get that idea?


Finally, for the record, a Broaddrick coverage summary. Not a word about her Monday and Tuesday morning or evening on the broadcast network shows. The MRC analyst staff also reported zilch on Sunday's Today and GMA, so network coverage prompted by either Friday's Wall Street Journal piece or Saturday's Washington Post story stands as listed in the February 22 CyberAlert:
-- Not a syllable yet on either ABC's World News Tonight or NBC Nightly News.
-- A few seconds on Saturday's Today and a brief discussion on Friday's GMA about the placement of the story on the Wall Street Journal's editorial page over the news pages.
-- Full stories Saturday night on the CBS Evening News and CNN's The World Today.

Remember, check the MRC home page after 10am ET Wednesday for video of NBC's Dateline promo featuring Broaddrick. -- Brent Baker

---
>>> Support the MRC, an educational foundation dependent upon contributions which make CyberAlert possible, by providing a tax-deductible donation. Use the secure donations page set up for CyberAlert readers and subscribers:
http://www.mrc.org/donate
>>>To subscribe to CyberAlert, send a blank e-mail to: mrccyberalert-subscribe
@topica.com. Or, you can go to: http://www.mrc.org/newsletters. Either way you will receive a confirmation message titled: "RESPONSE REQUIRED: Confirm your subscription to mrccyberalert@topica.com." After you reply, either by going to the listed Web page link or by simply hitting reply, you will receive a message confirming that you have been added to the MRC CyberAlert list. If you confirm by using the Web page link you will be given a chance to "register" with Topica. You DO NOT have to do this; at that point you are already subscribed to CyberAlert.
To unsubscribe, send a blank e-mail to: cybercomment@mrc.org.
Send problems and comments to: cybercomment@mrc.org.
>>>You can learn what has been posted each day on the MRC's Web site by subscribing to the "MRC Web Site News" distributed every weekday afternoon. To subscribe, send a blank e-mail to: cybercomment@mrc.org. Or, go to: http://www.mrc.org/newsletters.<<<

---
Home | News Division | Bozell Columns | CyberAlerts
Media Reality Check | Notable Quotables | Contact the MRC | Subscribe