Broaddrick Fades; NOW's Warning Skipped; CBS Crusaded for More Medicare
1) White House wants Broaddrick story to "fade away." Actually, it never even became a story this week on any broadcast network evening show, not even on NBC, nor on ABC or CBS in the morning.
2) NOW President Patricia Ireland labeled Broaddrick's charges "devastating" and warned Clinton to not impugn her, but only MSNBC and FNC found it newsworthy.
3) Thursday morning only Today discussed Broaddrick.
4) Howard Kurtz maintained he knows "people at NBC who felt this interview was ready for airing at least a couple of weeks ago." Lisa Myers conceded there was internal debate about whether NBC should run the story.
5) Scott Pelley preposterously asserted: "Medicare's lack of prescription benefits is a quiet crisis," as CBS used a plea from an elderly lady to justify Clinton's plan to cover prescriptions.
6) Tom Brokaw demanded about Ford's new SUV: "Is it necessary?" NBC relayed how the Sierra Club claimed: "This is a vehicle that will bring a smile to Saddam Hussein's face."
7) Diane Sawyer enamored with the idea Hillary Clinton might run for the Senate, asking: "What lights up her face the most?"
8) Balance from 60 Minutes. Last fall it showed Kevorkian killing a man suffering from Lou Gehrig's disease. This Sunday they'll run a story on people who choose to live with the disease.
---

Ending a story Thursday night on MSNBC Lisa Myers surmised, "The White House strategy: Stay quiet and hope the charges fade away." Never mind "fade away." They never appeared on any of the broadcast network evening shows this week, not even NBC Nightly News, nor on the ABC or CBS morning shows. Thursday evening not a word about Juanita Broaddrick on ABC's World News Tonight, CBS Evening News or NBC Nightly News. (The CBS Evening News ran a story on Saturday, but nothing since, and ABC has yet to air an evening report.)
When Today landed an exclusive with Linda Tripp a couple of weeks ago, Tom Brokaw played an excerpt the night before. But in this case, despite another exclusive for NBC, this vague end of show plug Wednesday night from Brokaw represents the totality of NBC Nightly News time devoted to Broaddrick: "Tonight on Dateline NBC Lisa Myers with an exclusive interview with the woman known as Jane Doe No. 5, Juanita Broaddrick. Her controversial accusations about President Clinton. Dateline tonight at 8, 7 Central."
Cable news is not ignoring the story. MSNBC spent much of Thursday talking about its NBC exclusive and playing interview clips of Broaddrick the other networks cannot. Thursday's The News with Brian Williams replayed the entire Dateline piece. CNN's Crossfire and Larry King Live focused Thursday night on Broaddrick, though CNN did not mention her on The World Today. FNC devoted some daytime segments to the charges and ran a news story in the evening: See today's item #2.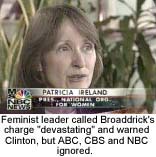 NOW President Patricia Ireland, an avowed liberal feminist, labeled Broaddrick's charges "devastating" and warned Clinton to keep his operatives from impugning her. But few know that since the broadcast network evening shows and CNN's The World Today (as well as Inside Politics) skipped her comments. (She was among several guests on Larry King Live.) The only Thursday night newscasts to mention Ireland: MSNBC's The News with Brian Williams and FNC's Fox Report.
-- FNC's Rita Cosby talked with Broaddrick and learned she was pleased with the Dateline piece, considering it "a validation" and saying "Bill Clinton is a terrible person." Cosby also passed on how her son said they hoped the story would now go away. But Cosby discovered: "Broaddrick says her phone is now ringing off the hook with calls from the media and she is getting support from the National Organization for Women, whose President says Mr. Clinton and his allies must not attack Broaddrick's credibility or character."
Patricia Ireland: "These charges have to be taken seriously. She must be treated fairly, respectfully. We have to call on the President and all of his spokespeople, James Carville and all of them, not to trash this woman."
-- In between replays of segments of her Dateline piece, on the News with Brian Williams, Lisa Myers checked in with a look at reaction to her interview:
Myers: "Today as protesters heckled the President in Arizona, the nation's leading feminist group says an Arkansas woman's charge that Clinton raped her 21 years ago should be taken seriously. The President of the National Organization for Women calls Juanita Broaddrick's allegation, that Clinton assaulted her in an Arkansas hotel room, 'devastating.'"
Patricia Ireland: "I don't think there could have been a mistake about whether it was consensual or not and so I'm left with a he said, she said and as I say he doesn't have much credibility."
Myers: "Ireland says she can understand why Broaddrick could wait 21 years to come forward."
Broaddrick soundbite from Dateline: "I was afraid that I would be destroyed like so many of the other women have been."
Myers: "Ireland says the President must publicly pledge not to allow any of his defenders to attack or attempt to smear Broaddrick. However another feminist leader is less sympathetic to the alleged victim."
Eleanor Smeal of the Fund for a Feminist Majority insisted Broaddrick's claim about Clinton is "inconsistent with what we do know about other occasions."
Myers noted how Dick Gephardt gave the news a "shrug" and urged people to "move on" before she concluded: "The President's spokesman said he will have no further comment on Broaddrick's allegation and will in no way try to disparage her reputation. The White House strategy: Stay quiet and hope the charges fade away."
(Watch this story. Friday morning a hunk of this story in RealPlayer format will be posted on the MRC home page by Kristina Sewell and Sean Henry. Go to: http://www.mrc.org)


Only Today touched Broaddrick on Thursday morning, as detailed in the February 25 Media Reality Check fax report distributed in a CyberAlert Special Extra Edition late Thursday afternoon. To read the fax report, go to: http://www.mediaresearch.org/news/reality/1999/fax19990225.html
CBS's This Morning has yet to utter the name "Broaddrick" and Good Morning America has never made her a news story or featured an interview about her. Last Friday, February 19, however, co-hosts Charlie Gibson and Diane Sawyer briefly discussed the Dorothy Rabinowitz piece in that day's Wall Street Journal. (See the February 22 CyberAlert.)
Now some additional information and quotes from NBC's Today that didn't make it into the fax report: how Clinton's press conference avoidance of Broaddrick was reported on Today and the questions posed by Katie Couric to Rabinowitz and Alan Dershowitz in Today's first interview segment about Broaddrick.
As the February 25 CyberAlert noted, Wednesday night only FNC bothered to show Clinton deferring to his lawyer's denial when asked by Helen Thomas, obliquely, about Broaddrick. Thursday morning on Today during the 7am news Claire Shipman showed the exchange, reporting: "And the President himself was asked about it at a press conference yesterday."
Shipman proceeded to pass along the White House spin that maybe the sex was consensual: "And sources say that behind the scenes the President has categorically denied the charges. But what the White House is very pointedly not denying is that the President knew Broaddrick, may have had a relationship with her, the subtle suggestion being that if there was an encounter it may have been consensual. But the White House doesn't think it's in its interest or the President's interest at this point to say anything more than 'No comment.' Broaddrick isn't pressing charges. Even if she wanted to the statute of limitations has long expired. It's not part of an ongoing investigation at this point. And at this point the White House is hoping it will turn into a situation reminiscent of much of last year. A case of 'he said versus she said.' An unprovable charge that will quickly fade. Matt."

As shown above, it has already faded from ABC and CBS.
Katie Couric did a fairly balanced job in posing questions to Rabinowitz and Dershowitz. MRC analyst Geoffrey Dickens transcribed her questions:
-- "Ms. Rabinowitz let me start with you. You were the first one who went public with Juanita Broaddrick's story. You find her to be credible. Why?"
-- "Let's talk about some of the charges her critics are making against her, for example, regarding her credibility. That she did file a false affidavit in the Paula Jones case six months ago. Why did she do that?"
-- "Alan Dershowitz you do not find Juanita Broaddrick credible. Why?"
-- "When it comes to false affidavits though what about Monica Lewinsky?"
-- "Okay. Let me interject for a moment. Why didn't Ken Starr pursue this even further? She was basically a footnote in his report. Why?"
Rabinowitz: "Because Ken Starr was constrained. He had two issues and these were about obstruction of justice."
Couric: "But these are far more serious charges."
Rabinowitz: "I understand this. But Mrs. Broaddrick made very clear that the President did nothing to pressure her. She made it clear to me, she made it clear to Ken Starr and I suspect that Ken Starr figured he had enough trouble and was not going to drag in another story and say, 'Oh and this is this rape charge.' He had, he focused on those two issues.
Couric: "He had to pick his battles in other words."
-- "Bottom line from you. What should the people take from this and what impact will it have? You talk about history. Is this, does this story have legs? Will it stick to Bill Clinton and his legacy?"
-- "And she's come forward now only because she wants to put the rumors to rest. That sounds pretty weak."


On CNN Howard Kurtz maintained he knows "people at NBC who felt this interview was ready for airing at least a couple of weeks ago." Lisa Myers told MSNBC there was internal debate about "whether NBC should run a story about a rape allegation about the President of the United States, from 20 years ago, when we simply cannot prove it." But she denied any pressure from the White House and related that her mother wants one of Brit Hume's "Free Lisa Myers" buttons.
Some outtakes from two February 25 interviews:
-- CNN Inside Politics host Judy Woodruff asked the Washington Post's Howard Kurtz: "Was NBC justified, based on what you know, in delaying the airing of this interview, from before the impeachment trial vote, until now?"
Kurtz replied: "Well, on the one hand, I have to give credit to NBC for not throwing this on the air, for taking the time and doing the double and triple checking that is indicative of good journalism. At the same time, I know people at NBC who felt this interview was ready for airing, at least a couple of weeks ago. And while NBC executives deny it, you can't help but think that they were afraid of dropping this kind of nuclear bomb while the Senate impeachment trial was going on, and frankly, Judy, it is easier for NBC to air the Broaddrick interview after her account has already been in a couple of major newspapers, because now they are not breaking it, but they're giving the country a look at the woman who is at the center of this latest political storm."

-- The MSNBC Web site posted a discussion with Myers about her interview. Here are a few of excerpts relating to why the interview took five weeks to get on the air.
MSNBC: "You mentioned all the talk about sitting on the interview on the Internet, talk radio and other organizations -- even the 'Free Lisa Myers' buttons that some pundits wore on a Fox network show."
Myers: "Yes, my mother has asked for a copy of the 'Free Lisa Myers' button. Now I think I can contact Fox and get some."
(To see Brit Hume wearing the button, go to: http://www.mediaresearch.org/news/cyberalert/1999/cyb19990205.html#2)

MSNBC: "There are charges NBC let Juanita Broaddrick down by not running the story during the Clinton impeachment trial. How do you feel about those charges?"
Myers: "The story wasn't ready. I know at times Juanita felt quite frustrated and she did feel that she had been let down. It will be interesting to see what her reaction is to the piece. I think in the end it is better that the piece aired with the allegations having been thoroughly investigated and us able to say, 'This is what Juanita Broaddrick says, this is what we can corroborate, this is what we can't, and let viewers reach their own decision.'"
MSNBC: "With all the talk about people "sitting on the story," can you characterize the debate at NBC on running the story? Was there even a debate?"
Myers: "I think there were honest differences of opinion along the way as to whether NBC should run a story about a rape allegation about the President of the United States, from 20 years ago, when we simply cannot prove it. There are no medical records, there is no police report. That said, I think the fact we were able to do this extensive investigation, do it quite carefully and find as a result, at the end of a month, that while we couldn't corroborate it, that what we could find did tend to support her story. I believe that now, certainly most of, perhaps even all, of the people who were in disagreement before are reasonably comfortable about airing the story. Most of importantly Andy Lack is. It was his call."
MSNBC: "And there was no delay in the story from White House pressure?"
Myers: "No. To my knowledge, the White House had nothing to do with the process at all....I saw no evidence that there was any kind of White House pressure, at all. The reason the story was delayed was that it needed to be investigated; a process of checking out something this old took a month and it was not ready to go until today."
To read this entire online interview with Myers, go to: http://www.msnbc.com/news/244470.asp
NBC's main index page for Broaddrick material: http://www.msnbc.com/news/242994.asp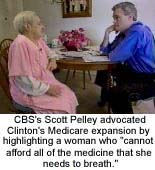 CBS skipped Broaddrick again Thursday night but made time for a one-sided piece using an emotional plea from an elderly lady to endorse Clinton's call to expand Medicare to pay for prescriptions. Reporter Scott Pelley highlighted a woman who supposedly "cannot afford all of the medicine that she needs to breath" and Pelley preposterously asserted: "Medicare's lack of prescription benefits is a quiet crisis."
Dan Rather introduced the February 25 CBS Evening News story on Clinton's trip to Tucson by misleadingly asserting: "CBS News White House correspondent Scott Pelley is traveling with the President in Arizona and looks beyond the photo-op to the fine print."
Naturally, one would think going beyond the photo-op to the "fine print" would mean a look at some problems with Clinton's proposal. But that's not what CBS delivered. This story is so biased and features such a sympathetic portrait of a selfish woman who wants everyone else to pay for her problems instead of her family, that I've transcribed it in full.
Pelley began: "In Tucson the President called for a revolution in Medicare, not only to save the insurance program but also to expand it."
Clinton: "I would also like to see us begin to work in to Medicare a prescription drug benefit which I think would dramatically improve it."
Pelley: "Medicare's lack of prescription benefits is a quiet crisis."
Pelley to Peggy Halpert (sp?): "Your doctor doesn't know you've cut back on that medication?"
Halpert: "No because there's nothing he can do about it."
Pelley: "In Maryland, Peggy Halpert cannot afford all of the medicine that she needs to breath."
Halpert: "You get to the point where, after trying to fight the system, you don't care anymore. It's not so much you don't care but you also feel a lot of being ashamed and that takes a lot out of you."
Pelley: "You have children who can help you."
Halpert indignantly retorted: "My children have children going to college. I refuse to take my grandchildren's college money. Both husbands and wife work. I refuse to take their money to support me. Their life to me is more important than mine."
(Editorial comment: How selfish. She wouldn't want her family to take care of her but sees nothing wrong with making every other family pay for her.)
Pelley: "Still, drug coverage would cost billions. Medicare is growing so fast in twenty years it will claim 25 percent of the entire federal budget. With drug coverage it could be 30 percent."
Halpert: "I think if Medicare paid for my drugs it would leave funds for me at the time when I'm going to need more help to come in and do things for me."
Pelley: "You're fighting for your independence."
(Editorial comment: No, she's fighting for her dependence.)
Halpert: "And I'll fight to the day I die for that."
Pelley concluded without airing the views of anyone but Halpert: "A bipartisan commission is working on a plan to convert most of Medicare into managed care, HMO style. There is disagreement on nearly all of the details but one: Medicare must be completely redesigned to survive into the next century."
-- See what Halpert looks like. Since this is such a great example of how the networks serve as advocates for Clinton's liberal plans to expand government, on Friday morning a RealPlayer clip of much of this story will be placed next to this item in the posted edition of this CyberAlert on the MRC home page. Go to: http://www.mediaresearch.org/news/cyberalert/1999/cyb19990226.html#5


Tom Brokaw knows what's best for us. In the opening tease for Thursday's NBC Nightly News he questioned the wisdom of making a bigger SUV: "A new king of the road, a sport utility vehicle bigger than anything you've seen before. But is it necessary?"
Straight from the liberal environmentalist agenda, NBC's Anne Thompson, over photos of the evil new vehicle, opened the subsequent story:
"Spy shots, the first look at Ford's new Excursion, a monster SUV 19 feet long, the biggest one yet. A nine passenger vehicle that Ford will unveil tomorrow, but today getting broadsided by environmentalists."
Dan Becker, Sierra Club: "At 12 miles per gallon this is a vehicle that will bring a smile to Saddam Hussein's face."
Thompson: "Its gas milage about the same as the 4500 pound Dodge Durango and exotic sports cars including Ferrari and Porsche. A monster on the road and on the balance sheet. By simply building around the chassis of the F-Series truck Ford expects $15,000 to $16,000 profit for every Excursion sold."
So, it really isn't much bigger than a popular pickup.
Thompson proceeded to warn parking it will be "like docking the Queen Mary" as it's a foot longer than the Chevrolet Suburban. She allowed a dealer to salivate over how he's looking forward to having a product to compete with the Suburban and offered a soundbite from an auto analyst who pointed out how it will have a low emission engine so it won't be so bad environmentally.


Forget any questions about her legal work in Arkansas or how she made $100,000 on $1,000. Forget how her husband stands accused of rape. And don't even consider the possibility the whole idea is a PR gimmick planned before Broaddrick broke to distract from the then known to be looming allegations. Let's just marvel at the possibility Hillary Clinton will run for the Senate from New York.
That attitude is reflected in how Diane Sawyer handled the subject in a February 25 Good Morning America interview segment observed by MRC analyst Jessica Anderson. Here is Sawyer's intro and her "questions."
Sawyer: "Well, to run or not to run, that is the question, and we have a little more information on whether the First Lady, Hillary Rodham Clinton, is going to do it in, for the Senate race in New York. Because yesterday she met with Congresswoman Nita Lowey of New York, who herself is a leading contender for the Senate nomination if Mrs. Clinton doesn't run, and last night with New York Congressman Charles Rangel, who's been credited with starting the whole 'draft Hillary' movement, and we welcome you both. Congresswoman Lowey, tell me what happened yesterday. What did she say?"
Sawyer: "So she said she's seriously considering it. Is that the exact language, anything more?"
Sawyer: "Congressman Rangel, what's your bet today?"
Sawyer: "From your conversations with her, Congressman Rangel, what lights up her face the most? What tempts her the most in this?"
Rep. Rangel: "The challenge. I've campaigned with this lady around the country, and it was so exciting to see her excited about her own campaign for a change, rather than about someone else's, but she is just one of the most exciting personalities I've ever seen in politics...."
Sawyer: "I love how casually you say 'rather than someone else's campaign,' I wonder who that might be. Ten times she's run with her husband. Can I ask you Congresswoman Lowey, she's now showing in the latest poll that she'd be 20 points ahead of her contender, her strongest contender, Mayor Giuliani. Is it bad for the party, and for you in considering whether to run, if she keeps stringing this out?"
Sawyer: "Alright, well Congresswoman, yes or no, is she going to do it or not?"


Some balance on 60 Minutes. Last fall the CBS program generated controversy for showing Jack Kevorkian killing a man suffering from Lou Gehrig's disease. This Sunday they'll run a story on people who choose to live with the disease. In the February 25 Washington Post Lisa de Moraes described how the new angle made it onto the show:
60 Minutes is going to follow up its report about Jack Kevorkian giving a lethal injection to a man with Lou Gehrig's disease. This time it will do a segment on people who choose to live with the illness. It airs this Sunday.
The newsmagazine started a nationwide debate when it aired a video showing Kevorkian administering the fatal dose to Thomas Youk, who was stricken with amyotrophic lateral sclerosis (ALS). It aired on 60 Minutes during the final weekend of the November sweeps and scored an impressive 22.6 million people to help the network to a very tight sweeps win.
60 Minutes Executive Producer Don Hewitt says the idea for this weekend's segment came from his appearance on CNN's Larry King Live after that controversial broadcast. Mike Wallace also appeared on King's show that night to discuss the decision to air the video. One of the people who called King's show suggested the newsmag should report on people who have the disease and chose not to take their lives.
This Sunday's segment will air, not coincidentally, during the final Sunday of the February sweeps, which actually ends this Wednesday, March 3.
END Excerpt
Say what you want about 60 Minutes and Executive Producer Don Hewitt, but he's willing to do what many at the networks won't: show another side of a story he's already covered.

No CyberAlert until Tuesday or maybe Wednesday of next week. I'm leading a delegation from the MRC Alumni Club on a trip to Las Vegas to study the impact of liberal media bias upon the gaming industry. -- Brent Baker

---
>>> Support the MRC, an educational foundation dependent upon contributions which make CyberAlert possible, by providing a tax-deductible donation. Use the secure donations page set up for CyberAlert readers and subscribers:
http://www.mrc.org/donate
>>>To subscribe to CyberAlert, send a blank e-mail to: mrccyberalert-subscribe
@topica.com. Or, you can go to: http://www.mrc.org/newsletters. Either way you will receive a confirmation message titled: "RESPONSE REQUIRED: Confirm your subscription to mrccyberalert@topica.com." After you reply, either by going to the listed Web page link or by simply hitting reply, you will receive a message confirming that you have been added to the MRC CyberAlert list. If you confirm by using the Web page link you will be given a chance to "register" with Topica. You DO NOT have to do this; at that point you are already subscribed to CyberAlert.
To unsubscribe, send a blank e-mail to: cybercomment@mrc.org.
Send problems and comments to: cybercomment@mrc.org.
>>>You can learn what has been posted each day on the MRC's Web site by subscribing to the "MRC Web Site News" distributed every weekday afternoon. To subscribe, send a blank e-mail to: cybercomment@mrc.org. Or, go to: http://www.mrc.org/newsletters.<<<

---
Home | News Division | Bozell Columns | CyberAlerts
Media Reality Check | Notable Quotables | Contact the MRC | Subscribe