Monica: Victim of Right-Wing Conspiracy; Morton: Tripp "Evil," Starr "Big Brother."
1) Monica agreed with Hillary, as she told Britain's Channel 4 News: "I do think there's a right-wing conspiracy."
2) Lewinsky told book author Andrew Morton that Clinton admitted his life is "filled with lies and subterfuge." Only FNC noticed this as the other networks instead highlighted Lewinsky's attacks on Starr.
3) On Today author Andrew Morton embraced Lewinsky's disgust for Starr and Tripp, warning "He's big brother. He's watching you as well." He called Tripp "evil."
4) U.S. News chief Harold Evans complained Starr is trying to "hide" his misdeeds and people are not outraged enough over how her has "terrified" Lewinsky.
5) ABC's Terry Moran approvingly noted how Harry Blackmun shifted "from conservative to liberal positions fueled by a frank sympathy for the poor and disenfranchised." Only CNN noted how pro-lifers blame him for the deaths of millions of the unborn.
6) ABC's contribution to liberals: Sunday's The Practice will promote the idea that gun-makers be held liable for crime.
---
>>> "When Is A Rape Charge Irrelevant? Media Establishment Complains Standards Have Changed, But All That's Changed Are the Targets." The latest Media Reality Check fax report will be posted Friday morning on the new MRC home page: http://www.mrc.org. The MRC's Tim Graham opened the report:
"In the only National Public Radio story to date on Juanita Broaddrick, reporter Brooke Gladstone began: "The story attracted some notice in political and media circles back in 1992 as Clinton was approaching the finish line in his first presidential run. It wasn't reported because most of those in the know were not convinced it met the standard for evidence or relevance. Since then, however, politics and the media have changed, and so have the standards that govern them. Gladstone didn't consider whether her network's allegedly high standard for 'evidence or relevance' applied when NPR's Nina Totenberg carried Anita Hill's never-proven charges of crude male office talk in 1991...."
To read the rest of the fax report, including an illuminating contrast between how Time welcomed Hill as a crusading hero but wished Broaddrick would fade away, after 10am ET Friday go to: http://www.mrc.org/news/reality/1999/fax19990305.html <<<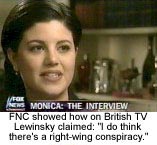 The Hillary-Monica Alliance. In January 1998 Hillary Clinton claimed Bill Clinton was the target of a "vast right-wing conspiracy." Thursday night Monica Lewinsky agreed, asserting she's "been used as a pawn" by the conspirators. Of the Thursday evening shows, only FNC showed this soundbite from her British interview.
The March 5 Fox Report at 7pm ET opened with a piece from Greg Palkot in London with highlights from Lewinsky's interview on Britain's Channel 4 News. After clips of her saying Clinton "concentrated on me" more than she on him sexually during their first encounter and musing about how "I thought to myself, 'oh his regular girlfriend is probably furloughed and I just got lucky and that was a neat, exciting experience and boy, gee I hope it would happen again,'" FNC viewers saw this bite of Lewinsky:
"I do think there's a right-wing conspiracy and I think I've definitely been used as a pawn."
(See and hear Lewinsky: Friday morning a RealPlayer clip of this portion of the FNC story will be placed next to this item on the posted version of this CyberAlert on the MRC home page.)


Ken Starr can't get a break. In the just-released book written by Andrew Morton, Monica Lewinsky revealed that, as reported Thursday night by FNC's Rita Cosby, "President Clinton confided in her that he's lived a life, quote 'filled with lies and subterfuge.'" But only FNC bothered informing viewers of that derogatory information about Bill Clinton as ABC, CBS, CNN and NBC instead focused solely on the complaints in her book about how Starr's agents treated her at the Ritz Carlton. Judge Norma Holloway Johnson already decided Starr's staff did not improperly detain Lewinsky or deny her right to counsel, a fact noted by CBS and NBC, but not by CNN. Only NBC's Lisa Myers raised how damaging Starr's reputation could hurt his chances of getting a conviction against Susan McDougal and Web Hubbell.
Here's how the Thursday, March 4 evening shows handled the Lewinsky story. All but FNC, which began with the British interview as described in item #1 above, led with the not guilty decision in the gondola case.
-- ABC's World News Tonight. Aaron Brown looked at the Morton book and how Lewinsky is off to Europe to promote it. Turning to the future, Brown examined what opportunities Lewinsky might have for commercial endorsements. He suggested they may be tough to get because Steve Connelly, President Ingals Advertising, explained: "Women are generally harder on women to begin with and here's a woman that actively stalked a married man."
I thought the "stalking" theory was long ago discredited.
Next, Jackie Judd summarized Lewinsky's complaints about Starr's team, such as calling one prosecutor "a revolting specimen of humanity," and how she fears being prosecuted. That's an unwarranted fear Judd reported because while Lewinsky is saying "harsh" things about Starr's staff her comments do not violate their immunity deal.
-- CBS Evening News. Dan Rather dramatically intoned:
"Almost lost in the carefully orchestrated hype and hoopla today over Monica Lewinsky, are her fresh accusations suggesting that special prosecutor Kenneth Starr's team and the FBI may have used unethical, and possibly unlawful, tactics in prying out of her details of her sexual relationship with President Clinton. This comes as the Justice Department is pursuing an investigation of Starr along those lines."
Scott Pelley ran through the accusations in her book in the chapter titled "Terror in Room 1012," but added: "Federal judge Norma Holloway Johnson has already ruled that Starr did not violate Lewinsky's rights, but that's not the end of it" as the Justice Department is looking at if Starr broke department rules about her right to counsel.
-- FNC's Fox Report. After Greg Palkot checked in from London, Rita Cosby reported how in book by Morton Lewinsky "blasts independent Counsel Kenneth Starr and his team of prosecutors, saying she had no choice but to accept the immunity deal. Quote, 'I felt like Hitler's whore. I felt what Starr was doing was so wrong. They were trying to hurt people I loved.'"
Cosby went on to show how Lewinsky was emotionally confused about Clinton: "On the one hand, 'there was this sensitive, loving, tender person, a needy man who was not getting the kind of love and nurturing he desired. And then there was his reputation as a philanderer with a different woman every day.' She says President Clinton confided in her that he's lived a life, quote, 'filled with lies and subterfuge.'"
No other network mentioned the "lies and subterfuge" revelation.
-- CNN's The World Today. Wolf Blitzer began his one-sided and incomplete story: "As hundreds of thousands of copies of Monica Lewinsky's book went on sale, there was perhaps only this silver lining for President Clinton: The book provides more weight to allegations that Ken Starr's prosecutors violated her constitutional right to speak to a lawyer when they first confronted her."
Blitzer showed Joe Lockhart saying she deserves a chance to speak before Blitzer relayed how she claimed Starr's staff intimidated her and she considered suicide. He then featured this hit on Starr from Lanny Davis: "Ken Starr's prosecutors certainly need to be investigated for professional misconduct and possibly violating the law."
Blitzer picked up: "Starr, who was not present during that January 1998 encounter, has previously denied the allegations which the Justice Department is now investigating." Viewers then saw Starr praising Lewinsky's TV performance, but Blitzer failed to note how a federal judge already cleared him of any wrongdoing in the areas Lewinsky complained about.
-- NBC Nightly News. Lisa Myers started her story: "The target of Lewinsky's most scathing criticism, the man she claims terrorized her and used her as a pawn to get the President, today declined to fire back. Instead, Ken Starr actually praised Monica's television performance." Following a soundbite from Starr, Myers continued: "Starr's associates note that a federal judge already dismissed most of Lewinsky's complaints about how prosecutors treated her at this hotel last January, which her book calls 'Terror in Room 1012.'"
Myers then uniquely raised a concern of those on Starr's side: "Privately, Starr's associates worry that the drumbeat of criticism from the Justice Department and now Lewinsky's book, could jeopardize upcoming trials." Specifically, they worry about a backlash from juries who have a negative view of Starr. The trial for Susan McDougal starts next week, Myers noted, and Web Hubbell is facing two trials.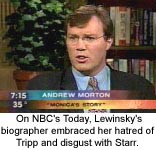 More Starr bashing, plus hatred for Tripp. His appearance on Thursday's Today demonstrated that Andrew Morton not only put Lewinsky's disgust for Starr and Linda Tripp into words in his authorized biography, Monica's Story, but he also embraces her views.
On the March 4 Today he told Katie Couric that Lewinsky was "quite maliciously held" by Starr's team at the hotel, that Starr had "managed to break Marcia Lewis' spirit" as both parents considered suicide to escape Starr of whom Morton ominously warned: "He's big brother. He's watching you as well." He called Tripp "evil" and charged: "There's no female character who's betrayed a another woman quite so comprehensively, quite so systematically, and quite so maliciously as this woman has."
Today devoted all but two minutes of the 7am half hour after the news update to Couric's interview with Morton. As MRC analyst Geoffrey Dickens documented, Couric and Morton spent most of the interview discussing the misdeeds of Starr and Tripp. Here are some excerpts:
-- Katie Couric: "Let's talk about her views of Ken Starr. That's something that she really wasn't permitted to address when she spoke with Barbara Walters. You talk about how Starr's deputies interrogated her for 12 hours on January 16th, 1998. It's a chapter you call, 'Terror in Room 1012.' Why terror?"
Andrew Morton: "Because she was terrorized. I mean she was, she felt like committing suicide within three hours. She was actively considering whether to throw herself out of the 10th floor window into the Pentagon Mall below. She was intimidated. They were showing her their guns, their handcuffs. They wouldn't allow her to phone her lawyer."
Couric helpfully chimed in: "Or her mother."
Morton: "Or her mother. And when they finally relented and allowed her to phone her mother they actually held their finger over the phone in case she blurted out a warning. When she wanted to go to the bathroom they made her empty her pockets. They took the phone out of it. When she wanted to go to the mall they followed her, they accompanied her and then they say she wasn't held. She was psychologically and quite in a way, quite maliciously held for that time."
Couric: "She has particular disdain for two prosecutors, Jackie Bennett and Mike Emick."
Morton: "Yes I mean Jackie Bennett Jr. is known in legal circles as the thug. And I can understand why. I mean he treated Monica like a pit bull would treat a kitten and just, these guys are used to mobsters, they're used to murderers. And this was an innocent young girl terrified..."
-- Couric: "You write in the book, Andrew, that at some point Ken Starr's tactics even drove her parents, Monica Lewinsky's parents, to consider suicide."
Morton: "Yes indeed. I mean it's a great triumph of Ken Starr's investigation that he has managed to break Marcia Lewis' spirit and on one occasion after she had given testimony to the grand jury she was just a nervous wreck and Monica on one occasion was standing with her and she was again contemplating throwing herself off a balcony. Her father, who you've met, a self-effacing, a very straightforward guy, he too considered suicide because of the intensity of the investigation into the family and to the humiliation of this family."....
-- Couric: "She has complete hatred and revulsion for Linda Tripp."
Morton: "Absolutely. I mean when I was writing this book I was trying to think of a literary figure who was comparable to the malevolence and the evil that this woman has and I can think of Iago in Othello, but there's no female character who's betrayed a another woman quite so comprehensively, quite so systematically, and quite so maliciously as this woman has."....
-- Couric: "She's never met Ken Starr and yet she detests him as well."
Morton: "Yes. She detests him for what he has done to her mother for the way that he broke her mother's spirit and for the threats that he made against her father...."
-- At this point Lisa Myers checked in with a brief report on Lewinsky's charges against Starr. After it Couric asked Morton for his reaction:
"When I speak to her, you talk to her, you can hear the hatred in her voice for Linda Tripp, the sentimental tone she uses for the President and then there's that flinch of fear that's in her voice, that infects her voice when she speaks of Ken Starr. I mean, he's big brother. He's watching you as well."
Attention early morning readers: More of Couric's taped interview with Morton will air on Friday's Today.
See and hear Morton impugn Starr and Tripp. Friday morning the MRC's Kristina Sewell and Sean Henry will place on the new MRC home page a RealPlayer clip from this interview. Just go to: http://www.mrc.org


People are not outraged enough over Starr's tactics and how he has "terrified" Lewinsky, maintained Harold Evans, Mort Zuckerman's top deputy who oversees U.S. News and the New York Daily News. MRC analyst Mark Drake caught this exchange on the March 3 Hockenberry show on MSNBC:
Harold Evans: "One thing which surprises me so far in the reaction: Why isn't there more concern about the fact that Kenneth Starr did not allow her to speak about what happened. Why is he holding this woman in terror? Why?"
Lucianne Goldberg: "She's not terrified."
Evans: "She's terrified. She said she was terrified. I saw it."
Goldberg: "She said it. That doesn't means it's true. No, no."
Evans: "You think she's a liar? I think it's quite true."
Goldberg: "I don't think she wrote the talking points either but you made that point."
Evans: "No, no. But she did say she was frightened and it is fact that Kenneth Starr would not let her talk about what happened. Why not? What is being held back? Why is he is so frightened? What does he got to hide? Seriously."
With all the reporting about her charges made in the Morton book her criticisms of Starr have hardly been hidden.


Retired Supreme Court Justice Harry Blackmun, who died Thursday, was one of the Constitution's "greatest defenders," Peter Jennings asserted before ABC reporter Terry Moran approvingly noted how he had grown in office, shifting "from conservative to liberal positions fueled by a frank sympathy for the poor and disenfranchised."
ABC, CNN and NBC ran full reports on the career of the man best known for authoring Roe v. Wade and those three networks plus a brief piece on CBS showed video of Blackmun wiggling his ears, but only CNN relayed the view of pro-lifers that Blackmun's ruling led to the deaths of million of the unborn.
On ABC's March 4 World News Tonight Peter Jennings effused:
"Two hundred and ten years ago today, having been ratified by the states, the United States Constitution went into effect and today one of its greatest defenders has died. Retired Supreme Court Justice Harry Blackmun was 90. He had 24 years on the court. That's a lot of decisions. He'll be remembered most often, perhaps certainly often, for one decision still causing all sorts of debate in the country: Roe versus Wade in 1973 guaranteeing a woman's right to have an abortion."
Reporter Terry Moran explained how Blackmun argued that the "right of personal privacy" included the right to an abortion, though Moran did not explain how this discovery supported Jennings' contention that he was a great defender of the Constitution. Moran continued: "For that opinion Blackmun was called a murderer, a butcher and worse...Beyond Roe, Blackmun's career on the court was marked by a shift from conservative to liberal positions fueled by a frank sympathy for the poor and disenfranchised."
Moran then played this soundbite from historian David Garrow: "He always wanted to think of himself as the people's justice."
Just as long as the person manages to be born.
On NBC Nightly News Pete Williams traced Blackmun's ideological movement, but refrained from saying it meant he cared more: "Appointed by Richard Nixon in 1970 as a conservative, Harry Blackmun retired from the Supreme Court 24 years later as its most liberal voice."
Only CNN's Charles Bierbauer on The World Today made room for a conservative view, giving a soundbite to a liberal and then offering a summary of the other side:
Senator Barbara Boxer: "A giant has passed from the scene and somebody who protected the dignity of women."
Bierbauer: "The National Right to Life Committee expressed condolences but noted Blackmun's decision resulted in the deaths of 38 million unborn children."


More free media in prime time for the latest liberal cause. Check out this plot outline for Sunday's The Practice on ABC, from TV Guide:
"Jimmy and Lindsay represent grieving parents who sue a gun manufacturer for negligence after their daughter is murdered by a robber using an assault weapon."
The Practice is a 10pm ET/PT drama revolving around a law firm in Boston.

How helpful of ABC to aid in the promotion of a liberal cause. Conservatives must earn donations and buy ad time. Liberals can get Hollywood to portray their cause as the noble one. -- Brent Baker

---
>>> Support the MRC, an educational foundation dependent upon contributions which make CyberAlert possible, by providing a tax-deductible donation. Use the secure donations page set up for CyberAlert readers and subscribers:
http://www.mrc.org/donate
>>>To subscribe to CyberAlert, send a blank e-mail to: mrccyberalert-subscribe
@topica.com. Or, you can go to: http://www.mrc.org/newsletters. Either way you will receive a confirmation message titled: "RESPONSE REQUIRED: Confirm your subscription to mrccyberalert@topica.com." After you reply, either by going to the listed Web page link or by simply hitting reply, you will receive a message confirming that you have been added to the MRC CyberAlert list. If you confirm by using the Web page link you will be given a chance to "register" with Topica. You DO NOT have to do this; at that point you are already subscribed to CyberAlert.
To unsubscribe, send a blank e-mail to: cybercomment@mrc.org.
Send problems and comments to: cybercomment@mrc.org.
>>>You can learn what has been posted each day on the MRC's Web site by subscribing to the "MRC Web Site News" distributed every weekday afternoon. To subscribe, send a blank e-mail to: cybercomment@mrc.org. Or, go to: http://www.mrc.org/newsletters.<<<

---
Home | News Division | Bozell Columns | CyberAlerts
Media Reality Check | Notable Quotables | Contact the MRC | Subscribe