Two "Juanitas"; Morton: Monica a Victim of VRWC; Starr & Tripp Pummeled
1) Since 70 million watched ABC's Lewinsky interview, Brit Hume argued: "That...ought to silence the people who say nobody cared."
2) Linda Tripp informed Sam Donaldson that the "Juanita" she and Monica discussed was not Juanita Broaddrick.
3) Even liberal Juan Williams labeled as "ridiculous" Lewinsky's attacks on Ken Starr, but CNN's Wolf Blitzer found them credible.
4) Andrew Morton insisted that Lewinsky was a pawn of the VRWC: "I think that the whole conspiracy to entrap the President needs greater investigation, as to how Linda Tripp, Lucianne Goldberg and others worked together to draw Monica into their web."
5) Today dedicated a whole segment to how "Lewinsky levels some serious charges against Ken Starr and his prosecutors."
6) White House wire service reporters avoided tough questions as one hoped Clinton could "bring closure" to it all while another challenged Clinton, but from the left on missile defense.
7) Diane Dimond ventured Tripp was a "good friend" to Lewinsky on the dress, but Jonathan Alter countered: "Her idea that somehow she was looking out for Monica's interests is just a lie."
8) Rivera on Lewinsky: "I thought she was vivacious, I thought she was sharp." On Letterman, a comedian joked about Rivera's love for Clinton.
9) Letterman's "Top Ten Things Monica Lewinsky Can Do To Mend Her Reputation."
---
>>> MediaWatch and Notable Quotables: The March 8 issues are now both up on the MRC home page thanks to research associate Kristina Sewell and Webmaster Sean Henry. Just go to the MRC's new Web page: http://www.mrc.org. If they are no longer under "Our Newest Stuff" when you to the page just click on either the "News Division" or "Newsletters & Reports" button on the left to access them. <<<
Clarification: CNN's The World Today had carried three stories on Juanita Broaddrick through March 2, not two as reported in the March 3 CyberAlert. In addition to a full report February 20 prompted by front page Washington Post story and a February 26 piece by Bruce Morton on feminist reaction and charges of hypocrisy by conservatives, on Sunday night, February 28, Gene Randall summarized comments from that morning's interview shows. He began: "There is a call among some Republican leaders for President Clinton to make some kind of public statement on Juanita Broaddrick's allegations." Amongst the soundbites Randall played was this from Senator Mitch McConnell on Fox News Sunday: "If Ronald Reagan had been accused of this I don't think the press would have let him get away with saying see my lawyer." Randall added: "Democrats are expressing some concerns over the Broaddrick allegations as well, but with the impeachment trial two weeks into the history books they insist it is time to move beyond scandal."
Otherwise, the coverage summary in the March 3 CyberAlert stands as accurate through the end of last week with this added caveat: Sports bumped all three broadcast network evening shows from the Washington market on Sunday, February 28, but I was in the West myself that night and did not see any mention of Broaddrick on the NBC Nightly News or first half of the CBS Evening News. The bottom line: One story so far on the CBS Evening News and zilch on the ABC and NBC evening shows through Saturday night, but ABC did raise her name in a March 7 story. See item #2 below for details. For the March 3 coverage summary, go to: http://www.mediaresearch.org/news/cyberalert/1999/cyb19990303.html#3

Quote of the weekend. From FNC Washington Managing Editor Brit Hume in a Fox News Sunday discussion of the 20/20 interview with Lewinsky:
"What we did find out I think was that people, despite what they may tell pollsters on occasion, given an opportunity to watch two full hours of this will watch like crazy. Upwards of 70 million people tuned in at some point and the average was audience was just under 50 million people. That absolutely for all time ought to silence the people who say nobody cared."


Clinton has done it with more than one "Juanita." Linda Tripp appeared on Sunday's This Week and ABC's Sam Donaldson played an excerpt from the Tripp-Lewinsky tapes in which the two discussed how Clinton may have to answer questions about "Juanita," an intriguing exchange cited in the March 8 Weekly Standard.
Donaldson asked Tripp if she was referring to Juanita Broaddrick. Tripp replied: "No, this was not Juanita Broaddrick....This was a woman whose relationship with the President would have again gone to the pattern of behavior..."
Later on ABC's World News Tonight Tim O'Brien summarized Tripp's points made on This Week, saying she called Lewinsky's account on 20/20 "surreal, a fantasy." As for Lewinsky's claim that Starr's agents abused her at the hotel, O'Brien played this retort from Tripp: "They treated her with the utmost professionalism." After noting how Tripp said she did not "document" (tape) conversations that would have proved Vernon Jordan was working on a job for Lewinsky to silence her and that Hillary was not truthful about her role in the travel office firings, O'Brien concluded:
"In Tripp's taped conversations with Lewinsky, there is a reference to another potential witness against the President named Juanita. Tripp said it is not Juanita Broaddrick who recently accused the President of having raped her 20 years ago....So who is the new Juanita? Perhaps one more tantalizing breath in a scandal many had hoped would breathe its last."
That's ABC's first evening show mention of Broaddrick's name since the story broke on February 19 (not counting the Sunday, February 28 show which did not air in Washington, DC.)


Agreeing with Linda Tripp, on Fox News Sunday the usually liberal Juan Williams came to Ken Starr's defense and maintained he did not treat Lewinsky improperly, but CNN's Wolf Blitzer kept pounding away Sunday, treating Lewinsky's tale as credible.
Williams declared on the March 7 Fox show: "How tremendously self serving, her attacks on Ken Starr. I find this sort of breathtaking. I think most prosecutors in the country have defended Ken Starr in the idea that of course we try to isolate people and of course Ken Starr was under the impression that many of Monica's lawyers were involved in an effort to cover up, to literally commit a crime, but nonetheless the assault continues and somehow she makes Ken Starr into a bad guy for trying to go out and find out whether or not the President is involved in a cover up. I find that ridiculous."
Not so ridiculous to CNN's Wolf Blitzer. Check out the questions he posed on Late Edition to Richard Thornburgh and Lanny Davis. Blitzer framed the segment around Lewinsky's agenda:
"Lewinsky's book and interviews this week have created new headaches for Ken Starr. Here now to talk about that unfolding story is former Bush Attorney General Dick Thornburgh, who joins us from Philadelphia. And here in Washington, former Clinton White House Special Counsel, Lanny Davis. Gentlemen, as always, glad to have you with us.
"Let me read, Dick Thornburgh, a few sentences from Monica Lewinsky's book, about that first day January 98, when she was confronted by Ken Starr's FBI agents, and prosecutors. 'Throughout the afternoon, in moments of lucidity, Monica asked again and again to be allowed to contact her lawyer. On one occasion, it was explained to her that as Frank Carter was a civil, rather than a criminal attorney, he would be of little use to her in this instance. They were being disingenuous. Carter had headed Washington's public defender service for six years. She then said she would like to call him and ask him to recommend a criminal attorney. But they told her that she couldn't do that either, because is would make Carter suspicious.'
"Is that proper behavior for prosecutors and FBI agents to deny in this particular case, a suspect a right to talk to an attorney?"
Four of Blitzer's five subsequent questions assumed Starr has done wrong:
-- "Dick Thornburgh, there is an investigation that Attorney General Reno wants to conduct, although it's unclear whether she is going to get that right to conduct it, onto some of these tactics that were used, not specifically directly by Ken Starr personally, but by his agents and prosecutors."
-- "The point, though, that Ken Starr's prosecutors make, Lanny Davis, is this: that if Monica Lewinsky would have called her attorney Francis Carter, he was close to Vernon Jordan, this whole sting operation that they were involved in -- they wanted to wire her and get her to talk to Vernon Jordan, Betty Currie, maybe even the President -- could have unraveled."
-- "Dick Thornburgh, another source of controversy, involving the independent counsel, Ken Starr, was the contacts that his office may have had with Paula Jones' lawyers setting the stage for bringing Monica Lewinsky into his investigation. And in her book, Monica Lewinsky says that some of those contacts resulted in Ken Starr's getting her affidavit which her lawyer Francis Carter had filed with the court denying a sexual relationship with the President, and that that was improper to have received that affidavit from the Paula Jones attorneys."
-- "Now in fairness to Ken Starr, some of the sources close to him say that they got that affidavit from Linda Tripp who was a cooperating witness not from the Paula Jones lawyers. But how serious is this part of the investigation of the investigator?"
-- "Dick Thornburgh, you know, tomorrow the Susan McDougal case opens up once again, and some of her lawyers are suggesting they may want to call Monica Lewinsky in as a witness to talk about her experiences with alleged prosecutorial abuse by Ken Starr's people. What a spectacle that would be, huh?"


Monica Lewinsky, victim of the VRWC. Andrew Morton, author of Monica's Story, not only personally embraces her disgust with Ken Starr and hatred of Linda Tripp, as detailed in the March 5 CyberAlert item on his Thursday Today appearance, but he really thinks she was the victim of the vast right-wing conspiracy.
On Sunday's Meet the Press, Tim Russert asked Morton: "She also told Channel 4 in Great Britain that she believes she was a pawn of a right-wing conspiracy, when in fact she got her job through the offices of a Democratic fundraiser. Does she really believe there was a right-wing conspiracy and she was a pawn?"
Morton assured Russert: "Yes, indeed, and I think that the whole conspiracy to entrap the President needs greater investigation, as to how Linda Tripp, Lucianne Goldberg and others worked together to draw Monica into their web, and then subsequently to entrap the President. I mean, this is what bemuses most people abroad. How can what is, after all, an office romance, become an Article of Impeachment? And it seems to me that the whole movement toward entrapping the President was part of this conspiracy.
"And we talk about the job search. The turning moment for Monica to go find herself a job was on October the 6th, when Linda Tripp, who was part of this conspiracy, told her that there was a black mark against her in Washington, she would never get a job, and she'd heard that from a friend of hers in the National Security Council. The friend, when she gave her deposition to the FBI, said that was a total lie, but that moment was the turning moment for Monica. Linda Tripp was part of that conspiracy. And the whole of October, November, December of 1997, was Tripp and her cohorts trying to bring Monica into the Paula Jones case.
Russert: "What one word would Monica Lewinsky use to describe Linda Tripp?"
Morton: "The devil incarnate."
I guess the "devil" enlisted the gullible intern to offer to perform fellatio on Clinton.


Andrew Morton made a second appearance on Today on Friday morning, but before Katie Couric got to him she devoted a segment to Starr's alleged misdeeds.
At the top of the March 5 show she announced: "Then Jane, we're going to be looking once again at Monica Lewinsky's book. It is flying off the bookshelves. Its author Andrew Morton will be back to talk about that, and we also ask one of the central questions of the book: did Ken Starr go too far in questioning Lewinsky as the former White House intern is alleging?"
Introducing the 7am half hour segment with attorneys Joe DiGenova and Larry Pozner, Couric asserted:
"And now to Monica Lewinsky and her new book out this week. Lewinsky levels some serious charges against Ken Starr and his prosecutors, alleging they bullied and mistreated her when they first detained her last January at the Ritz Carlton hotel. In a section called 'Terror in Room 1012,' Lewinsky says she was not allowed to contact her lawyer or her mother, threatened with twenty seven years in jail and intimidated by an investigator flashing handcuffs under his jacket. A federal judge has already ruled that no laws were broken but the Justice Department is now looking into the matter."
So why publicize Lewinsky's charges? Aren't they little more than uncorroborated, and actually contradicted, allegations by a Starr hater?
But Couric plowed ahead and as MRC analyst Mark Drake observed, she repeatedly challenged the pro-Starr DiGenova but not the anti-Starr Pozner who only had to comment on DiGenova's defense of Starr. Couric's questions:
-- "Okay. Joe, let me start with you. If what Monica Lewinsky says is true, were these investigators and prosecutors from Ken Starr's office out of line?"
-- "Joe, why shouldn't the Justice Department have to play by the same rules as most other people? There's a big article in the Wall Street Journal about that." (Couric quoted it about how Justice Dept. personnel can disregard state bar rules on talking to suspects who have lawyers.)
-- "Why wouldn't these prosecutors, Joe, allow Monica Lewinsky to call her attorney or her mother and then finally when she did they hovered over her about to hang up the phone if she said anything they didn't like?"
-- "Joe, furthermore, how could prosecutors discuss immunity with Monica Lewinsky if her attorney isn't present?"
-- DiGenova insisted it's not illegal, prompting Couric to shout: "Is it unethical. Is it unethical?" and "Joe. Joe. Joe. Is it unethical?"


White House correspondents punted again. Friday afternoon Bill Clinton held a joint press conference with the Italian Prime Minister, but as they did the last two times Clinton took questions, the same three wire service reporters avoided posing any tough questions or uttering the name Juanita Broaddrick. In fact, Helen Thomas hit him from the left on a missile defense and Larry McQuillan portrayed Clinton as a victim of Lewinsky and yearned for him to "bring closure" to the whole scandal.
Here are the three questions posed on March 5 as Clinton avoided any of the big name network reporters:
-- Terence Hunt of AP asked what he had to say to Italians who say justice has not been done in the gondola accident.
-- Helen Thomas, UPI: "Do you expect a breakthrough on Kosovo and especially in view of the policy seems to be attacking or threatening Serbia and then retreating, it's constant. And my other question is how can you justify chipping away at the ABM treaty which helped keep the peace during the Cold War and pour billions and billions into a Star Wars defense against the possibility that starving North Korea may fire a missile at us?"
(Houston to Thomas: North Koreans are starving BECAUSE the government is pouring all its money into building missiles.)
-- Larry McQuillan, Reuters: "Mr. President, more than 70 million Americans watched Monica Lewinsky's recent television interview and a number of people are buying a book that she's put out. I'm just wondering, do you have any thoughts on it that you can share with us that perhaps might bring closure to this and do you have any problem with the idea that she's actually making money off that relationship?"
Instead of demanding an answer about Broaddrick or about how some of what Lewinsky recalls about mutual satisfaction contradicts Clinton's claims about one-way sex, let's ask Clinton to "bring closure."
This is the third joint press conference in a row in which the wire team has embarrassed itself. As reported in the February 22 CyberAlert about the February 19 event with the French premier:
Three U.S. reporters were called upon. First, Terence Hunt of AP asked about extending the Kosovo deadline, though Kosovo is all the French reporters asked about. Second, Helen Thomas of UPI wondered: "What lessons have you learned from your 13 month ordeal? Do you think the office of the presidency has been harmed?
And what advice do you give future Presidents?" Third, Larry McQuillan of Reuters inquired: "I wonder if you could share with us some your thoughts about the pros and cons of Hillary running for the Senate seat in New York?"
End Excerpt
From the February 25 CyberAlert on the February 24 joint press conference:
UPI's Helen Thomas obliquely raised the Broaddrick matter to Clinton at a joint press conference at 2:30pm ET Wednesday with the President of Ghana, but only FNC bothered to mention Clinton's refusal to respond. Thomas inquired: "What is your reaction to recent allegations by an Arkansas woman, apparently something she claims happened many years ago?" Thomas then asked about the Independent Counsel law before Clinton replied: "My counsel has made a statement about the first issue and I have nothing to add to it."
End Excerpt
Friday night, March 5, ABC's World News Tonight avoided Lewinsky. On the CBS Evening News Scott Pelley showed this extended clip of Clinton: "What I hope is that she will be permitted to go on with her life and I hope that all the people who have been hurt by this, including totally innocent people who have massive legal bills, will get the help they need and I'm determined to do what I can to help them. This was a pretty tough thing for everybody involved and I wish her well, I hope it works out alright for her."
Pelley added: "Mr. Clinton also indicated that he does not mind that she is making millions of dollars from the national ordeal."
How generous. He "does not mind" that the woman he planned to impugn as a "stalker" will make some money off of servicing him.
On the NBC Nightly News David Bloom insisted "President Clinton offered an apology, of sorts, when asked about Monica Lewinsky."
Clinton: "What I hope is that she will be permitted to go on with her life and I hope it will be a good life. And I don't wish anyone ill who was caught up in this and she paid quite a high price for a long time and I feel badly for that. So I just hope it works out alright." [this was a compiled soundbite with three separate comments rolled together]
Bloom failed to point out where in that he saw an apology, but did conclude by pointing out a contradiction by Clinton: "And President Clinton said he's determined to pay what he called the massive legal bill of those caught up in Starr's investigation, without acknowledging that by denying the affair for eight months he added greatly to the legal bills of those closest to him."


When Geraldo's Away... On Friday nights Diane Dimond gets to go solo on CNBC's Upfront Tonight since Geraldo Rivera only works a four-day week. This past Friday that allowed her to actually say something positive about Linda Tripp, though Jonathan Alter soon disparaged her in true Geraldo fashion.
Interviewing Tripp spokesman Phil Coughter, Dimond asserted:
"I may be getting lots of mail after I say this, but I may be one of the few people in America, I have some sympathy for Linda Tripp. I have had friends that have called me repeatedly and you just wish they'd go away but you try to help them and their lives are a mess. Monica and the dress. Do you suppose that Monica will ever realize what a good friend Linda Tripp was to tell her to save that dress?"
Coughter said he doubted it. That appreciative spirit toward Tripp was short-lived. Later in the show while issuing his assessments on the winners and losers of the week, Newsweek's Jonathan Alter declared of Tripp:
"Total loser. She will go down as some kind of tabloid era Judas. And yea, sure she warned her about the blue dress and that was helpful, but her idea that somehow she was looking out for Monica's interests is just a lie. It's clear throughout the history of this thing that she was out to do Monica harm and for her own interests."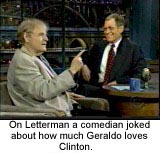 Geraldo Rivera and Bill Clinton are the real sexual soul mates and Rivera's love for Clinton is known widely enough to support a comedian's joke about it on the Late Show.
On Thursday's Upfront Tonight, MRC analyst Geoffrey Dickens noticed, Rivera revealed how after watching her ABC interview he understood what Clinton found so attractive about Lewinsky:
"I actually saw in watching the interview what I think Bill Clinton found so attractive. I thought she was vivacious, I thought she was sharp. She did have tremendous charisma, energy, despite the fact that she wasn't a beauty in the classic sense. She's very attractive. That's the good side."
"Sharp"? She believed everything Clinton told her yet Rivera calls her "sharp." Oh, I forgot, that's because Rivera is the one other person who actually believes Clinton's words.
Rivera's sucking up to Clinton, documented many times in past CyberAlerts, is so well known that a comedian on the Late Show felt comfortable the audience would understand such a joke. From the March 4 Late Show with David Letterman:
Letterman: "Did you see the Monica Lewinsky thing last night? See any of that?"
George Miller: "Yea I did watch that. I thought it was interesting that she said that, well she said she's no longer in love with Bill Clinton but that's okay because Geraldo still is. Have you noticed that guy? Can you say kiss ass on this show, is that okay? Well he claims that Clinton watches his show a lot."
Letterman: "Geraldo's all the time screaming about President Clinton. He wanted to give him a hug at one point."
Miller: "That's right, 'I love you, I want to hug you Mr. President.' Well, anyway he said that sometimes Clinton watches his show so I did some investigation -- I'm the Investigative Comic tonight, that's my gimmick -- and I found out that sometimes when Clinton was with Monica they watched. Well actually, she was just able to listen. But still, that's what I heard, that's what I heard."
To see and hear this segment of the Late Show in RealPlayer format, go to the MRC home page where Webmaster Sean Henry will post it on the MRC home page Monday morning: http://www.mrc.org. And it will be viewable for the next 30 days at: http://www.mediaresearch.org/news/biasvideo.html


From the March 4 Late Show with David Letterman, the "Top Ten Things Monica Lewinsky Can Do To Mend Her Reputation." Copyright 1999 by Worldwide Pants, Inc.
10. Appear on "E.R." as woman who keeps getting stuff caught in her throat.
9. Hire PR firm that improved Charles Manson's reputation.
8. Rejoin her old band The Go-Gos.
7. Become the U.S. Ambassador to Grabasslavia.
6. Help "straighten out" that Teletubby.
5. Change name to Sara Lee Lewinsky (because nobody doesn't like Sara Lee).
4. Break up N'Sync the way Yoko broke up the Beatles.
3. Perform Heimlich Maneuver on choking Hillary Clinton: Aim wad of dislodged food at Linda Tripp's face.
2. Lure terrorist mastermind Osama Bin Laden into trap by flashing her thong.
1. Stop the damn smirking.

A Viewing Alert: Kevin Hickey, the son of Juanita Broaddrick, is the scheduled guest for Monday's (March 8) Larry King Live on CNN at 9pm ET/PT. -- Brent Baker

---
>>> Support the MRC, an educational foundation dependent upon contributions which make CyberAlert possible, by providing a tax-deductible donation. Use the secure donations page set up for CyberAlert readers and subscribers:
http://www.mrc.org/donate
>>>To subscribe to CyberAlert, send a blank e-mail to: mrccyberalert-subscribe
@topica.com. Or, you can go to: http://www.mrc.org/newsletters. Either way you will receive a confirmation message titled: "RESPONSE REQUIRED: Confirm your subscription to mrccyberalert@topica.com." After you reply, either by going to the listed Web page link or by simply hitting reply, you will receive a message confirming that you have been added to the MRC CyberAlert list. If you confirm by using the Web page link you will be given a chance to "register" with Topica. You DO NOT have to do this; at that point you are already subscribed to CyberAlert.
To unsubscribe, send a blank e-mail to: cybercomment@mrc.org.
Send problems and comments to: cybercomment@mrc.org.
>>>You can learn what has been posted each day on the MRC's Web site by subscribing to the "MRC Web Site News" distributed every weekday afternoon. To subscribe, send a blank e-mail to: cybercomment@mrc.org. Or, go to: http://www.mrc.org/newsletters.<<<

---
Home | News Division | Bozell Columns | CyberAlerts
Media Reality Check | Notable Quotables | Contact the MRC | Subscribe