CBS & NBC Skip China Hearing; Brokaw: China a Bigger Risk Than Kosovo
1) A Senate committee heard Wednesday from nuclear lab directors and probed delays in warrants for Wen Ho Lee, but only ABC and FNC covered it on their evening shows. Zilch on CBS and NBC. FNC's Carl Cameron previewed findings from another Senate committee.
2) Tom Brokaw actually asked President Clinton if Chinese espionage isn't "a bigger risk really to the long term history of the United States than Kosovo?" But NBC ignored the topic Wednesday after refusing to report two major NY Times disclosures.
3) "I think we're doing the right thing" in Kosovo declared CBS chief Les Moonves, adding: "I totally support the President."
4) Geraldo's latest crusade: "A major investigation by The Nation magazine concludes that Willey is simply not a believable witness and that Ken Starr knew it."
5) MSNBC gave Al Gore an hour to shine as host of its post-shooting town meeting. "You're a minority of one here tonight," Tom Brokaw conceded to the only gun advocate NBC allowed.
---

The Senate Energy and Natural Resources Committee heard testimony on Wednesday from officials at the nuclear labs, but the CBS Evening News, NBC Nightly News and CNN's The World Today all failed to air a word about it or use it as a hook to catch viewers up on developments in the storyline.
NBC Nightly News, for instance, has yet to tell its viewers about either the April 28 or May 2 New York Times disclosures. The first story told about how Los Alamos scientist Wen Ho Lee supposedly transferred vast nuclear test data to an open computer in 1994-95. The second, which CBS has also failed to report, revealed how the Clinton administration was informed in November of China's espionage efforts, thus contradicting Clinton's assertion at a March press conference that he knew nothing of any espionage during his term.
Instead of China, CBS Evening News anchor Dan Rather promised Wednesday night: "Still ahead on the hard news CBS Evening News: a massive credit card scam. Have they got your number?" Sandra Hughes subsequently looked at how the FTC found millions of fraudulent $19.95 charges on credit cards for Internet services. NBC avoided Chinese missiles, but Robert Hager provided a full report on how six U.S. satellite rocket launches have failed in the last nine months.
ABC's World News Tonight provided a full story on the China hearing, but instead of raising questions about Clinton administration political influence delaying the probe, ABC's Bob Woodruff honed in on FBI bungling and bought the Justice Department's claim that it twice turned down warrant requests simply "because the evidence against Lee was insufficient."
FNC's Carl Cameron covered the hearing for Special Report with Brit Hume and added that an upcoming report from the Senate Intelligence Committee "will conclude that China has improved its intercontinental ballistic missiles as a result of lax U.S. export policy." Fox Report anchor Paula Zahn condensed Cameron's report to a 25-second item she read.
Only CNN pointed out how at another hearing a Senator asked Attorney General Janet Reno about the Justice Department's rejection of the warrant request to search Wen Ho Lee's computer. But this CNN coverage came in a piece by Pierre Thomas run on Inside Politics which did not air on The World Today.
Now some details on China coverage on the Wednesday, May 5 evening shows:
-- ABC's World News Tonight. Bob Woodruff explained how the FBI first contacted Lee in 1982 when he called a scientist being investigated for passing secrets to China. Wen Ho Lee passed two polygraphs, Woodruff noted, but his bosses at Los Alamos were never told about the incident. Then in 1996 when the FBI learned China had obtained U.S. warhead technology, Lee emerged as suspect. Woodruff picked up the story:
"Officials at Los Alamos testified today that they immediately offered to search Lee's computer, but they say FBI and Justice Department officials told them that would be unconstitutional and the evidence would not be admissible in court."
After a soundbite from Los Alamos Director John Browne, Woodruff continued:
"Instead, the FBI told the lab to keep Lee in his job with fill access to classified material so they could watch him. In 1997 FBI officials tried to get a special national security warrant to search Lee's computer, but the Justice Department turned them down twice because the evidence against Lee was insufficient."
Senator Don Nickles called the turn down "gross incompetence" before Woodruff concluded: "In 1999, this year, when the FBI finally did get access to Lee's computer, they found evidence he had downloaded blueprints for much of the U.S. nuclear arsenal. It had apparently been there for years while the FBI was watching him."
A very trusting Woodruff failed to raise any questions about political motivations or the influence of donations behind the Justice rejections.
-- CNN's The World Today ignored the hearing, but Pierre Thomas provided highlights for Inside Politics. Toward the end of his piece Thomas uniquely noted how "at another hearing, Republicans took aim at Attorney General Janet Reno." Thomas showed Senator Bob Smith at a Judiciary Committee hearing inquiring: "Why did your department believe that a search warrant was necessary for Mr. Lee, when it's a government computer, it's a government office and it's a matter of the highest national security of the United States government?" Reno refused to address the issue, replying: "Nobody should be discussing these matters that are classified."

-- FNC's Special Report with Brit Hume. Carl Cameron introduced soundbites from Senators by asserting: "Lawmakers have now begun to call China's nuclear spying the most damaging in American history." Pete Domenici claimed "The scope and damage to the United States is probably the largest that's ever occurred by way of any kind of espionage" and Don Nickles called it "possibly ...the most serious case of espionage in U.S. history," comparable to Rosenberg, Walker and Ames.
After summarizing the hearing, Cameron told Brit Hume: "The Senate Intelligence Committee has a declassified report that could be released as soon as tomorrow. It focuses mostly on technology transfers, legal and commercial to the People's Republic of China. But it has a number of revelations in it and sources familiar with it say it will conclude that China has improved its intercontinental ballistic missiles as a result of lax U.S. export policy and that U.S. national security was severely harmed and that several U.S. companies did not adequately ensure that those technology transfers were adequately watched."
Hume then wondered: "Do we know anything more now about the potential connection to campaign contributions in this?"
Cameron answered: "It was part of the investigation. Two thoughts from it. They say the People's Republic of China did try to influence U.S. politics and policy and that the U.S. government and U.S. companies in many cases let national security take second place to making a buck."
Fox Report viewers heard a 25-second summary of all this by anchor Paula Zahn.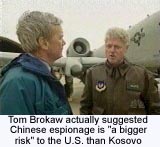 Tom Brokaw asked President Clinton, in an interview clip shown on Wednesday's NBC Nightly News, whether Chinese espionage isn't "a bigger risk really to the long term history of the United States than Kosovo?"
Regular NBC Nightly News viewers must have been baffled by Brokaw's suggestion since the NBC show certainly hasn't acted that way. As noted in #1 above, his show skipped the Senate hearing. Brokaw's question came three days after a Sunday New York Times story that both NBC Nightly News and Today ignored which revealed the Clinton team was alerted to ongoing Chinese spying last November but waited months to take action and dishonestly denied knowledge of such spying. See the May 3 CyberAlert for details: http://www.mediaresearch.org/news/cyberalert/1999/cyb19990503.html#2
One week before Brokaw's question, the April 28 New York Times disclosed how Wen Ho Lee supposedly "improperly transferred huge amounts of secret data from a computer system at a government laboratory, compromising virtually every nuclear weapon in the United States arsenal." Today gave this bombshell 15 seconds. While the CBS Evening News allocated a few seconds to it and ABC's World News Tonight ran a full story, NBC Nightly News ignored it.
For details, go to the April 30 CyberAlert: http://www.mediaresearch.org/news/cyberalert/1999/cyb19990430.html#1
Of course, Brokaw could have asked Clinton about either of these stories, but he did not.
And like all the broadcast networks, NBC has yet to tell its viewers about an April 4 Los Angeles Times piece on how the head of Chinese military intelligence gave Johnny Chung $300,000 to donate to Clinton's re-election effort. For more on the many newspaper revelations skipped by NBC and the other networks, check out a Special Report by the MRC's Tim Graham released last week: http://www.mediaresearch.org/specialreports/news/sr19990426.html
Now back to Brokaw's May 5 interview. NBC Nightly News showed Brokaw's travelogue as he accompanied President Clinton on Air Force One to Europe. Brokaw showed him on Air Force One, playing a comment about Russian involvement in the Kosovo peace efforts.
After a military briefing in Brussels Clinton flew on to Spangdahlem Air Base in Germany where on the tarmac, in front of a Stealth fighter and a Warthog, Brokaw interviewed Clinton. NBC showed three questions and answers:
Brokaw's first question: "Did you expect to be farther along at this point. We're now six weeks into the operation."
Second, Brokaw raised the China issue: "Your critics say the Clinton doctrine is we bomb the small countries -- Iraq and Kosovo -- but when the big countries begin to give us trouble we turn the other way, China and nuclear secrets is the most recent example of that. Isn't that a bigger risk really to the long term history of the United States than Kosovo?"
Clinton replied: "Well first of all I think that's apples and oranges. The Soviet Union spied on us all during the Cold War. I don't recall President Truman or President Eisenhower or President Kennedy or President Johnson or President Nixon ever considering bombing Russia because of espionage. We didn't break off relationships with Israel when Israel was involved in espionage in ways that could have been quite damaging to us. So I think that's a foolish thing. We should handle this espionage case the way we've handled every other espionage case since spying began."
Comment: The U.S. realized the Soviet Union was an enemy and deployed weapons and forces accordingly and Israel never aimed intercontinental missiles as us.
Brokaw's third question: "Based on what we're seeing on Capitol Hill and other signs of it as well, 1998 your job approval rating remained very high but there were real questions about trustworthiness and credibility and so on -- even in the public. Has that made running this kind of operation more complicated for you?"
Clinton indignantly shot back: "No, no. You know the people on Capitol Hill will have to decide how they respond as Americans to their obligations here, but it hasn't been a problem. The American people made clear in the election in 1998 who they trusted and for what reason and what their priorities are and they hired us all to do their work and they want their lives and their children and their future and their national interest put first."
(Clinton said "1998" thought he might have meant 1996, but maybe he was just referring to the GOP's poor showing in 1998.)
To read the text of the entire interview, go to http://msnbc.com/news/266130.asp (MSNBC text does not match above because I corrected against the actual video)
To read Brokaw's interview with Clinton conducted aboard Air Force One, which dealt only with the war and only a few words of which made it onto Nightly News, go to: http://www.msnbc.com/news/265991.asp
+++ See and hear part of Brokaw's interview with Clinton. To watch the latter two questions and answers, go to the MRC home page where MRC Webmaster Sean Henry will post a RealPlayer clip this morning. Go to: http://www.mrc.org


"I totally support the President" in his Kosovo war effort, declared CBS President Les Moonves at a Monday fundraiser in New York to raise awareness of the Red Cross's "Help Now" toll-free number.
In Wednesday's USA Today Jeannie Williams relayed how "a lot of heavy hitters -- from Quincy Jones to CBS Television CEO Leslie Moonves -- flocked to the Kit Kat Klub, where performers included Hayes, Deborah Gibson and Gloria Gaynor." Williams explained why Moonves attended and passed along his positive assessment of Clinton's judgment:
"Moonves was to receive an award Tuesday, and Dan Rather was to present it. 'But he's still in Belgrade. That's more important,' Moonves said. He added, 'I think we're doing the right thing. I totally support the President.'"


Geraldo Rivera is still doing all he can to discredit Ken Starr. Tuesday night, MRC analyst Geoffrey Dickens noticed, he picked up on an article in The Nation, a far-left weekly, which claimed Willey lied and Starr knew it.
On the May 4 Rivera Live on CNBC Rivera announced:
"So now Ken Starr, after failing miserably to convict the President after failing even to convict Susan McDougal, brings the extremely peripheral figure Julie Steele to trial in the case that could land her in prison for 35 years. In that court they don't want to put Kathleen Willey on trial. They don't want her credibility to really be the issue. We do.
"Tonight we turn the tables put Kathleen Willey's credibility exactly on trial. A major investigation by The Nation magazine concludes that Willey is simply not a believable witness and that Ken Starr knew it. Now among the magazine's chief findings. Item: Willey was actually seeking a sexual relationship with the President. Item: At least six people told Willey. Let me restate that. Six people say that Willey told them she was thrilled by this alleged encounter with Mr. Clinton. Item: Starr gave Willey an extremely broad immunity agreement, even though Willey had lied to them about a previous sexual relationship. Item: Willey also lied about making a phone call to Steele after meeting with Newsweek. Item: Although Willey portrays herself as a reluctant witness, she did contact two literary agencies that might have helped her publish a book on the alleged encounter with the President."
Turning conspiratorial, Rivera later demanded of Wall Street Journal editorial writer John Fund:
"Do you not have some problems with the fact that for example Julie Hiatt Steele was charged with this crime on the very day the President's Senate trial began. I mean doesn't that seem to you that Ken Starr was trying to influence the course of the impeachment process. That all this is about gamesmanship."
Geraldo's the expert on gamesmanship.


As a corporation General Electric cannot donate directly to a campaign, but GE found a way to give Al Gore something more valuable: an hour of air time on its MSNBC network.
Catching up on an item from last week, on April 28 MSNBC ran a two-hour town meeting from 10pm to12am ET, hosted by Tom Brokaw and Jane Pauley, on the Columbine shooting. While Brokaw and Pauley hosted from a high school in New Jersey, for the first hour Vice President Gore hosted from.....Des Moines, Iowa, coincidentally a key state he must win to earn he Democratic presidential nomination.
While Brokaw did press him about the entertainment industry and why he and his wife have not done more to denounce it, Gore got plenty of time to offer empathy with the victims and prompt audience members to call for more gun control.
Back in New Jersey, MSNBC's panel featured former Republican Senator Alan Simpson, Education Secretary Richard Reilly, New Jersey Governor Christine Todd Whitman, Larry Pratt of Gun Owners of America, Hugh Price of the Urban League and David Thomas, the DA of Jefferson County, Colorado.
Though the panel included two Republicans, Simpson and Whitman are on the left on the gun issue and both called for additional regulation, Brokaw somewhat made up for the imbalance by asking DA Thomas: "Is there any doubt in your mind that these two youngsters, who were willful and bright, by all accounts, and planned this for a long time, would have gotten those guns no matter what the laws were? Is there any doubt in your mind?" a law which would have kept them from getting those guns?"
Later, MRC analyst Mark Drake noticed, after Larry Pratt made the provocative assertion that more guns is the solution, an idea Simpson ridiculed, Brokaw noted: "Mr. Pratt, you're a minority of one here tonight."
I guess five-to-one is considered balanced at NBC. -- Brent Baker

---
>>> Support the MRC, an educational foundation dependent upon contributions which make CyberAlert possible, by providing a tax-deductible donation. Use the secure donations page set up for CyberAlert readers and subscribers:
http://www.mrc.org/donate
>>>To subscribe to CyberAlert, send a blank e-mail to: mrccyberalert-subscribe
@topica.com. Or, you can go to: http://www.mrc.org/newsletters. Either way you will receive a confirmation message titled: "RESPONSE REQUIRED: Confirm your subscription to mrccyberalert@topica.com." After you reply, either by going to the listed Web page link or by simply hitting reply, you will receive a message confirming that you have been added to the MRC CyberAlert list. If you confirm by using the Web page link you will be given a chance to "register" with Topica. You DO NOT have to do this; at that point you are already subscribed to CyberAlert.
To unsubscribe, send a blank e-mail to: cybercomment@mrc.org.
Send problems and comments to: cybercomment@mrc.org.
>>>You can learn what has been posted each day on the MRC's Web site by subscribing to the "MRC Web Site News" distributed every weekday afternoon. To subscribe, send a blank e-mail to: cybercomment@mrc.org. Or, go to: http://www.mrc.org/newsletters.<<<

---
Home | News Division | Bozell Columns | CyberAlerts
Media Reality Check | Notable Quotables | Contact the MRC | Subscribe