CBS & MSNBC Skipped Chung; Morning Chung Blackout; NBC Gets to Spying
1) ABC, CNN, FNC and NBC covered Johnny Chung's House testimony Tuesday night, but not CBS or MSNBC's News with Brian Williams. ABC highlighted how Chung blamed the campaign finance system.
2) Of the three cable news channels only FNC carried Chung live for more than 20 minutes. MSNBC avoided live coverage but provided live updates on a crowd awaiting singer Ricky Martin.
3) Nothing about Chung Wednesday morning on Today or GMA. Tuesday morning only CBS's This Morning uttered his name.
4) NBC Nightly News finally told viewers about the legacy code transfer but Andrea Mitchell highlighted an expert who claimed espionage has not helped China. CBS revealed the Clinton team declassified documents full of useful nuclear weapons information.
5) NBC News may avoid Chinese espionage, but not NBC's Tonight Show which did more Monday night than Today has all month.
---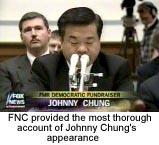 Finally, five weeks after the April 4 Los Angeles Times broke the story of how Johnny Chung was given $300,000 in 1996 by the head of Chinese military intelligence to donate to help President's Clinton's re-election, two of the three broadcast networks told viewers his story.
The testimony on Tuesday by Chung before the House Government Reform Committee generated stories Tuesday night on ABC, CNN, FNC and NBC, but notably not on either the CBS Evening News or MSNBC's The News with Brian Williams which found six minutes to replay a Today interview with Star Wars creator George Lucas about violence in movies. So that means viewers of the MSNBC show and the CBS Evening News have yet to learn about the $300,000. CNN's Inside Politics led with a report on Chung by Bob Franken and Jonathan Aiken provided a later story for CNN's 10pm ET The World Today. (Tuesday morning only CBS's This Morning previewed Chung's upcoming testimony, but none ran an interview segment. See item #3 today for details.)
Instead of covering Chung, the CBS Evening News made time for a preview of expected record summer travel by road, a brief look at a new robotic toy dog from Japan, discussion with Dr. Bernardine Healey about the overuse of the anti-obesity drug Xenical, and an Eye on America look at abuses of Chapter 7 bankruptcy.
No one story delivered the whole picture of what Chung conveyed. CNN and FNC, but not ABC and NBC, noted how the Chinese General who gave him the $300,000 later threatened his life, telling him not to talk about it with U.S. authorities. ABC and FNC reported how Chung maintained the Democrats knew the source of his funds, a charge skipped over by NBC's Lisa Myers but she uniquely relayed how Chung said "a Beijing banker told him that the President's long time friend Charlie Trie had approached the Chinese government" about getting money to give on behalf of Clinton's re-election. Only FNC's Carl Cameron added how Chung said he did favors for a U.S. embassy official in exchange for visas and only Cameron raised Democratic doubts about Chung's credibility. But ABC's Linda Douglass ended by passing along the favored Democratic spin, stressing how "Chung blamed the flood of illegal contributions in the last presidential campaign on a political system that is addicted to money."

Here's how ABC and NBC and then FNC handled Chung Tuesday night, May 11.
-- ABC's World News Tonight. About 21 minutes into the show, after stories on Kosovo, Chinese protests over the embassy bombing, refugees, an Alabama jury ordering a company to pay $500 million to two customers overcharged $600 each for satellite dishes and two "A Closer Look" pieces on how companies are increasing productivity, ABC got to Chung.
Peter Jennings introduced the short 1:24 piece: "On Capitol Hill today the Congress finally heard from Johnny Chung. He's had a lot of attention in the past year as a link between the Chinese government and the Democratic Party."
Linda Douglass began: "Chung told the committee about his stunning conversation in 1996 with the head of Chinese military intelligence in Beijing, General Ji. According to Chung, the General said."
Chung: "We really like your President. I will give you three hundred thousand U.S. dollars. You can give it to, or use it for, your President and Democrat Party."
Over old video of Chung hugging Clinton, Douglass continued: "Chung took the money, spent most of it, and gave only $35,000 of it to the President and his party. In return he was able to give Chinese businessmen and government officials the opportunity to rub elbows with President Clinton. Chung charged that Democratic Party officials knew very well what he was doing, but they did not care."
Chung: "I now realize that they took my money with a smile and made fun of me when I turned my back. Today I have mixed feelings about the President and First Lady but I can't help but think they used me as much as I used them."
Douglass concluded her relatively brief story: "Chung denied he ever acted as an agent for the Chinese government. Chung blamed the flood of illegal contributions in the last presidential campaign on a political system that is addicted to money. And he told the House members, I did not create the system, you did."

-- NBC Nightly News. Just a few minutes into the show, following a Andrea Mitchell piece on Chinese espionage -- the first such piece in a month on Nightly News -- Lisa Myers handled the Chung appearance.
Myers dubbed him the "poster boy of the campaign finance scandal," though he's a poster NBC News has ignored recently. Myers relayed how he told how Chinese intelligence "tried to cash in on his access to the President" by asking him to funnel money. She showed Chung saying: "I like your President very much. I will give you three hundred thousand U.S. dollars. You can give it to, or use it for, your President and Democrat Party."
After noting how he only donated $35,000 of the $300,000, Myers recalled: "Today's testimony flatly contradicts what Chung told Tom Brokaw two years ago. Then he denied any involvement with the Chinese government."
Following a soundbite of Chung from August 1997 Myers explained how he now says a Chinese arms dealer and an intelligence agent approached because they heard of his access. Myers uniquely passed along how "Chung also claims other Americans may be involved, says a Beijing banker told him that the President's long time friend Charlie Trie had approached the Chinese government."
Chung: "And he asked me, do you know he asked my government for $1 million dollars to give it to the President and Democrat Party."
Myers concluded: "Chung once said the White house is like a subway, you put in coins to open the gates. The question tonight: What gates were Chinese intelligence officials trying to open and did they succeed?"

-- FNC's 6pm ET Special Report with Brit Hume and 7pm ET Fox Report both led with Carl Cameron's summary of Chung's appearance plus some information he'd learned about Chinese espionage.
"With details worthy of a spy novel," Cameron relayed how Chung described meeting General Ji. In his Fox Report piece Cameron played the soundbite of Chung describing why Ji wished to help Clinton and then Cameron explained how Chung claimed the rest of the money he contributed came from his legitimate business interests.
Cameron uniquely picked up on another charge made by Chung:
"Chung also described doing political and financial favors for a U.S. embassy official in Beijing in exchange for visas for Chinese citizens. He also testified to being threatened to keep quiet about his dealings with the Chinese spy chief."
Chung: "The message was as follows: If you keep your mouth shut, you and your family will be safe."
Cameron continued: "Republicans said Chung's story proves China covertly tampered with U.S. elections and when coupled with China's nuclear espionage means China should be treated as an adversary."
Following a comment from committee chairman Dan Burton, Cameron, unlike the other networks, actually passed along the Democratic spin: "But because Chung first denied funneling any contributions for the Chinese and now has changed his story to offer vivid details, the top committee Democrat questioned his credibility."
Viewers heard from Congressman Henry Waxman before Cameron added: "But another Democrat laid into China as a ruthless dictatorship that used Chung."
Congressman Tom Lantos asserted: "You are a very minor and insignificant puppet in a vast global drama orchestrated by the communist regime in Beijing."
Cameron ended by reporting how Chung "said that the Democratic National Committee has smeared him and that they were aware of his contacts with the Chinese and still pressured him to make further contributions."
Asked about other developments by Fox Report anchor Paula Zahn, Cameron informed viewers that senior counter-intelligence officials told Fox News that China has obtained data on a wide array of warheads, including the W56, W57 and W72 warheads taken out of service in 1970s, the W78 used to arm Minuteman III missiles, W87, the MX Peacekeeper payload, and the W88 for the submarine-launched Trident missile.


During the day Tuesday FNC covered Chung live for several hours and CNN showed him live for 20 minutes, but MSNBC never showed his testimony live. C-SPAN2 picked him up during a Senate lunch break, but otherwise showed the Senate whiled C-SPAN offered the House session. But C-SPAN did put Chung onto its third channel, C-SPAN Extra, and replayed his testimony from 8:30pm to 1am ET Tuesday night on C-SPAN2.
-- CNN stuck to its regular schedule most of the day while Chung appeared from about 12:20 to 5pm ET, running a Burden of Proof on Littleton from 12:30 to 1pm ET. CNN showed Chung live from 1:39pm to 1:55pm and offered an update at 2:13pm followed by a live report at 2:51pm by Bob Franken on Capitol Hill. The 3pm TalkBack Live focused on the embassy bombing and CNN had Showbiz Today at 4pm ET and repeated Burden of Proof at 4:30pm before Chung led the 5pm Inside Politics.
-- MSNBC. With a couple of exceptions, MSNBC avoided Chung during the day on May 11. Here's a brief rundown of their news judgment, all times Eastern:
12-12:30pm: Judge & Jury on Jon Benet Ramsey.
12:40pm: replay of Today interview with George Lucas.
12:50pm: replay of Today interview with actress Camryn Manheim about being fat.
1pm half hour: Dana Plato death. Interview with child actors Johnny Whitaker (Jody on Family Affair) and Danny Bonaduce.
1:30pm: reducing your cancer risk.
1:40pm: Linda Vester with a live report on crowds forming for singer Ricky Martin's appearance at Tower Records in Manhattan.
2-3pm: Watch It with Laura Ingraham. Did include a brief Chung update from Bob Windrem of NBC News in New York City, interview about espionage with Senators Jim Bunning and Bill Frist and an end of the hour segment with John Fund, Mona Charen and David Bossie on Chung.
3-4pm: military targeting, Riverside protests against police brutality, Dana Plato, Littleton, George Lucas interview replay again, Linda Vester live again with Ricky Martin crowd.
4-5pm: A 3:30 update from Tim Russert in the studio on Chung, more live from Tower Records, replay of a Dateline piece about a sting at a pawnshop and a "Where in the World is Matt Lauer" replay from Today.


Not a syllable Wednesday morning, May 12, on Today or Good Morning America about Johnny Chung's Tuesday testimony. Today spent most of its show with Matt Lauer aboard an aircraft carrier in he Mediterranean and ABC's GMA broadcast live from Biloxi, Mississippi. (I did not see today's This Morning.)
Tuesday morning, May 11, only CBS's This Morning actually mentioned Chung's name, making the first broadcast network utterance of his revelation about the $300,000. On the May 11 show, MRC analyst Brian Boyd observed, Bill Plante previewed Chung's appearance:
"U.S. investigators say that in the fall of 1996, Chung took $300,000 from the head of Chinese military intelligence, money intended for the Clinton campaign. Six months later Chung began cooperating with a federal investigation into campaign finances. Now, Senate investigators say that Chung spent most of the $300,000 on himself, paying his mortgage. The FBI can only trace no more than $30,000 to the Democratic National Committee. The Democrats gave that back and all of the rest of the money he contributed as well, Thalia."
Anchor Thalia Assuras: "Still this is highly politicized, isn't it?"
Plante: "Well, it certainly is, because Republicans want to make a link between this and the charges that China was stealing U.S. nuclear technology. The Democrats, on the other hand, say that Chung has told inconsistent stories throughout, that he has contradicted himself many, many times."
At the end of the day, as noted in #1 above, CBS decided Chung wasn't worth a story on the Evening News.
On Tuesday's Today, at the end of a story about the embassy bombing, Andrea Mitchell made this vague reference to Chung:
"And as if U.S./China relations weren't tense enough today Congress holds hearings on allegations of illegal Chinese contributions to the Clinton election campaign. With dramatic testimony expected to contradict China's official denials."


NBC Nightly News finally, vaguely, informed viewers Tuesday night about some of the developments on the spy front NBC ignored over the past few weeks. CNN's The World Today ran a piece by Pierre Thomas on Energy Secretary Bill Richardson's announcement of a security crackdown and the CBS Evening News delivered a report on how the Clinton administration's zeal to declassify Cold War era documents allowed rogue nations to gain valuable knowledge about building nuclear weapons.
-- NBC Nightly News. Just before Lisa Myers reported on Chung, on Tuesday's NBC Nightly News Lisa Myers finally informed viewers of the show about what the April 28 New York Times revealed about the legacy codes. But, she never told viewers about a May 2 New York Times story on how the Clinton team was informed last November about ongoing spying or Bill Richardson's admission on Sunday's Meet the Press that Clinton lied when he denied any espionage took place during his term. In fact, she never mentioned Tim Russert's Sunday scoop. Instead, she highlighted an expert who maintained the espionage has not improved China's nuclear capabilities.
She began by vaguely referring to an item reported in Tuesday's New York Times about submarines:
"The question tonight: Did Chinese spies steal the secret to track U.S. nuclear submarines and the top secret plans for the nuclear warheads they carry? Intelligence officials say here's what's been stolen: the design for America's most advanced warhead, details on five others. Potentially even worse, the transfer of 50 years of classified code for U.S. nuclear weapons development, everything you would need to know about their design and testing."
This transfer occurred in 1994-95, a point Mitchell skipped over.
After soundbites from Defense Secretary Cohen and Senator Shelby Mitchell noted that four years after warnings, sweeping new rules have been implemented now there is "a major admission." Viewers heard Richardson say: "We think it's bad. We think it's serious. There was an incredibly bad security breach."
Mitchell reported that though Wen Ho Lee is under investigation his guilt is not certain, then added: "Also unclear, how has China used these secrets?"
William Arkin, identified as a "nuclear weapons expert," asserted: "Espionage has gone on but the reality is that it hasn't changed the complexion of Chinese nuclear forces in any way."
Mitchell concluded: "And in a twist right out of a spy novel there's this: NBC News has learned the CIA and the congressional committee investigating the leaks, now say the Chinese agent who first tipped them off about spying at the labs was in fact a double agent working for China, raising even more questions about who is spying on whom and what is China really doing with America's nuclear secrets."

-- CBS Evening News. Dan Rather failed to relay Richardson's Sunday concession about spying during Clinton's years, which contradicts Clinton's claims, but he did implicate Reagan and Bush:
"U.S. Energy Secretary Bill Richardson announced several new layers of nuclear security. This was done after China got stolen U.S. nuclear weapons secrets amid lax security and bungling at U.S. weapons laboratories. This goes back all the way into the Bush and Reagan years but possibly has gotten worse during the Clinton administration."
Sharyl Attkisson then delivered a full report on something also mentioned by FNC's Carl Cameron, how Richardson is slowing down the declassification of Cold War documents. Attkisson explained why: "The policy change comes amid growing evidence that some of America's fiercest adversaries didn't even have to steal nuclear know-how. The U.S. gave it to them."
Noting how former Energy Secretary Hazel O'Leary carried out Clinton's mandate for openness, Attkisson ominously noted the result:
"Among the millions of pages of old documents and films about atomic testing were some of the so-called crown jewels of the U.S. weapons program, engineering knowledge on how to turn the science into weaponry. Intelligence sources tell CBS News that information has proven to be a bonanza for rogue nations with primitive nuclear weapons programs: Iran, Iraq, North Korea and Libya. And even more troubling, the declassified data may have helped Pakistan and India....Former UN weapons inspector David Kay says the large scale declassification is a blunder that will be felt for years to come."


NBC News may avoid Chinese espionage, with Tuesday's Nightly News story its first this month and Today having only conducted one interview segment during the last two-and-a-half months, but there is a NBC show not afraid to tackle the subject: The Tonight Show.
MRC analyst Geoffrey Dickens picked up these two jokes from Jay Leno's monologue on Monday's Tonight Show:
-- "I guess you know the Chinese are very upset with President Clinton for bombing the embassy. Oh man. That's a huge deal. In fact the Chinese told Clinton today any damage to the embassy will be coming out of his influence checks. They are deducting it right out of his sal...boom, take it right out, right off the top!"
-- "Well you know the thing that really got the Chinese angry. Their embassy was hit by one of the few American bombs they didn't already have the blueprints for. You see they think we're holding out on them."

That's more time on Chinese espionage than Today has devoted this month. -- Brent Baker

---
>>> Support the MRC, an educational foundation dependent upon contributions which make CyberAlert possible, by providing a tax-deductible donation. Use the secure donations page set up for CyberAlert readers and subscribers:
http://www.mrc.org/donate
>>>To subscribe to CyberAlert, send a blank e-mail to: mrccyberalert-subscribe
@topica.com. Or, you can go to: http://www.mrc.org/newsletters. Either way you will receive a confirmation message titled: "RESPONSE REQUIRED: Confirm your subscription to mrccyberalert@topica.com." After you reply, either by going to the listed Web page link or by simply hitting reply, you will receive a message confirming that you have been added to the MRC CyberAlert list. If you confirm by using the Web page link you will be given a chance to "register" with Topica. You DO NOT have to do this; at that point you are already subscribed to CyberAlert.
To unsubscribe, send a blank e-mail to: cybercomment@mrc.org.
Send problems and comments to: cybercomment@mrc.org.
>>>You can learn what has been posted each day on the MRC's Web site by subscribing to the "MRC Web Site News" distributed every weekday afternoon. To subscribe, send a blank e-mail to: cybercomment@mrc.org. Or, go to: http://www.mrc.org/newsletters.<<<

---
Home | News Division | Bozell Columns | CyberAlerts
Media Reality Check | Notable Quotables | Contact the MRC | Subscribe