Rubin: Greatest SecTreas since 1790s; Liddy Earns Media Approval
1) The networks heaped praise upon Robert Rubin on behalf of a "country full of prosperity he helped create." He was "the best Treasury Secretary since Alexander Hamilton" oozed Peter Jennings.
2) Liddy goes left and earns media admiration. CBS highlighted her opposition to concealed weapons. ABC's John Cochran passed along the spin: "By taking on the gun lobby, she hopes men will decide maybe she is also tough enough to take on Slobodan Milosevic."
3) Only FNC cared that a top Democrat criticized Justice for turning down the FBI's warrant request for Wen Ho Lee. FNC's Carl Cameron exclusively revealed how the Clinton team ignored evidence about misuse of plutonium by North Korea.
4) No Chung on Wednesday's morning shows, but they had time for a story about a beach party for a furniture store's staff and a discussion about Star Wars toys. CNS picked up how Chung's sentencing judge said if the DNC didn't know then they were dumb.
---
Corrections. First, the May 12 CyberAlert misspelled the last name of Bernardine Healy. It is Healy, not Healey. Second, the same edition quoted CBS reporter Sharyl Attkisson as reporting "...the declassified data made have helped Pakistan and India." That should have read "...data may have helped..."

The networks gave Robert Rubin a glorious send-off Wednesday night, enthusiastically praising him, as CBS's Scott Pelley put it, for having "guided policy during what may be the greatest boom in U.S. history." ABC's Peter Jennings enthused that "all sorts of people" have "called him the best Treasury Secretary since Alexander Hamilton." NBC's Tom Brokaw suggested it's the government which creates wealth, applauding Rubin for "very skillfully positioning the government to help fuel these extraordinarily good times."
Viewers did not hear a word of criticism, but did hear some historical revisionism which credited much of the economic success to the balanced budget though the economic numbers were doing good well before the imaginary balanced budget occurred. Rubin was also credited with advocating "fiscal restraint" though during his years as a White economic adviser in Clinton's first term the President was advocating a massive spending spree for his health care program. No reporter mentioned its defeat or how a Republican Congress rejected many Clinton ideas for government expansion which would have slowed the economy.
All also praised Larry Summers, the current Deputy Treasury Secretary Clinton will nominate to replace Rubin. Though many conservatives condemn his international money giveaways, the networks praised how he coordinated bailouts. CBS's Anthony Mason recalled how with Alan Greenspan and Rubin Summers formed a "troika that Time called 'The Committee to Save the World.'"
Here's how the broadcast networks treated Rubin's resignation on Wednesday night, May 12. ABC and CBS led with Rubin, NBC went first with Yeltsin firing Primakov.
-- ABC's World News Tonight. Peter Jennings opened the show by gushing:
"Good evening. The man who presided over the best economy in a generation is going back to private life. The Secretary of the Treasury Bob Rubin, who said today that he really was resigning, has been described in such glowing terms that he'd begun to sound indispensable. All sorts of people today, including the President, have called him the best Treasury Secretary since Alexander Hamilton, who was the first Secretary in 1789 and did an enormous amount to put the United States on firm financial footing."
Sam Donaldson joined the chorus of praise: "Rubin is credited, along with Mr. Clinton's first Treasury Secretary Lloyd Bentsen, with fashioning the policy of fiscal restraint that led to the first balanced budget in 12 years. That in turn is given major credit for the kinds of improvements Americans have felt, including low unemployment and interest rates, the booming housing market, especially for lower income families, and the country's record length of economic expansion. Rubin said the credit belonged to the team."
Rubin: "My view, Mr. President, you and the Vice President have repositioned our country..."
Up next, Betsy Stark on how Summers "is widely respected as a brilliant academic thinker who has learned a lot about policy making from Robert Rubin and Alan Greenspan."

-- CBS Evening News. From the White House Scott Pelley reported that "the President led the ovation for Rubin, the Wall Street tycoon who guided policy during what may be the greatest boom in U.S. history."
After a clip of Clinton Pelley recounted Rubin's achievements: "He advised that cutting the deficit was more important than new social programs. Rubin gets credit for pushing the 1993 budget deal to reduce deficit spending, the result was lower interest rates. He backed reform of the IRS and intervened when meltdowns in Mexico, Russia, Brazil and Asia threatened the U.S. economy."
On Summers, Anthony Mason relayed: "....Larry Summers is said by many to be even smarter than Rubin, a former Harvard professor and chief economist at the World Bank, he spent four years at Rubin's side. The administration's trouble-shooter as the global financial crisis spread, Summers met privately with Greenspan and Rubin every week forming a troika that Time called 'The Committee to Save the World.'"

-- NBC Nightly News. Tom Brokaw told viewers how Rubin "is going back to private life after quietly and very skillfully positioning the government to help fuel these extraordinarily good times."
Mike Jensen began: "He's the man most Americans can thank for the country's extraordinary eight year economic boom." Jensen maintained that economists "say he helped create the boom by persuading President Clinton to balance the budget. The result: a huge budget surplus, mortgage rates at seven percent, unemployment at an almost 30 year low, stocks up an astonishing 230 percent, one of the greatest bull markets ever."
Jensen concluded by highlighting how by the end of Wednesday the Dow was "recovering most of its losses and NASDAQ up sharply. For Robert Rubin the absolute perfect moment to step down, a country full of prosperity he helped create and no end in sight."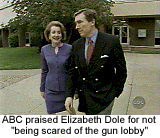 Elizabeth Dole knows how to win media admiration: Go left and take on a conservative group most reporters despise. In this case the NRA, better known to TV viewers as "the gun lobby."
Twice in the past week Dole has earned praiseworthy network pieces for her comments denouncing NRA stands. The most recent: Wednesday night on the CBS Evening News and that followed an even more glowing appraisal Saturday night on ABC during which reporter John Cochran marveled at how she's "sounding almost like, good grief, a Democrat." Cochran set her up with this softball from left field: "Do you think it's time to stop being scared of the gun lobby?" And, Cochran passed along this bit of spin: "By taking on the gun lobby, she hopes men will decide maybe she is also tough enough to take on Slobodan Milosevic." Now that's quite a stretch.
-- CBS Evening News, May 12: Bob Schieffer began his piece from Washington:
"The fallout from the awful events in Littleton is beginning to be felt from the Capitol to the campaign trail. In a speech here last night Republican presidential candidate Elizabeth Dole surprised many in her party when she said Americans must insure the safety of children."
Dole in front of an event for Working Women 500: "Even if it means having the guts to stand up to the gun lobby."
Schieffer: "Last week she called for banning assault weapons. Last night she added this:"
Dole: "I think it's wrong to let people carry concealed weapons."
Schieffer: "That was a direct challenge to Republican presidential frontrunner George W. Bush who as Governor signed legislation in 1995 which allowed people to carry concealed weapons in Texas..."
Schieffer went on to report how the Senate agreed to fund a look into whether violent video games are marketed to kids, but turned down more money for youth programs and handed the NRA a victory by not passing a bill to mandate background checks at gun shows.

-- ABC's World News Tonight on Saturday, May 8. John Cochran exulted:
"Suddenly, Elizabeth Dole has become the in your face Republican on gun control, sounding almost like, good grief, a Democrat."
Dole at an event earlier in the week in New Hampshire: "I don't think you need an AK-47 to defend your family. And I do believe in the ban on assault weapons. I also favor safety locks, yes safety locks on gun to protect our children."
Cochran: "She gets the occasional boo, but more often she get applause and in the wake of the Columbine school tragedy Dole's aides believe her stand on gun control will resonate to voters."
Cochran to Dole: "Do you think it's time to stop being scared of the gun lobby?"
Dole: "I do not think they should dictate to our party."
Cochran: "Until now Dole has looked soft, uncertain on many issues. And then there was the gender problem. She is popular with women, but polls show men have doubts about her. But now, by taking on the gun lobby, she hopes men will decide maybe she is also tough enough to take on Slobodan Milosevic."
Stuart Rothenberg, political analyst. "That's a very different Elizabeth Dole than we've been seeing. The sugary, smiling Southern debutante."
Cochran: "But does it really take so much courage to go toe-to-toe with the gun lobby? In recent years the National Rifle Association seems to have lost some of its political punch. Is there still a price to pay when you take on the gun lobby or do you think the gun lobby's power is waning now?"
Dole: "Well we'll see won't we? We'll see."
Cochran: "Dole is still a distant second in the polls to Governor George Bush who will delay the start of his campaign until this summer. Dole knows all she can do is position herself as a serious alternative if Bush stumbles badly. And for starters she wants you to know she is serious about gun control."
While Cochran did question whether it really takes "courage" to take on the media-pummeled "gun lobby," he never questioned nor allowed anyone else to criticize the appropriateness of her proposals.

+++ Watch Cochran gush over Elizabeth Dole. Late Thursday morning ET the MRC's Sean Henry and Kristina Sewell will post, on the MRC home page, a RealPlayer clip from Cochran's story. Go to: http://www.mrc.org


The top Senate Democrat on the Select Committee on Intelligence criticized the Justice Department Wednesday for turning down a FBI warrant request to probe Wen Ho Lee, but only FNC's Fox Report noticed of all the evening shows. That coverage by FNC's Carl Cameron followed his exclusive about how the Clinton administration ignored warnings about misuse of plutonium by North Korea.
Cameron began his May 12 story over video of a nuclear plant in North Korea:
"Classified intelligence data about this North Korean nuclear energy reactor, Fox News has learned, was ignored by the Clinton administration just last year. The administration pushed forward with funding for a new cleaner reactor for North Korea even though there was evidence that the North Koreans were using the old reactor's plutonium fuel rods for weapons development instead of sending the material to the new facility for energy production. Sources say there was a huge debate about withholding funds for the new project, but the White House insisted on going ahead anyway."
Jumping to Chinese espionage, Cameron showed how at a Senate hearing ignored by the other networks Energy official Mary Ann Sullivan said her department followed proper procedure in deferring the espionage investigation to the FBI.
Cameron picked up: "But the FBI says it was denied wiretaps and search warrants by Justice Department brass. That had Attorney General Janet Reno called on the congressional carpet and blasted by members of both parties."
Democratic Senator Bob Kerrey: "A denial occurred when a denial shouldn't have occurred."
Republican Senator Richard Shelby: "I think it's indefensible on the part of the Attorney General."
Cameron concluded with this intriguing development: "Senators were supposed to receive a top secret briefing from House lawmakers who conducted an in depth investigation of China's nuclear espionage, but at the last minute sources say Democratic Senators urged House Democrats not to show up to brief them and the meeting was canceled."


"Committee Told of Beijing Cash for Democrats" announced the front page New York Times headline on Wednesday below a top center color picture of Johnny Chung testifying in front of Congress on Tuesday. But not even that prominent play in the New York Times could generate a syllable of coverage Wednesday morning on the morning shows.
And the CBS Evening News, which skipped Chung Tuesday night, did so again Wednesday night so viewers of that show have yet to learn of how Chung got $300,000 from the head of Chinese military intelligence to donate to aide in Clinton's re-election.
The May 12 CyberAlert noted how Today and GMA skipped Chung on Wednesday morning and now MRC analyst Brian Boyd has informed me that so did CBS's This Morning. Here are some examples of what they covered instead on May 12, the morning after Chung appeared before the House Government Reform Committee:
-- ABC's Good Morning America broadcast from Biloxi, Mississippi and while all the interview segments focused on that city, MRC analyst Jessica Anderson noticed that news reader Antonio Mora found time for a news item about how a Massachusetts furniture store chain flew all 1,300 of its employees to Bermuda for a one day beach party.
-- CBS's This Morning devoted its second interview segment in its prime 8am half hour, MRC analyst Brian Boyd observed, to a discussion of whether Star Wars toys are worth collecting.
-- NBC's Today devoted most of the show to live segments with Matt Lauer on an aircraft carrier in the Mediterranean Sea as part of the show's "Where in the World is Matt Lauer" gimmick, but MRC analyst Geoffrey Dickens pointed out that Today made room in the 8am half hour for Katie Couric to interview "singing sensation" Ricky Martin.
In the front page New York Times story reporter David Johnston relayed what morning show viewers never learned, opening his May 12 story:
A Democratic fundraiser who has pleaded guilty to campaign-related bank and tax fraud told a House panel Tuesday that he met in 1996 with a high-ranking Chinese intelligence official who promised him $300,000 for use in the presidential election saying, "We really like your President."
Recounting mysterious meetings at restaurants, hotel lounges and karaoke bars, the fund-raiser, Johnny Chung, provided his first public account of his experiences, from 1994 to 1996, as he traveled the Far East prospecting for business clients eager for access to the Clinton administration.
In his testimony to the government Reform and Oversight Committee, Chung said he met several times with the chief of China's military intelligence agency, Gen. Ji Shengde, who directed that the $300,000 be wired to Chung's bank account in Hong Kong for use as contributions to President Clinton's re-election campaign....
Chung said that at their first meeting in August 1996, Ji used the alias "Xu" and emerged as a shadowy figure from a kitchen entrance of an abalone restaurant in Hong Kong. They spoke obliquely about Clinton, Chung said. Ji told him, "We hope to see him re-elected. In will give you 300,000 U.S. dollars. You can give it to the president and the Democratic Party," Chung said.
Chung was introduced to Ji by Liu Chaoying, the daughter of powerful Chinese general and an official in a Chinese aerospace company. Chung said he never told Democratic Party officials that he raised money in China, but believed that Democratic officials were aware of his business activities there. Chung said he later introduced Ms. Liu to Donald Fowler, who was then chairman of the Democratic National Committee....
END New York Times excerpt
The MRC's Conservative News Service picked up some interesting Chung-related angles and tidbits I've not seen elsewhere. Here are some excepts from a piece by Bruce Sullivan posted on May 12:
Former Democratic fundraiser Johnny Chung concluded his marathon testimony, Tuesday, before the House committee investigating illegal donations to the 1996 Clinton-Gore reelection campaign by shaking hands with committee chairman Rep. Dan Burton (R-IN), and then referred to the scores of other witnesses who have refused to testify.
"Well Mr. Chairman, one down, 120 to go," said the effusive California businessman, who appeared none the worse after his five-hour testimony....
Burton said that during the course of the committee's investigation 121 people have refused to testify, with 80 people pleading the Fifth Amendment's protection against self-incrimination.
Some, like Thai business consultant Pauline Kanchanalak, who gave $235,000 to the Democratic National Committee that was later returned when she admitted it wasn't her money, have fled the United States. Others have been immunized and have testified said Burton, "but we still have over 100 people who refuse to testify."
One of those who refused to testify before Burton's committee and fled the country, but later returned, was Charlie Trie. The Arkansas restaurateur and friend of President Clinton and First Lady Hillary Rodham Clinton, is scheduled to go on trial next week in Little Rock for obstruction of justice related to a Senate investigation into campaign fundraising abuses.
Trie reportedly gathered $645,000 for the DNC from illegal foreign sources, but the money was returned. Bank records from the Chinese Construction Bank show that Trie received about $1 million from a Macao businessman with close links to the Chinese government and, according to Burton's committee staff, the records also "indicate that Chung has an association with the bank."....
When Chung was sentenced last year to five years probation for making illegal campaign contributions, the sentencing judge said that if his contacts at the DNC "didn't know what was going on" then they are some of the "dumbest politicians" he'd "ever seen."
END Excerpt
To read the whole story, go to: http://www.conservativenews.org/InDepth/archive/199905/IND19990512f.html
For the latest from CNS: http://www.conservativenews.org

Nothing newsworthy in that or what the New York Times reported for the morning shows or the CBS Evening News. -- Brent Baker

---
>>> Support the MRC, an educational foundation dependent upon contributions which make CyberAlert possible, by providing a tax-deductible donation. Use the secure donations page set up for CyberAlert readers and subscribers:
http://www.mrc.org/donate
>>>To subscribe to CyberAlert, send a blank e-mail to: mrccyberalert-subscribe
@topica.com. Or, you can go to: http://www.mrc.org/newsletters. Either way you will receive a confirmation message titled: "RESPONSE REQUIRED: Confirm your subscription to mrccyberalert@topica.com." After you reply, either by going to the listed Web page link or by simply hitting reply, you will receive a message confirming that you have been added to the MRC CyberAlert list. If you confirm by using the Web page link you will be given a chance to "register" with Topica. You DO NOT have to do this; at that point you are already subscribed to CyberAlert.
To unsubscribe, send a blank e-mail to: cybercomment@mrc.org.
Send problems and comments to: cybercomment@mrc.org.
>>>You can learn what has been posted each day on the MRC's Web site by subscribing to the "MRC Web Site News" distributed every weekday afternoon. To subscribe, send a blank e-mail to: cybercomment@mrc.org. Or, go to: http://www.mrc.org/newsletters.<<<

---
Home | News Division | Bozell Columns | CyberAlerts
Media Reality Check | Notable Quotables | Contact the MRC | Subscribe