Gun Control Too Late; Cox Talks to Fox; Selleck vs. O'Donnell
1) Soundbites advocating the Senate's gun control bill beat opponents by 3-to-1 on ABC, 2-to-1 on CBS and 3-to-2 on NBC, but unlike ABC at least CBS and NBC relayed how Republicans say the answer is "not more laws but enforcing current ones." NBC gave a Democrat time to say a Hillary Senate run would "make a difference ...on issues that she cares about -- children, families."
2) The Senate's agreement for more gun control, ABC's Ann Compton lamented, "comes too late to be of much comfort to Littleton."
3) FNC's Carl Cameron interviewed Chris Cox and learned that "the threat to the United States is not years, but just months away."
4) The Tom Selleck-Rosie O'Donnell gun control spat: Guest actor hit with O'Donnell's vitriol. FNC raised how O'Donnell is a paid spokesperson for a huge gun dealer. Plus, we have video clips.
5) "Anyone who thinks the media has nothing to do with this [Littleton] is an idiot." Was that Gary Bauer or a network Prez?
---
>>> "Is Tony Coelho Still Immune from Scrutiny? Gore Names Ex-Congressman Who Resigned Over Ethics To Head Campaign, But Reporters Go Soft." The latest Media Reality Check fax report is now up on the MRC home page. The MRC's Tim Graham opened the report: "The Gore campaign drew little media attention with their May 11 announcement of a new campaign chairman: ex-Rep. Tony Coelho, a media darling before he resigned in 1989....Try to imagine how the network news would cover a politician who resigned rather than face ethics probes by the House or the media if they were named to head a GOP campaign. Or if they named one of the top check-bouncers of the House bank (Coelho made the Top 22 with almost $300,000 in hot checks). A non-story? But the Coelho news did not merit an evening or morning news story on ABC, CBS, or NBC..." To read the issue on coverage of Coelho, go to: http://www.mediaresearch.org/news/reality/1999/fax19990520.html <<<

Every network led Thursday night with the high school shooting in Conyers, Georgia, and the one-month anniversary of the Columbine shooting, followed by the Senate vote for more gun control.
In ABC's piece on the Senate vote reporter Linda Douglass featured soundbites from three supporters but just one opponent of what passed. CBS reporter Bob Schieffer delivered a two-to-one soundbite advantage for the pro-gun control side but at least led into a blast at Janet Reno from Senator Larry Craig by relaying the conservative argument that the answer is "not more laws but enforcing current ones." NBC Nightly News viewers saw a three-to-one pro-gun control soundbite ratio in Gwen Ifill's story, but she also highlighted the argument about current lack of enforcement and uniquely passed along how "the powerful National Rifle Association...called today's Senate action in a statement 'a charade' that 'won't stop the crisis in our schools.'" Counting her recitation of the NRA's take would bring NBC to a 3-to-2 ratio.
FNC's Julie Kirtz provided a fairly even-handed piece on the Fox Report and Bob Franken's story for CNN's The World Today uniquely went beyond just guns to explain other aspects of the juvenile justice bill.
The other big news of the night: Speculation that Hillary Clinton is leaning toward a run for the Senate from New York. CBS anchor Dan Rather talked to Gloria Borger about it and it was the subject of the In Depth segment on NBC Nightly News. NBC's Andrea Mitchell did not air the views of any detractors, but did provide Democratic operative Mandy Grunwald a soundbite to express how great her run would be for the children: "I think the most important plus is that she would be able to make a difference for New Yorkers on issues that she cares about -- children, families."
Here's how the three broadcast networks, on Thursday night May 20, handled the Senate vote in favor of background checks at gun shows and for guns reclaimed by owners at pawn shops:
-- ABC's World News Tonight. Linda Douglass relayed how Vice President Al Gore went to the Capitol to break a tie vote. After battling soundbites from Democrat Charles Schumer and Republican Orrin Hatch on the need for more regulations, Douglass briefly outlined the provisions of the bill and noted how all but six Republicans opposed it and all but one Democrat favored it.
Douglass explained: "All week Republican leaders scrambled to come with a plan that would bring Republican defectors into line, but to no avail."
ABC then showed freshman Republican Senator Peter Fitzgerald of Illinois, who voted for the additional rules: "I made it clear I wasn't inclined to switch my position on this, that I was going to vote my conscience."
In other words, he voted the same way Senator Braun, the liberal Democrat he beat last year with support from conservatives, would have.
Douglass then provided the most generous interpretation of why a Democrat switched sides to back the bill: "Georgia Democrat Max Cleland, who had vote against his party's strict gun show rules, today voted for them. He was swayed by new details in the proposal but pushed over the top by this morning's shootings."
Cleland: "It was a high school shooting in my own backyard in Georgia that really made me convinced that that was the right thing to do."
Douglass concluded by recalling how the week has brought passage of several new gun laws.

-- CBS Evening News. Dan Rather, anchoring from in front of Columbine High School, intoned:
"Against the backdrop of that Georgia school shooting today and the much more serious shooting here in Littleton last month, there was at least a minor setback today for the gun lobby and its allies in Congress. The Senate reversed course and approved a modest gun control measure."
Bob Schieffer began by showing Gore announcing his vote which gave the gun control side 51 votes, saying: "It was a dramatic moment as the Vice President broke a tie vote. To Democrats it meant the grip of the National Rifle Association had finally been broken."
Schieffer played a bite of Senator Tom Daschle calling it a victory for the country and then relayed the view of most Republicans: "To the last, Republicans argued the answer was not more laws but enforcing current ones."
Senator Larry Craig, on the floor, asserted: "Janet Reno your record of law enforcement is dismal. You winked and nodded at the law and now it's time you wide-eyedly moved to the street and arrest the criminal who uses the gun."
Schieffer picked up: "But it was the Georgia shooting which brought new urgency to the debate."
Senator Charles Schumer: "This morning while we're compromising with the gun lobby, ambulances are rushing to Heritage High School to save children from another shooting."
Schieffer wrapped up by showing pictures of those who defected from each party. The one Democrat: Max Baucus. The six Republicans: Warner, Voinovich, Lugar, Fitzgerald, Dewine and Chafee.

-- NBC Nightly News. Gwen Ifill opened by reporting how it was only the fourth time Gore has broke a tie vote. She then played a lengthy soundbite of Gore afterward in the Senate press gallery claiming it showed the Senate finally turning the corner to protect children. Ifill added a comment from Max Cleland about how that morning's shooting pushed him to join the Senate to "stand tall" on the issue.
Ifill then moved to the GOP perspective: "Even in defeat, Republicans arguing that new controls at gun shows will be pointless unless existing laws are enforced."
Senator Orrin Hatch: "The biggest loophole for criminals is the lack of enforcement of our criminal laws that currently exist by our Attorney General and this administration."
Ifill: "An argument embraced by the powerful National Rifle Association which called today's Senate action in a statement 'a charade' that 'won't stop the crisis in our schools,' an argument dismissed by Democrats."
Daschle: "What you just saw is the NRA losing its grip on the United States Senate at long last."

Too little too late to "comfort" those in Littleton. "Comfort," not effectiveness, is apparently what ABC's Ann Compton thinks should be the goal of legislation.
Check out her preview of Clinton's trip to Colorado as transcribed from Thursday's Good Morning America by MRC news analyst Jessica Anderson:
"In those agonizing days right after the shooting, President Clinton wasn't able to go to Littleton, but today he is able to go, bringing more than just comfort. In private he will console the victims and families, in public the entire Littleton community. But the President is also going as the U.S. Senate is poised to pass gun control legislation that was just unthinkable a month ago. The Republican leadership now supports background checks for private gun buyers at otherwise unregulated gun shows and checks on guns reclaimed at pawn shops. President Clinton wanted more, and this all, of course, comes too late to be of much comfort to Littleton."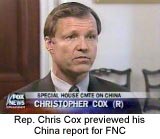 FNC's Carl Cameron delivered another first Thursday night, the first evening show interview with Congressman Chris Cox, days before his special committee's report is to finally be released. (Cox appeared on last Sunday's This Week on ABC but has not made it onto any of the network evening shows recently.)
FNC's 6pm ET/9pm PT Special Report with Brit Hume led with Cameron's report and a condensed version aired on the 7pm ET Fox Report. Cameron ominously began:
"The principal author of a congressional report on Chinese nuclear espionage says the threat to the United States is not years, but just months away."
Cox explained: "We can look forward for example to the testing later this year of a new intercontinental ballistic missile and we can look forward to that missile being mated with a warhead that is built upon United States nuclear weapons secrets."
Cameron asked: "Have we as a nation enabled China to rip us off blind?"
Cox confirmed: "No other nation has stolen from the United States what the People's Republic of China has gotten away with, neither has any nation having stolen such significant information used it to development weapons systems aimed at us. In addition to nuclear warheads themselves, missile technology is something that the United States has seen stolen repeatedly of late and over the past several years and decades....." Cox also cited submarine, aircraft and stealth technology.
Cameron noted how 600 "super computers" have been exported to China and "China violated export terms and used them for nuclear weapons development."
Cox elaborated: "Our concerns were both with diversion of high performance computers to unlicenced locations and quite frankly with their delivery to the intended locations in several circumstances because they should never have been sold to places they were sold to."
Cameron picked up: "U.S. counter-intelligence knew that, but the Commerce Department kept approving exports. Cox blames a communications breakdown." Cox asserted that the Secretary of Commerce was never briefed about the misuse.
Wen Ho Lee is one of two principal suspects, Cameron reminded viewers, adding: "The other suspect, first identified by Fox News, is Peter Lee who admitted passing secrets to China but plea-bargained to lying about his Chinese contacts."
Instead of making an example of Lee who gave secrets "to the largest communist government on Earth," Cox complained, "we sent him to a half-way house in Garden Grove California for a year. That's exactly the opposite message that we should be sending."
As for who is culpable, "the Cox Report blames the Justice Department among others, on several levels," Cameron relayed. Cox told Cameron that his committee got more cooperation from agencies like Defense and the CIA. Asked why he told Cameron that Justice put confidentiality of its investigations ahead of national security.
Cameron concluded by reporting that the Cox Report is expected to be released on Tuesday.
+++ Hear all of what Cox told FNC. Friday morning MRC Webmaster Sean Henry will post a RealPlayer clip of Cameron's story. Since the Selleck/O'Donnell feud will bring in more visitors to the MRC site than this kind of policy story in my judgment, the MRC home page will feature an O'Donnell video. So, we'll post this alongside this item in the posted version of this CyberAlert. Go to the MRC home page and under "Our Newest Stuff" click on the May 21 CyberAlert. It will also be accessible on our video page: http://www.mediaresearch.org/news/biasvideo.html
Daytime TV talk show host Rosie O'Donnell's pouncing on guest Tom Selleck on Wednesday for his support of the NRA generated a bit of a buzz on Thursday with stories in many newspapers and on entertainment news shows. Selleck went on her show to promote his movie, The Love Letter. The MRC does not tape her show, but we have posted on our home page the two longest clips from the exchange that we found on other shows. Details below. USA Today and the New York Post provided the most complete accounts of what transpired and they are excerpted below.

CNN & ABC stories
replaced by actual show clip
Thursday night Entertainment Tonight and Access Hollywood led with the controversy, but of news shows only Good Morning America and FNC's Fox Report touched the subject, plus CNN's Showbiz Today. Of those three, only FNC, in picking up an argument made in a publicity stunt by Howard Stern, pointed out how O'Donnell appears in ads for K-Mart which is a huge seller of guns. She holds the NRA culpable for making the school shootings possible. Applying her own logic to herself, then as a paid commercial promoter of K-Mart she is part of an enterprise which enables kids to get guns to kill other kids.
On the May 20 Fox Report Bill McCuddy showed Stern outside of the NBC/GE building where O'Donnell does her show. In the midst of a big crowd as he broadcast his radio show live Stern blasted away: "Why's she confronting Tom Selleck when in fact she's a gun saleswoman....This is a joke. This is again Rosie O'Donnell being a hypocrite. She is not willing to debate someone because I would bring up a few things like her K-Mart connection and she doesn't want that on the air."
McCuddy explained Stern's reference: "That connection would be Rosie's role as K-Mart spokeswoman which just happens to be one of the country's largest gun dealers."
(For those unfamiliar with O'Donnell, she rose to prominence as one of the woman baseball players in the film A League of Their Own, produced by her friend Penny Marshall who co-stars with her in ads for the nationwide gun dealer known as K-Mart. Her syndicated daytime show, produced by Warner Brothers and taped at NBC's Rockefeller Center, is now in its third season.)
O'Donnell's Web site features a "Fight Gun Violence Now!" link to a page with links to the office of gun control crusading Congresswoman Carolyn McCarthy and the Center to Prevent Handgun Violence. O'Donnell's Web site: http://rosieo.warnerbros.com
And now to what happened on Wednesday. Below are excerpts from two newspaper stories followed by descriptions of clips you can watch.
-- New York Post, May 20. "Ragin' Rosie Ambushes Selleck" by reporter Michael Starr:
"Queen of Nice" Rosie O'Donnell ripped into guest Tom Selleck on live TV yesterday -- taking potshots at the hunky heartthrob for supporting the National Rifle Association.
A shocked Selleck called Rosie's rant "absurd" during the tension-filled segment -- which crashed to a halt when O'Donnell apologized for ambushing the appalled actor.
The bearded Selleck, whose face appears in a current print ad for the NRA, had gone on "The Rosie O'Donnell Show" to plug his movie "The Love Letter," which opens tomorrow.
But soon after sitting down, he was attacked by O'Donnell -- who last month used a guest-hosting appearance on "Live With Regis & Kathie Lee" to blast NRA President Charlton Heston after the Columbine HS massacre.
"There's no reason, in my opinion, to have [guns]," O'Donnell said as Selleck sipped his tea. "You want to have a hunting rifle, great! A hand gun, great!" An angry Selleck shot back: "Do you really think the Second Amendment is in the Constitution to guarantee hunting and target shooting? Do you really think that?"
O'Donnell, to applause from her studio audience, replied: "I think [the Second Amendment] is in the Constitution so we can have muskets when the British people come over in 1800 -- I don't think it's in the Constitution to have assault weapons in the year 2000.
"This is the problem -- people with opposing views, there is no compromise. You feel attacked, I feel attacked."
"I haven't attacked you," Selleck retorted, adding: "I disagreed with you. I haven't mentioned assault weapons once. I didn't come on your show to have a debate. I came on your show to plug a movie -- that's what I'm doing here...I think you're being stupid....This is absurd! You're calling me a spokesman for the NRA? Don't put words in my mouth...You're questioning my humanity."
END Excerpt

-- May 20 USA Today. "Rosie guns down Selleck's 'Love' talk" by Life section columnist Jeannie Williams:
....It began well with a hug. Selleck quipped cutely that he and wife Jillie Mack will have to screen a Love Letter print in the parking lot this weekend because the local cineplex is showing only that lightsaber epic.
Then O'Donnell promised a polite discussion on NRA-related issues. Selleck has appeared in an NRA ad promoting responsible gun ownership. He once was a junior member learning gun safety and rejoined three months ago.
O'Donnell, a passionate gun-control advocate, pressed him on issues of safety locks and a ban on assault rifles. But Selleck wouldn't address them, denied he is an NRA spokesman and accused her of "moral vanity" in seeing only one side.
Referring to the Bill of Rights, he said, "Are we responsible enough in our society to be this free? My answer is 'probably not,'" but "I am going to go down with the civil-liberties ship."...
Selleck grew visibly more unhappy as O'Donnell pressed him, insisting he must be an NRA spokesman. "This has not gone the way I hoped," she finally said. "I apologize if you felt insulted."
I had been scheduled to talk to Selleck right after Rosie, and he told me, "I wasn't real happy with the show. It was pretty unprofessional." He declined to talk about it further but added, "I found it enormously striking, the subject matter she chose, as there are all these tiny action figures holding weapons and war machines on her desk." O'Donnell is doing a Star Wars month....
END Excerpt

-- See clips of the O'Donnell show. Friday morning by 10:30am ET MRC Webmaster Sean Henry will post two RealPLayer clips:
a) A Thursday Good Morning America segment from just after 8am that MRC analyst Jessica Anderson caught. Charlie Gibson and Diane Sawyer briefly discuss the controversy and played two bits of video from the show. Introducing a clip of Selleck complaining that O'Donnell has a one-sided point of view and keeps cutting him off, Sawyer insisted it showed how "things really got inflamed."
b) CNN's Showbiz Today story on Thursday. Host Jim Moret referred to the "heated exchange" as he introduced a clip of Selleck and O'Donnell arguing over whether he's a spokesman who must defend the NRA. At one point O'Donnell sarcastically asks him if he's read his "I'm the NRA" ad.
Actually, not to dissuade you from watching these video excerpts, but it is only "inflamed" and "heated" by daytime talk show standards where interviewers normally kiss-up to guests. They do get angry with each other, but it's a lot milder than the average Crossfire.
To see these clips, go to this item in the posted CyberAlert or directly to: http://www.mediaresearch.org/news/biasvideo.html

CBS President Les Moonves is sounding like Gary Bauer. Moonves has put a hole in the entertainment community's wall of denial about having any impact on people's behavior. FNC's Bill McCuddy noted Thursday night:
"CBS President Les Moonves today pulled a Mafia-themed show, calling it too violent, and saying quote 'Anyone who thinks the media has nothing to do with the bloodshed is an idiot.'"
McCuddy was referring to the decision to not schedule a new drama this fall called Falcone. The AP's David Bauder provided more details in a May 19 dispatch:
"CBS left a drama about mobsters off its fall prime-time schedule because of concerns about violent programming in the wake of the Littleton school massacre.
"'It's not the right time to have people being whacked on the streets of New York,' CBS President Leslie Moonves said Wednesday.
"Moonves said he screened the pilot for a new drama, Falcone, the week after 13 people at Columbine High School in Littleton, Colo. were killed by two teen-aged boys who later killed themselves. The massacre happened on April 20.
"'It did affect us. It really did,' he said....
"While it's not fair to blame the media for the rampage, Moonves said that 'anyone who thinks the media has nothing to do with this is an idiot.'"
"'We felt a responsibility not to put it on now,' he said. 'It just didn't feel right.'"
"CBS announced its prime-time schedule on Wednesday and included six new series. Falcone is still being considered as a mid-season replacement, Moonves said."

Personally, I wish we'd see more focus on the responsibility of the perpetrators than on finding others to blame, but as for Moonves putting this show on mid-season, hey, you can't expect principle in Hollywood to last more than a couple of sweeps periods. -- Brent Baker
---
>>> Support the MRC, an educational foundation dependent upon contributions which make CyberAlert possible, by providing a tax-deductible donation. Use the secure donations page set up for CyberAlert readers and subscribers:
http://www.mrc.org/donate
>>>To subscribe to CyberAlert, send a blank e-mail to: mrccyberalert-subscribe
@topica.com. Or, you can go to: http://www.mrc.org/newsletters. Either way you will receive a confirmation message titled: "RESPONSE REQUIRED: Confirm your subscription to mrccyberalert@topica.com." After you reply, either by going to the listed Web page link or by simply hitting reply, you will receive a message confirming that you have been added to the MRC CyberAlert list. If you confirm by using the Web page link you will be given a chance to "register" with Topica. You DO NOT have to do this; at that point you are already subscribed to CyberAlert.
To unsubscribe, send a blank e-mail to: cybercomment@mrc.org.
Send problems and comments to: cybercomment@mrc.org.
>>>You can learn what has been posted each day on the MRC's Web site by subscribing to the "MRC Web Site News" distributed every weekday afternoon. To subscribe, send a blank e-mail to: cybercomment@mrc.org. Or, go to: http://www.mrc.org/newsletters.<<<
---
Home | News Division | Bozell Columns | CyberAlerts
Media Reality Check | Notable Quotables | Contact the MRC | Subscribe