Hsing-Hsing Before Chung Ching; GMA's Clinton Week
1) The CBS Evening News delivered the first broadcast network China story of the week, a look at the ailing panda, Hsing-Hsing. The show has yet to report Johnny Chung's $300,000, but promised: "We'll be sure to keep you up on Hsing-Hsing's condition."
2) CBS ominously warned that global warming means more tornadoes, "more deadly hurricanes like last year's killer Mitch, even more severe swing between flooding and drought." And it kills whales.
3) "Good Morning, Clintons" ABC boasted in announcing GMA will broadcast live Friday from the White House. On Tuesday, George Stephanopoulos co-hosted the show. Now it's Hillary's turn.
---
>>> "The Cox Report, a One-Day Story? Yes: In the Midst of Days of Network Silence, CNN's Media-Review Show Insisted Espionage is Overcovered," the latest Media Reality Check fax report by Tim Graham is now up on the MRC home page. Also up: a video showing how CBS News once cared about foreign policy lies. In contrast to last week when CBS was more concerned about the Cox Report going too far than in what lies the Clinton team told, back on May 4, 1989 Dan Rather introduced a story about Ollie North and Ronald Reagan: "Eric Engberg has investigated the use of secrecy, lying, and deception as instruments of ideology and policy." Engberg warned: "Deception leads to lies. Lies tear apart the rule of law..." To read the report and watch the video, which MRC Webmaster Sean Henry has posted in RealPlayer format, go to: http://www.mediaresearch.org/news/reality/1999/fax19990602.html <<<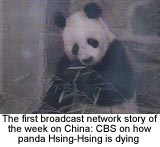 Wednesday night CBS aired the first China-related story of the week on one of the broadcast network evening shows. An examination of what FNC's Carl Cameron revealed last week about how a wiretapped conversation between Johnny Chung and Robert Luu suggested Bill Clinton was in on the plan to blame improper money from China on the "princelings," the offspring living in the U.S. of Chinese officials? No. CBS provided a look at the plight of Hsing-Hsing, the Giant Panda near death at Washington's National Zoo.
The CBS Evening News has yet to inform its viewers about Johnny Chung's revelation that the head of Chinese military intelligence gave him $300,000 to donate to help Clinton's re-election, even skipping Chung's May 11 appearance before a House committee, but Wednesday night devoted nearly two-minutes to Hsing-Hsing.
CNN's The World Today briefly mentioned Hsing-Hsing's condition and how Clinton will ask for MFN for China before airing a full story tied to the Tiananmen Square anniversary on how Chinese students have turned against the U.S. FNC's Special Report with Brit Hume featured an interview with Peter Leitner, the Pentagon official who claims he was punished for talking to the Cox Committee, about how the Clinton administration eliminated export controls. FNC's Fox Report continued its week-long series on China spy scandal with a piece from Gary Matsumoto on how the trade deficit favors China as they sell plastic toys but buy state of the art computers.
The broadcast networks continued the Chinagate blackout on Wednesday without a word about it in the morning or evening. (ABC's World News Tonight last ran a full story on May 26 followed by some soundbite clips from the interview shows on Sunday; the CBS Evening News last addressed China on May 27 to question the importance of the espionage; NBC Nightly News hasn't mentioned it since May 25, the day the Cox Report was released. None of the morning shows have touched it since the morning after the report's release.) Wednesday night, June 2, all led with the plane crash in Little Rock. ABC looked at how Charismatic will try to be first horse in 21 years to win the Triple Crown, CBS highlighted supposed proof of global warming and NBC provided a story about how Hillary Clinton has decided to run for the Senate.
Now to what's really important, Hsing-Hsing. CBS Evening News anchor John Roberts intoned:
"Here's what official Washington is buzzing about: For all of the ups and downs between Washington and Beijing there was one common bond above any other ailment for decades. That is, until now. Eric Engberg reports on one of the world's most loved ambassadors of good will."
Engberg began in mock solemnity: "Because the patient is one of Washington's most popular icons, news about his health crisis is treated like that of a stricken national leader. Citizens and press grimly await the next medical bulletin."
Lisa Stevens, National Zoo: "Hsing-Hsing is having a really good day today. He ate very well last night."
Engberg then revealed how the patient is a bear: "Hsing-Hsing, the 28-year-old giant panda at Washington's National Zoo, whose arrival from China with his mate Ling-Ling in the '70s was a milestone is the history of the Cold War, is suffering from kidney failure. Cause: aging. There is no cure. Only a few pandas have ever lived this long and as a result doctors have no way of knowing how much longer he will survive."
After a comment from a veterinarian and another soundbite from Stevens about how they are trying to keep the panda comfortable, Engberg touched on spying as he concluded his piece:
"National Zoo official revealed today they're negotiating with China to get another breeding pair. Despite the chill in relations between the countries over spies and bombing, a delegation of Chinese officials will arrive here tomorrow even as doctors do what they can for Hsing-Hsing, admitting it isn't much."
Anchor John Roberts immediately followed-up: "And we'll be sure to keep you up on Hsing-Hsing's condition."
But not on Chinese espionage or political contributions.
+++ Watch what CBS finds newsworthy when it comes to China, a story about a dying panda. Thursday morning it will be posted, in RealPlayer format, on the MRC home page by the MRC's Sean Henry and Kristina Sewell. Go to: http://www.mrc.org
All of the video clips posted by the MRC remain viewable for a month at: http://www.mediaresearch.org/news/rathervideos.html


Most climate experts don't buy into the global warming theory forwarded by Al Gore and environmental activists who love to blame mankind for destroying the planet, but whenever even one scientist pushes the idea a major media outlet is sure to jump. Wednesday night CBS bit with enthusiasm, even blaming global warming for the death of some whales, a link not even suggested by the scientist CBS highlighted.
CBS Evening News anchor John Roberts announced: "In the long range forecast there may be a whole new dimension to the debate over global warming. If last winter seemed more green than white and the weather more extreme year-round, there's new research tonight in the journal Nature. The upshot: maybe you ought to get used to it."
After claiming the winter of '99 was the warmest ever, Roberts played a soundbite from Drew Shindell of Columbia University: "Greenhouse gasses may be affecting the weather a lot more than we thought."
Roberts elaborated about how it caused the oceans to warm and cooled the stratosphere which strengthened wind which blows warm air from the ocean over continents.
Shindell added: "Over the past few decades we've seen a global annual average warming of about a degree Fahrenheit, but during that same period in the northern hemisphere winter, over the continents, we've seen up to ten degrees warming."
Roberts picked up: "So is it global warming? Researchers can't say for certain, but by plugging the amount of greenhouse gasses produced in the last 30 years into computer models, they have been able to duplicate the changes in climate. If it's true it could help explain why the weather seems to be getting more severe."
David Rinds, NASA climate researcher: "The warmer planet just has a lot more energy and with a lot more energy there probably will be a lot more severe storms."
Roberts concluded: "And that could mean more storms like the tornadoes that ripped through Oklahoma last month, more deadly hurricanes like last year's killer Mitch, even more severe swing between flooding and drought. Researchers say the effects of global warming are cumulative. That's why temperatures have increase dramatically in just the past couple of years and they believe that even if we were to stop producing greenhouse gasses today it would take decades for the warming trend to level off."
Next, over video of a dead whale on a beach, Roberts tied it to global warming: "Whether it's global warming or not, something is killing the gray whales in the Pacific Northwest in record numbers. Five gray whales have turned up dead this week alone. In all, 16 dead for the year so far."
As Candace Crandall of the Science and Environmental Policy Project points out on their Web site, a growing number of scientists are expressing their disbelief in the disastrous impact attributed to the greenhouse effect theory:
"Since the climate treaty was hatched in Rio de Janeiro in 1992, scientists have shown their dissent with four petitions: the 1992 'Statement by Atmospheric Scientists on Greenhouse Warming,' with more than 100 signatures; the 1992 'Heidelberg Appeal,' with more than 4,000 signatures; the 1996 'Leipzig Declaration,' signed by some 130 prominent U.S. climate scientists, including several who participated in the U.N. Intergovernmental Panel on Climate Change (IPCC); and, this year [1998], the 'Oregon Petition' which has been signed thus far by 17,000 U.S. scientists."
For more on scientific doubts about global warming, go to the Science and Environmental Policy Project's Web site: http://www.sepp.org
For a thorough rebutting of the CBS story, check out an article by Dr. Patrick Michaels, "Hot Year Tests Greenhouse Fears," in which among other things he demonstrates how El Nino, not the greenhouse effect, is responsible for the severe weather. Go to: http://www.cato.org/dailys/05-22-99.html

It's "Clinton Week" at ABC's Good Morning America. On Tuesday George Stephanopoulos co-hosted the show with Diane Sawyer. I don't recall Bill Kristol or George Will ever getting that opportunity. If they had I'm sure we would have heard about it from all the media attention such a "crossing of the line" -- from the right, not the left -- would have generated. (Sawyer handled Tuesday's most political interview: Steve Forbes. Amongst the duties performed by Stephanopoulos, MRC analyst Jessica Anderson noted: a review of Jesse Ventura's book that was absent the hostility on guns and taxes displayed by NBC's Matt Lauer a day later.)
Up next on GMA's Clinton week schedule: Two live hours at the White House with Bill Clinton and Senate candidate Hillary Clinton. "In the first such broadcast in six years," the ABC News.com Web site boasts, "Good Morning America airs live from the Executive Mansion on Friday with a presidential interview and a live town meeting on youth violence."
That plug links to this longer explanation which highlights how ABC will give the Clintons more air time by forgoing commercials:
Good Morning, Clintons
GMA Invites You to Visit the White House
ABCNEWS' Good Morning America co-anchors Charlie Gibson and Diane Sawyer will broadcast live from the White House for two hours on Friday, June 4. The program will include an extensive interview with President Clinton, plus a special town meeting featuring the President and Mrs. Clinton, as teenagers from around the country discuss teen violence. The town meeting segment with the President and Mrs. Clinton will be uninterrupted by commercial breaks.
In the wake of school shootings in Pearl, Miss., Paducah, Ky., Springfield, Ore., Littleton, Colo., and Conyers, Ga., the nation has awakened to growing concerns. Some lawmakers argue that TV, movies, video games and pop music have fostered a culture that celebrates violence. On May 10, the President convened a summit of entertainment industry notables, and Congress has begun working on an anti-violence bill that will tighten restrictions on sales of guns to minors. And today, the President authorized a $1 million investigation into Hollywood's marketing of violence to children.
Among the areas included in the discussion will be gun control and gun access, the glamorization of violence, parental responsibility and how to spot a troubled teen....
END Excerpt
To read this plug in full online, go to: http://abcnews.go.com/onair/GoodMorningAmerica/gma990604_whpromo.html

Nothing in ABC's plug about featuring any guests with views contrasting those to be expressed by the Clintons. Put this down as Michael Eisner's and Disney's first "in kind" contribution to Hillary Clinton's Senate crusade. -- Brent Baker

---
>>> Support the MRC, an educational foundation dependent upon contributions which make CyberAlert possible, by providing a tax-deductible donation. Use the secure donations page set up for CyberAlert readers and subscribers:
http://www.mrc.org/donate
>>>To subscribe to CyberAlert, send a blank e-mail to: mrccyberalert-subscribe
@topica.com. Or, you can go to: http://www.mrc.org/newsletters. Either way you will receive a confirmation message titled: "RESPONSE REQUIRED: Confirm your subscription to mrccyberalert@topica.com." After you reply, either by going to the listed Web page link or by simply hitting reply, you will receive a message confirming that you have been added to the MRC CyberAlert list. If you confirm by using the Web page link you will be given a chance to "register" with Topica. You DO NOT have to do this; at that point you are already subscribed to CyberAlert.
To unsubscribe, send a blank e-mail to: cybercomment@mrc.org.
Send problems and comments to: cybercomment@mrc.org.
>>>You can learn what has been posted each day on the MRC's Web site by subscribing to the "MRC Web Site News" distributed every weekday afternoon. To subscribe, send a blank e-mail to: cybercomment@mrc.org. Or, go to: http://www.mrc.org/newsletters.<<<

---
Home | News Division | Bozell Columns | CyberAlerts
Media Reality Check | Notable Quotables | Contact the MRC | Subscribe