ABC Skipped Rudman Again; Clinton's "Hero's Welcome"; Bush's Mistake
1) An "unprecedented" combined hearing of four Senate committees to hear from Rudman and Richardson, but only CNN offered any live coverage. ABC's World News Tonight ignored the hearing as it did the release of Rudman's report last week.
2) "Bill Clinton heard himself cheered as a winner," noted Sam Donaldson from Aviano AFB. In the refugee camps CBS found he "got a hero's welcome." NBC relayed he was greeted "like a liberator."
3) FNC's Carl Cameron caught George W. Bush in a mistake: Bush confused Slovakia with Slovenia.
4) Dan Rather to Jay Leno: "I can identify with this fellow and I'll tell you why. He has the smallest brain compared to his weight and size of any mammal in North America."
---
Clarification. The June 22 CyberAlert reported how Tom Brokaw praised Newsweek's decision to make Anna Quindlen its alternating week columnist with George Will, but failed to note that her columns will begin in October.

Warren Rudman, the public face of the President's Foreign Intelligence Advisory Board which issued a report last week critical of security at the Energy Department nuclear labs, appeared Tuesday before an unprecedented combined hearing of four Senate committees. That gave ABC's World News Tonight and NBC Nightly News, the two broadcast evening shows which ignored the report last week, a chance to catch up. The hearing offered a fresh hook and video but ABC passed again as NBC Nightly News did take advantage of the opportunity and ran a story, though it skipped over the report's condemnation of Clinton administration delays in taking any action. (Last week ABC's GMA and NBC's Today each allocated 23 seconds to the report's release.)
During the day Tuesday, C-SPAN carried the appearances of Rudman and Energy Secretary Bill Richardson from 9:30am until the network went live with the House at 12:30pm ET. Otherwise, only CNN offered any live coverage. CNN featured a preview piece from Pierre Thomas at 9:30am ET, showed Richardson live for about two minutes at 10:13am before cutting to Bill Clinton in Macedonia, but re-joined the hearing from 10:28 to 10:42am ET with comments from Richardson and Rudman.
FNC provided a live update at 11:22am ET from Wendell Goler and the T&A Network (my new name for MSNBC since a plurality of its time is devoted to Time & Again repeats) offered a preview at 9:35am from Chip Reid and the Rudman Report was a topic on the 11am ET Watch It! With Laura Ingraham.
In the evening, CNN's Inside Politics did not air a word about the hearings, instead dedicating half the show to George W. Bush. Later the 10pm ET The World Today allocated about a minute to a soundbite each from Rudman and Richardson followed by a piece from Kathleen Koch on how "since the invention of the polygraph in 1921 intelligence officials can't cite one high level spy who has been tripped up by the so-called lie detector test."
FNC's Special Report with Brit Hume ran a full story on the day's hearing by Wendell Goler, but the 7pm ET Fox Report skipped the hearing. (Both CNN and FNC ran full stories last week on the report.)
Here's how the Tuesday, June 22 broadcast network evening shows handled the Rudman Report and the special hearing:
-- ABC's World News Tonight led with the Supreme Court's ruling on the Americans with Disability Act. ABC skipped the hearing, so its viewers have yet to learn about Rudman's report. ABC did find time for A Closer Look at the impact of information technology on the economy, how high-tech success stories are creating millionaires and how a Russian is raising money to pay to support the Russian space station.
-- CBS Evening News. Last week CBS was the only broadcast network to run a evening piece on Rudman's report. Tuesday night anchor John Roberts ran this 42-second item:
Roberts: "The head of the panel that came out with a blistering report on lax security at nuclear weapons labs said much the same in person today to Congress. Former U.S. Senator Warren Rudman said twenty years of leaks of atomic secrets to China make it clear that half measures now just won't do."
Rudman: "This report finds that the Department of Energy is badly broken. It is time to fundamentally restructure the management of the nuclear weapons labs and establish a system that holds people accountable."
Roberts: "For his part Energy Secretary Bill Richardson said he'd fight any proposal to separate the nuclear weapons labs from the rest of the Energy Department."
Later in the show Roberts introduced an Eye on America look at how conservatives are downgrading the importance of abortion:
"An abortion rights group said today that GOP hopeful Texas Governor George W. Bush helped the Lone Star state take the toughest anti-abortion stand of any state. Bush himself, campaigning in Virginia today, talked up a softer anti-abortion line just as some of his Republican rivals are this year. So what's the reaction of the Christian Coalition and other staunch anti-abortion groups to this new approach by GOP candidates?"
Notice the contrast of "abortion rights" versus "anti-abortion."
Phil Jones focused on a Christian Coalition woman from Maryland and how she feels taking abortion out of politics is just accepting reality since you can't do anything if you don't win.
-- NBC Nightly News led with the hunt for serial killer Rafael Resendez Ramirez and devoted its In Depth segment to the threat from the Hantavirus spread by mice, but still caught up with the Rudman Report by squeezing in a piece from Andrea Mitchell. She began:
"A dramatic moment in the Chinese spy investigation, an unprecedented four Senate committees meeting together to hear shocking testimony from the President's own Foreign Intelligence Advisor, a former Senator with a blistering condemnation of security at America's weapons labs."
She played a clip of Rudman referring to "atrocious security" before she explained how his commission recommended a major reorganization of Energy. Then she added this unique information:
"The security threat goes well beyond China. NBC News has learned that three years ago immigration authorities stopped one of Iran's nuclear weapons experts at the U.S. border. His American contact: a U.S. scientist still working on nuclear secrets for the Energy Department."
Still, she concluded by noting, Richardson maintains the department can fix itself.


Bill Clinton, a "hero's welcome" for the "liberator" on his "victory tour." The three broadcast network evening shows aired full reports Tuesday night on President Clinton's warm welcome at a refugee camp in Macedonia and at the Aviano Air Force Base in Italy.
Here's a sampling of the glowing reviews delivered on June 22:
-- Sam Donaldson on ABC's World News Tonight relayed how the visit to a refugee camp "was clearly moving experience for President Clinton, his wife and daughter." Standing before a cheering crowd at Aviano, Donaldson imparted:
"From the refugees going home to the airmen who helped make it possible, this has been a most satisfying day for the President. Criticism of his handling of all this will surely continue, but today Bill Clinton heard himself cheered as a winner."
-- John Roberts opened the CBS Evening News: "Standing close to the Kosovo border President and Mrs. Clinton got a hero's welcome today from ethnic Albanian refugees in Macedonia."
Scott Pelley began his report: "In a camp near the Kosovo border it felt like liberation day. Refugees crowded the road that leads home and cheered the President who opened the way...."
Pelley later referred to how on his "victory tour" Clinton is urging reconciliation.
-- David Bloom started his NBC Nightly News piece:
"In a refugee camp filled with mud any misery but also today hope, President Clinton with his wife and daughter, walks hand in hand with children who escaped Kosovo's Hell, but cannot escape their own nightmares. The children, Mr. Clinton says, have a glazed over look in their eyes, full of hurt and terror and loss. This woman tells the President our little boy has seen people killed, he's still afraid. But with the war over these refugees, many still afraid to go home fearing the unknown, greet the President like a liberator. For a moment hope replaces fear, anger at the Serbs gives way to gratitude toward America..."


You call it Slovenia, I call it Slovakia, let' call the whole thing off. FNC's Carl Cameron demonstrated Tuesday night that Chinese espionage is not the only subject where he can beat the bigger network boys as he uniquely caught George W. Bush making a mistake, confusing Slovakia with Slovenia.
On the June 22 Special Report with Brit Hume, after Cameron wrapped up a taped piece on Bush's "blitz of posh fundraisers," Hume set him up with this question:
"Carl, how is he doing with questions about foreign policy. There's been some criticism that his knowledge of that's a little thin."
Cameron: "Well there was one specific question today in Richmond from a reporter from Slovakia. The reporter asked if the Governor had any specific information or background intelligence that might offer him some comment with a degree of emphasis and priority on Slovakia. Here's what the Governor had to say."
Bush: "The only thing I know about Slovakia is what I learned first hand from your Foreign Minister that came to Texas and I had a great visit with him. It's an exciting country. It's a country that's flourishing and it's a country that's doing very well."
After the reporter pressed for the identity of the visitor, Bush maintained:
"It was the Foreign Minister if I'm not mistaken. I need to check my records. A high ranking official from your country came to visit. I was very impressed."
Cameron then outlined what FNC discovered by just making a phone call: "So we checked some of the Governor's records by calling the State House in Austin and we were told in fact that it was not the Foreign Minister but indeed it was the Prime Minister and the nation was not Slovakia, Brit, but indeed Slovenia. Slovakia it turns out, one of the nation's that evolved from Czechoslovakia is not doing so well economically and of course Slovenia is the country that has evolved from the former Yugoslavia, Brit."
Hume: "Ouch."
I don't know much more than Bush about Slovakia, but here's a little factoid for him to use in the future: Slovakia is the world's biggest manufacturer of hockey pucks, the very pucks his state's Dallas Stars played with in winning the Stanley Cup on Sunday morning.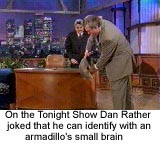 Dan Rather, Zoo master. Tuesday night Rather jokingly compared himself to an armadillo. As part of his book tour for Deadlines & Datelines, a collection of his past radio commentaries, Rather appeared Tuesday night on NBC's The Tonight Show with Jay Leno. He walked out carrying an armadillo from his native Texas, at one point holding it by its tail as it tried to wriggle away.
With the armadillo on his arm Rather told Leno: "I can identify with this fellow and I'll tell you why. He has the smallest brain compared to his weight and size of any mammal in North America."
+++ See Dan Rather holding the armadillo. Wednesday morning the MRC's Sean Henry and Kristina Sewell will post a still shot and video clip, in RealPlayer format, of Rather on The Tonight Show. Go to the MRC's home page: http://www.mrc.org
Rather also brought along a Horned Toed frog and in telling Leno about how Texas ensures there are Bass in its lakes for catching, he issued this Ratherism: "There's no dumb bass like a Texas dumb bass."

Displays like this must make CBS affiliate owners proud. -- Brent Baker

---
>>> Support the MRC, an educational foundation dependent upon contributions which make CyberAlert possible, by providing a tax-deductible donation. Use the secure donations page set up for CyberAlert readers and subscribers:
http://www.mrc.org/donate
>>>To subscribe to CyberAlert, send a blank e-mail to: mrccyberalert-subscribe
@topica.com. Or, you can go to: http://www.mrc.org/newsletters. Either way you will receive a confirmation message titled: "RESPONSE REQUIRED: Confirm your subscription to mrccyberalert@topica.com." After you reply, either by going to the listed Web page link or by simply hitting reply, you will receive a message confirming that you have been added to the MRC CyberAlert list. If you confirm by using the Web page link you will be given a chance to "register" with Topica. You DO NOT have to do this; at that point you are already subscribed to CyberAlert.
To unsubscribe, send a blank e-mail to: cybercomment@mrc.org.
Send problems and comments to: cybercomment@mrc.org.
>>>You can learn what has been posted each day on the MRC's Web site by subscribing to the "MRC Web Site News" distributed every weekday afternoon. To subscribe, send a blank e-mail to: cybercomment@mrc.org. Or, go to: http://www.mrc.org/newsletters.<<<

---
Home | News Division | Bozell Columns | CyberAlerts
Media Reality Check | Notable Quotables | Contact the MRC | Subscribe