"Chubby" Ted; ABC Discredits a Tax Cut; PBS List Sharing: Newt's Fault
1) ABC and CBS, but not NBC, cut way back on Kennedy coverage Tuesday night, though both still led with it. NBC profiled Senator Ted Kennedy whom Tom Brokaw said had evolved from "the chubby youngest child" into "the family patriarch."
2) Peter Jennings and Barbara Walters goofed and substituted the name President Kennedy for Senator Kennedy and President Clinton.
3) In a eulogy to John F. Kennedy Jr. for paying proper respect to him, Geraldo Rivera tossed in a shot at Richard Scaife as a "right-wing zealot."
4) The media's favorite Kennedy expert, Mike Barnicle, praised JFK Jr. but two years ago he called him "dim-witted." And CNN had to correct an anecdote Barnicle passed along.
5) ABC's Linda Douglass portrayed a tax cut as inflationary and bemoaned how "voters may well get a tax cut whether they want one or not." Eleanor Clift called the idea "totally irresponsible."
6) It's Newt's fault. The Boston Globe blamed his proposal to cut PBS funding for forcing stations to share donor lists with political groups. And the MRC's Tim Graham presented the conservative view of the controversy to a House committee.
---
Correction: One syllable too many. The July 20 CyberAlert quoted Dan Rather as emoting: "By those definitions, like it or not, there is a Kennedy mystique and their history is mythical." MRC Webmaster Sean "Eagle Ear" Henry noticed Rather actually said "...and their history is mythic," as you can hear for yourself by playing the RealPlayer clip of this commentary. Go to the MRC home page and click on "Media Bias Videos." Or go directly to: http://www.mediaresearch.org/news/biasvideo.html

ABC and CBS cut way back on JFK Jr. death-related stories Tuesday night, July 20, but not NBC which still devoted at least two-thirds of NBC Nightly News to the story. Amongst NBC's pieces, a look at how Ted Kennedy has, in Tom Brokaw's words, evolved from "the chubby youngest child" to "the family patriarch, the aging liberal lion of the Senate."
The Tuesday morning shows were again dominated by JFK Jr. news, though both NBC's Katie Couric and ABC's Charles Gibson were back in New York after broadcasting from Hyannisport on Monday. Only CBS This Morning, with Russ Mitchell, had a co-host on Cape Cod.
(My favorite stretch for news from Tuesday daytime on the cable news networks: MSNBC interviewing Kennedy's soccer coach from his days at Brown University.)
ABC's World News Tonight opened with two crash-related stories about the search and closed with a third about the death of the photographer who took the famous photo of John Jr. under his father's desk. The CBS Evening News also began with updates on the search and Dan Rather previewed a 60 Minutes II look at how John Kennedy Jr. learned to fly back in 1996 by starting out with lessons using a "power parachute." (CBS again did not air part five of its "Armed America" Eye on America series which was scheduled to run on Monday.)
NBC Nightly News opened with an update on search efforts followed by a piece on what the Kennedy family did all day which strangely included a one-second clip via zoom lense through trees of NBC's own Maria Shriver at the home of Caroline Schlossberg. I say strangely because it meant NBC treated its own staff member as a paparazzi target.
Tom Brokaw introduced Gwen Ifill's profile of Senator Edward Kennedy: "There was a time in the Kennedy family saga when Edward, Teddy as he was called, was simply the chubby youngest child. Then, as tragedy struck again and again, as he struggled to deal with his own failings, he evolved into the family patriarch, the aging liberal lion of the Senate. A man who, for the past four days, once again has been enveloped by death and grief."
An upside to the tragedy: It got a major network to actually call Kennedy "liberal." And I think he's still pretty chubby.
Ifill's piece was largely positive but she did raise the subject of Chappaquiddick and how he divorced his first wife, Joan.
The In Depth segment examined "small planes and big risks" as Jim Avila pointed out there were 11 other small plane crashes the same day as JFK's plane went down and there was about one general aviation death per day in 1998.


President Kennedy on the brain at ABC News. Running through Monday night/Tuesday morning ABC News shows MRC intern Ken Shepherd came across instances when ABC stars confused Senator and President Kennedy or President Clinton with President Kennedy:
-- World News Tonight, July 19. Peter Jennings on Ted Kennedy's statement: "Also in his statement today, President Kennedy said what Kennedys have said before on occasions like this, this family sort of helps to appease its grief if you will, he said by putting its faith in God."
-- Good Morning America, July 20. Co-host Barbara Walters about a reception she attended in New York for the new Prime Minister of Israel: "I went to a reception for Prime Minister Barak and he was very pleased with his visit with President Kennedy..."
A few seconds later co-host Charles Gibson did correct her goof.


Even in a eulogy to John F. Kennedy Jr., for paying proper respect to him, CNBC's Geraldo Rivera managed to throw in a shot at Richard Scaife as a "right-wing zealot."
MRC analyst Geoffrey Dickens caught these comments uttered by Rivera on the July 19 Upfront Tonight:
"I have my own memories of this noble young man that make his loss even more painful. He went out of his way to be friendly with me. To make me feel accepted. Whether it was in the gym where we both worked out or in the offices of George magazine. When he interviewed the right-wing zealot Richard Mellon Scaife for George magazine he used my name to get a rise out of that Clinton hater. "Later he wrote me a note letting me know that he certainly did not share Mr. Scaife's sentiments about me. He then invited me to speak to the editorial staff of George magazine as part of a very real effort to hear all points of view on the great issues of the day. And in defiance of the common attitudes of today's crew of Washington pundits John listed me in a very favorable way in his colorful magazine. He was gracious, he was open minded. He was never smug or superior. He was casual in his manner and despite his high birth and his gorgeous good lucks and his tremendous monetary fortune John never lost the common touch. At 38 years old he had wisdom and class that I think could have taught a lot of older and more experienced public officials a very important lesson. Diane we'll miss him."


As noted in the July 19 CyberAlert, despite being canned by the Boston Globe for making up facts in columns, the television networks have treated Mike Barnicle as a noble Kennedy family friend and expert.
But a quote contrast relayed by Hotline demonstrates he's willing to adapt his views to the media's needs as the Boston Herald noted CNN had to correct a bit of false information he told them.
-- A couple of people passed along to me this contrast, which I believe is borrowed from Hotline:
Barnicle on Sunday's Meet the Press, July 18: "There is a very real sense, I think, that he is a lost child of our culture."
Versus:
Barnicle in an August 14, 1997 Boston Globe column: "JFK Jr. comes off sounding like some thin-lipped, dim-witted, bad-backed polo player whose empty head can barely retain enough limited cocktail chatter to get him through a dinner with...Princess Di."

-- An expert with non-expert info. Former MRC analyst Eric Darbe, now the CyberAlert Boston Bureau Chief, alerted me to this item in Tuesday's Boston Herald "Inside Track" column by Gayle Fee and Laura Raposa:
And now we come to Mike Barnicle who is publicly trying to rehabilitate himself by pimping himself out to every network, cable and local news show as a Kennedy confidant.
It was like he was playing musical chairs down there on Scudder Avenue in Hyannisport, hopping from one interview to the next saying the same things over and over and OVER again.
And we know you'll find this hard to believe, but some of it was wrong!
Like the grief-stricken Ted Kennedy's "midnight sail" on Saturday night. Wrong. CNN had to correct itself after a call from the Senator's people. And do we really believe the pita bread-as-Holy Communion story?
Today show gal Katie Couric was one of many who jawed with Barnicle yesterday. And later on while he was chatting up MSNBC's Morning Line lady Chris Jansing, a big, blue and loud BFI garbage truck pulled into the shot.
How appropriate. As one of the locals pointed out, "BFI -- Barnicle Full of It."
END Excerpt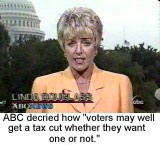 Stop that tax cut before it happens. With the House about to vote to approve a tax cut plan of some sort on Tuesday night ABC News jumped into the fray to try to discredit the whole idea as ill-advised. By the reasoning presented on ABC's World News Tonight economists oppose one because it would supposedly fuel inflation, something that in fact did not occur in the 1980s, and the public doesn't really want one anyway.
Anchor Peter Jennings set up ABC's take: "The conventional wisdom has always been that supporting tax cuts is a no-lose proposition. But ABC's Linda Douglass reports this time that may not be the case."
Linda Douglass began: "Republicans have always believed that cutting taxes is their issue and so it is again this year."
After a soundbite of Congressman John Kasich announcing GOP plans for a big cut, Douglass began her case against the idea:
"The push for a tax cut does not come from the state of the economy."
Bruce Steinberg, Merrill Lynch chief economist: "The last thing of course an economy that's already very strong needs is a tax cut."
Douglass: "Bruce Steinberg and other economists worry that tax cuts will give consumers more money to spend, which might lead to higher inflation and prompt the Federal Reserve Board to raise interest rates."
Steinberg: "And the economy would end up slowing down more than it probably needed to slow down."
Douglass: "And though voters think taxes are too high they are not clamoring for a tax cut. Numerous polls show tax cuts rank low on their list of priorities behind education, Medicare and Social Security."
On screen viewers could see a list of issues and percent support for what's "important" to voters according to an ABC News poll, but you could not see the very top items. Viewers could see "taxes" were at 64 percent, behind "Social Security" at 74, "education" at 73, "patient's rights" at 71, "middle class," whatever than means, at 70, "Medicare" at 70 and "crime" at 67. Below taxes: "environment" at 61. Basically, not much of a spread at all between the issues.
Douglass then buttressed her case with clips of two supposedly typical Americans.
Man on street: "I think there's no better time than the present to start solving those problems with a surplus rather than a tax cut."
Woman: "I think there need to be some Social Security left for the youth of America when they retire."
Douglass: "But Republicans not only believe tax cuts are the defining issue of their party, they also see taxes as the one issue President Clinton has not yet commandeered."
Marshall Wittman, Heritage Foundation: "Republican believe that if they offer a significant tax cut ultimately the President will not be able to steal that issue because his main priority are spending initiatives."
Douglass concluded with the horrific news for the anti-tax cutting media that Clinton may not oppose the idea:
"But now the President is also calling for a tax cut. So tomorrow the House may consider a Republican proposal to cut taxes by $800 billion over ten years and possibly a Democratic alternative to cut taxes by less than half that. So voters may well get a tax cut whether they want one or not."
Douglass failed to consider that the public may not be excited by a tax cut promise because they've been let down before. Nor did she raise the conservative observation that if the surplus tax revenue now being collected is not returned to the people who earned it there will be no future surpluses to apply to the debt or "saving" Social Security because Congress will spend it all.

Over the weekend Newsweek's Eleanor Clift also denounced a tax cut, declaring on the McLaughlin Group:
"Chairman Archer and Tony Blankley must have been watching old Laurel and Hardy movies together [laughter] if they believe that there's this much money out there. It's a totally irresponsible tax plan. The 10 percent across-the-board tax cut would give 30 percent of -- what it would give back, it would give to the top one percent..."


The controversy/scandal over PBS stations sharing/exchanging donor lists with the Democratic National Committee: It's Newt's fault. So suggested a Boston Globe news story about the "identity crisis of public broadcasting" brought to my attention by former MRCer Eric Darbe.
Globe reporters Anne Kornblut and Don Aucoin identified the culprit: "Ever since the Public Broadcasting Service came under attack in 1995 -- with Republican House Speaker Newt Gingrich promising to 'zero out' its federal money -- public broadcasters have been encouraged to finance themselves."
That zeroing out never happened and the latest federal appropriation for CPB is higher than ever.
An except from the July 20 Boston Globe story headlined, "WGBH list-swaps tied to financial pressures."
WASHINGTON -- When Boston's WGBH-TV last week admitted swapping donor lists with the Democratic Party, the controversy that erupted seemed driven entirely by Capitol Hill.
Republicans, long suspicious of a liberal bias in public broadcasting, threatened to slash funding. Democrats leaped to the defense, insisting the practice was legal, accusing Republicans of using any excuse to cut off public broadcasting.
But as the dust has begun to settle, and as both parties have been implicated to some degree in list-swapping, it has become clear the ordeal is not just about Washington politics. It is a window into the identity crisis of public broadcasting: how to be a public station and a successful commercial venture at the same time.
Ever since the Public Broadcasting Service came under attack in 1995 -- with Republican House Speaker Newt Gingrich promising to "zero out" its federal money -- public broadcasters have been encouraged to finance themselves, with the most successful stations learning how to draw in ever more vast amounts of public donations and corporate support. In that context, industry analysts said, it should be no surprise that WGBH may have pushed the envelope too far.
"What this is about is how far the commercial mindset has crept into public television," said William Hoynes, a Vassar College professor of sociology and author of a book on public television. "This is part of a bigger picture. WGBH treated its customers as a market. They packaged them and sold them in an effort to generate new revenues."....
In 1995, after the GOP took control of Congress, Gingrich and Senate Commerce Committee chairman Larry Pressler of South Dakota pledged to close down the public broadcasting system, a network they accused of being both liberal and a drain on the federal budget.
The political attack sent shockwaves throughout PBS. Broadcasters already strapped for funding began thinking up creative ways to fund programs. Even today Robert Coonrod, the President of the Corporation for Public Broadcasting -- the umbrella organization for public television and radio -- and other public broadcasters argue they need to fund their stations themselves, in part, rather than depend on the whims of Congress....
END Excerpt
To read the whole story, go to: http://www.boston.com/dailyglobe2/201/nation/
WGBH_list_swaps_tied_to_financial_pressures+.shtml
(The last time I posted Globe stories I noted they only remain accessible for two days. In fact, I've since been informed by a Globe staffer, with the exact address you can access stories for a month.)
For some more reasoned analysis of the PBS list sharing controversy, go to the MRC home page where Webmaster Sean Henry has posted the testimony delivered Tuesday by Tim Graham, the MRC's Director of Media Analysis, to the House Subcommittee on Telecommunications. He came under fire from Democrat John Dingell. You can see that exchange as well as Graham's statement via RealPlayer, or just read a text version the old fashioned way. Go to: http://www.mrc.org. -- Brent Baker

---
>>> Support the MRC, an educational foundation dependent upon contributions which make CyberAlert possible, by providing a tax-deductible donation. Use the secure donations page set up for CyberAlert readers and subscribers:
http://www.mrc.org/donate
>>>To subscribe to CyberAlert, send a blank e-mail to: mrccyberalert-subscribe
@topica.com. Or, you can go to: http://www.mrc.org/newsletters. Either way you will receive a confirmation message titled: "RESPONSE REQUIRED: Confirm your subscription to mrccyberalert@topica.com." After you reply, either by going to the listed Web page link or by simply hitting reply, you will receive a message confirming that you have been added to the MRC CyberAlert list. If you confirm by using the Web page link you will be given a chance to "register" with Topica. You DO NOT have to do this; at that point you are already subscribed to CyberAlert.
To unsubscribe, send a blank e-mail to: cybercomment@mrc.org.
Send problems and comments to: cybercomment@mrc.org.
>>>You can learn what has been posted each day on the MRC's Web site by subscribing to the "MRC Web Site News" distributed every weekday afternoon. To subscribe, send a blank e-mail to: cybercomment@mrc.org. Or, go to: http://www.mrc.org/newsletters.<<<

---
Home | News Division | Bozell Columns | CyberAlerts
Media Reality Check | Notable Quotables | Contact the MRC | Subscribe