"Patients' Bill of Rights" Cheered; Brazile's Dirty Campaigning Ignored
1) After promoting the "patients' bill of rights," the networks celebrated as a bipartisan triumph its "stunning upset" passage. Only NBC's Lisa Myers highlighted how trial lawyers will benefit instead of just how Republicans are pawns of the HMO industry.
2) Only FNC informed viewers that Gore's new campaign manager, Donna Brazile, was forced to resign from the Dukakis campaign after she demanded that then-VP Bush "fess up" to an affair.
3) The networks highlighted George W. Bush's attack on conserva-tives. CBS suggested "Bush seems to view hard-right Republican leaders like political kryptonite." Geraldo: "Helluva speech."
4) GMA allowed Republican Haley Barbour to appear with Stephanop-oulos, but only to comment on GOP issues while Stephanopoulos assessed strategies of candidates from both parties.
---
Correction: The October 5 CyberAlert quoted CBS's Bob Schieffer as asking Al Gore on Face the Nation about Carter Eskew: "I understand that he didn't severe all connections until last week..." That should have read "sever."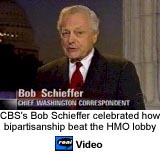 "This will be remembered as the day that some Republicans and Democrats finally banded together, took on one of the most powerful lobbying groups in America, and beat 'em," reporter Bob Schieffer proudly applauded on Thursday's CBS Evening News. ABC, CBS, CNN and NBC led Thursday night with the House passage of the so-called "patients' bill of rights," which pleased CBS anchor Dan Rather dubbed a "stunning upset in Washington."
A delighted Tom Brokaw opened the October 7 NBC Nightly News: "The big battle in Congress and tonight a giant step toward changing how patients can deal with their HMOs. A major defeat for the Republican leadership."
The celebratory tone was no surprise given how the networks, especially CBS, crusaded the previous two nights in favor of the bill expanding federal regulation of health care. Other than one sentence each, ABC and CBS never mentioned the interests of trial lawyers in opening a new area for lawsuits, an angle only pursued on one of the broadcast networks by NBC's Lisa Myers. Instead, bill opponents were painted as pawns of an evil HMO industry as the networks either ignored free-market alternatives or denigrated them as mischief blocking real reform. After the GOP pushed for an expansion of medical savings accounts, Dan Rather opened Wednesday's Evening News by complaining: "Shenanigans on Capitol Hill could doom health care reform."
There's a lot to review here, so I'll go in date order with the transcribing assistance of MRC analysts Jessica Anderson, Geoffrey Dickens and Brian Boyd, from Tuesday to Thursday night. First, Tuesday, October 5. That night all the networks focused on the incredibly badly-timed Denny Hastert campaign fundraiser featuring health care industry lobbyists.
-- ABC's World News Tonight. Peter Jennings opened the show by setting up the issue as one to be decided by political donations:
"Good evening. We begin tonight with money and politics, with politics and money. The debate over how money affects legislation is being held all over the country today, and today there were two very important examples in Washington of what people are talking about. The Supreme Court heard what might be a landmark case about money and free speech -- we'll get to that in just a moment. And across the street in the Congress, on the eve of an important debate about managed health care in the country, it was the perfect opportunity to see money at work."
Linda Douglass explained how House Speaker Denny Hastert appeared at a Capitol Hill Club fundraiser with health care lobbyists on the very morning of House debate. She then elaborated, without mentioning trial lawyers:
"But the breakfast was a small part of what has become a battle of lobbying giants. On one side, the insurance industry, which spent $77 million on lobbyists and contributions last year. The industry opposes legislation giving patients the right to sue their HMOs....On the other side, doctors who spent $45.8 million on lobbyists and donations last year. Doctors want the power to overrule HMOs' medical decisions....Whatever happens to HMO reform in Congress this week, lobbying will have played a pivotal role. There has been very little pressure from the public, and when the public is silent, money talks."

-- CBS Evening News. Dan Rather intoned: "Congress is also about to reopen debate on the President's long-stalled, heavily-lobbied patients' bill of rights. That's a bill to make it easier to appeal the decisions of, and in some cases even sue, managed health care plans. To follow what's happening in the House, you need to know what's going on behind the scenes and with the lobbyists. CBS Chief Washington Correspondent Bob Schieffer is your guide to follow the dollar."
Bob Schieffer zoomed in on Hastert: "It's 8am and this is Washington at work, top insurance and health industry lobbyists hurrying to a $1,000 a plate breakfast they're hosting to benefit Republican House Speaker Dennis Hastert. Lobbying has become so brazen the money is being collected on the very morning Congress begins debate on an HMO reform bill, the legislation the lobbyists strongly oppose. Here comes Speaker Hastert's van, with all those cameras out front he takes the back way. There he goes, en route to picking up $15,000 for his campaign war chest. He told reporters later the lobbyists got nothing for their money."
After a soundbite from Hastert, Schieffer offered a glowing review of the bill's attributes: "The bill that Hastert and the insurance industry are trying to kill, and the industry is mounting a massive campaign against it, would give patients the right to sue HMOs that wrong them. Georgia's Republican Congressman Charles Norwood, who happens to be a dentist, is an architect of the reform legislation. He's not surprised the insurance industry is trying to kill it."

-- NBC Nightly News. Tom Brokaw teased at the top of the show: "A critical vote coming on HMOs. So why is the Speaker of the House having breakfast with HMO lobbyists at a $1,000 a plate?"
Brokaw then began the program:
"Good evening. Tonight in Washington the arm twisting, vote trading and lobbying is reaching a fever pitch over one of the most critical showdowns of the year. Health care. Specifically the rights of patients in this increasingly impersonal world of managed health care. The debate starts tomorrow but we begin tonight with breakfast this morning. Breakfast with the Speaker of the House and some of the most powerful health care lobbyists. They were paying for a lot more than bacon and eggs at a $1,000 a plate."
Lisa Myers, in a piece which also ran on MSNBC's The News with Brian Williams, noted who attended the fundraiser: "Lobbyists for some of the biggest health care interests in the country. AETNA, Blue Cross/Blue Shield, Occupational Therapists, CIGNA Insurance...." Myers pointed out that some "Republicans wince at the timing," specifically Congressman Henry Hyde.
Unlike ABC and CBS, however, Myers at least realized lawyers, who give to liberals, stood to benefit:
"The bill to give patients more rights in dealing with HMOs pits Goliath against Goliath. The American Medical Association and the trial lawyers for the bill with HMOs, insurance companies and most businesses against. The trial lawyers gave $1.7 million in campaign money the first six months of the year, mostly to Democrats. The insurance industry gave $3.3 million, two-thirds to Republicans."
Wednesday, October 6. ABC only ran a brief story, but CBS and NBC pounded away again:
-- CBS Evening News. "Shenanigans on Capitol Hill could doom health care reform. Again tonight, the Patients' Bill of Rights looks to be DOA," Dan Rather lamented in teasing the show.
He then began the newscast portraying the bill as a victim of politics and money: "Health insurance reform legislation in Congress may be dead or dying again. House Republicans late today passed one version that President Clinton is almost sure to veto. The long-stalled, heavily lobbied Patients' Bill of Rights is supposed to give people more say in the decisions of managed health care plans. Instead, it is the latest example of political gridlock turning into a chain reaction pileup of the nation's agenda."
Bob Schieffer zeroed in on the villains and the heroes: "For weeks now, support has been growing in the House of Representatives for bipartisan legislation to reform HMOs and allow people to sue them. But the House Republican leaders and the insurance industry are dead set against the reforms. And today, the House leaders took steps that will make it very difficult for even supporters of the reforms to vote for them. Democrats from the President on down are just furious."
Bill Clinton: "In the dead of the night last night, the House leaders concocted a process filled with enough poison pills and legislative slights of hand to practically guarantee the defeat of this bill."
Schieffer asserted: "What Republican leaders did, in effect, was set parliamentary rules that eliminate any way to pay for the reforms. That left supporters of the legislation with an unsavory choice: vote against the reforms or use surplus Social Security funds to pay for them."
Making sure viewers realized who is on the take, Schieffer stressed: "All this comes a day after insurance and health care lobbyists contributed $15,000 to Republican House Speaker Hastert's political war chest at a Capitol Hill breakfast. Hastert is supporting a milder reform package, which also includes a limited right to sue and is sponsored by this Oklahoma Congressman, Tom Coburn, a doctor who still practices medicine on the weekends. Democrats say the debate has now been rigged in such a way it could doom Coburn's plan as well. And that, of course, would be the best of all worlds for the insurance companies who oppose both plans."
-- NBC Nightly News. Lisa Myers bemoaned that "with hundreds of millions of dollars and the health of American families at stake, tonight's partisan bickering appears to threaten House approval of new rights for 161 million Americans in HMOs."
Following battling soundbite from Clinton and Republican Congressman David Dreier, Myers made the case for the bill by relaying an anecdote:
"The hard truth, as Jerry Cannon sees it, is that an HMO denied his wife, Phyllis, a bone marrow transplant. He appealed, and by the time the HMO said yes, it was too late, and she died of leukemia. Yet, when he tried to sue, the courts said he had no right."
But again uniquely, Myers raised the issue of the cost of lawsuits: "In a multimillion dollar ad campaign, HMOs warned that lawsuits will only drive up costs with dire consequences." But she then focused on how "Republican Greg Ganske, a doctor who is bucking his party to support strong reforms, accuses his leaders of not listening to the voters."

Thursday, October 7, Victory Day:
-- ABC's World News Tonight led with the victory for the anti-HMO bill. Linda Douglass finally got around to the trial lawyers, sort of, as she mentioned how Republicans said lawsuits "will drive up costs" but their arguments were "drowned out" by nine doctors in the House who wanted lawsuits to be allowed.
-- CBS Evening News. Dan Rather opened the show by rejoicing: "Good evening. A stunning upset in Washington. The U.S. House late today approved the patients' bill of rights. If ever finally passed by both the House and Senate, it would give citizens more say over decisions by managed health care plans. It would also give them the right to sue HMOs. The vote margin was 275 to 151. 68 Republicans broke ranks and voted yes. Insurance company lobbyists, who contribute much money, especially to Republican congressional and presidential campaigns, but also to some Democrats, thought they had this one won."
Bob Schieffer reveled in the triumph: "For all the arm twisting and all the legislative roadblocks thrown up by Republican leaders who sided with the insurance companies, a bipartisan group of legislators banded together and against great odds passed the reform bill. For all its power the lobby just couldn't match the HMO horror stories from constituents that members brought to the floor."
After showing a pleased Clinton and then letting Democrat John Dingell warn there's a Senate battle ahead, Schieffer concluded: "But whatever happens there, this will be remembered as the day that some Republicans and Democrats finally banded together, took on one of the most powerful lobbying groups in America, and beat 'em. Dan."
Not quite the attitude CBS displayed when Republicans and Democrats came together to defeat gun control.
As an afterthought, Rather finally uttered CBS's first mention of how lawyers would benefit, but sans any notion that they too were big donors to one side: "There was this reaction tonight from one health insurance industry group, quote 'the fight is not over.' The industry also claims that the patients' bill of rights would mean more bills to pay lawyers and that will drive up health care costs to patients."
-- NBC Nightly News. Tom Brokaw extolled: "The big battle in Congress and tonight a giant step toward changing how patients can deal with their HMOs. A major defeat for the Republican leadership. As NBC's Lisa Myers reports, it still has a way to go but tonight the Clinton administration is in the driver's seat."


Donna Brazile's 1988 demand that then-Vice President George Bush "fess up" to having an affair went unreported by every network but FNC after Al Gore on Wednesday named her his campaign manager. When she made the allegation in October 1988 she was forced to resign from her position as deputy manager of the Dukakis-Bentsen effort, the same title she held with Gore until her elevation.
As pointed out by the Washington Times, but not picked up elsewhere, she also accused Bush of racism for raising the Willie Horton issue, though his case was first publicized by her current employer, Al Gore.
On the affair front, as recalled by New Hampshire's Chip Griffin in his daily Primary Scoop e-mail report (http://www.primaryscoop.com), the Associated Press reported on October 20, 1988:
"'I think George Bush owes it to the American people to fess up' about whether he has committed adultery, she told reporters. 'The American people have every right to know if Barbara Bush will share that bed with him in the White House.' Brazile continued: 'It's important. We're not just voting for a man. We're voting for a family. The First Family is very important."
(This is probably no longer a concern for Brazile since Bill and Hillary never shared a White House bedroom. As Christopher Andersen noted in Bill & Hillary, the Marriage, his book released this past summer: "It was not unusual for the First Lady to be unaware of her husband's nocturnal activities; like their idols Jack and Jackie Kennedy, Bill and Hillary Clinton slept in separate bedrooms. In fact, the Clintons had not shared the same bedroom -- much less the same bed -- for at least seven years.") ABC and CBS held their Gore stories Wednesday night to short items that did not mention Brazile, but in longer stories noting her promotion both CNN and NBC skipped over her unpleasant background. MRC analyst Paul Smith noticed that on CNN's October 6 Inside Politics reporter Candy Crowley included Brazile in a list of Gore actions in moving his campaign headquarters to Nashville: "Found himself a new campaign manager." CNN then showed Gore asserting: "Donna, congratulations. Looking forward to it. For 20 years, Donna Brazile has been a fighter for working families."
Over on the NBC Nightly News Claire Shipman snidely remarked:
"His third fresh start in five months. At new headquarters in Nashville today, Al Gore, remaking his image once again, and this time targeting a crucial audience."
Shipman got right to Brazile, but skipped any controversy: "Women. First, he appoints a woman, political veteran Donna Brazile, as campaign manager, then brings his 87-year-old mother center stage and applauds her influence on his life. Why the emphasis on women? Polls show female voters are abandoning Gore..."
In contrast, FNC informed viewers of Brazile's record of dirty politics. On FNC's Special Report with Brit Hume at 6pm ET/9pm PT reporter Carl Cameron explained:
"Gore's new headquarters will have fewer staff. Some are being let go. Others have decided not to move to Nashville. Gore introduced Donna Brazile as his new campaign manager, hoping to diversify an inner circle that critics say is bloated with white men. But Brazile may stir new controversy. She was fired from Michael Dukakis's 1988 campaign after spreading rumors that then-Vice President Bush had had an affair. Gore is promoting her from deputy campaign manager."
Gore: "Donna, a lot of people are going to find out what I've known for a long while now, that nobody's better at this than you are."
Cameron added: "But some insiders in the Gore campaign say that her promotion -- Ms. Brazile's -- is more about putting a black woman in a prominent position than it is about putting her in any sort of position of influence. From the Bush campaign, absolutely no comment, though some insiders there did say the one thing that makes George W. Bush angrier than just about anything on the campaign trail is attacks on his family, particularly those on his father's reputation as President."
An edited version of Cameron's piece appeared on the 7pm ET Fox Report, MRC analyst Brad Wilmouth observed, with Brazile's 1988 remarks noted but without Cameron's reference to her promotion as image making.
Thursday's Washington Post story on Brazile didn't mention why she left the Dukakis campaign, but Washington Times reporters Donald Lambro and Ronald Hansen not only detailed her claim Bush was having an affair, but also that he was a racist for raising the Willie Horton issue -- a subject actually first publicized by her current employer, Al Gore. Here's an excerpt of the October 7 story:
....She accused Mr. Bush of using "every little code word and symbol" after he attacked Mr. Dukakis for supporting a Massachusetts prison furlough program that allowed a black convicted killer, Willie Horton, to escape to Maryland, where he raped a woman and stabbed a man, dumping his body in a trash can.
Mr. Dukakis immediately dismissed her from his staff and later met with Mr. Bush to personally apologize for her "unauthorized" remarks....
"Donna Brazile was kicked out of the Dukakis campaign but now, 11 years later, she is the person who is Al Gore's campaign manager," said Michael Collins, chief spokesman for the Republican National Committee. "She's gone from charging that use of the Willie Horton issue was racist to working for the guy who made Willie Horton a household name," Mr. Collins said.
Mr. Gore was the first political candidate to raise the Willie Horton issue when he questioned the Massachusetts Governor about it in a debate in the New York Democratic primary campaign in 1988.
END Excerpt


George W. Bush again demonstrated this week that trashing conservatives always generates positive press coverage. ABC highlighted his attack, Geraldo Rivera praised it as "a helluva speech," CBS's Dan Rather noted how "Bush is beginning to criticize Republican congressional leaders for pushing an agenda that he says is outside mainstream America" as reporter Bill Whitaker claimed "front-runner Bush seems to view hard-right Republican leaders like political kryptonite."
-- ABC's World News Tonight, October 5. Peter Jennings introduced Bush's blast: "In New York today, education was the center point when the Republican presidential frontrunner was critical of his own party, for the second time in a week."
Gov. George W. Bush: "Too often on social issues, my party has painted an image of America slouching toward Gomorrah. Too often my party has confused the need of limited government with a disdain for government itself."
Jennings: "In his speech, which was on education, Mr. Bush proposed that states give annual tests to students and that federal aid should be tied to the results. Republicans have been critical of an expanded federal role in education and, particularly, mandatory testing."

-- Wednesday night, October 6. MRC analyst Geoffrey Dickens caught this approval from Rivera spouted on CNBC's Rivera Live:
"I'll tell ya, George W. gave a helluva speech. I haven't heard a Republican, you know, raise the hair on the back of my neck that way in admiration in a long time and he really put some, some beef to the whole compassionate issue on the conservative side."
-- CBS Evening News, October 6. Dan Rather intoned:
"The emerging presidential strategy of Republican George W. Bush now includes taking a big page from the Democrats. Bush is beginning to criticize Republican congressional leaders for pushing an agenda that he says is outside mainstream America. And as CBS's Bill Whitaker reports, Bush did it again today."
Bill Whitaker began: "On his first big swing through New York state, the Republican presidential front-runner isn't just distancing himself from his party's cantankerous congressional conservatives, he's defining himself as the other guy, not one of them."
George W. Bush: "Too often my party has focused on the national economy to the exclusion of all else."
Whitaker claimed: "For the second time in a week, Bush has criticized Republican leaders for budget cuts that hurt the poor, for slashing the federal role in education."
Bush: "Too often my party has confused the need of limited government with a disdain for government itself."
Whitaker went on to allow House Republicans "to put the best face on the Bush blast" and note how Democrats "crowed."
Whitaker suggested: "It's as if Bush were taking tips from Republican nemesis, President Bill Clinton, who ran for re-election by distancing himself from troublesome congressional Democrats. But bedrock conservatives warn, if Bush doesn't straighten up and fly right, the right wing will fly away."
Following a warning from an Eagle Forum representative in Texas, Whitaker concluded by applying an extremist label:
"But right now, front-runner Bush seems to view hard-right Republican leaders like political kryptonite. Get too close, it'll sap your strength."
-- On CNN's Inside Politics on October 6 Jonathan Karl picked up on Rush Limbaugh's criticism of Bush, as observed by MRC analyst Paul Smith:
"And in a sign that Bush may be beginning to alienate some of those core conservatives, conservative talk show host Rush Limbaugh issued what may be the harshest attack on Bush's statements today on his show. He said, quote: 'No conservative running for president would leave his philosophical brothers and sisters dying on the congressional battlefield.' Limbaugh said that the more Bush talks, the more troubled he becomes about his candidacy."


Bipartisan Stephanopoulos and partisan Barbour? As noted in several recent CyberAlerts, ABC's Good Morning America now regularly features former Clinton-Gore enabler George Stephanopoulos as its sole analyst on political events, sometimes even having him alone conduct an interview with a politician, such as Bill Bradley.
Wednesday morning, however, in an unusual move the show balanced him with former RNC Chairman Haley Barbour. But, as MRC analyst Jessica Anderson explains in the two paragraphs she submitted below, Barbour was not allowed to comment on Democrats though Stephanopoulos was asked about Republican candidates:
Whether intentional or not, George Stephanopoulos's October 6 Good Morning America appearance was balanced out by coupling him with former Republican National Committee Chairman Haley Barbour. The two joined co-host Diane Sawyer to discuss the latest developments in the 2000 presidential race. This opportunity to finally balance out Stephanopoulos's past political affiliations with someone from the right was squandered since Stephanopoulos was still presented as an impartial political analyst/journalist for ABC News.
Sawyer opened by asking Barbour to comment on George W. Bush's latest criticisms of Republicans this week, as well as Steve Forbes' plans to begin airing ads against Bush later this month and rumors about the possibility of Elizabeth Dole leaving the presidential race. Then Stephanopoulos was allowed to add his two cents on Forbes' ads, and later, what Dole dropping out would mean for Bush. Stephanopoulos also discussed with Sawyer the latest on Al Gore versus Bill Bradley, but Barbour was never asked to comment on Gore's new strategy in dealing with Bradley. What could have been a chance to provide some balance to Stephanopoulos, as much a partisan as Barbour, never materialized.

Thursday morning all was back to the normal imbalance on GMA: Stephanopoulos alone handled a pre-taped interview with Jesse Ventura. -- Brent Baker

---
>>> Support the MRC, an educational foundation dependent upon contributions which make CyberAlert possible, by providing a tax-deductible donation. Use the secure donations page set up for CyberAlert readers and subscribers:
http://www.mrc.org/donate
>>>To subscribe to CyberAlert, send a blank e-mail to: mrccyberalert-subscribe
@topica.com. Or, you can go to: http://www.mrc.org/newsletters. Either way you will receive a confirmation message titled: "RESPONSE REQUIRED: Confirm your subscription to mrccyberalert@topica.com." After you reply, either by going to the listed Web page link or by simply hitting reply, you will receive a message confirming that you have been added to the MRC CyberAlert list. If you confirm by using the Web page link you will be given a chance to "register" with Topica. You DO NOT have to do this; at that point you are already subscribed to CyberAlert.
To unsubscribe, send a blank e-mail to: cybercomment@mrc.org.
Send problems and comments to: cybercomment@mrc.org.
>>>You can learn what has been posted each day on the MRC's Web site by subscribing to the "MRC Web Site News" distributed every weekday afternoon. To subscribe, send a blank e-mail to: cybercomment@mrc.org. Or, go to: http://www.mrc.org/newsletters.<<<

---
Home | News Division | Bozell Columns | CyberAlerts
Media Reality Check | Notable Quotables | Contact the MRC | Subscribe