E-Mail Bounced Again; Judge Snubbed in AM; Liberal & Moderate VP Picks
1) Not a syllable Thursday night on ABC, CBS, MSNBC or NBC on White House counsel Beth Nolan's appearance before the House Government Reform Committee to respond to questions about e-mail. CNN and FNC ran full reports.
2) Nothing on e-mail, but ABC had time for the "conspiracy to retaliate" against Smith & Wesson and a helmet law in Italy. CBS looked at lights in the sky. NBC relayed how Elian is missing Cuba's "education system that is the envy of Latin America." NBC offered an admiring profile of a gun control advocate.
3) CBS's Early Show and NBC's Today refused to mention a judge's finding that Clinton was in "criminal violation" of the Privacy Act. GMA gave it 29 seconds. But even Geraldo found it newsworthy.
4) Pushing moderate and liberal VP picks for Bush. Time's Margaret Carlson recommended Christie Todd Whitman or Olympia Snowe. Bryant Gumbel suggested Whitman, Pataki, Ridge or Elizabeth Dole.
5) John McCain demanded an investigation of Al Gore's 1996 fundraising and raised the LaBella memo, but Bryant Gumbel refused to take up either issue and kept pressing McCain about whether George W. Bush has done enough to cater to him.
6) On gas prices, FNC pointed out how "with taxes reaching 50 cents per gallon, our own government drives the price up even more."
7) Letterman's "Top Ten Questions on the George W. Bush Application for Running Mate."
---
>>> Genitalia: Seven times more of it conveniently available on your TV. Now that I've got your attention. New study from the MRC's Parents Television Council, "What a Difference a Decade Makes: A Comparison of Prime Time Sex, Language, and Violence in 1989 and '99." The report compiled by Tom Johnson compared and contrasted four weeks of prime time programming from the fall of 1989 with four weeks of programming from this past fall. Among the findings:
-- On a per-hour basis, sexual material was, overall, more than three times as frequent in '99 as it was in '89.
-- References to genitalia were more than seven times as frequent in '99.
-- The rate of foul language in '99 was more than five and a half times higher than that of '89. Words like "bitch" and "son of a bitch," seldom used in '89, were common in '99, and words forbidden in '89 ("dick"; "a-hole") were used several times each, at least.
-- In terms of sexual content, coarse language, and violent material combined, the per-hour figure almost tripled from '89 to '99.
The report was released Thursday at a press conference featuring MRC Chairman L. Brent Bozell, long-time TV host Steve Allen and Senators Joseph Lieberman and Sam Brownback. To read the full analysis, go to:
http://www.parentstv.org/publications/reports/Decadestudy/decadecover.html <<<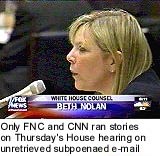 Another e-mail hearing, another hearing bounced by the broadcast networks. White House counsel Beth Nolan appeared Thursday before the House Government Reform Committee to answer questions about why much White House e-mail was not turned over in recent years in response to subpoenas. Not a syllable about her appearance aired Thursday night on ABC's World News Tonight, CBS Evening News, NBC Nightly News or MSNBC's The News with Brian Williams. Not even CNN's Inside Politics covered it, though that could be because she was still testifying during the 5pm ET show.
CNN's The World Today at 8pm ET, however, did carry a full story by Bob Franken and at 6pm ET/9pm PT FNC's Special Report with Brit Hume ran a thorough piece by Brian Wilson. FNC's 7pm ET Fox Report held the hearing to a 25-second summary delivered by anchor Shepard Smith. CNN's Crossfire focused on the flap.
(Last week's first hearing on e-mail at least generated a story on the CBS Evening News while ABC and NBC only mentioned the launch of a Justice Department probe. As detailed in the March 24 CyberAlert, on March 23 the same House committee held a hearing with current and former Northrop-Grumman employees, who oversaw maintenance of White House computers, about how they discovered e-mails which were not handed over in response to subpoenas and that they felt threatened by officials to not alert anyone to the problem. The same day the Justice Department announced a probe of the matter. ABC's World News Tonight ignored the hearing but gave the Justice Department announcement 20 seconds. Ditto for NBC Nightly News which managed to squeeze the Justice announcement into 16 seconds. MSNBC's The News with Brian Williams spent 11 minutes replaying a Katie Couric interview with the Ramseys but couldn't find any time for the e-mail story. CBS, CNN and FNC all ran stories.)
The March 30 The World Today on CNN played a piece by Bob Franken in which he showed clips from the hearing as he reported that Nolan announced that with a new contractor the missing e-mails could be found not in two years as she originally predicted but in 175 days. That would put Gore's missing e-mail in play for the campaign, Franken observed. After recalling how the White House knew in 1998 that a server problem meant many e-mails were not produced but did not acknowledge the problem until news reports revealed it last month, meaning the Washington Times, he relayed Nolan's contention that former White House counsel Charles Ruff thought it was just a glitch that had no impact. Franken concluded by saying that the committee now plans to subpoena Ruff.
Earlier, on FNC's Special Report with Brit Hume, the anchor of the same name introduced FNC's story: "White House counsel Beth Nolan has been on Capitol Hill answering questions, or trying to, about those missing e-mails. She and a Justice Department lawyer testified before the House Government Reform Committee. Nolan says the e-mail flap was a mistake and not a deliberate action, but as Fox News' Brian Wilson tells us, Republican Chairman Dan Burton has his doubts."
FNC's Brian Wilson, as transcribed by MRC analyst Brad Wilmouth, began: "Dan Burton, the Chairman of the House Government Reform Committee, has questions. Why were Ken Starr and various congressional investigators not alerted that subpoena searches of the White House e-mail system were incomplete when that was known at the White House as early as June of 1998. How did at least 246,000 White House e-mails fall through the cracks? Why were Vice President Gore's e-mail messages never archived? And:"
Burton at the hearing: "When did the White House Counsel's Office find out about this mess, and what did they do about it?"
Wilson: "White House Counsel Beth Nolan admits there are large numbers of White House documents that have never been reviewed. But she claims it's because of technical problems."
Nolan at the hearing: "No one attempted to hide responsive information from this committee or from any other investigative body."
Wilson: "Burton and other Republicans on the committee are troubled because they detect a pattern when it comes to White House responses to past requests for records."
Burton: "If documents are withheld once, we can try to understand. If it occurs twice, you have justifiable doubts. But when it happens over and over again, you start to get a little skeptical."
Wilson: "There were also continuing questions about the contents of a Zip disk like this one [picture on an Iomega "Zip" disk], gathered by White House contract employee Robert Haas. It is said to contain e-mails sent from Monica Lewinsky to White House secretary Betty Curry and one of Lewinsky's White House friends. Administration officials maintain the information on the disk are duplicates of documents already released. But when questioned closely, Nolan admitted officials were unable to read all of the information on the original disk."
Nolan: "When they opened the zip disk or tried to read some of the Zip disk material, they couldn't read all of it. They went back to Mr. Haas' F Drive, made another zip disk. Mr. Easley has that. They're going to try to open it and find the file."
Wilson: "And that means the White House contention that all of the documents inside that Zip disk had been previously released was based on an incomplete examination of the Zip disk. They couldn't open all the files. Burton plans to subpoena the original Zip disk and a copy that was made. Now the White House says they're gonna go back and retrieve all the e-mail messages in question from hundreds of backup tapes, and that's a process that could take, Brit, some six months."
Hume wondered: "But does it mean, Brian, that in effect, with the existence of the backup tapes and so on, that nothing is really actually missing now?"
Wilson confirmed that but then brought viewers back to the big picture of White House deceit: "That's right. All the e-mail messages are on backup tapes, but that's, it's not the concern on Capital Hill. It's easy to get off track here. It was known at very high levels in June of 1998 that there had been searches of e-mails that did not include these unsearched records that were on the backup tapes. That's the key issue, and remember there were five contract employees who said they were threatened if they were going to reveal the existence of those unsearched e-mail records."
++ Watch FNC's story and see Beth Nolan. Late Friday morning MRC Webmaster Andy Szul will post a RealPlayer clip of Brian Wilson's story. Go to: http://www.mrc.org


Instead of telling their viewers about the e-mail scandal the broadcast networks and MSNBC focused on Elian Gonzalez (with multiple stories) as well as on other less than pressing news Thursday night. ABC had time for a helmet law in Italy, CBS for looking at lights in the sky and NBC to glorify a gun control advocate.
All led with Gonzalez and MSNBC's The News with Brian Williams devoted nearly the entire broadcast to the topic with Forrest Sawyer anchoring live from Miami. (On the campaign front, only ABC's Peter Jennings took a few seconds for a brief item about Bush's $3 billion plan to recruit teachers.)
In addition to a piece on whether there's "a conspiracy to retaliate against the gun maker Smith & Wesson because it has been cooperating with the Clinton administration," the March 30 World News Tonight on ABC featured stories on the Census effort to count the homeless as reporter Carla Wohl claimed "hundreds of thousands of homeless" were missed ten years ago when the Census counted 230,000 of them, on how the FBI investigates cyber crime and on a new law in Italy requiring helmets for those on "scooters and motorbikes."
The CBS Evening News looked at the drug war in Colombia and Clinton's Clinton plan for more aid to fight what Dan Rather termed the "leftist" rebels, but he cautioned there are complaints the Colombian army is tied to the "right-wing" paramilitary. Another story examined how British winemakers may benefit from global warming. Richard Roth predicted: "For British wine 2050 could be a very good year." CBS ended with a piece on the "enduring mystery" of the "Northern Lights" seen in the sky above in Alaska.
NBC Nightly News opened with multiple Elian stories, then ran a piece on how a witness now says police told him what to say at a trial which may have falsely convicted a man, now on death row, of killing a police officer. For its "In Depth" segment NBC returned to the Elian case as Jim Avila compared the life Elian has in the U.S. with a kid in Cuba of the same age. The Cuban family, Avila relayed, must subsist on $23 a month so they have less food and fewer toys. After allowing the Cuban mother to assert that love is more important than material things, Avila delivered the standard Cuban propaganda line: "Cubans point to the good things about their country. An education system that is the envy of Latin America, virtually everyone in Cuba reads and while life may be hard in Cuba, child psychiatrist Bennet Leventhal says children there can be just as happy as here."
Next, NBC viewers watched a story on efforts to kill mosquitos in Queens before there's another outbreak of the West Niles virus. NBC ended with a "Women to Watch" admiring profile by Lisa Myers of Donna Dees-Thomasas, the founder of the Million Mom March scheduled for Mother's Day. In his top of the show tease Tom Brokaw went a little over the top in hyping her impact:
"And Women to Watch, tonight a mother who'd never been politically active until she saw this [video of LA kids crossing street after Jewish day care center shooting]. What happened next would change the world." [I listened carefully and he did not say "her" world.]
Lisa Myers concluded her story: "This suburban mom says her mission won't end with the march, not until the mothers of America face down the gun lobby and win."


Federal Judge Royce Lamberth's March 29 finding that President Clinton was in "criminal violation" of the Privacy Act, for releasing letters written by Kathleen Willey, was front page news in Thursday's Washington Post and even the Boston Globe. The New York Times put the story inside with a plug for it on page one. But the network morning shows were not interested.
Not a word about the ruling aired on CBS's The Early Show or NBC's Today, which both dedicated the majority of their shows to Elian with time set aside for Texas tornado updates and looks at the claim a man on death row in Tennessee was falsely convicted. ABC's Good Morning America, however, managed to squeeze in a brief mention in a larger story pegged to Clinton comments at a fundraiser in Columbia, South Carolina the night before about the Confederate flag. MRC analyst Jessica Anderson timed this portion of Andrea McCarren's story at 29 seconds:
"Earlier in the day, in a wide-ranging White House news conference, an old scandal attracted new attention. The President disagreed with a federal judge's ruling that he committed a criminal violation of the Privacy Act by releasing letters which cast doubt on the credibility of former White House volunteer Kathleen Willey. In 1998, Willey accused the President of a sexual advance."
Geraldo Rivera has given the judge's rebuke of Bill Clinton higher priority than have the networks. As detailed in the March 30 CyberAlert, Wednesday night ABC gave it 19 seconds, CBS 29 seconds, CNN 28 seconds, MSNBC 23 seconds and NBC 18 seconds.
But that same night, MRC analyst Geoffrey Dickens noticed, CNBC's Rivera Live devoted 20 minutes to the development. His March 29 guests included liberals Joe Conason and Julian Epstein, Judicial Watch's Larry Klayman and Linda Tripp's civil attorney. Rivera gave the news a level a gravity not heard on the networks. Over a graphic reading "Criminal Clinton?", Rivera intoned: "Ladies and gentlemen stand by. The President of the United States has today, by a federal judge, been accused of committing a crime. Details in a moment."
Rivera even challenged one of his guests: "But a judge has said, Julian [Epstein], that the President definitively violated the criminal provisions of the federal Privacy Act and in that regard it is quite stunning."
Stunning that Rivera is more concerned about Clinton's illegal actions than are broadcast network television producers.


Pushing moderate and liberal VP choices for Bush. On CNN Time's Margaret Carlson urged George W. Bush to pick a pro-choice running mate, either Christie Todd Whitman or Olympia Snowe, because it would "create some excitement for him." On CBS's The Early Show Bryant Gumbel offered his suggestions: Whitman, George Pataki, Tom Ridge or Elizabeth Dole.
-- Carlson, caught by MRC analyst Paul Smith, on the March 29 Inside Politics:
"By the time we get to the summer, you know, both candidates will have nailed down their bases and they will be fighting over the middle. Everybody has gone to the middle practically already but I don't, I still think Bush is going to have to work on that given how he ran the primary and also because, you know, that Republicans need that, you know, the so-called soccer moms and a pro-choice running mate would help with that. A woman would help even more. Christie Todd Whitman or hey, Olympia Snowe would be good choices for him. I don't know if he will go that far. He may feel he doesn't have to go that far to the center, left of center, to get what he needs but it would be the kind of choice that would create some excitement for him."
Yeah, for reporters.
-- Thursday morning CBS's The Early Show, MRC analyst Brian Boyd noted, brought aboard Jack Kemp and Mario Cuomo to assess potential VP picks for Gore and Bush.
To Cuomo, Gumbel asked for quick assessments of Senators Evan Bayh, Bob Graham and Dianne Feinstein as well as Energy Secretary Bill Richardson. Turning to Kemp, he started with Whitman and then moved to New York Governor George Pataki, Pennsylvania Governor Tom Ridge, whom Kemp called a "terrific candidate, a very progressive conservative candidate....Vietnam veteran, Catholic, moderate on the issue of pro-life." Gumbel's last suggestion: Elizabeth Dole.


John McCain demanded an investigation of Al Gore's 1996 fundraising and highlighted the findings of the LaBella memo, but Wednesday morning Bryant Gumbel refused to take up either issue as he kept pressing McCain about whether George W. Bush has done enough to cater to him. Gumbel urged McCain to agree that Gore "has gone farther towards advancing your reform agenda than has so far Governor Bush."
Returning to the Senate on March 21 McCain blasted Gore and urged him to demand an investigation of what occurred in 1996, but as noted in the March 22 CyberAlert, while CNN and FNC ran stories not a word about it appeared on the ABC, CBS or NBC evening or morning shows, nor MSNBC's The News with Brian Williams.
And CBS is still resisting any coverage. McCain appeared on CBS's The Early Show on March 29 to discuss a hearing to be held later that day, by his Senate Commerce Committee, about gambling on college sports. Gumbel soon turned the conversation to the campaign, as transcribed by MRC analyst Brian Boyd:
"Another piece of legislation of yours that is close to your heart, the McCain/Feingold bill aimed at campaign finance reform, on Monday Vice President Gore made it the center piece of his pledge to make reform his top priority. How are you viewing his recent move to your pet cause?"
McCain replied: "I'm glad he's doing it. I'll take him at his word that he made mistakes, but I also believe that he should support and strongly urge a thorough and complete investigation of the abuses of the institutions of government that took place in 1996 by the Clinton/Gore campaign. Outrageous things happened, we need to know what went on so we can better shape legislation to prevent its reoccurrence."
Gumbel made Gore's case: "As I think you know, he admits that he is the imperfect messenger."
McCain: "As am I."
Gumbel: "Well, for campaign finance reform. Nonetheless, do you think his motivation is genuine or political?"
McCain offered some nice words for Gore but also raised the name "LaBella," a name not uttered on The Early Show this year: "I believe that Vice President Gore is an honorable man, I take him at his word. But I think his credibility would be enhanced if he demanded and received a full investigation. We still are hearing about things that happened in 1996. Most recently the leaked memo by Mr. LaBella who said that an investigation had to take place, which the Attorney General obviously ignored for reasons which no one understands."
Instead of pursuing the content of the LaBella memo, asking what could be done to get the Justice Department to take action or inquiring about whom McCain holds responsible for covering up Clinton-Gore misdeeds, Gumbel responded: "Would you allow that he has gone farther, Mr. Gore I'm talking about, he has gone farther towards advancing your reform agenda than has so far Governor Bush, who said that you didn't change his views on reform?"
McCain: "Well, I hope I changed Governor Bush's views on reform. I had a conversation with him yesterday and I hope to have conversations with him in the future. But there's no doubt that Vice President Gore has helped the cause of campaign finance reform by making it a centerpiece and I appreciate it."
Gumbel proceeded to pursue questioning about how well Bush is treating McCain: "The Governor did call you yesterday, his camp characterized the conversation as a very productive conversation. Did you see it that way?"
McCain: "I saw it as a very cordial conversation."
Gumbel: "Was there anything in particular that you wanted to hear him say?"
McCain: "No, and there's really, I just think we need to have more conversations. I think I need to fully understand exactly what his agenda is. I think I need to have a commitment to the reform agenda. But there's no doubt, I'll support the nominee of my party."
Gumbel: "Why haven't you yet announced that full endorsement, Senator?"
McCain: "Because I want to make sure that I do not abandon the millions of people who supported my candidacy for the sake of reform, of giving the government back to the people, and getting rid of this corruption which has affected the legislative and governmental process."
Gumbel: "So is it fair to say that unless you hear what you want to hear, that endorsement will not be forthcoming?"
McCain: "No, I'm sure I will support the nominee. The degree of enthusiasm that I back the nominee will be somewhat impacted by what I think the Governor's agenda is. But I lost, he won, I'm in no position to dictate anything."
Gumbel: "Nor does it seem are you in any hurry, would that be accurate?"
McCain: "I think that's accurate, yes."
Gumbel: "On a personal note, Senator, how much do you miss the campaign trail and the platform it afforded you?"
McCain: "I miss it a lot, I miss the enthusiasm of the young people. The most up lifting experience of my life...."


On the bright side. Earlier this week an FNC reporter pointed out the role of environmentalists and the government in making gas cost more than the natural market price. MRC analyst Brad Wilmouth caught this conclusion to a March 28 piece by Jonathan Serrie on the Fox Report:
"While it's unlikely the current situation would ever lead to 1970s style gas rationing, it serves as an eery reminder of America's continued dependence on the Middle East. But with environmental hurdles, drilling oil in the U.S. isn't easy. And with taxes reaching 50 cents per gallon, our own government drives the price up even more."


From the March 30, 2000 Late Show with David Letterman, the "Top Ten Questions on the George W. Bush Application for Running Mate." Copyright 2000 by Worldwide Pants, Inc.
10. "Ever been President? 'Cause that would help"
9. "Do you party?" (If "No" -- skip rest of questions)
8. "Do you have ideas for tax plans and stuff that I could copy from?"
7. "We already have a uniter on the ticket, how are your dividing skills?"
6. "Are you stupid? We can't have two stupid people on the ticket"
5. "Will you be able to assume the presidency if Mr. Bush is really, really hungover?"
4. "How many lines per minute can you do?"
3. "You're not a narc, are you?"
2. "I tiped this kweschun miself! Kan u tel?"
1. "Dude, what fraternity were you in?"
Don't worry, I'll give equal time to any Gore-bashing Top Tens Letterman ever runs. -- Brent Baker

---
>>> Support the MRC, an educational foundation dependent upon contributions which make CyberAlert possible, by providing a tax-deductible donation. Use the secure donations page set up for CyberAlert readers and subscribers:
http://www.mrc.org/donate
>>>To subscribe to CyberAlert, send a blank e-mail to: mrccyberalert-subscribe
@topica.com. Or, you can go to: http://www.mrc.org/newsletters. Either way you will receive a confirmation message titled: "RESPONSE REQUIRED: Confirm your subscription to mrccyberalert@topica.com." After you reply, either by going to the listed Web page link or by simply hitting reply, you will receive a message confirming that you have been added to the MRC CyberAlert list. If you confirm by using the Web page link you will be given a chance to "register" with Topica. You DO NOT have to do this; at that point you are already subscribed to CyberAlert.
To unsubscribe, send a blank e-mail to: cybercomment@mrc.org.
Send problems and comments to: cybercomment@mrc.org.
>>>You can learn what has been posted each day on the MRC's Web site by subscribing to the "MRC Web Site News" distributed every weekday afternoon. To subscribe, send a blank e-mail to: cybercomment@mrc.org. Or, go to: http://www.mrc.org/newsletters.<<<

---
Home | News Division | Bozell Columns | CyberAlerts
Media Reality Check | Notable Quotables | Contact the MRC | Subscribe